Jumanji Snacks 4 Ways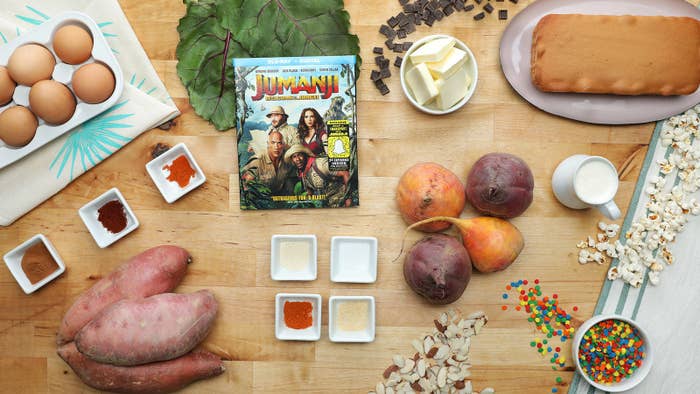 PROFESSOR SHELLY OBERON'S VEGGIE CHIPS
INGREDIENTS:
* 2 sweet potatoes
* 6 beets, golden and red
* Olive oil
* Salt
PREPARATION:
1. Preheat oven to 300ºF (150ºC).
2. Using a mandoline, thinly slice the vegetables, keeping the red beets separate.
3. Toss vegetables with a drizzle of olive oil and a sprinkle of salt.
4. Spread out in a single layer on a parchment-lined sheet tray.
5. Bake for 35 minutes. Place chips on a cooling rack until room temperature and crispy.
SERVINGS: 6
MOOSES FINBARS' EXPLODING CAKE FONDUE POPS
INGREDIENTS:
* 1 store-bought pound cake
* ½ cup dark chocolate
* ½ cup heavy cream
* Sprinkles (optional, for decoration)
* Almonds (optional, for decoration)
* Bamboo skewers or long toothpicks
PREPARATION:
1. Cut pound cake into 1-inch cubes.
2. Skewer cake and set aside.
3. Make ganache by placing chocolate and cream in a microwave-safe bowl.
4. Microwave chocolate/cream mixture in 30-second increments until chocolate has melted, about 2 minutes total.
5. Stir mixture until fully combined, allow to cool for 5 minutes.
6. Dip skewered cake in ganache and garnish as desired.
SERVINGS: 4-6
DR. SMOLDER BRAVESTONE'S SMOKY BROWNIE
INGREDIENTS:
* 1 package of brownie mix (follow box instructions)
* 2 tsp cinnamon
* ¼ tsp cayenne
* ½ tsp ancho chile powder
PREPARATION:
1. Follow brownie-mix instructions as listed on box.
2. Add spice mix of cinnamon, cayenne, and ancho chile powder and mix to fully incorporated.
3. Bake the brownies according to package instructions.
SERVINGS: 4-6
RUBY ROUNDHOUSE'S KICKIN' POPCORN
INGREDIENTS:
* ½ cup butter
* ½ teaspoon salt
* ½ teaspoon garlic powder
* ½ teaspoon onion powder
* Heaping ¼ teaspoon cayenne
* 14 cups popped popcorn
PREPARATION:
1. In a small pan, melt the butter. Add in the spices, including the salt, and simmer for 2 minutes.
2. Toss spicy butter with popcorn.
SERVINGS: 8