Upside-Down Peanut Butter Banana Toast Bake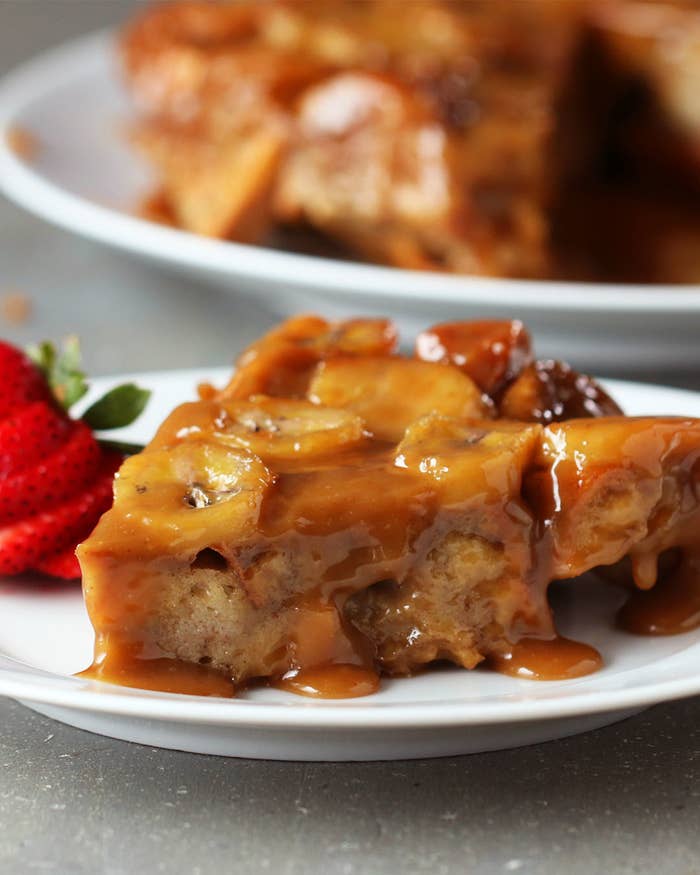 INGREDIENTS
1 stale baguette
4 eggs
½ cup heavy cream
1 teaspoon vanilla
1 teaspoon cinnamon
¼ cup unsalted butter
1 cup brown sugar
½ cup heavy cream
⅓ cup peanut butter
1 large banana, sliced
PREPARATION
1. Preheat oven to 375˚F/190˚C.
2. On a cutting board, cut the baguette in half lengthwise, and slice into 1-inch pieces.
3. In a bowl, whisk together the eggs, heavy cream, vanilla, and cinnamon. Stir in cut bread until each piece is thoroughly coated in egg mixture.
4. Heat a cast-iron skillet over low heat, and whisk together butter, brown sugar, and heavy cream until bubbling, about 3 minutes.
5. Whisk in peanut butter until fully incorporated and bubbling, about 3 minutes. 6. Stir in sliced bananas until coated in sauce.
7. Pour bread mixture over sauce into skillet and spread evenly. Bake for 30 minutes until golden and crispy.
8. Let skillet cool for about 5 minutes then cover with large plate. Holding one hand over the plate, gently flip the skillet upside-down, allowing the the custard to release from the pan with the bananas on top still in tact.
9. Slice and enjoy!