Since becoming a mom this past August, Katy Perry hasn't held back from sharing candid moments in motherhood with her followers. That includes pumping and breastfeeding, which has been all the more "intense" since she went back to work.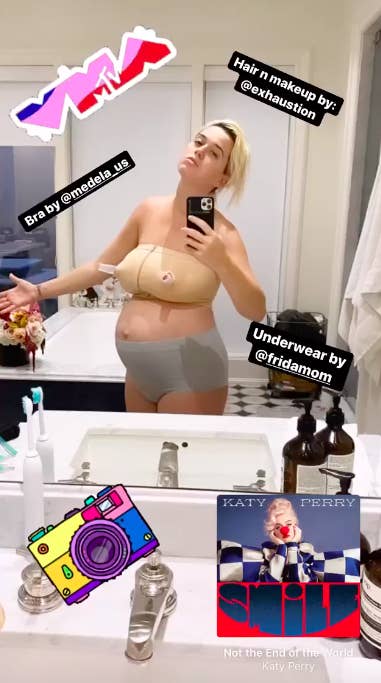 Perry opened up about the experience on Live with Kelly and Ryan, saying, "I did start filming American Idol Season 4 after I'd given birth, five weeks later." She added, "And I didn't plan that. But it was like, 'Oh, my God!' It was so intense, you know?"
"Giving birth, then going back to work and breastfeeding, like — holy crap!" Perry continued. "This is what women do? Oh my God!"
As a mom of three, Kelly Ripa completely agreed. "It's kinda amazing," the show host said. "It's like you can't believe what your body is capable of, right?"
Perry definitely isn't the first celebrity to get real about the challenges of breastfeeding. This also isn't the first time she's talked about it: Back in October, she wore a cow print outfit and shared a photo of it with a funny caption.
"MUTHA MILKS is back to werk @americanidol and it's 🍼udderly🍼 ridiculously MOO-ving already!" she wrote. "Not pictured: my pumping breaks 🙃."
Clearly, Perry has a sense of humor about it all, but she's right: having to balance work and breastfeeding is intense, and it shouldn't be the norm.