The Treasurer Wants Shaun Micallef's "Mad As Hell" Spared From $83 Million In ABC Budget Cuts
But he told BuzzFeed OzPolLive the cut is just a freeze and the ABC needs to live within its means.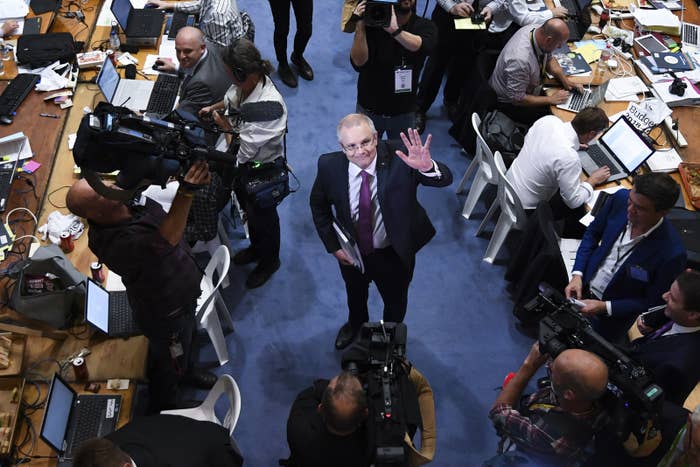 Treasurer Scott Morrison has suggested that Shaun Micallef's Mad As Hell should be spared in any cuts the ABC makes to programming after his budget delivered an $83 million "freeze" in funding for the broadcaster.

But Morrison denies that it is actually a cut.
In last night's budget, the government announced an $83 million "freeze" in funding for the ABC over the next three years, which the broadcaster has said amounts to a cut in funding.
The government will pause the ABC's operational funding until 2022, maintaining the corporation's base operational funding at 2018-2019 levels.
Morrison argued it wasn't a cut, and the ABC would be able to continue doing what it does with the lower funding.
"All we are doing is freezing the ABC's funding," Morrison told BuzzFeed OzPolLive. "They can live within their means like families do. They will be able to keep doing what they're doing by simply doing it more effectively, and I have a lot of confidence in [ABC managing director] Michelle Guthrie to be able to do that. I think she has shown a lot of leadership in the organisation."
But Guthrie said the freeze could not be absorbed by finding further efficiencies.
"Stable, adequate funding is essential if we are to continue to deliver for Australian audiences," Guthrie said in a statement on Tuesday night.
Morrison said that the ABC couldn't be spared as it had in the past.
"The ABC is not some sort of 'living-within-your-means-free zone'," he said. "They have to do it like everyone else, and they haven't had to put up with the efficiency dividends that other agencies and departments have had in the past. So they've been getting a bit of a free ride on that one.
"This change, I think, is very fair."
Since then opposition leader Tony Abbott promised "no cuts to the ABC" on election eve in 2013, there have been lots of cuts to the ABC under the Abbott and Turnbull governments.

In 2014, then communications minister (and now prime minister) Malcolm Turnbull announced the ABC's funding would be cut by $254 million over five years. In 2016, it faced further cuts of $20 million to its reporting and digital services.
With the ABC facing the prospect of having to make more cuts as a result of Tuesday night's freeze, Morrison didn't have any advice on which TV show he thought the ABC should cut, but said he wanted Shaun Micallef's political satire show saved.
"As long as they don't touch Mad As Hell, I'm happy."