A Volcano Is Erupting In Indonesia And Mass Evacuations Have Been Ordered
The island's international airport in Bali has also closed, stranding tens of thousands of travelers.
by
,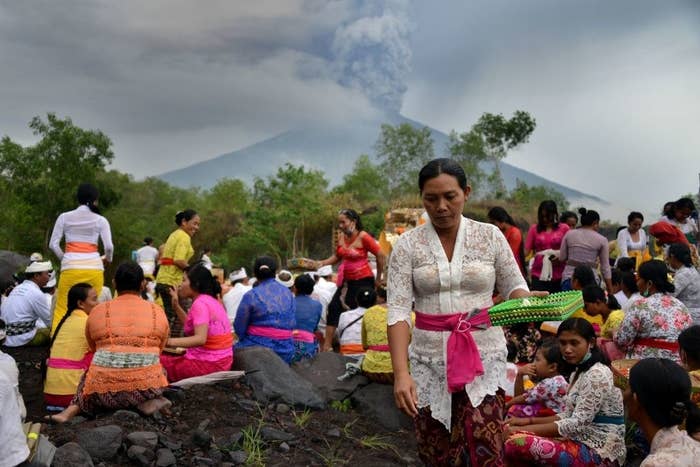 About 40,000 people have been forced to leave their homes after a volcano began spewing ash and debris in Indonesia Monday.

Flights in and out of Bali were cancelled as Mount Agung began erupting, and the Indonesian government shut down the airport, disrupting travel to the popular holiday destination.
The head of Indonesia's Natural Disaster Mitigation Agency, Sutopo Purwo Nugroho, tweeted on Monday that the airport was closed until at least 7am Bali time on Tuesday due to the volcanic ashes coming from Mount Agung.

Nugroho told a news conference in Jakarta that the volcano alert had been raised to the highest level and that people living within six miles (10 kilometres) have been urged to evacuate.

The danger zone affects 22 villages and about 90,000 to 100,000 people. Nugroho said about 40,000 people have evacuated but others have not left because they feel safe or don't want to abandon their livestock. "Authorities will comb the area to persuade them," he said. "If needed we will forcibly evacuate them."
The volcano shifted from steam to magmatic eruptions on Sunday. Purwo tweeted that the eruption was 3,000 metres high. It had been showing increased activity since September.
Jetstar, Qantas, and Virgin Australia all confirmed their flights to and from Bali were cancelled on Monday.
Airport spokesperson Air Ahsanurrohim said 445 flights were canceled, stranding about 59,000 travelers.

On Tuesday, Nugroho announced that the airport would be shut for a second day until Wednesday morning.
The volcano's last major eruption was in 1963 and killed about 1,100 people. Indonesia is part of the "Pacific Ring of Fire" and has more than 120 active volcanoes.