Mahmoud Sheikh Sulaiman, 37, his wife Neirouz Hussein, 33, and their two young children Hamid, 5, and Lary, 4, are getting ready to spend their second Christmas together in the UK.
Their last Christmas was spent in temporary accommodation in Liverpool city centre in a hotel room with takeaway fast food, just three weeks after most of the family claimed asylum after arriving from al-Hasakah province, in the northeast corner of Syria.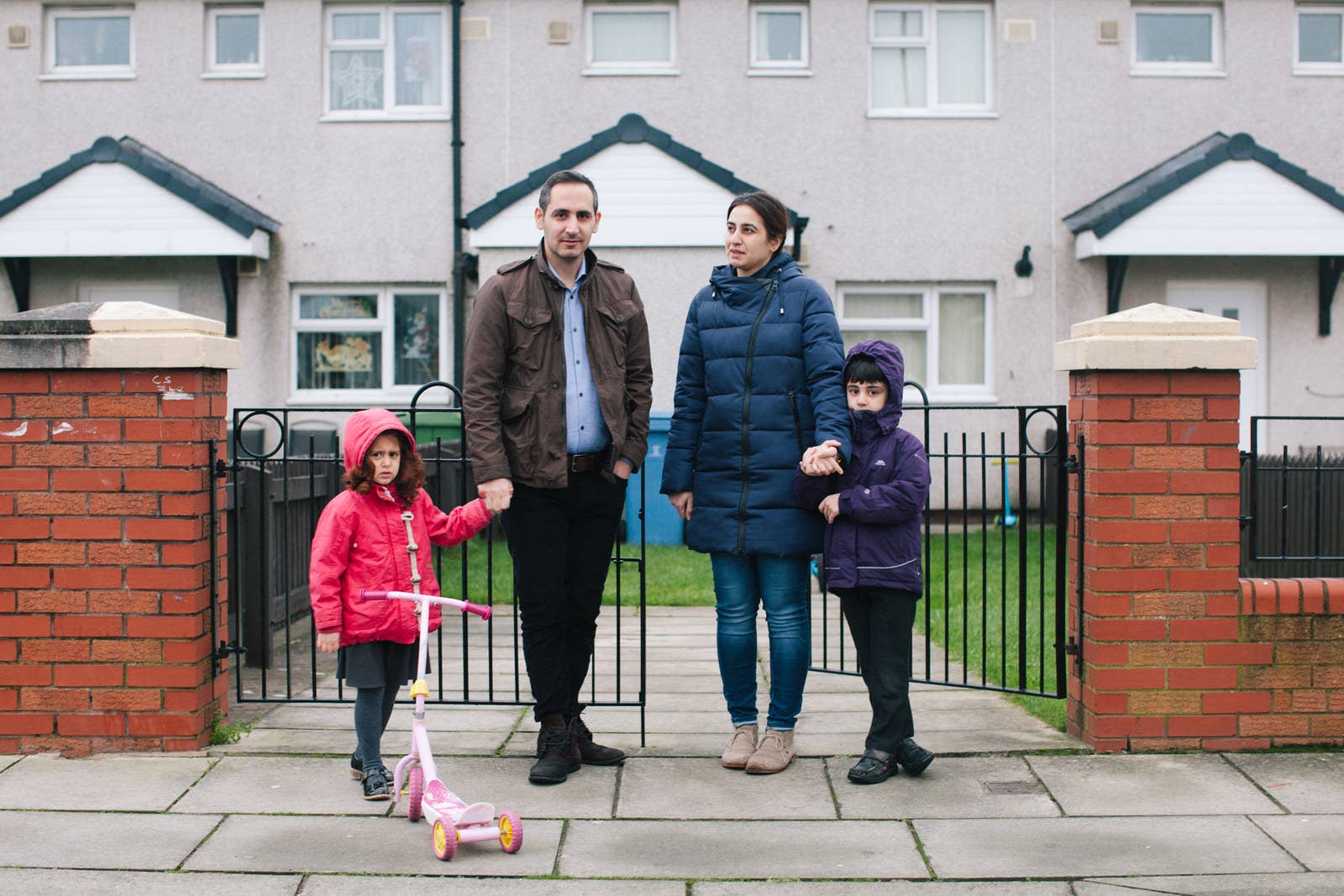 BuzzFeed News visited the family in the city's Toxteth area, as they decorated their home, went shopping in the town centre, and visited their local baptist church.
On a freezing December morning, they stand together outside their house (above). In 1981, Toxteth was the scene of one of Britain's most notable race riots, where tensions between the black community, the National Front, and the police boiled over into violence, but today the inner-city area has become one of Liverpool's most diverse communities.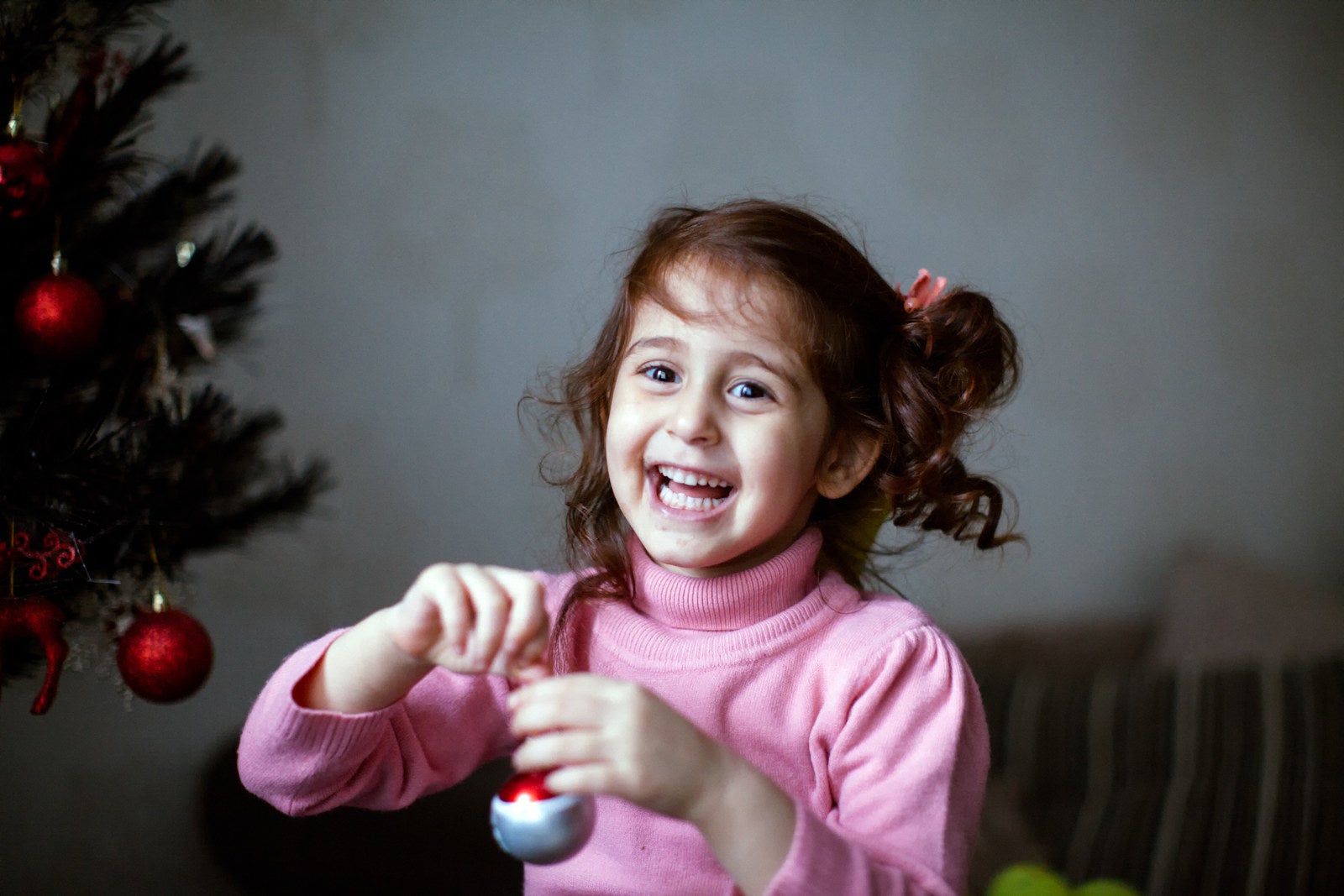 Lary helps to decorate the family Christmas tree (above). When asked what she is looking forward to the most, she answers simply: "Presents and cake."

The Sheikh Sulaiman family are of Kurdish origin. In Syria, they didn't practise a religion but marked the Christmas period with activities that are similar to many people in the UK's, including decorating a Christmas tree, giving presents, and enjoying meals with family and friends.
"A Syrian Christmas isn't so different from Christmas here in the UK," Mahmoud tells BuzzFeed News. "There is a slight difference between them, like the traditional dishes and what kind of foods we prepare. But I think it's the same. As I remember, my father and uncles and all my relatives would make long journeys to big cities to give their tributes to the church and they would visit their friends, and we all celebrate together – Christians, Kurds, other Arab Syrians as one family."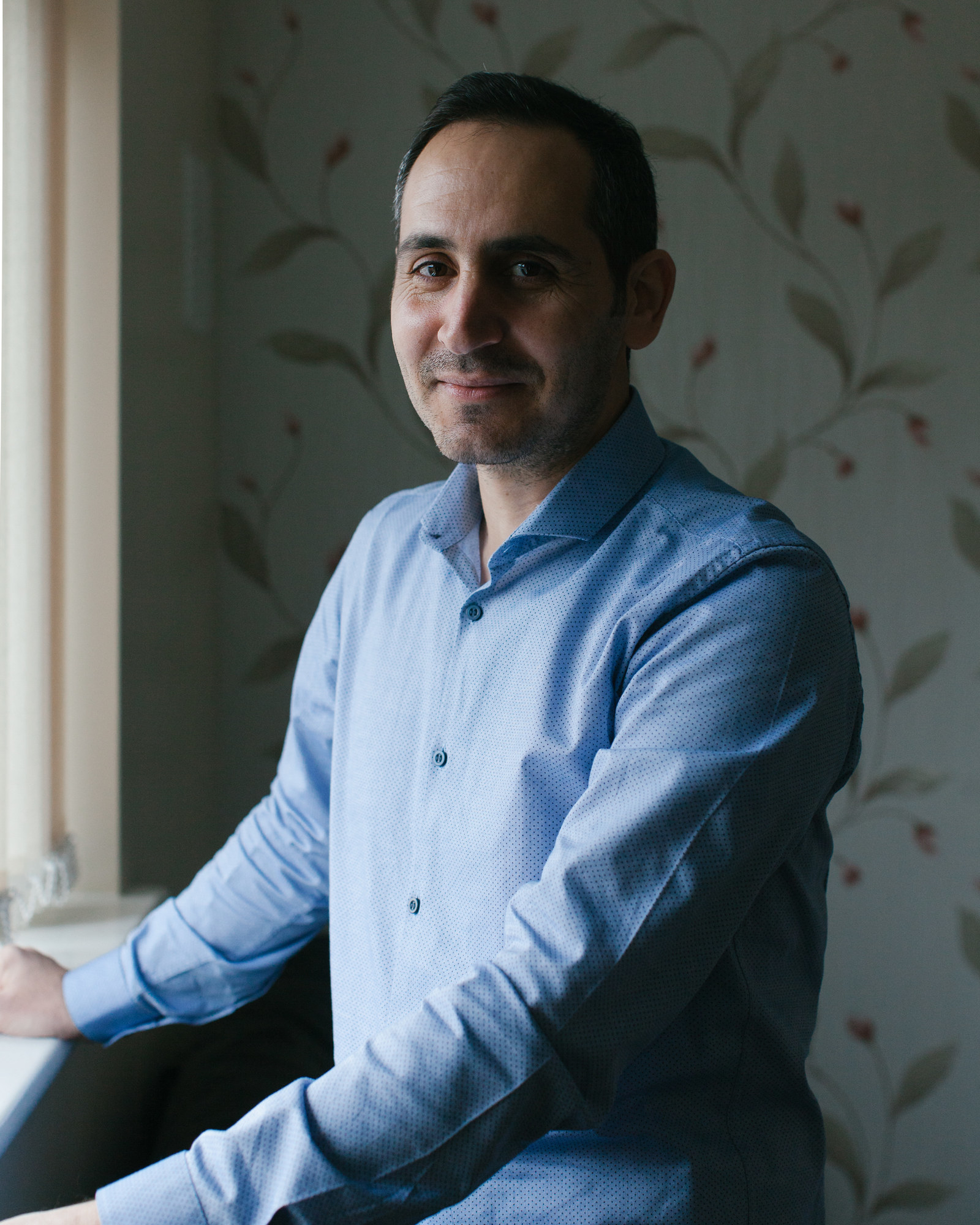 Mahmoud poses for a photograph in his bedroom (above). Since coming to the UK two years ago, he has managed to learn English well enough to be accepted on to an MA degree course at Manchester Metropolitan University starting in September 2017, studying international relations and global communications.
In Syria, Mahmoud was a solicitor and owned several businesses. His wife Neirouz worked for a bank. Mahmoud was also an active member of the Kurdish Democratic Party. He says he trained as a lawyer, but believes the regime blocked him from following the profession full-time because of his links to the Kurdish party and his desire for an autonomous Kurdish state. He explains that after receiving anonymous death threats in 2014, he made plans for himself and his family to escape Syria. He sold his car and rented another, making plans for a driver to help him leave the country. The rented car was blown up outside his house in an assassination attempt, he says, killing the driver.
Mahmoud says he sold his house for a quarter of its original value, and travelled illegally to Istanbul on his own, without declaring himself to authorities. "I needed to go through ISIS and regime held territory, and both were terrible," he told BuzzFeed News. "So I entered through illegal boarders and many people tried to go by the same way but unfortunately they have been killed."
He made a deal with smugglers to get passage to any EU country - they chose to send him to the UK. He was given the option to travel by boat for €8,000, or by plane for €16,000. Knowing of the dangers of travelling by sea, Mahmoud paid for the plane option, flying from Istanbul to Brazil, and then from Brazil to Mexico. Here he met other Syrian people and together they booked tickets to Tel Aviv, via London. Following the direction of the smugglers, Mahmoud travelled this leg of the journey using a fake Israeli passport, leaving his Syrian one behind. When his plane landed in Heathrow, he destroyed the Israeli passport in the aircraft's bathroom, and claimed asylum in the UK.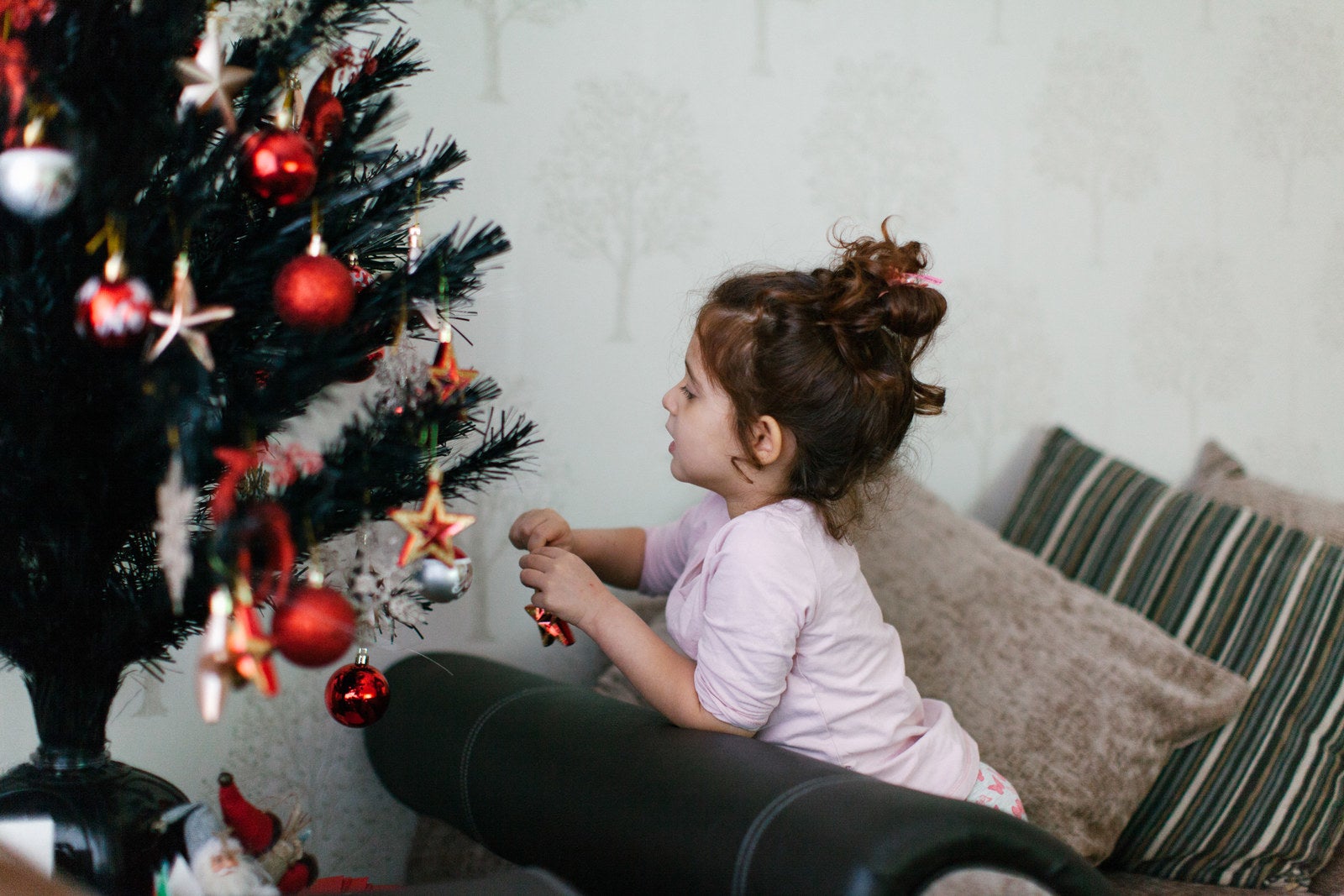 From December 2014, Mahmoud spent a year living in temporary accommodation in Liverpool, then moved to a house share for five months, followed by a house with British friends. He finally got permission to stay in the UK for five years, and was able to bring his wife and two children over from Syria. They arrived on 4 December 2015, and spent Christmas in a hotel: "We couldn't get to church that Christmas. My financial status at that time didn't allow me to spend too much money so I was trying to balance and control everything. It was really hard. We ate Christmas dinner at the hotel, just junk food because it's cheaper," he says.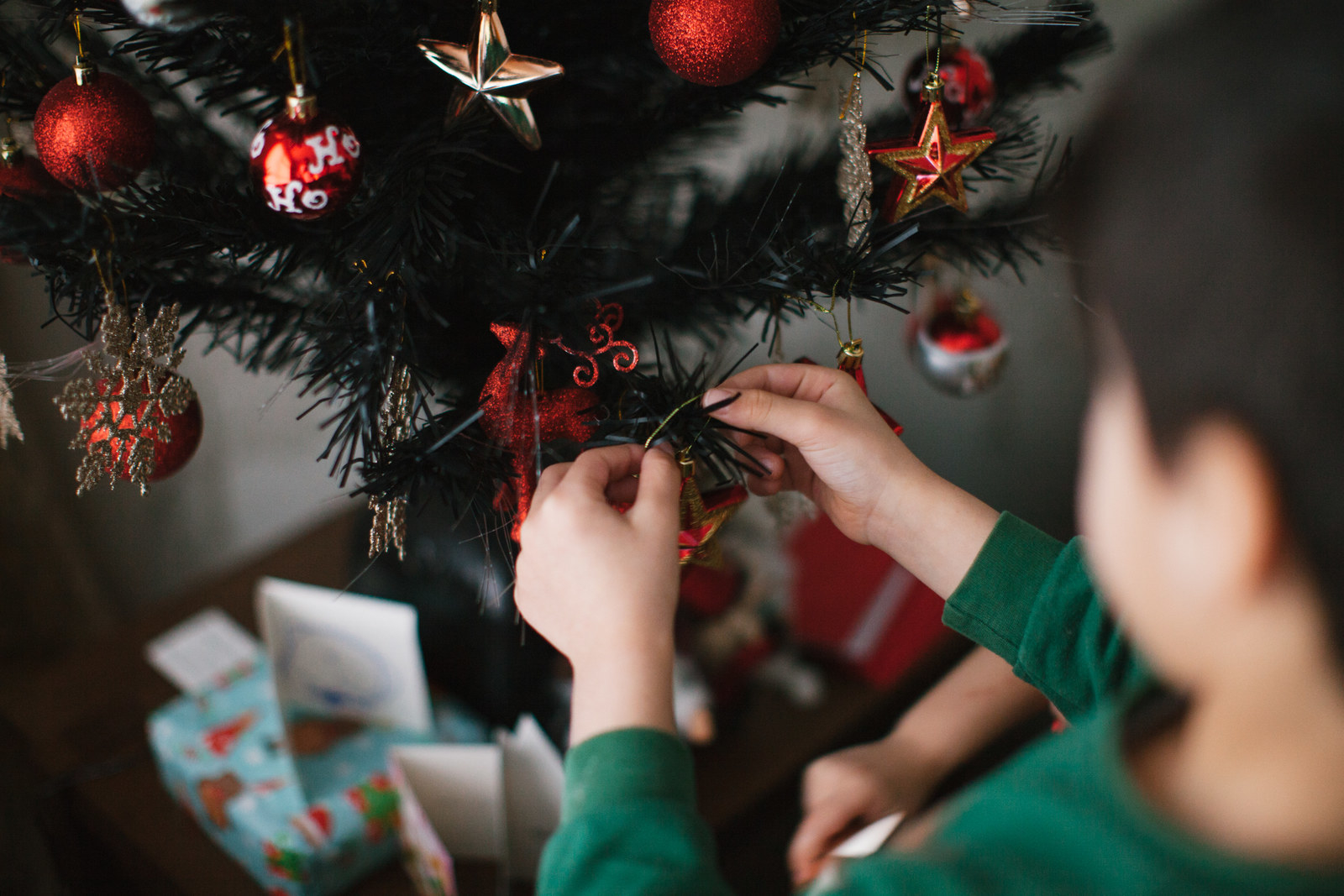 Lary and Hamid add decorations to their Christmas tree. Both children speak in a mixture of Kurdish and English, which they have been learning: They have even taken to correcting their parents' grammar and pronunciation.
As the eldest child, Hamid's English is the most developed and he is even starting to talk with a semblance of a Scouse accent. "Can I open it now?!" he exclaims, holding the one Christmas present under the tree.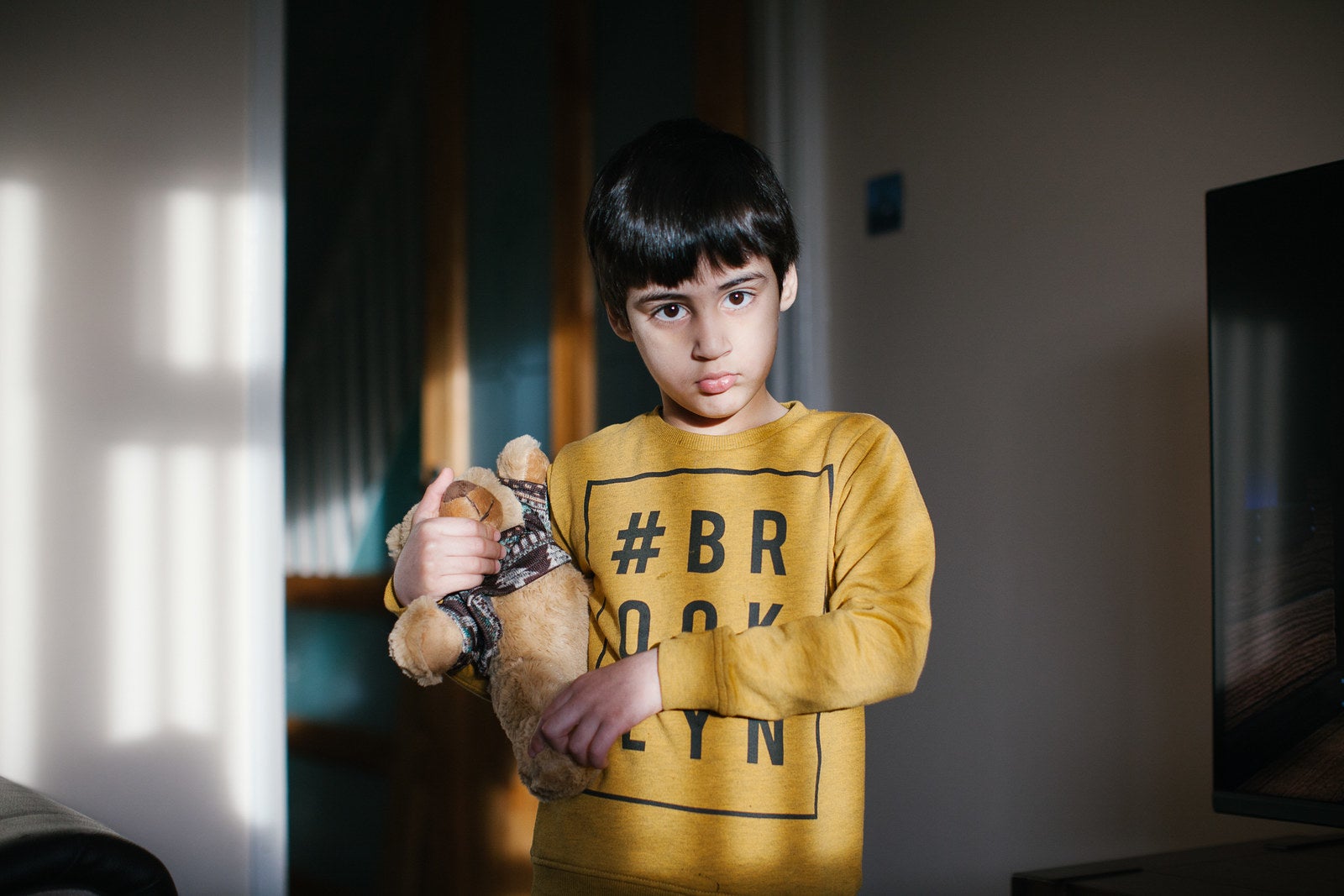 Hamid unwraps it (above), and poses in the morning sunlight with the toy they name "Christmas Bear".
Neirouz and Lary (above) and Mahmoud and Hamid (below) walk through the residential streets of Toxteth, towards the stop where they will catch the bus into town to do some Christmas shopping. "We are always prioritising where we spend our money," Mahmoud says. "The house, the children, and our future plans come before everything else."
Mahmoud had a job in a sweet shop before his family arrived, but both parents are now looking for work. Neirouz is applying to jobs in the banking sector and concentrating on improving her English, which she hopes will help her chances.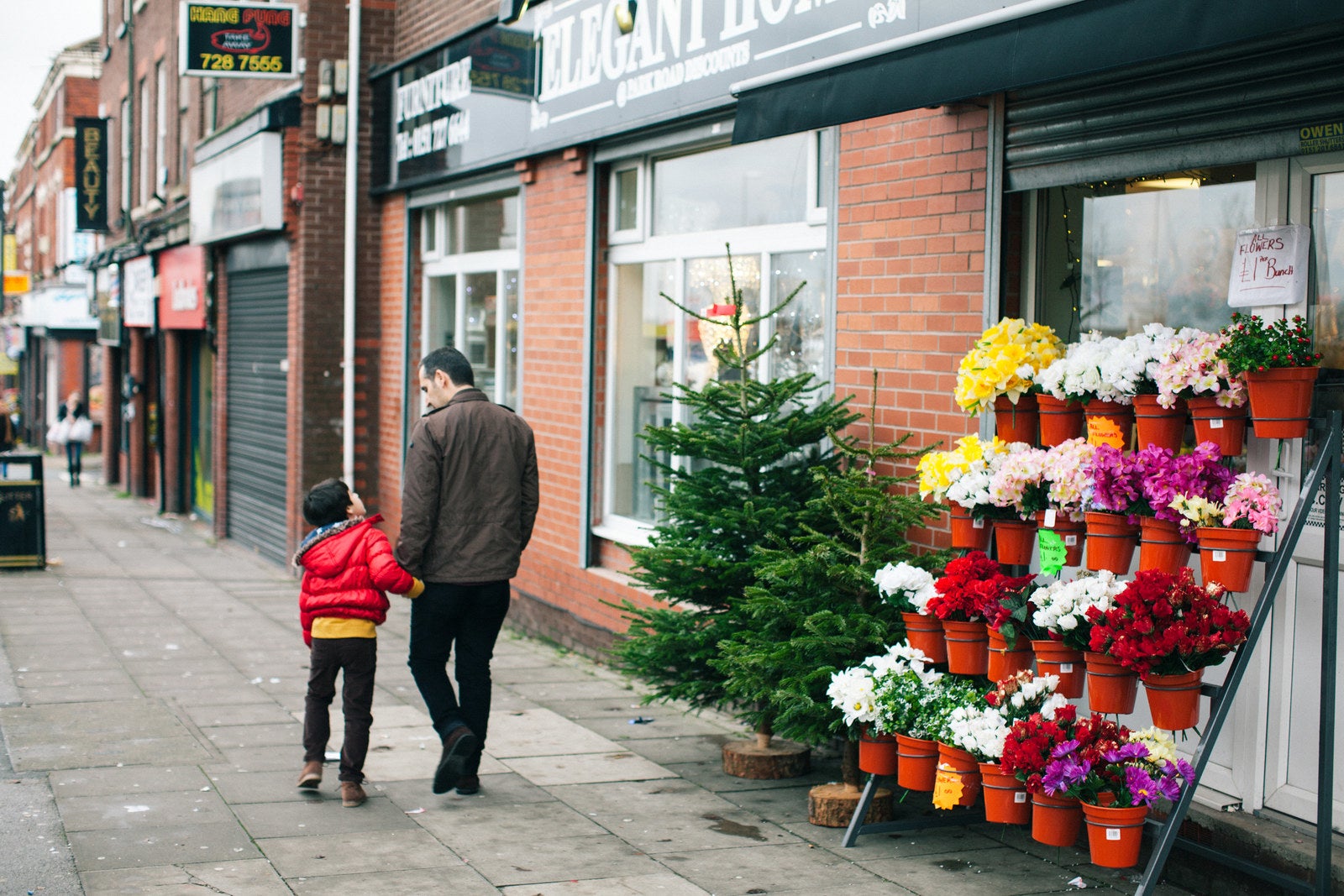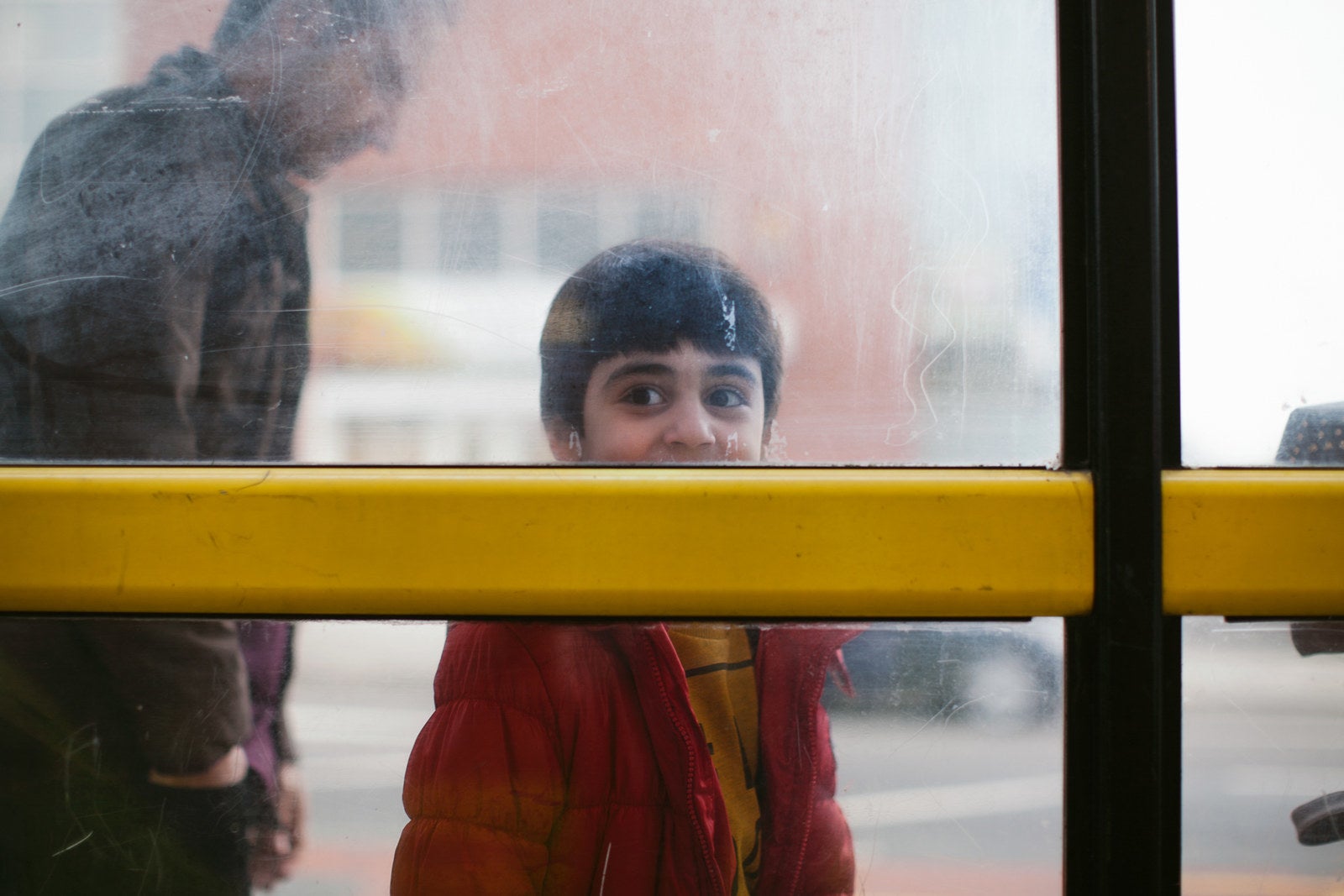 Waiting at the bus stop, Hamid tries to hide his excitement at the prospect of Christmas shopping – or perhaps it's the excitement of the KFC his father has promised him.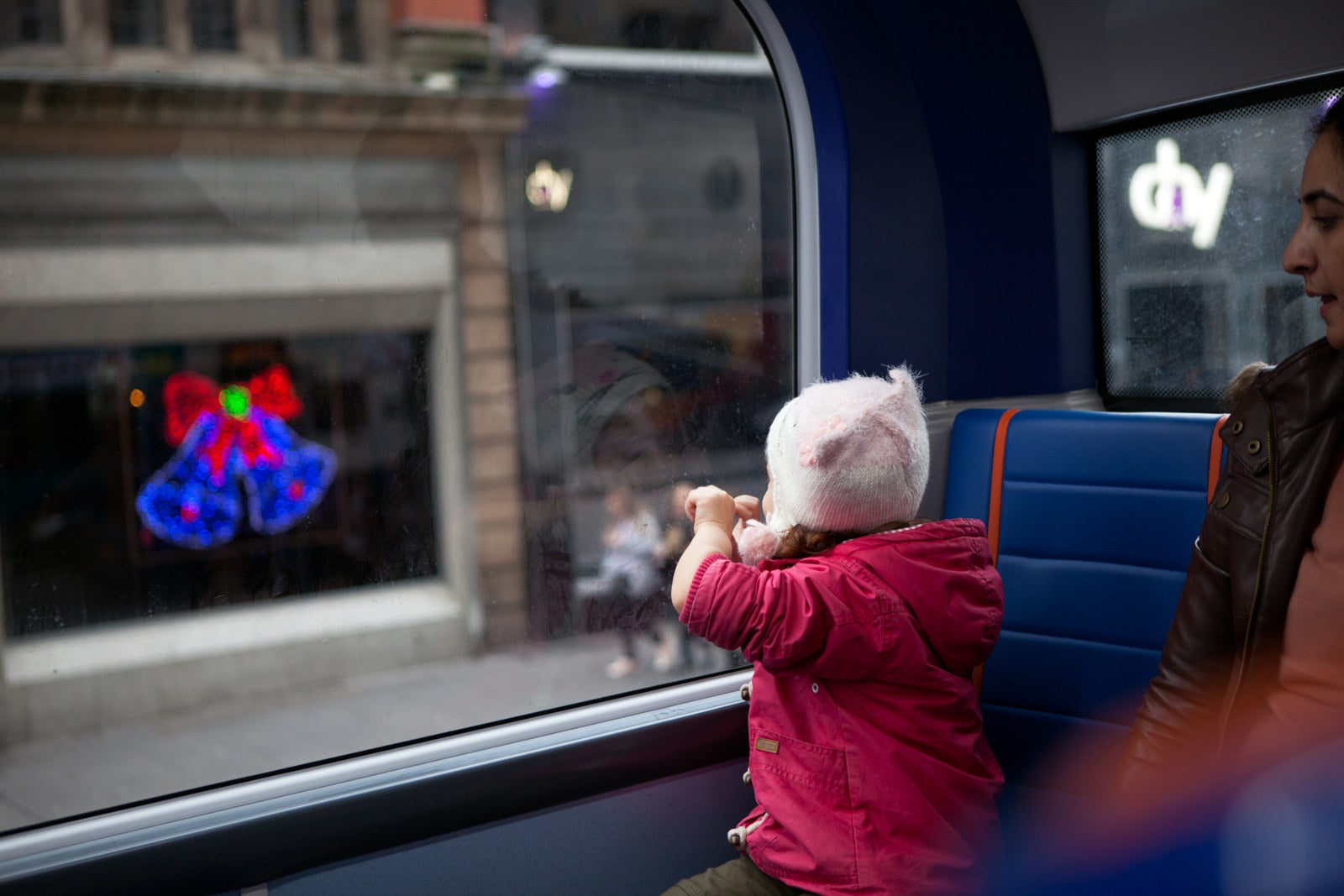 Lary spots some Christmas lights in the window display of Debenhams. "Bells!" she exclaims.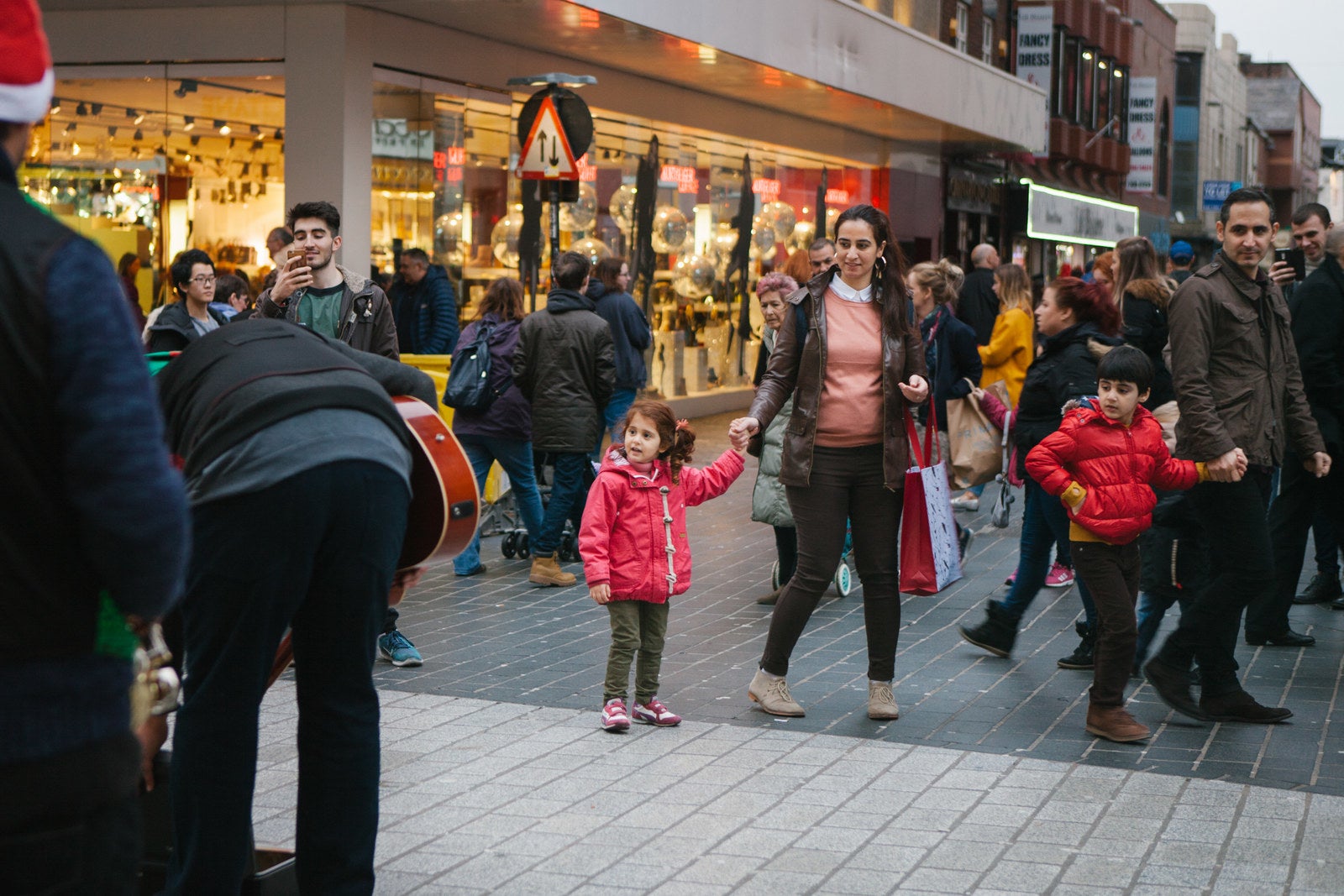 The family pause on a busy street to listen to a band playing Christmas songs.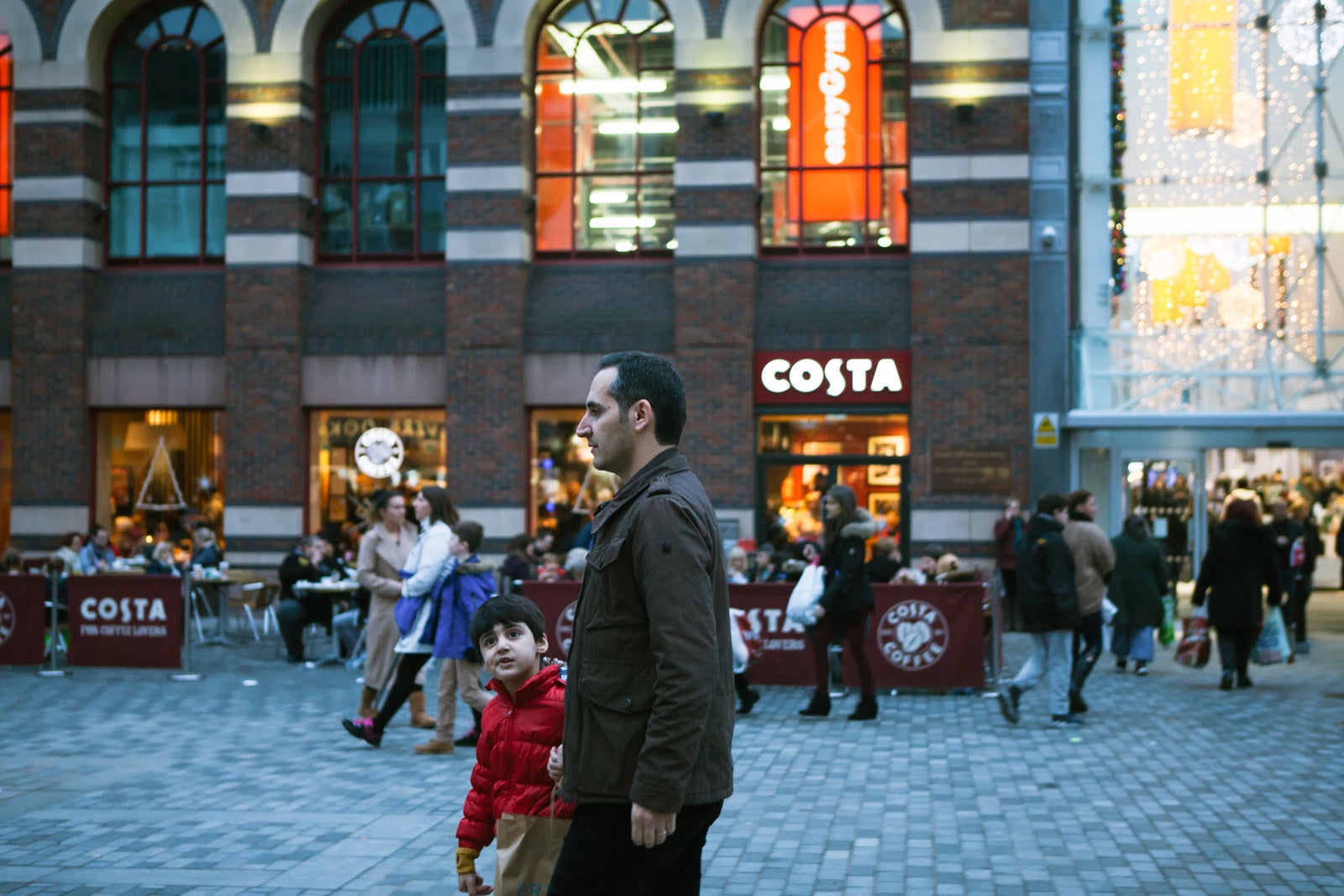 "As refugees we have too many things we would like to do but we can't because it would need a big budget, so we are trying to balance this matter to be realistic in our experience of this event," Mahmoud says of their Christmas plans.
"But we are going to visit the church [on] Christmas Day and try to explore the tradition and the customs of how the locals celebrate this merry day. So we will try to look at what's going on around us and copy it a little bit."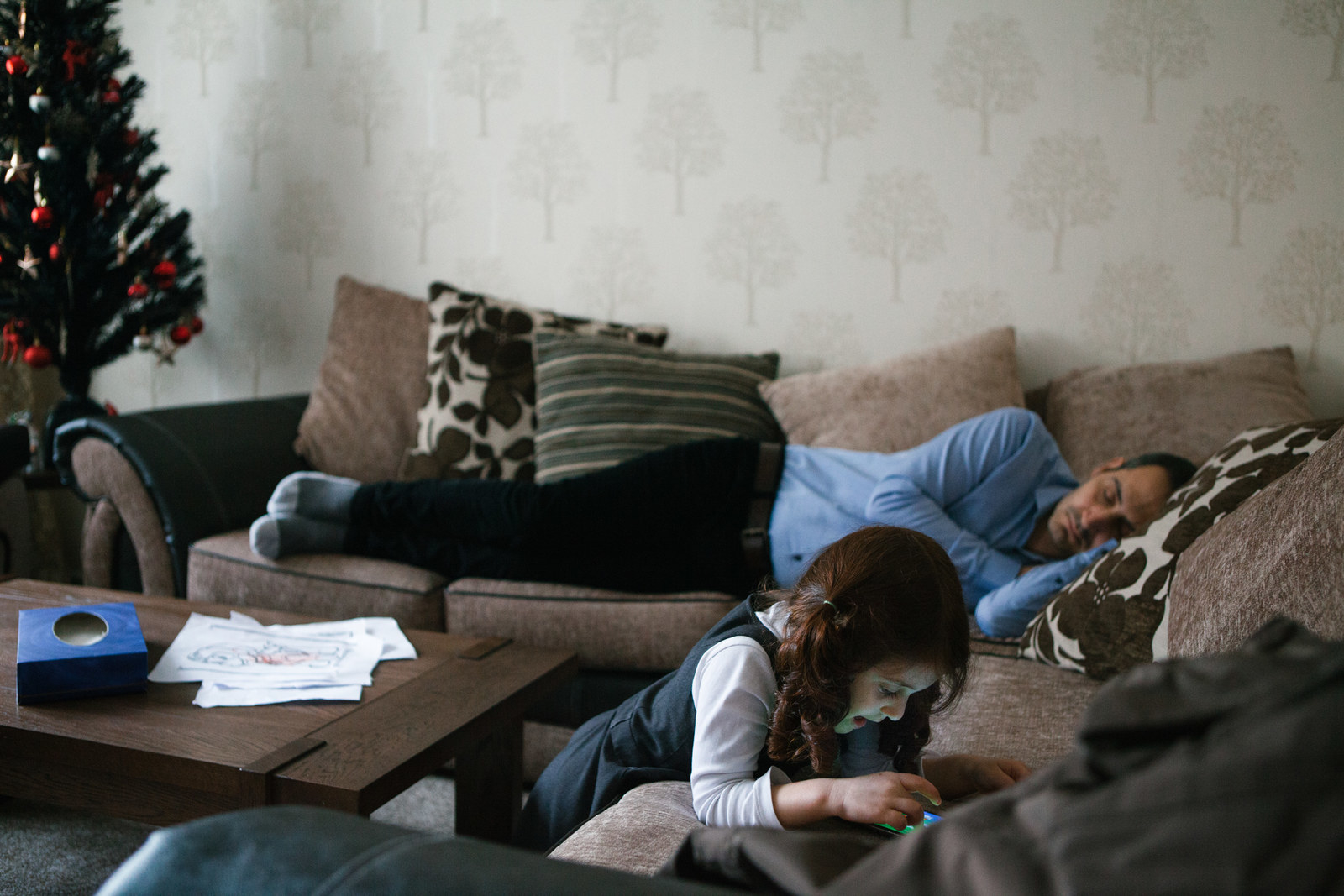 Back at home, Mahmoud rests his eyes after a busy day of shopping and entertaining the children, while Lary plays games on his phone.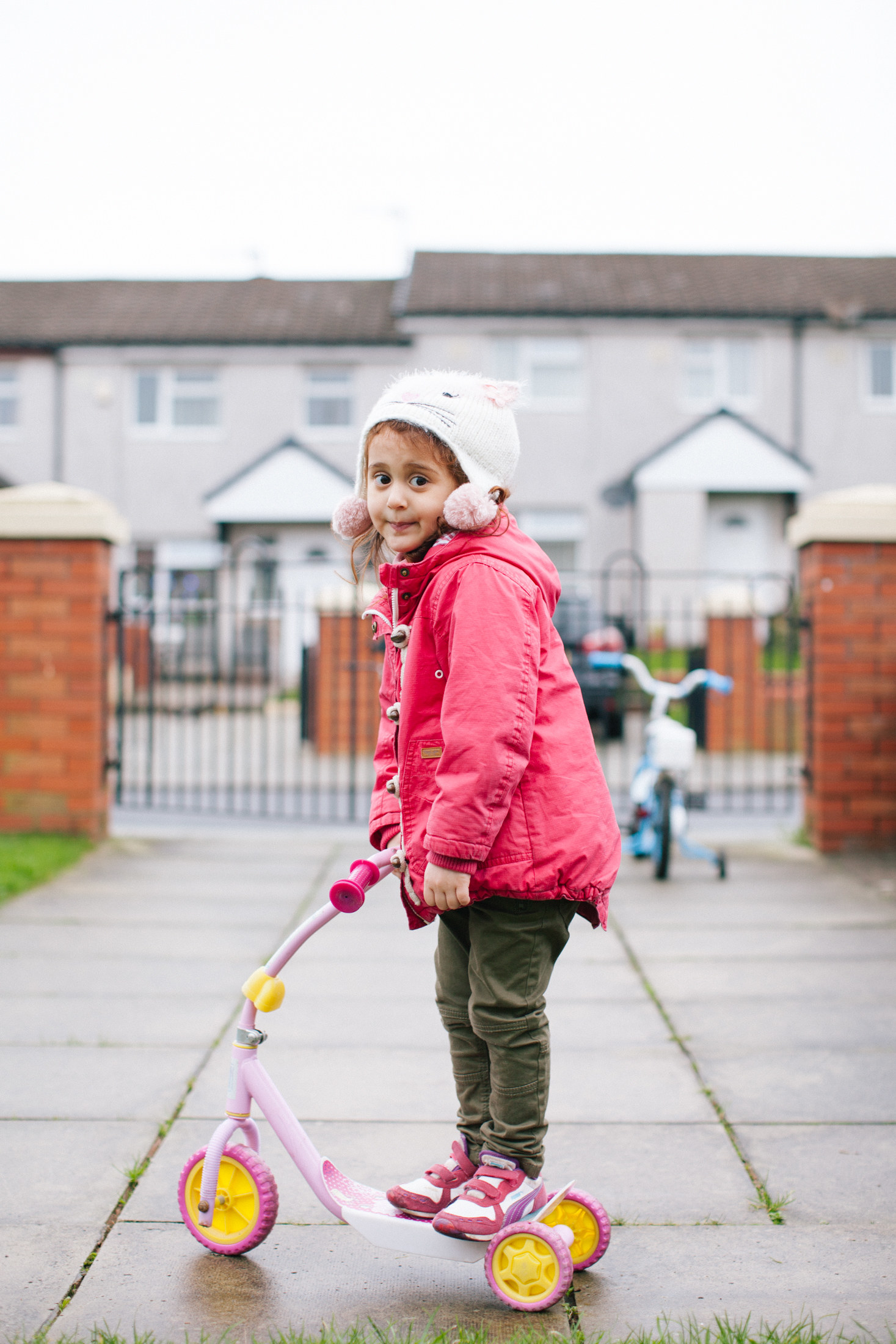 The next day, Lary plays in the front garden of their house, wrapped up against the cold.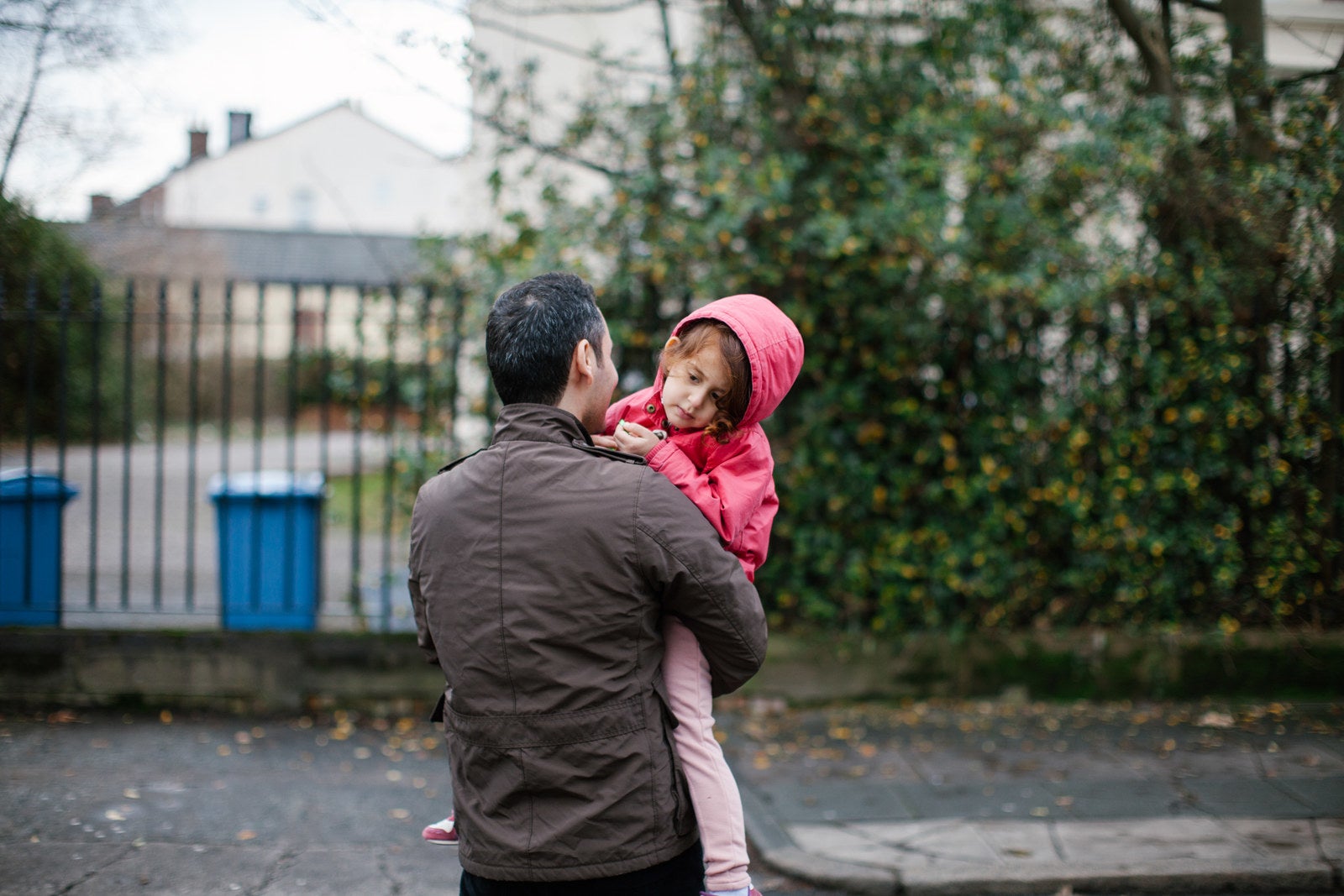 It's Sunday, and the family walk to the local baptist church, where the children attend Sunday school. They have attended the church for six months, and went to another before that.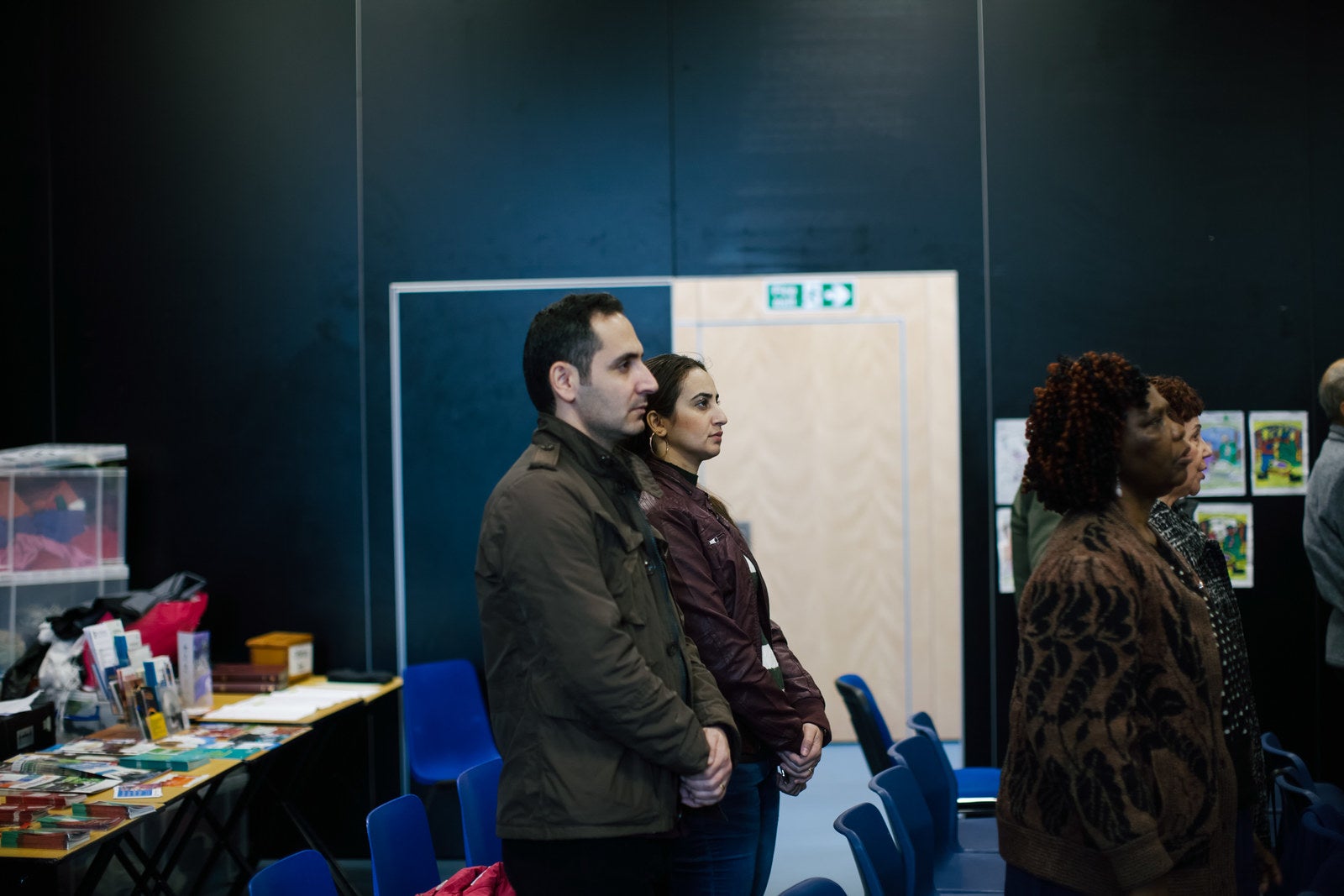 Neirouz and Mahmoud listen to the teachings delivered by the pastor at the baptist church. Mahmoud explains why they have adopted religion since coming to the UK. "In the past when somebody asked me if I was religious, I answered that I was secular, but then I discovered that I have faith in my heart. [Previously] I was saying that I am following Darwin, I was following evolution theory, but then I discovered that I have faith. I think it doesn't matter what religion you have to follow, you just have to be human.
"But as a refugee living in this country I think it's better if my children grow up by the Christian principals to help them integrate. I think it suits us better than Islamic religions. I'm not going to ask my children to change their beliefs; I will let them make their own choices when they grow up. But this is why I am [occasionally] taking them to church. And at the school too – it's a Catholic school – they sometimes ask me if I mind that they attend religious lessons and teach them about Christianity. I said to them that I don't mind and that I hope you can teach my children about these matters."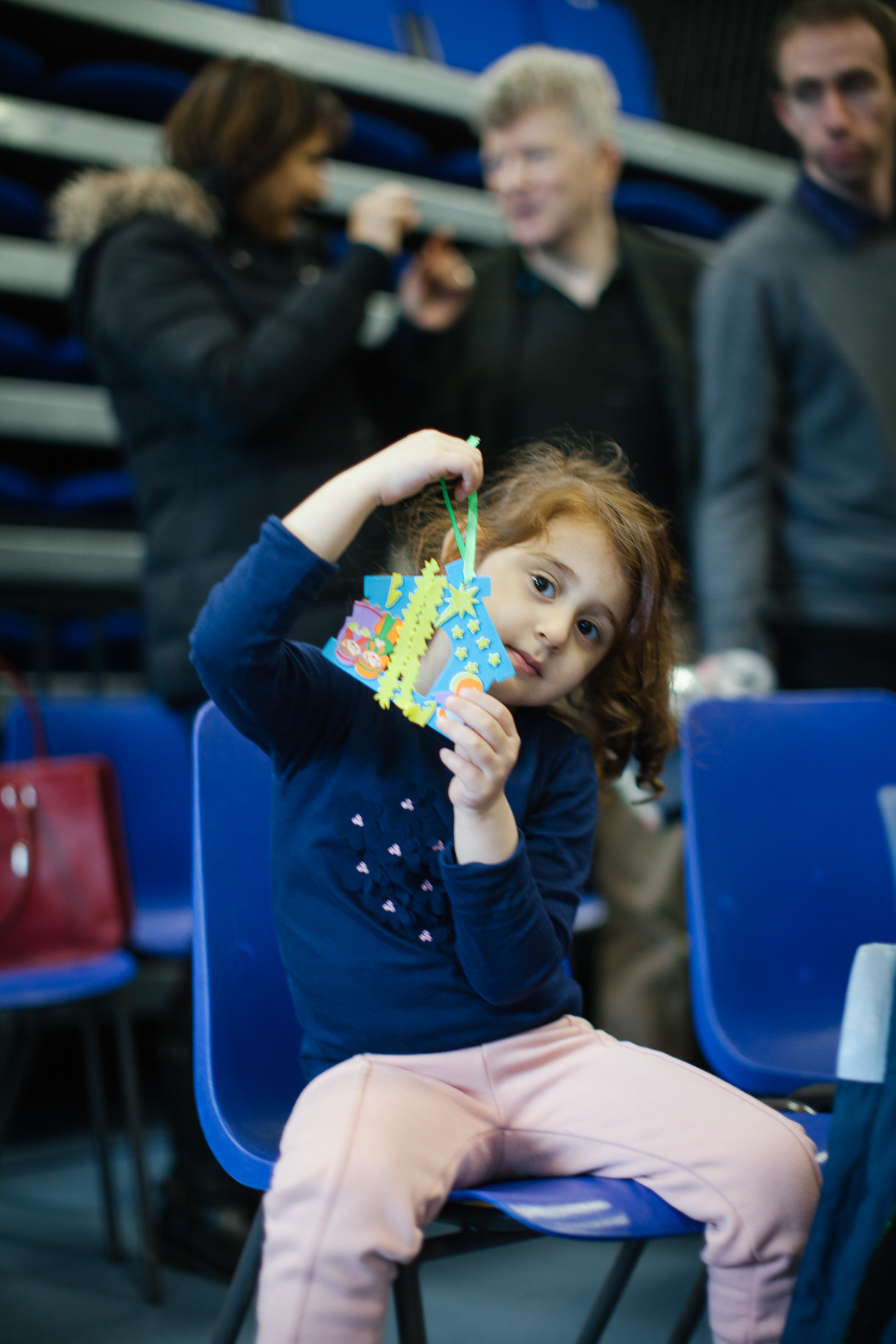 Lary shows off the nativity scene she made in Sunday school.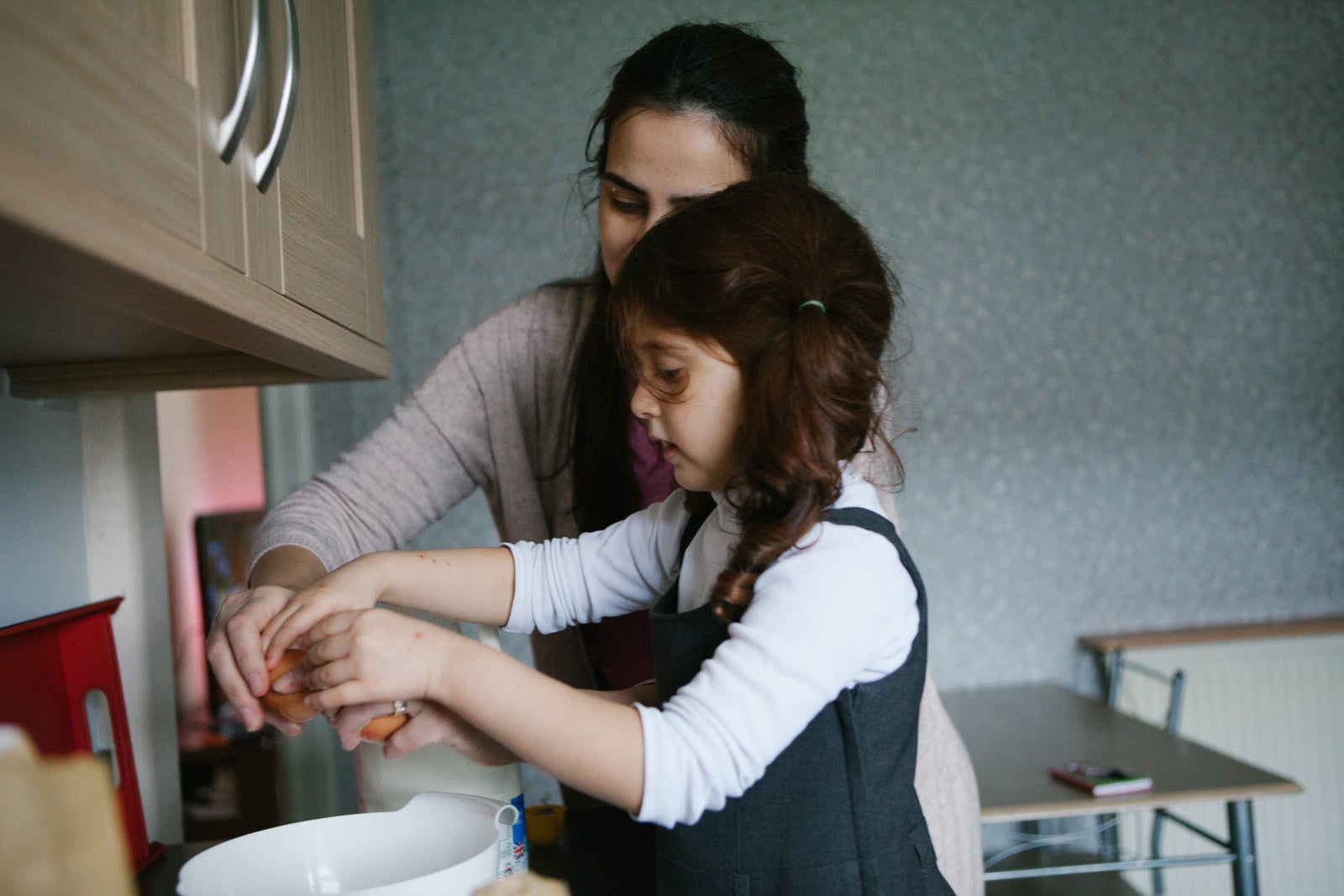 At home again, Neirouz had planned to teach Lary how to make Kurdish cake - a traditional Christmas food in Syria. This includes kolecha, a type of date cake, and harissa cake, made with semolina or couscous. But Lary wants to make cupcakes.
"At Christmas we used to do a special dish," Mahmoud explains. "Some people would do turkey like you do here in the UK. The big families used to gather together and book a big party in a big hall and have dancing and drinking. I personally don't like turkey, I like to have chicken with potato and rice with lamb, which is very popular. In Kurdish we called it kusht u birinj."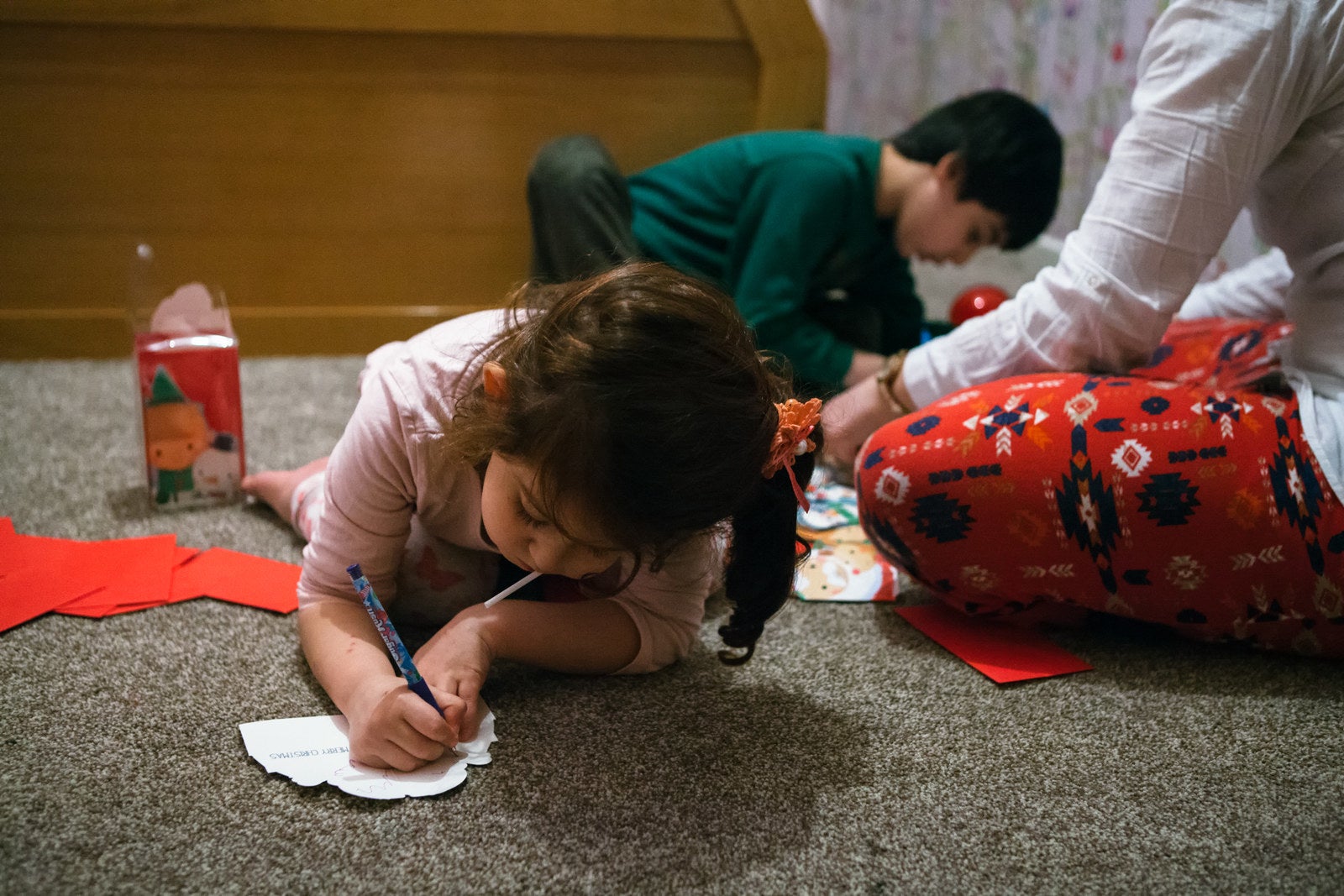 Hamid and Lary, with help from their mum, write Christmas cards to all their school friends. Both children have been learning to write in English for less than six months. Hamid finishes his card for his friend Alfie (below) while Lary plays on her bedroom floor.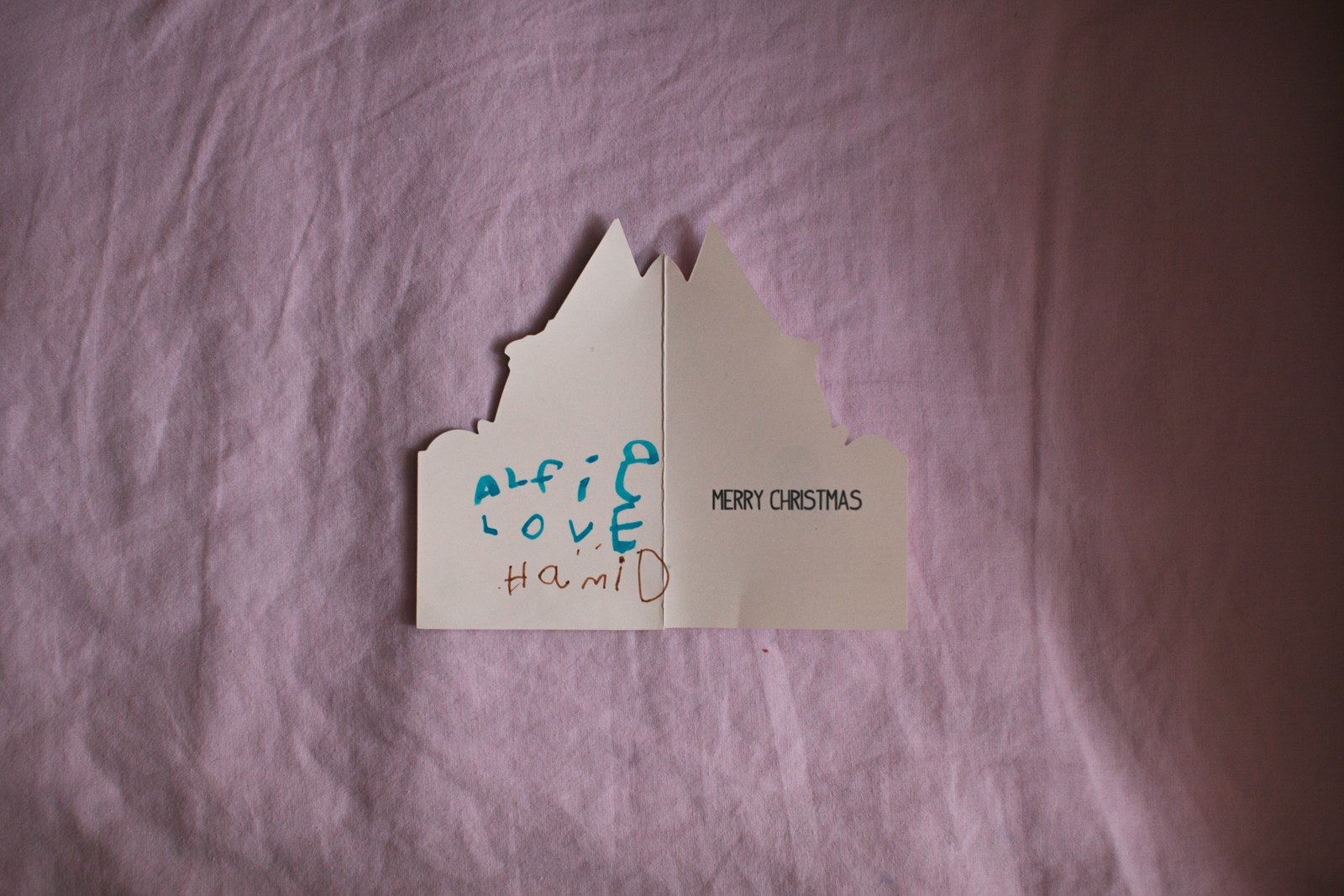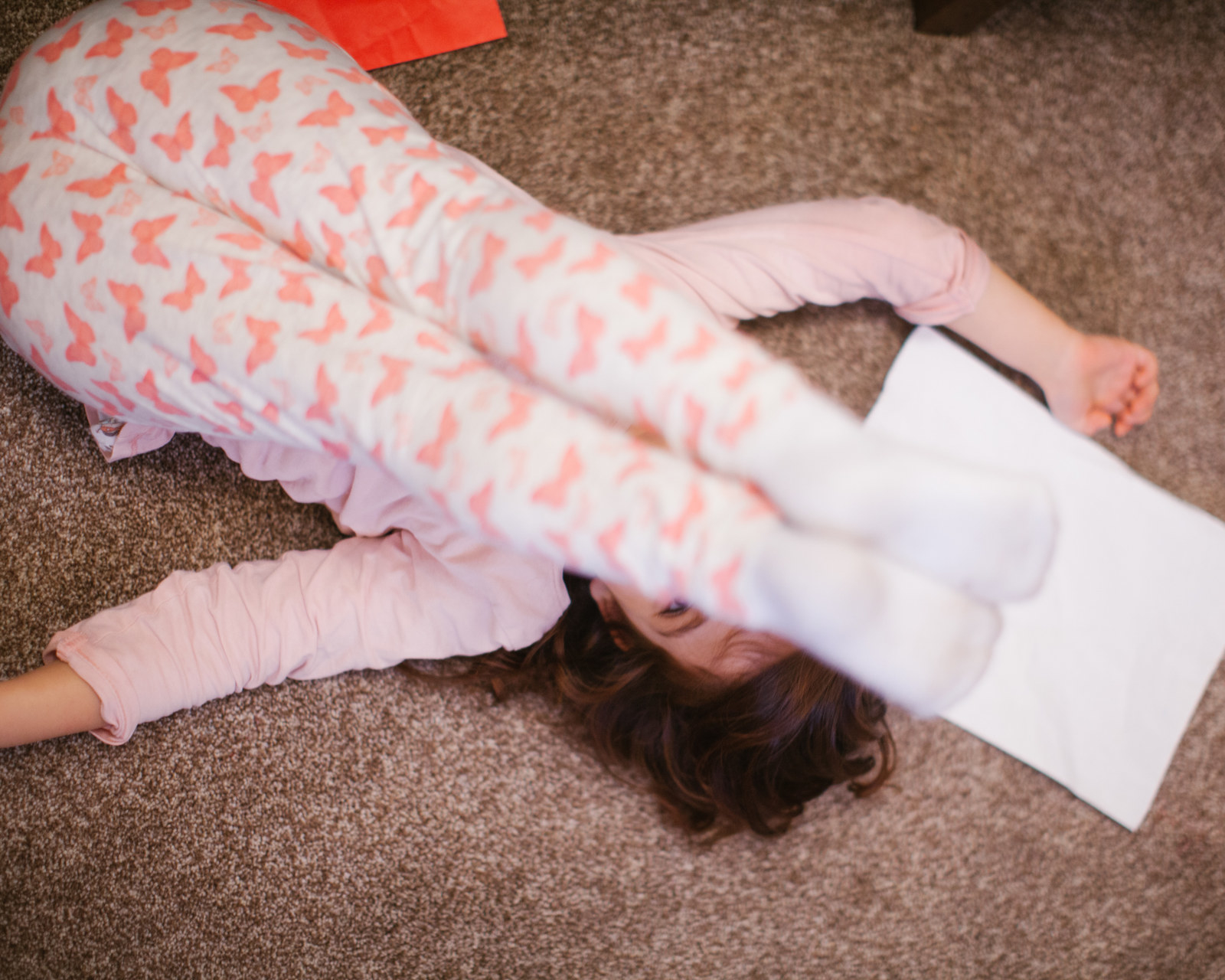 What are Mahmoud's hopes for 2017? "I hope we get peace in Syria, and freedom. We are looking for a brighter future for our children and our country. We hope all citizens come together and make a new agreement to live in peace with one another.

"As Kurds I can also add that we hope to get some rights and we hope these rights are recognised in the constitution. I am going to start my master's in September 2017, and I hope to be an outstanding student. My daughter starts reception school next year and I hope Neirouz can get a good job. We are looking for progression in English and [to] integrate with our new society here in the UK."