Tempted To Order Take-Out Tonight? Make This Super Quick And Healthy Chickpea Curry Instead
Because no one's tryin' to eat a day's worth of sodium in one meal.
by
,
,
Easy Chickpea Curry (Channa Masala)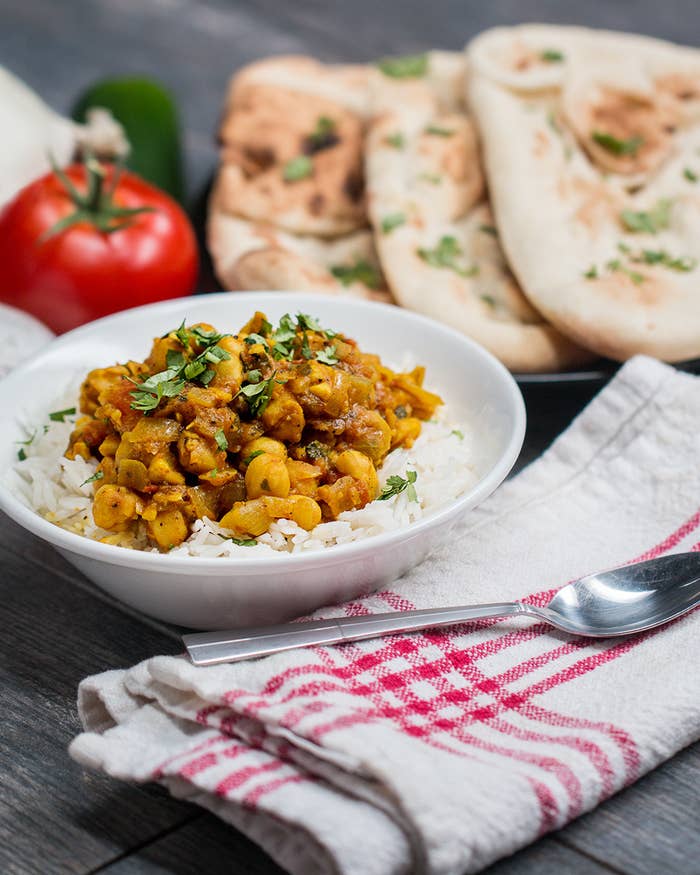 INGREDIENTS
1 tablespoon vegetable oil
1 large onion, diced
2 cloves garlic, minced
1-inch piece ginger, peeled and grated
1 jalapeño pepper, seeded and sliced
2 tablespoons garam masala
1 teaspoon turmeric
1 teaspoon salt
1 teaspoon black pepper
2 cups fresh tomatoes, diced
2 15-ounce cans chickpeas, drained and rinsed
½ cup water
½ lemon, juiced
¼ cup cilantro, chopped
PREPARATION
1. Heat olive oil in a large stock pot or dutch oven over medium-high heat.
2. Add onion and cook until onion becomes translucent and begins to brown, about 3-5 minutes.
3. Add garlic, ginger, and jalapeño. Continue to cook over medium heat until garlic is fragrant and jalapeño is tender, about 3-4 minutes.
4. Add garam masala, turmeric, salt, and pepper then continue to cook for 1-2 minutes.
5. Add tomatoes, chickpeas, and water. Stir to incorporate, making sure to use the spoon the scrape off any brown bits that have appeared on the bottom or sides of the pot.
6. As the tomatoes break down, the mixture should take on the texture of a thick stew. Add more water if needed before bringing everything to a simmer and covering for 15 minutes.
7. Once uncovered, reduce heat to low and mix in the lemon juice and chopped cilantro. Cook over low heat 1-2 minutes until the cilantro has wilted and turned bright green.
8. Serve over basmati rice or with a side of naan.
9. Enjoy!