Healthy White Bean Dip Snack Prep #TastyFreshFriday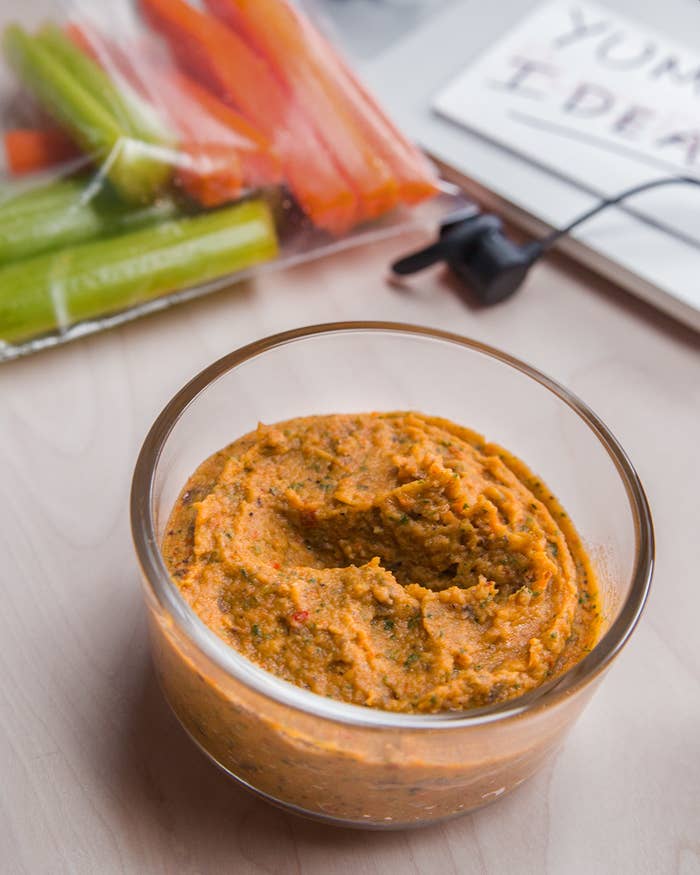 INGREDIENTS
Servings: 4
1 medium-sized eggplant
1 red bell pepper
6 tablespoons olive oil (2 tablespoons for roasting, 4 tablespoons for processing)
1 can of cannellini or other white bean, drained & rinsed
2 cloves of garlic, peeled
⅓ cup parsley, loosely packed
3 tablespoons lemon juice (about 1 lemon's worth)
½ teaspoon salt
½ teaspoon black pepper
½ teaspoon red pepper flakes
PREPARATION
Preheat oven to 450˚F/230˚C.
Cut eggplant and bell pepper into medium-sized pieces, being sure to remove the seeds, and spread them out on a baking sheet that has been lined with parchment paper.
Lightly coat the vegetables with olive oil, salt, and pepper.
Roast the vegetables for 20-25 minutes, until the edges begin to char and the skin blisters.
Add roasted vegetables to a food processor along with the beans, garlic, parsley, lemon juice, and seasonings. Pulse until the ingredients are roughly chopped. Then, with the machine running, slowly pour in the remaining 4 tablespoons of olive oil into the food processor and blend until the mixture is smooth.
Transfer mixture to a bowl and serve with freshly cut vegetables, crackers, or pita bread. Alternatively, the mixture can be placed into individual serving-sized containers and stored in the refrigerator for up to 4 days.
Enjoy!
Inspired by: http://www.foodnetwork.com/recipes/giada-de-laurentiis/white-bean-and-roasted-eggplant-hummus-recipe.html
Want BuzzFeed Tasty right in your inbox? Sign up for our newsletter!