Gotta Have It Vegan Mac 'N' Cheese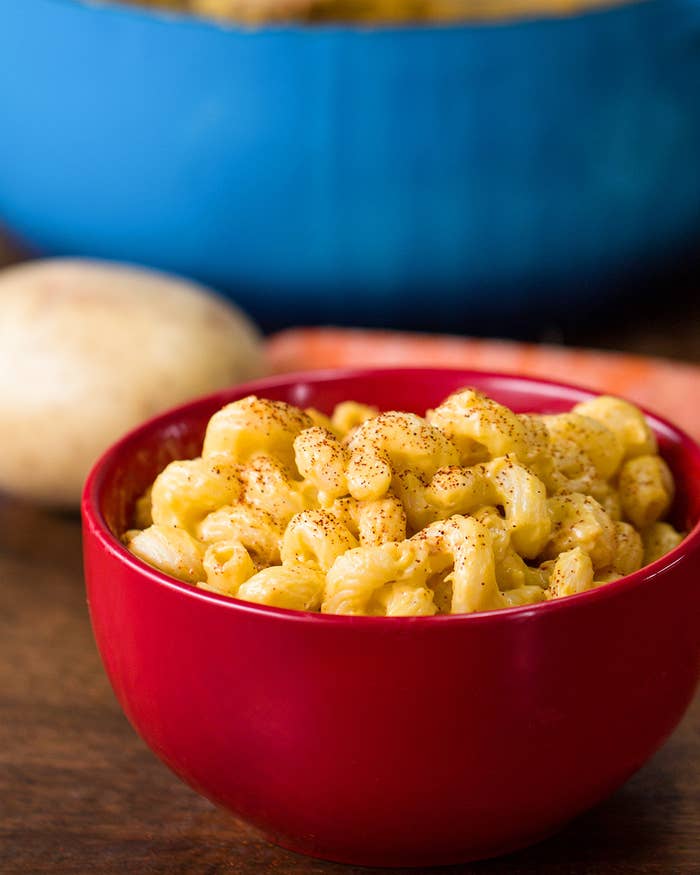 INGREDIENTS
Serves 4
2 yellow potatoes, peeled and cubed
1 medium carrot, peeled and cut into 1-inch pieces
1 medium onion, peeled and quartered
½ cup cashews
1 teaspoon salt
1 teaspoon garlic powder
1 teaspoon onion powder
2 tablespoon nutritional yeast
1 pound macaroni, cooked
Garnish
Paprika
PREPARATION
# Add vegetables to a large pot or Dutch oven of boiling water. Cover and allow the vegetables to cook for 10 minutes, until the potatoes are fork-tender.
# Remove boiled vegetables from water and save 1½ - 2 cups of the water.
# Add vegetables, cashews, and seasonings to a blender with half of the reserved water. Blend, adding a few tablespoons of water at a time until the desired consistency is achieved.
# Pour vegetable puree over the macaroni and stir to incorporate before serving.
# Enjoy!