1.
A copy of Burn After Writing for some much needed self-reflecting time. Learn new things about yourself and let other things go by writing it down, then lighting that sucker on fire. I want one, it seems so freeing.

Promising review: "I first saw this book on TikTok and decided to look more into it. I purchased four total because I know some people holding onto things that are difficult to let go of. It's a great way to look at things from a different perspective and truly hold yourself accountable to different things in your life. I love what it stands for and I look forward to when I burn mine after I'm done. Self love, self care, and meditation for a better state of mind tomorrow is always the goal. I definitely recommend it to those susceptible to change and the willingness to try things different. You're so much more than what's been done to you and someone's inability to see your worth does not decrease your value. Choose you for a change." —Brent Helm
Get it from Amazon for $7.32+ (available in two styles). 
2.
A six-pack of beauty sponges at an extremely affordable price. You're supposed to change your Beauty Blender every three months and cleaning them is the absolute worseee. What better than six beauty sponges for half the price of one of the fancy ones?

Promising reviews: "If you got here because of TikTok then just go ahead and add to cart. These babies are so much softer than the Real Techniques sponges and in my opinion better at blending than Beauty Blender." —Cassandre
"Saw this recommended from a TikTok makeup guru and never looked back. Was disappointed in the Beauty Blender's quality and price and finally decided to make the switch. This product blends so well and doesn't leave smudge strokes like how the Beauty Blender does. You get six sponges for the fraction of the price of a Beauty Blender! 5/5 would definitely recommend for the beauty babes!" —Michi Drinks Matcha

Get a six-pack from Amazon for $9.95.
3.
Annnnnnd a six-pack of powder puffs for contouring with loose powders. It's triangle shaped so it can get all up in those under-eye corners. There's also a little strap so you can strap it to your fingers!

Promising review: "I got these because of Alix Earle on TikTok and they did not disappoint! They make my powder go on so smoothly and make my face look so flawless. Also, they are such great value for the money and I love that they come in pink. I highly recommend!" —Kristen
Get a six-pack from Amazon for $7.99 (available in 15 colors).
4.
A jar of the TikTok famous Pink Stuff that's totally worth ALL the hype. My jaw is quite LITERALLY on the floor every time I scroll on TikTok and see this stuff in action. This paste plays no games when it's time to get tidy.

Tough on grease and stains on almost any surface, leaves no scratches, and it's vegan! 
Promising review: "I saw someone using this on TikTok and I was skeptical at first, but for $7 I thought I'd try it anyway. I am SO glad I bought this! I had a hair dye stain on the bottom of my bathtub for about a year from dyeing my hair at home, and I tried EVERYTHING...nail polish remover, Mr. Clean Magic Erasers, Scrubbing Bubbles foam spray, etc., with no avail. I also had calcium stains on the drain of my bathtub and sink that were a pain to get out. This product erased all of these stains with ease and made it look like they were never there! This is your sign to buy this...I am so happy!" —Savannah M.

Get it from Amazon for $5.97.
5.
A super cute, super comfy minimalist pair of slides. Can we get a little monochromatic moment with these slides? I need a pair in every color and an outfit to match.

Promising review: "I heard about these shoes on TikTok from someone who really hyped them up. I have had really bad back pain over the years, I'm in my kitchen a lot and it would kill my back. After I heard how soft these were, I ordered a pair in black and now I live in them. No more back pain from standing in my kitchen for hours baking. They are so comfortable, very lightweight, and I keep telling everyone about them. I can't wait to order more in different colors. I really wish they made them in a light mint green lol but definitely worth every penny." —britney
Get it from Amazon for $24.99 (available in women's sizes 6–12 and 20 colors).
6.
A citrus-scented foaming car upholstery cleaner that I need right now because holy freakin' cow! I have soooo many stains from my nannying days (kids spill EVERYTHING) and from always spilling my coffee and I was thiiiissss close to getting it professionally cleaned. Now I'm gonna clean it myself for $11, yay! If you're looking at your car seats like ehhhh, go ahead and add to cart.
Check out a TikTok of the car upholstery cleaner in action. 
Promising review: "So I had a spot on my dash that I wanted to clean and grabbed this stuff because I figured my car could use some TLC over the years. Well, I went to clean one small part and ended up almost detailing the entire inside of both front and back driver and passenger side doors. It worked so well, so fast, and smelled so good that I couldn't stop. My car looks brand-new!" —Michael
Get it from Amazon for $10.99 (available in seven styles). 
7.
A set of two pairs of sunglasses because sunglasses are always a perfect accessory to throw on and spice up an outfit. They're rectangle-shaped for a '90s retro feel while also blocking out glares. They could def pass for an expensive pair of sunglasses and you get two for a shockingly low price — what a win.

Promising review: "I had originally seen these pair of glasses on TikTok and was very eager to buy them and let me tell you they did NOT disappoint. They are very sturdy, fashionable, and look like a high-end pair of glasses." —Alejandra L.
Get a two-pack from Amazon for $16.95+ (also available as singles and in 33 colors).
8.
A foaming garbage disposal cleaner that seriously looks like an erupting volcano. Like, this looks like a blast to clean with. It removes buildup, deep cleans, and eliminates any odors from smelly leftovers that have gone through the garbage disposal.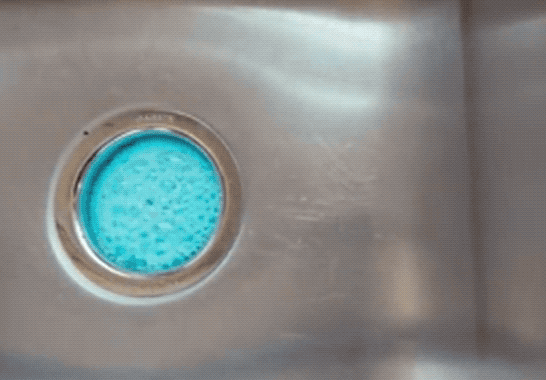 Promising reviews: "Saw this on TikTok (don't judge) and automatically added to cart. So easy to use, takes probably a minute to fully bubble up and clean, and you're left with a clean sink! I use it with other drain cleaning products, but would 100% recommend for weekly maintenance." —Jessica Hamilton
"OMG, this stuff is the absolute best!!! Get ready for some funky stuff to come out of the sink. Super easy to use. Highly recommend for cleaning the garbage disposal!" —Joe B.
Get a four-pack from Amazon for $3.78.
9.
A two-pack of hairless facial applicator brushes to get an even application and keep your face mask from under your nails. And you don't have to just use them for face masks — you can totally use them for moisturizers, serums, body butters, and lotions.

Promising review: "I absolutely love these. I saw them on TikTok and ordered them right away. I've been using them for months now and they make applying masks so much easier. I get a much more even application than I did with my hands or with other brushes. Extremely easy to use, clean, and store. Love love love!" —caterina

Get a two-pack from Amazon for $5.50.
10.
A unisex mini belt bag with an adjustable strap that's super stylish for fire outfits or to hold your things while you go hiking, to concerts, travel, ya know. Also a reviewer-beloved Lululemon belt bag dupe! We love a less expensive dupe!

Promising reviews: "I love the spaciousness yet compactness of this crossbody/ fanny. I saw it on TikTok and read all the reviews — it really does live up to the hype!!" —Amazon Customer
"I honestly use this product everyday and it's so amazing. A great Lululemon dupe! So many pockets, really great color, easy to throw in the wash, easy to adjust the straps, and I really like how it clips in FRONT of you so you don't have to worry about anyone unclipping it from the back. Really great bag and I love it so much." —laura k.

Get it from Amazon for $18.98+ (available in 37 colors).
11.
A set of Wonder Hangers for anyone like me who has a serious shopping problem. And I have such a problem with getting rid of clothes — like, I have dance costumes from years ago that I'll never wear again but I won't get rid of them because of the memories behind them. If you can't get rid of clothes but also can't stop buying them, the solution is not to stop buying clothes, it's these things.

Check out a TikTok of the Wonder Hangers in action. 

Promising reviews:  "OMG...why didn't anyone tell me about these years ago??? I now have actual SPACE in my closet. I give 5 stars." —bonita g.
"I love this for my walk-in closet and my obsession with shopping😅. Everything was perfect. I ordered a pack of six in white and everything was intact. Yes they are made of plastic, but very durable — I have a lot of heavy formal dresses and it's holding them up very well, shockingly!! I'm ordering more. ❤❤❤" —Taylor M.
Get a 10-pack from Amazon for $13.99 (available in three colors and four pack sizes).
12.
An eight-pack of clear organizing bins to get your fridge as organized as all those aesthetically pleasing Pinterest pics. And you don't have to just use them for your fridge — they're perfect for organizing your desk, pantry, cabinets...use it for whatever you need boo! Then, just stare at how pretty it is to easily see your water, yogurt pouches, and juice boxes.

Promising review: "TikTok made me buy it, highly recommended though. They are very sturdy and did not fade over time. These little things hold so many products and are also a great price." —Britney
"I absolutely love these! I was a little hesitant but they really do make a difference inside the refrigerator! I love opening my fridge and seeing everything organized and colorful. It just gives a different vibe!!! Going to buy some more for my kitchen cabinets." —Crystal T.
Get an eight-pack from Amazon for $23.99 (available in five package quantities and four sizes).
13.
A fabulous lip plumping gloss set for some seriously luscious lips. Come through filler qualityyyy 👏. Results may shock you and you'll have the lips of your dreams.

You'll get one lip plumper and one minty sleeping mask for your lips.
Promising review: "I saw this product on TikTok and I had to give it a try. I tried the day lip plumper and within a few seconds, there was a subtle tingling/burning that lasted for a few minutes but as it occurred the plumping started to happen! The plumping made a noticeable difference and made my lips look like I had filler! I'm obsessed!!" —Amazon Customer

Get it from Amazon for $11.04.