1.
An authentic Japanese barbecue sauce that's good on basically everything! It's made from delicious, clean ingredients, without any additives, preservatives, or flavoring, and is inspired by the sauce the founder's grandmother used to make!
I love this sauce! It's the perfect mix of savory, sweet, and spicy, and I've found that it works beautifully whether you're cooking with it or just using it as a last minute topping or dipping sauce.
Bachan's is an Asian and Japanese-owned small business founded by Justin Gill, who dreamed of turning his family's sauce into a business ever since he was a kid. Resisting advice to cut costs and water down this prized sauce that earned rave reviews from everyone who tried it, Gill prioritized maintaining its integrity and only using clean ingredients. Their sauce is proudly cold-filled, vegan, small-batch, non-GMO, BPA-free, and preservative-free, while remaining true to the recipe his family used to make over the holidays, inspired by their grandmother Judy Yokoyama.
Shipping info: Visit the product page on Amazon for your shipping estimate (see Amazon's full shipping information here). 
Visit Bachan's FAQ page for more shipping info, and if you're concerned about it arriving on time for Valentine's Day, you can get a digital gift card instead!
Get it from Bachan's for $13.99 or get a two-pack from Amazon for $23.98.
2.
Dinner and dessert you can literally have delivered from around the country thanks to Goldbelly! If you're bored of the food spots around you and don't feel like scrambling to get a reservation, check out all the amazing restaurants in different cities and states who will ship you the perfect V-Day meal.
3.
 A coffee and chocolate gift box that comes with two delicious bars of tree-to-bar chocolate, and a bag of medium roast, single-origin coffee (ground or whole bean). Plus, each order includes a gift code for an additional bag of coffee, which is matched specifically to their preferences and roasted to order!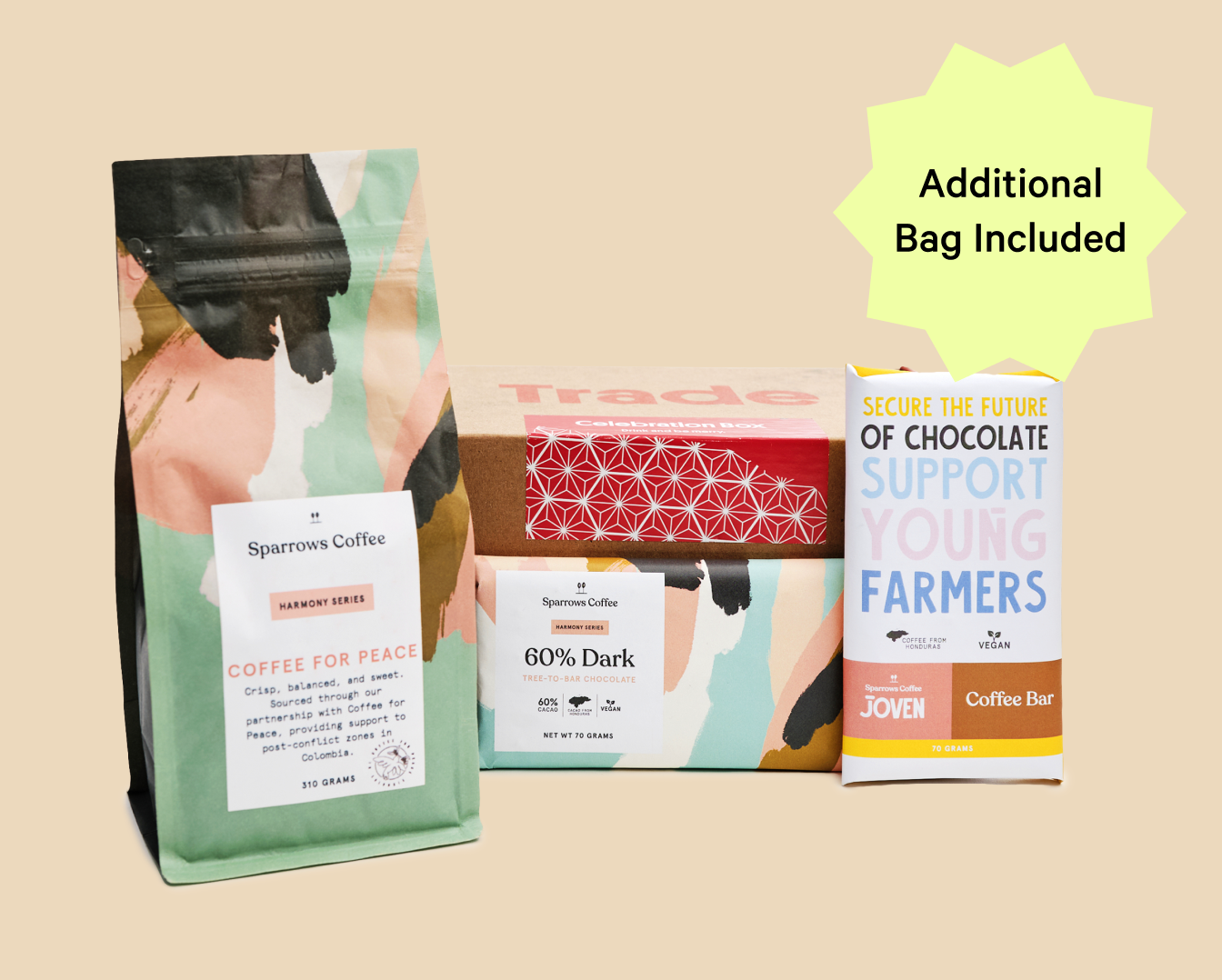 Here's why BuzzFeed editor Heather Braga recommend this:
"Trade Coffee is my husband's favorite place to order coffee from — they also have an awesome subscription service that would make a great gift!"
Shipping: Orders typically ship in 2–5 business days.
Get it from Trade Coffee for $59.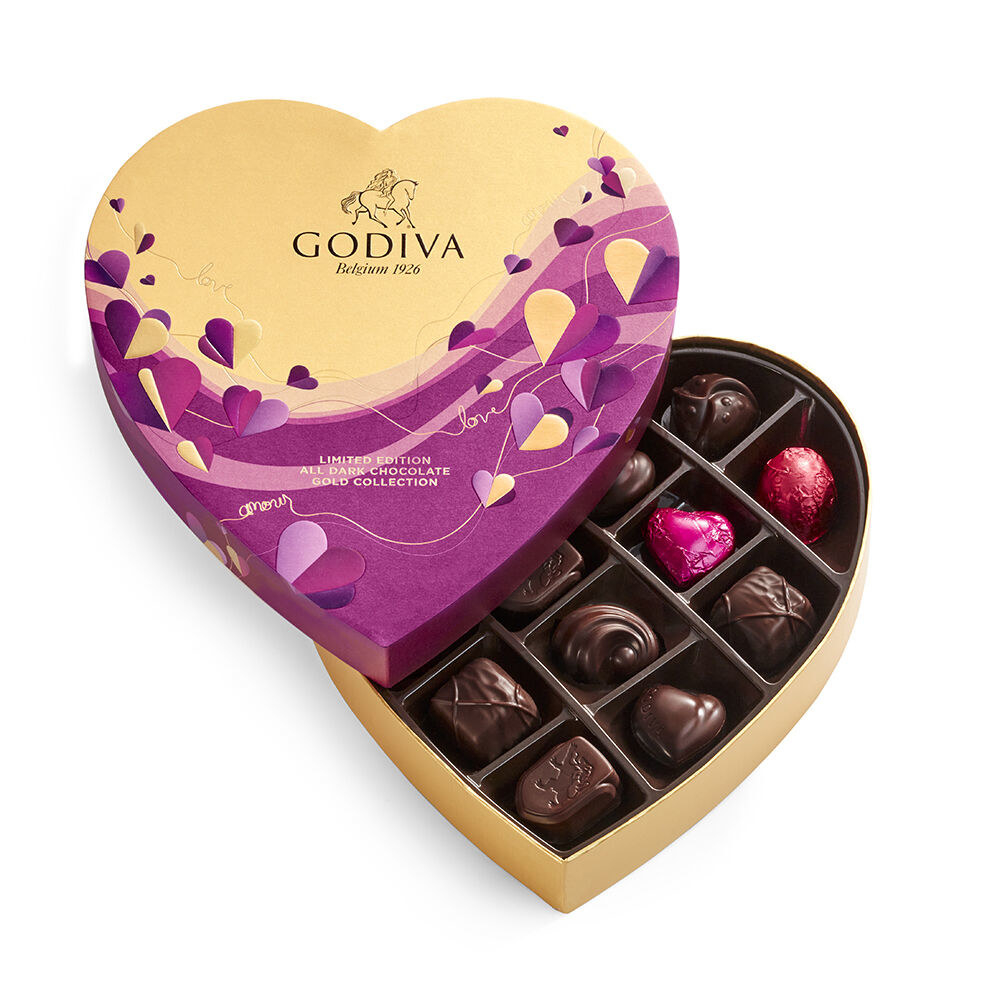 Promising review: "This Valentine's Day gift is a wonderful assortment of chocolates and delicious chocolate-covered cherries. As with all Godiva products, they are very tasty and well presented in the package." —BoSox40
Shipping info: Orders with standard shipping will arrive with 3–10 days, but you can upgrade to Next Day or Overnight shipping as well.
Get a 14-piece box of assorted dark chocolates from Godiva for $41.
5.
A world tour jerky crate filled with flavors from around the globe to give their tastebuds the vacation of a lifetime.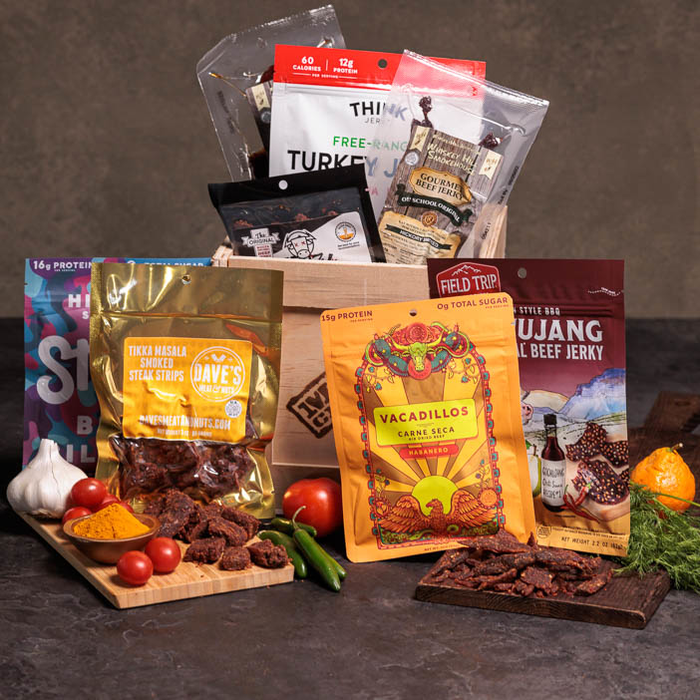 Promising review: "It's a hit! I bought this for my husband as a birthday present and he absolutely loved it! The challenge to open the crate was really fun for him and all the different flavors of meat really impressed him. He is already telling all his friends about it how cool it is." —Kylie
Shipping info: Orders are typically shipped within 1–2 business days, but enter your delivery zip code on the product page and visit Man Crate's shipping info page for more details.

Get it from Man Crates for $119.99.
6.
A bottle of "Sizzle" extra virgin olive oil that, unlike most other EVOOs, is actually made for *cooking* thanks to its use of mid-harvest olives that give it a more mellow flavor perfect for drizzling *and* sizzling! Plus, it comes in an easy-to-use squeeze tube that'll make them wonder why all olive oil doesn't come like this.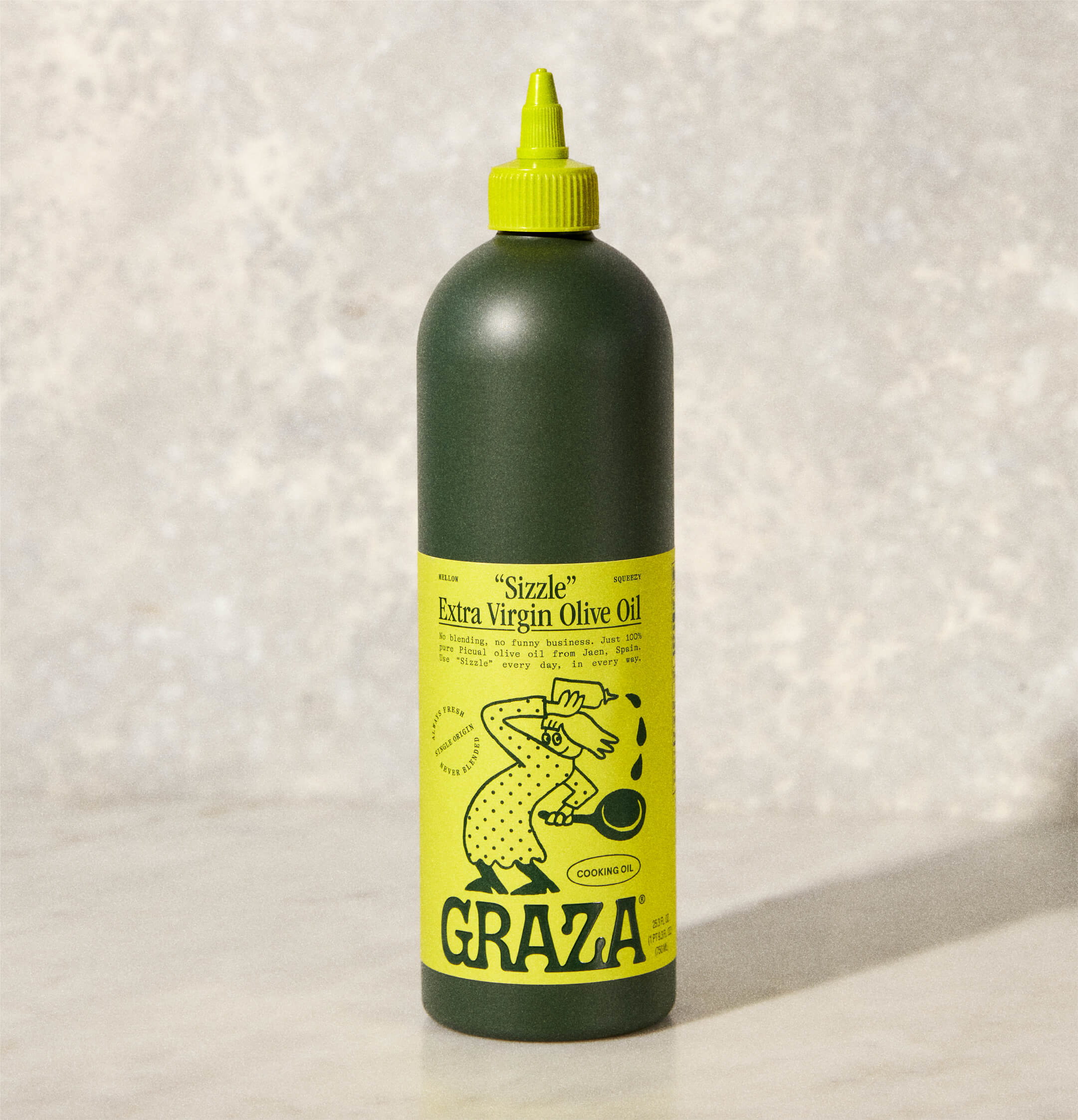 Promising review: "Delicious olive oil (still yummy enough to bake with, dunk bread, or drizzle on ice cream), but I love cooking with Sizzle! It's mild and the squeeze bottle has truly changed my life. I feel like I have so much more control over the amount of oil I'm using. I quickly used my first bottle and this was me stocking up! Graza is my new go-to :)" —Becky W

Shipping info: Please allow 3–5 days for order processing and an additional 3–6 business days for shipping, depending on your location. VIsit Graza's FAQ page for more info.

Get it from Graza for $15 (also available in multipacks and as a subscription).
7.
And a pesto-infused olive oil — it'll make them rethink the possibilities of olive oil! This stuff packs a flavor explosion with prominent flavors of Genovese basil, Parmigiano Reggiano, and a touch of fresh garlic that'll transport their tastebuds straight to Italy.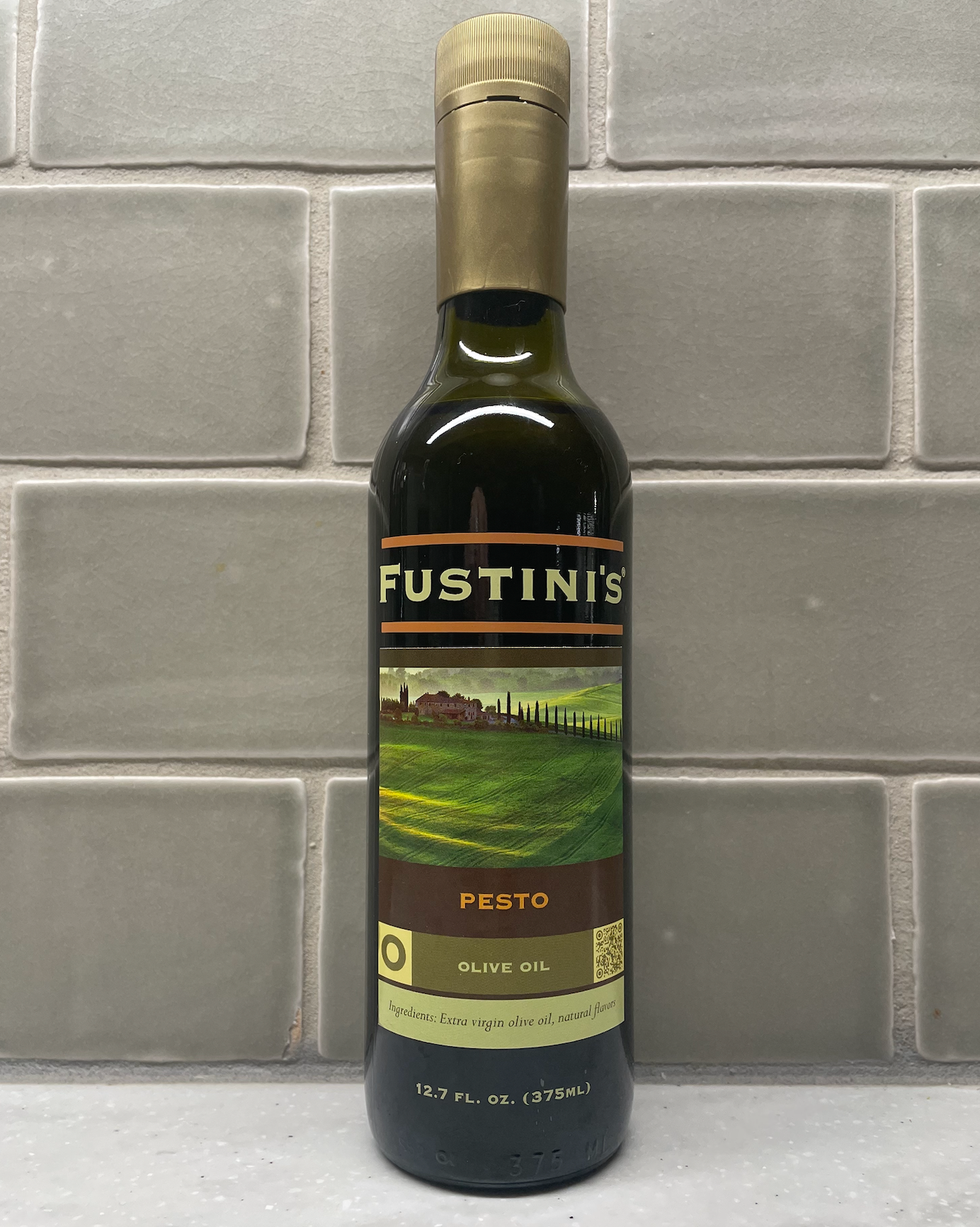 Jonathan Mazzei / BuzzFeed
If you're S.O. isn't a pesto fan, Fustini's has a bunch of other delicious olive oil flavor options as well as vinegars, pantry items, cookbooks, gifts, and more!
This stuff is unreal!!! My parents got it as a gift and couldn't believe the flavor when they first tasted it. They shoved it under my nose with slices of gorgeous, crusty bread and demanded I try it for myself. I couldn't believe how strongly the pesto flavor came through without being overwhelming or tasting in *any way* fake. My tastebuds were almost confused as to how this flavor was coming straight out of olive oil with no pesto anywhere to be seen. A little goes a long way. I can't recommend this enough!
Shipping info: Ships one business day after order is placed. Visit Fustini's shipping page for more info. If you're worried about your order arriving in time for Valentine's Day, you can also get an e-gift certificate.  
Get it from Fustini's for $9.95+ (available in four sizes). 
8.
A bottle of everything bagel seasoning so the bagel fiend in your life can add this classic flavor to literally anything they want! It's great on avo toast, eggs, pizza, popcorn, salads, and much much more.
Promising review: "I LOVE this seasoning blend. It's a perfect balance of salt, black pepper, onion, garlic, and sesame seeds. I use it to liven salads, soups, baked potatoes, and more. Will buy again and again." —DCWRose

Shipping info: Available on Amazon Prime with 2-day shipping, non-Prime shipping options will still arrive by Valentine's Day (see Amazon's full shipping information here).
Get it from Amazon for $12.97.
9.
An African and Middle Eastern spice set — it contains nine high-quality spices and spice blends along with a helpful recipe guide to get you started, making it a great gift for the home cook in your life who wants to expand the flavor profile in their dishes.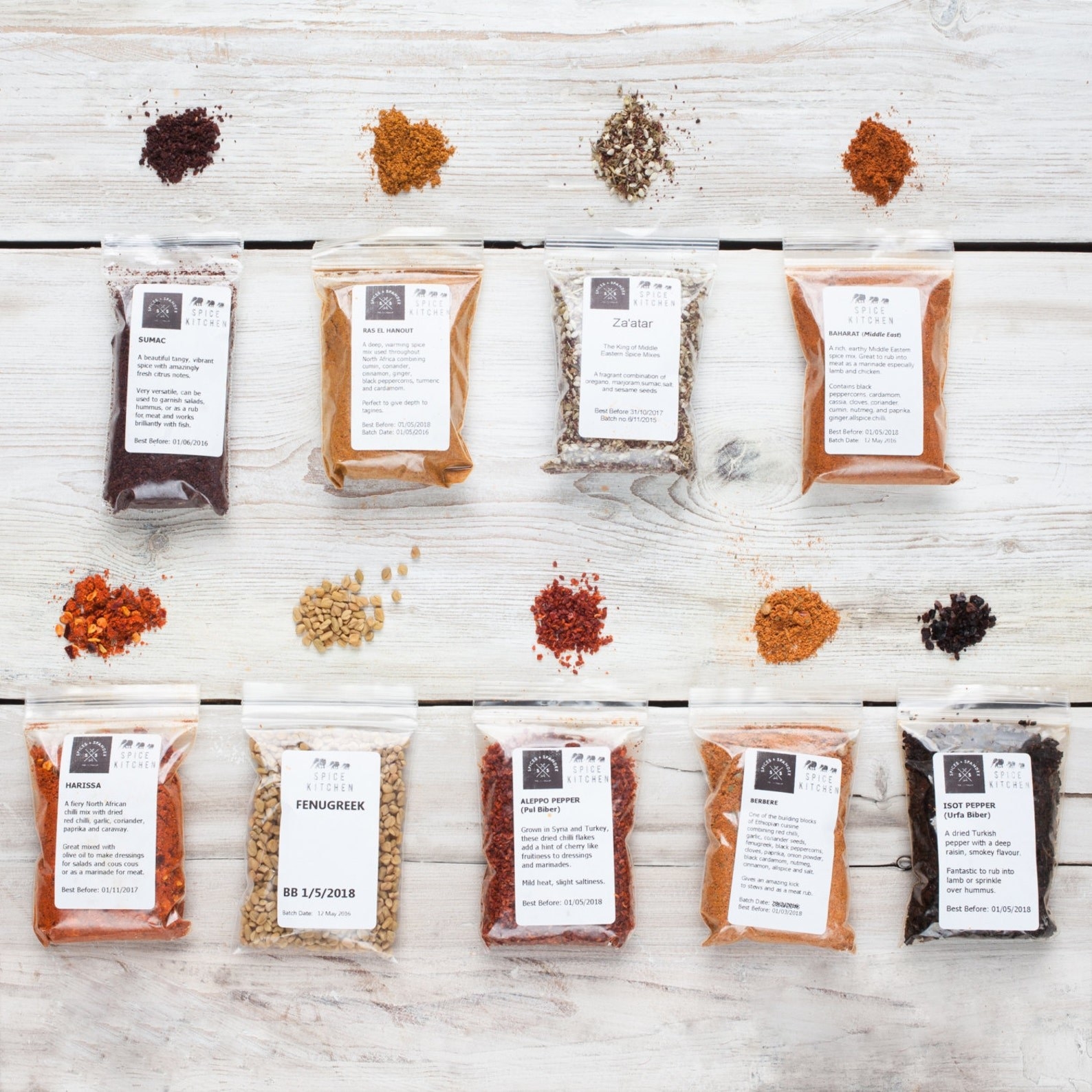 You will receive 20 grams of each spice.

Spice Kitchen UK is a small, family-owned business that offers freshly ground spices. Founder Sanjay Aggarwal's mother, who grew up in Kenya and India,  spent her life lovingly cooking with spices (and gifting blends to family and friends who raved about them). So when she mentioned to Sanjay that she wanted to take on a project to keep her busy during her retirement, Sanjay suggested selling spice tins, and the project took off beyond their wildest dreams!

Promising review: "These spices are absolutely amazing! They arrived quickly, and from the moment I opened the box I could smell how fragrant they were! I used them promptly for some Moroccan dishes and was thrilled with the outcome. I will definitely be back!" —Emma W
Shipping info: Ships 1–2 days after order is placed. Visit the product page for more details.

Get it from Spice Kitchen UK on Etsy for $19.17 (and check out more spice varieties here).
10.
A jar of Sichuan Chili Crisp from Fly By Jing they'll wanna use on EVERYTHING. It's hot and tingly without being overwhelmingly spicy, and its bold flavor adds an amazing flavor to pretty much anything from noodles and eggs, to pizza and even ice cream! *Plus*, it's vegan, sugar-free, gluten-free, and made without preservatives or artificial flavors.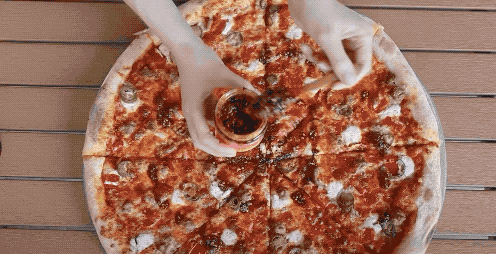 Jing Gao, the founder and CEO of Fly By Jing, is a chef, entrepreneur, and a globally renowned expert on Chinese cuisine. While the flavors are inspired by her hometown of Chengdu, Jing's recipes are deeply personal and offer a unique taste you won't find anywhere else. Check out other great gifts from them!
I got this sauce as a gift, and I have been obsessed ever since I tried it. It combines the most prized Szechuan peppercorns with fragrant dried chilies, fermented black beans, garlic, shallots and more for a numbing, umami-rich flavor that has enhanced truly everything I've tried it on — without overpowering the other flavors. I've been struggling to find the right sauce to take my home-cooked dishes to the next level, and let me tell you, this is it! Plus, the packaging is super cute and thoughtful, and mine even came with a beautiful little zine that includes a breakdown of the ingredients, some amazing recipe ideas, and more!
Shipping info: Available on Amazon Prime with 2-day shipping, non-Prime shipping options will still arrive by Valentine's Day (see Amazon's full shipping information here).
When purchasing from Fly By Jing, orders ship within 48 hours and are delivered within 3-5 business days depending on your region. Visit Fly By Jing's FAQ page for more details.
Get a 6 ounce jar  from Fly By Jing for $15 and a 16 ounce jar from Amazon for $34.95.

11.
Some Maldon sea salt flakes so you can be their own personal salt bae this V-Day and give any dish a luxurious finishing touch.
Promising review: "Most casual cooks are completely unaware that there are so many different types of salts that are used for so many different functions in the kitchen and in the course of cooking. I classify Maldon salt as a 'finishing salt' in my kitchen. I don't use it to salt pasta water or preseason proteins, but rather use it at the very end to finish items, and it makes an enormous difference in what you put on the table and put into your mouth! They are glistening shards that look like glass that crumble easily between your fingers, so when you put it on top of your finished fish or chicken or steak or a top your vegetables, as it starts to melt, your dish absolutely GLISTENS and has a flavor unlike anything else — unlike what any other salt will impart to the dish that you serve to yourself or to your guests! I simply cannot imagine completing a dish without my box of Maldon salt!" —Lee

Shipping info: Available on Amazon Prime with 2-day shipping, non-Prime shipping options will still arrive by Valentine's Day (see Amazon's full shipping information here).
Get it from Amazon for $6.99.
12.
A cult-favorite popcorn salt — it'll give them instant movie theater flavor by using fine season salt flakes that actually stick to the kernels instead of just falling to the bottom of the bowl like ground salt. Anyone who has worked at theaters, amusement parks, or carnivals has probably seen this secret ingredient that the pros don't want you to know about, so if you're looking for that classic flavor — start here!
Promising review: "I used to use Flavacol during my time working at an amusement park and popping popcorn for hungry guests, so I knew this was what the 'professionals' use. I am happy to report that using this does make your popcorn taste like it was just popped at a movie theater. I like to put a little bit of oil on my kernels, mix in some Flavacol, and then add it to the pot of oil on my stove top when it's hot enough (as opposed to sprinkling it on top of freshly popped corn, which I could see easily accidentally adding too much). It also means that I'm no longer loading up my popcorn with additional toppings like butter or plain salt. Yum!" —Kate R.

Shipping info: Available on Amazon Prime with 2-day shipping, non-Prime shipping options will still arrive by Valentine's Day (see Amazon's full shipping information here).
Get it from Amazon for $9.25.
13.
A variety pack of Truff sauces — featuring the Original, Hotter, and White Truff hot sauces — ready to throw a party for their tastebuds and work their way into way more meals and snacks than you'd expect!
This stuff is excellent and really grows on you! The first time I tried it, I wasn't entirely sure how I felt, but by the end of the first week, I found myself reaching for it with almost every meal. While all three options have a lot of similarities, they each have their own distinct personality. At first, they were all a little creamier and almost...tomato-y (?) tasting than I expected. Then, I realized there was NO dairy or tomato present at all, but a thickness and slight sweetness almost reminiscent of red bell peppers. The truffle flavor is present but subtle, and the sauce has a solid kick without being overwhelmingly hot. As far as the differences between the three, the White Truff sauce is a hint sweeter than the other two, the Original has a slightly earthier flavor than the others, and the extra spiciness of the Hotter Truff sauce spreads through the mouth quicker and is definitely hotter than the rest. Verdict: They're all really good! So far, these sauces have shined brightest when added to a nice tomato sauce, drizzled over a slice of pizza, scooped up by crispy french fries, and, believe it or not, even added to a salad dressing, but that's still barely scratching the surface! Plus it comes in a very classy looking box that's great for gifts.
Shipping info: Available on Amazon Prime with 2-day shipping, non-Prime shipping options will still arrive by Valentine's Day (see Amazon's full shipping information here).
Orders from Truff will be fulfilled and shipped within 1–2 business days. Once your order is shipped, it normally takes 3–5 business days for your order to be delivered depending on your region. Visit Truff's FAQ page for more details. If you're concerned about it arriving on time for Valentine's Day, you can get a digital gift card instead!

Get it from Amazon or Truff for $69.99, or try just the Original for $17.98, the White Truff sauce for $34.99, and Hotter Truff sauce for $17.98.
14.
Or a jar of Sabatino truffle seasoning that'll add a pure, yet delicate truffle flavor to any dish. The truffle fan in your life will love this!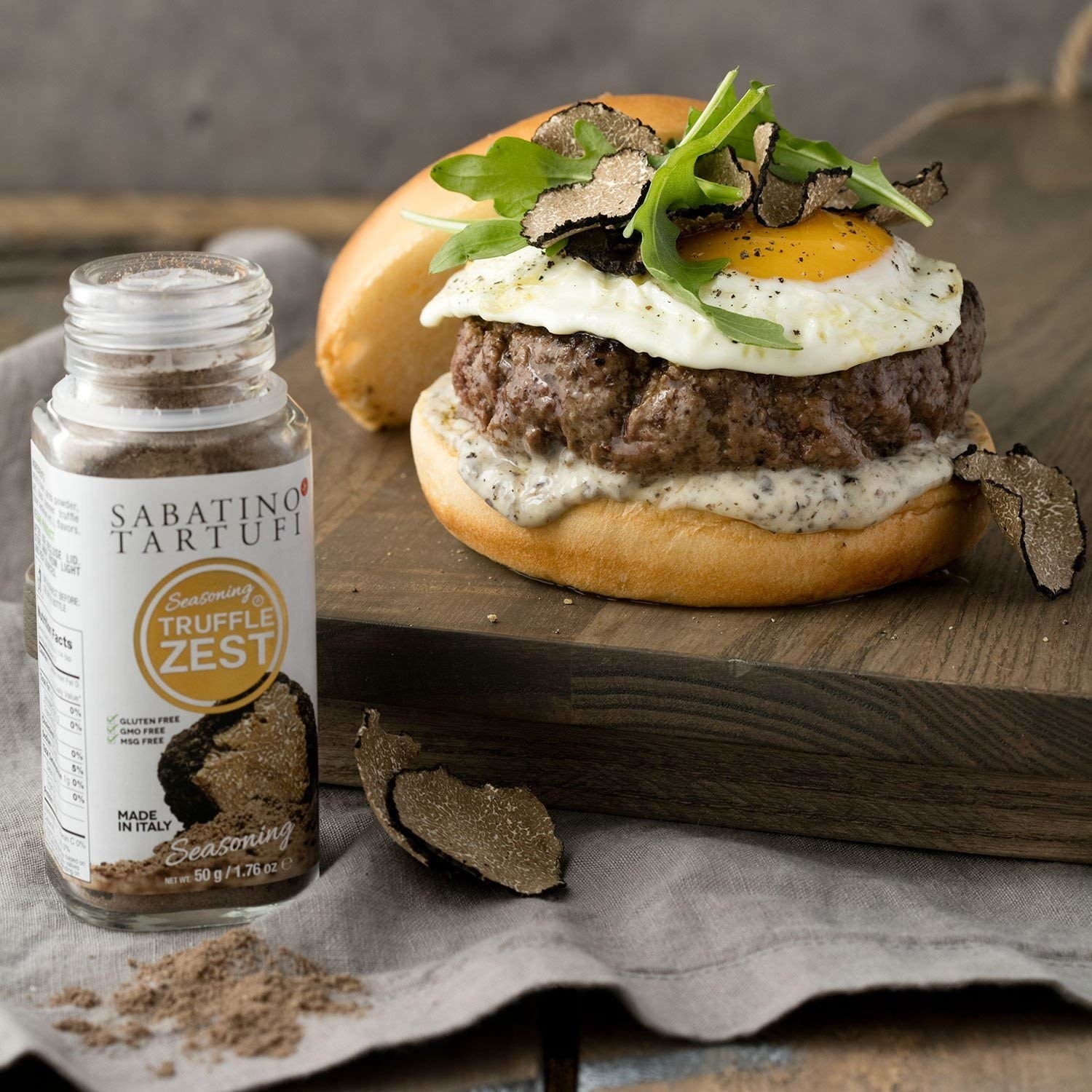 Promising review: "I am a chef and have tasted lots of truffles and truffle preparations. This is not the most pungent truffle condiment, but it is one of the truest. The aroma is quite strong, but the flavor is somewhat delicate. Since it doesn't contain much sodium, you can pile it on to your heart's content. I've put it on soups, eggs, sandwiches, cheese, and whatever I want to truffle. Oils with synthetic truffle aroma will give you more of a wallop, but that overpowering blunt force is why lots of chefs don't like the fake stuff. This is a much more natural black truffle flavor, although it doesn't diffuse as much as high quality black truffle, which almost gets into your skin when you eat it. If someone were curious what black truffles taste like, this would be a great introduction." —EagerEyes

Shipping info: Available on Amazon Prime with 2-day shipping, non-Prime shipping options will still arrive by Valentine's Day (see Amazon's full shipping information here).
Get it from Amazon for $13.99 (also avaiable as a pack of two).
15.
Some super rich chocolate walnut cookies from Levain Bakery that might just be the most luxurious-tasting cookies I've ever had. 
Levain Bakery recommends that you put these in the oven at 350 degrees Fahrenheit for five minutes, and I will second this suggestion. They'll taste freshly baked as if they were made in your own kitchen, full of a generous amount of delicious gooey chocolate balanced with tasty walnut pieces, all inside an incredibly soft, super thick cookie that'll spoil you for all future desserts.

Shipping info: You can select your ideal delivery date at checkout. Levain recommends selecting a date 1–2 days in advance if you'd like delivery by a specific date. They bake cookies to order and try to minimize the time cookies are in transit to 2 days for freshness.
Get a gift wrapped pack of four from Levain Bakery for $27.