1.
Some adhesive, dimmable under-cabinet lights that'll instantly make your kitchen look more expensive than it actually is. These easy-to-apply lights are also great for closets, stairwells, and mirrors!
Promising review: "I had my doubts but I thought, what the heck, for the price I'd give them a try. I am in real estate and known as a lighting snob. The first thing I look at in a kitchen if there is under cabinet lighting. These are so nice (it helps if you have a lip at the bottom of your cabinets) They are a true white, very bright, and I was lucky they were just the length I needed. I just ordered a set and had them shipped to my mom's as her halogen transformer which is buried in a wall, fried and I drives me nuts that the workspace on the counter is dark. I can't wait until I make the 250-mile drive to install them. I may buy more just to use at our listings!" —pauly
Get a 10' strand with 60 lights from Amazon for $20.96.
2.
A clutter-reducing rotating makeup/skincare organizer with shelves so you can conveniently peruse all of your options in an orderly (and aesthetically pleasing) fashion. I love anything that makes me feel like I'm shopping in my own home, tbh.
3.
A Baseboard Buddy, which is a four-foot extendable cleaning tool that makes it easy to reach those spots that would otherwise require a ladder or you kneeling uncomfortably on the floor. Now you can stop avoiding cleaning your baseboards, molding, ceiling fans, grates, and other tough spots, and finally make any room look truly spotless.
The kit comes with one Baseboard Buddy and three reusable pads which can be used wet or dry. 
Promising review: "Buy it NOW. Honestly, I had huge reservations for this thing. Yet another miracle cleaning tool that will break or bend or something. I was so wrong. It was easy to put together and I sprayed it with Mean Green and went to the baseboards. No more kneeling and no broken back. This thing is amazing. It is durable and the pad is super absorbent. I am so happy. I can't wait to do the rest of the house!" —artgirl
Get it from Amazon for $24.99. 
4.
Cute magnetic garage handles to add some serious charm to your plain ol' garage door for wayyy cheaper than the price of *actual* fancy doors.
Promising review: "I've been wanting to upgrade our garage door for a long time and now I have no idea why I waited! The magnets are super strong. Purchased two sets but only used one set of 'handles,' I wasn't a fan of how close I had to place each set next to each other with the narrow spacing on the door itself. Paired with the magnetic 'windows,' it looks like a brand new door!" —MrsPirate
Get them from Amazon for $14.80+ (available in three styles).
5.
A pack of adhesive cord bundlers that easily stick to the backs of appliances so you can get that tangled web of power cords on your kitchen counter back under control.

6.
A door draft stopper here to keep out not only the cold air that loves to sneak in under your door, but also the pests that use the same point of entry to mooch off of your furnace and crumbs when it gets chilly outside. Some reviewers have also found that it's great for blocking unwanted sound if you've got noisy neighbors or roommates.
Promising review: "So easy to set up! All you do is peel tape and adhere to a CLEAN and DRY door. Also looks great, I don't even notice it. I had a huge gap under my door. I could smell and hear everything from the hallway. Smells, drafts, and sound all are less of an issue now." —Brit Suavé
Get it from Amazon for $9.99 (available in four colors).
7.
The Pink Stuff, which has reached cult-favorite status for being great at removing stains, rust, discoloration, and other stubborn marks from metal, ceramic tiles, saucepans, barbecues, and much more without leaving behind any scratches!
Promising review: "I need this in bulk!! I have tried so many cleaning solutions to get out hard cooking stains on my stovetop and nothing worked! This stuff took it right out without a problem!!" —Micaela Gunderson
Get it from Amazon for $5.97.
8.
A reviewer-loved bed skirt to 1) make your bedroom feel like a fancy hotel, and 2) hide all of the clutter you shoved out of there and would rather keep out of sight and out of mind. Plus, it comes in different colors so you can match the rest of your bedding.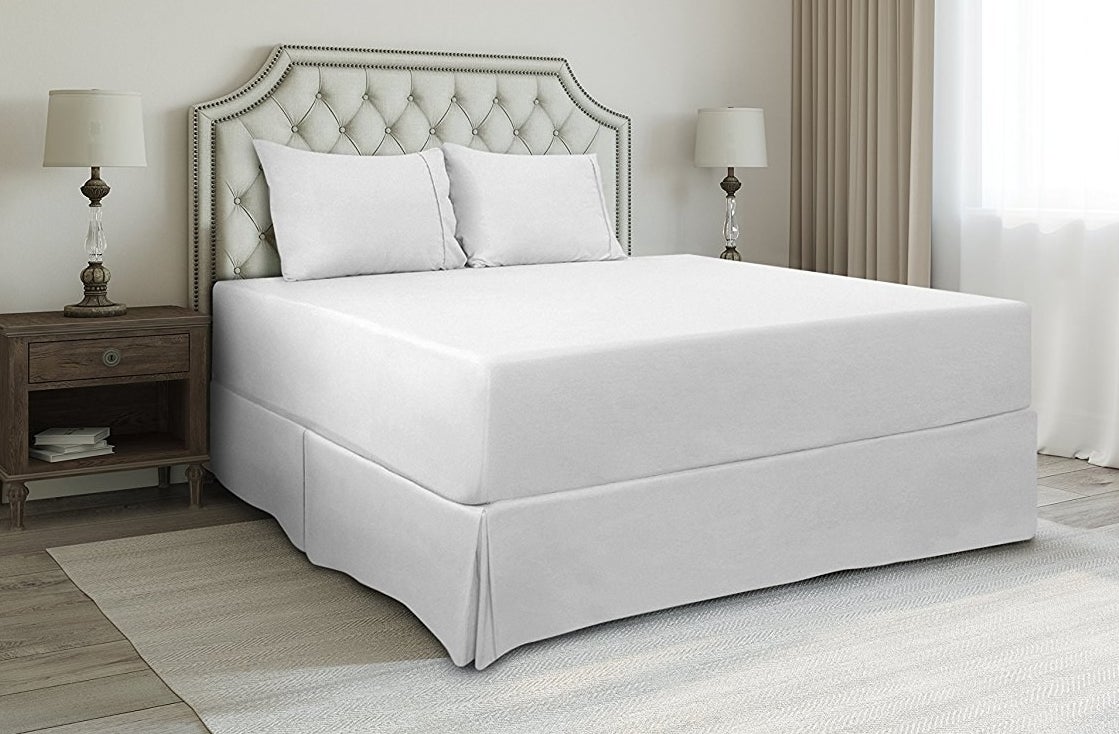 Promising review: "Great bed skirt. Love that it's all one material and color all the way through. Most skirts have cheap material that goes under the mattress. This one has the same fabric on all of it, and it is a really nice quality. Fits great as well. Will definitely buy this brand again." —Todnaehop

Get it from Amazon for $9.99+ (available in sizes twin–king and four colors).nine
9.
Connectable Edison bulb string lights if you wanna ensure that all of your patio parties are truly ~lit~.
Promising review: "I have ordered four boxes of these light sets now. I love love love these lights. When they arrived, I plugged them in while in the package to make sure they all worked. Then I unscrewed all the bulbs to make it easy to hang. I hung them up all around my balcony using a staple gun. When I finished I screwed the light bulbs all in :) I would highly recommend these lights. They are PINTEREST perfect!" —Cora
Get it from Amazon for $16.95+ (available in multiple styles and sizes).

10.
A set of silicone-coated kitchen utensils to replace your mismatched collection and make your kitchen look more unified and, dare I say, adult? Choose the color that works best for your space, and find a cute spot to display them for maximum effect.
Can withstand temperatures of -40 degrees Fahrenheit up to 446 degrees F/230 degrees Celsius. Includes 24 tools and holder.
Promising review: "I love the neutral color. I find them easy to clean. The cup has come in handy, even though I wasn't planning on using it. The measuring cups are a little too flexible for my liking, but it was really amazing finding such a comprehensive set of kitchen tools with a stylish design. I purchased this set because I moved into a new apartment with like zero kitchen equipment and this was the perfect set for me." —Amazon Customer
Get them from Amazon for $27+ (available in eight colors).
11.
Some wood scratch cover that makes it easy to hide dings, scratches, and discoloration on doors, furniture, and other wood surfaces that'll take 'em from drab to fab — without having to do any sanding or refinishing!
Promising review: "I can't believe how well Old English works! I recently purchased a home where a dog previously lived and had horribly scratched the woodwork. I thought I may have to sand and refinish the woodwork around two doors. Old English saved me a lot of work! " —Behold Behold!
Get it from Amazon for $5.97 (also available for light woods).
12.
A sleek (but ventilated!) box cleverly designed to hide those ugly piles of tangled cords cluttering up your floors.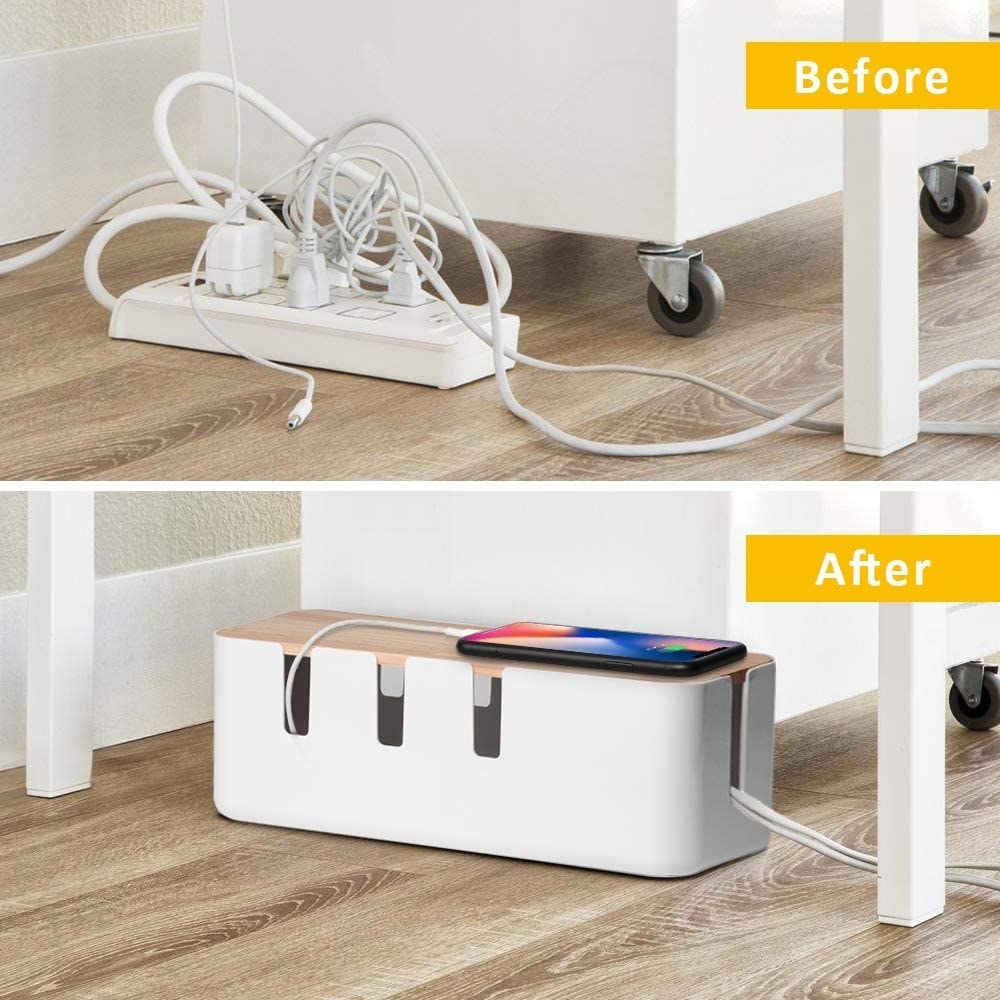 Promising review: "This box does the trick. I'm able to place a few cords in here and the only thing I would change is to make it so the top stays on; maybe a groove it has to slide through so it can't fall off. It looks nice and it works well." —Gigi
Get it from Amazon for $17.99. Check out an option that'll blend in with wood floors.
13.
A curved shower curtain rod that'll make your shower feel bigger without having to, you know, remodel your entire bathroom. It's also super adjustable, making it easy to fit in a wide variety of bathroom layouts.
Promising review: "I am in love with this perfect matte black curved shower curtain rod! Semi easy to install. Because it's curved, it does take some time to install both sides and make sure it's lined up. Comes with everything you could need to install. Other than that, this shower rod is a dream." —Siarra
Get it from Amazon for $41.99+ (available in five finishes).