1.
A pair of women's or men's Darn Tough socks that are beloved by hikers for being supremely warm, yet breathable and moisture wicking — so you can stay cozy without winding up with sweaty stinky feet. Plus, they're padded for *extra* comfort, and are made to last!
2.
Five pairs of incredibly warm, yet breathable socks (with over 15K 5-star ratings) so you can keep your feet toasty and comfy Monday through Friday without having to do laundry! Because — let's face it — once you try these, you'll never wanna wear any other socks.
Promising review: "This is the second time I have purchased these socks; the shorter version ( above ankles) and the higher ones (mid calf). My feet are either hot or cold, there is no in between. I hate how socks claim to be super warm, yet your toes are still cold? These feel like you're wrapped in a blanket, my feet do not get hot and sweaty where I have to rip them off in five minutes of wearing them. They are perfect for fall and the cold winter months. Not going to lie, I have worn them for a few days, during the day, on the weekend when I am doing a load and never do I feel I have dirty socks on, probably bc they are so thick but not the point ;) The only 'complaint' I have is I wish they came in like a 10 pack or something so I wouldn't have to order 2–3 packs." —Calnags12

Get a set of five from Amazon for $11.99 (available in a variety of color combos and styles).
3.
Cute and cozy over-the-knee socks in case you wanna wear skirts when its cold *without* your legs feeling like a couple of icicles. These'll keep you super toasty while looking stylish!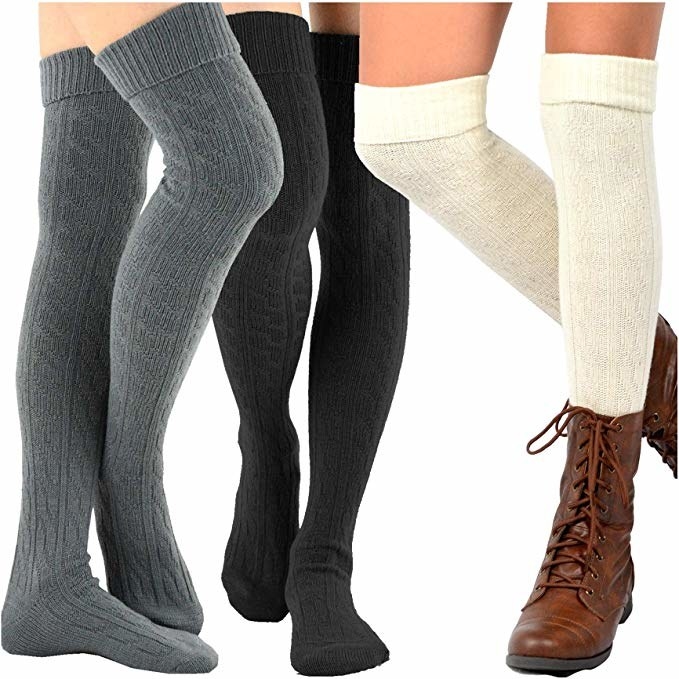 Promising review: "These are the best over-the-knee socks I've ever had. They actually stayed up, they're a nice thick material, they're comfy as hell, and they're not tight or loose. They manage to fit perfectly. These socks are much higher quality than the price you pay for them." —Neha Raghavan
Get a three-pack from Amazon for $13.99+ (available in a variety of color and style combos).
4.
A pack of five wool cabin socks with over 12,000 5-star ratings from reviewers with happy, toasty feet. These manage to be super warm without being bulky!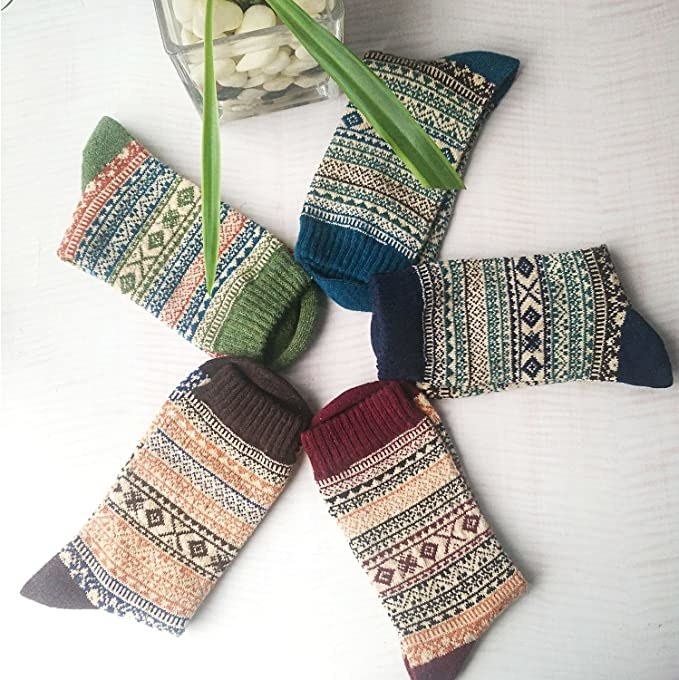 Promising review: "Not bulky/thick. Soft, warm! I wore these in Denver (in a big, cold house with wood floors) and Vail in December, during the winter blizzard/cyclone weather of 2022. They kept my feet warm in the house, and in (insulated) snow boots in deep snow, even at subzero temps. They stay up — no slouching — and are comfortable enough to wear back here in Southern California in this rain we're getting (50s temps? No carpet in my home). I love them! Wash, don't put in the dryer! (Washed them repeatedly no issues)" —janak23in

Get a pack of five from Amazon for $12.99+ (available in a variety of color combos and styles).
5.
Some cloud-like Barefoot Dreams ultra plush heather socks reviewers say are worth the price for being the warmest, softest, and most comfortable socks they own.
Promising review: "Extremely comfortable and soft. Gorgeous colors and fit great!! I'm so happy I purchased these socks. I think I have every color but one. You truly won't want to take these off! I high recommend owning at least one pair! Awesome socks!!" —April
Get them from Amazon for $13+ (available in seven colors) or from Bare Necessities for $15 (available in four colors).
6.
A pack of thick, cozy wool socks — now you won't feel like your feet are going to turn to ice every time they touch the floor, which always seems to be FREEZING in your home. 
Joyca & Co is a small business specializing in selling cozy socks and beanies for the cold season. 
Promising reviews: "Y'all, I'm just a humble Floridian who decided to backpack Canada in the middle of fall (with temperatures between 25–50 degrees Fahrenheit) and what can I say? These SAVED. MY. FEET. OMG. Warm as if I had them in the toasty sand back home. And they were incredibly soft and comfy! Only note: Don't dry them too long in the dryer because they shrink a TEENY TINY amount, but that will happen with this material; I was just the idiot who forgot about that and chucked them in. 1,000/1,000 WOULD RECOMMEND!!" —Gaby

"I purchased these socks on a whim after seeing the fun and colorful prints. I was not disappointed and have been wearing them all fall and winter. They pair perfectly with ankle Chelsea boots for a fun pop of personality." —bcshull
Get a set of four pairs from Amazon for $13.99+ (available in multipacks and a variety of styles).

8.
A pair of soft, warm, and comfy plus-size striped thigh-high socks designed to stretch without slipping or rolling. They even come with optional garter belts to ensure that they stay in place!
Thunda Thighs is a Canada-based Etsy shop specializing in plus-size thigh-high socks and accessories.
Note: The shop suggests wearing in these socks for them to reach their full potential. It's not unusual for them to roll down the first wear or two due to the way they are packaged. 
Also, if you're interested in colors other than black, these are also available in 29 other colors and styles!
Promising reviews: "Cute, comfortable, and warm!" —artmusicmen
"Finally having thigh-high socks that FIT is AMAZING! 10000000% recommend for my plus-size people!!" —Lili
Get them from Thunda Thighs on Etsy for $29.50.
9.
Cozy and fuzzy fleece-lined slipper socks that have runner grips on the soles so you can wear 'em around the house without fear of slipping and falling!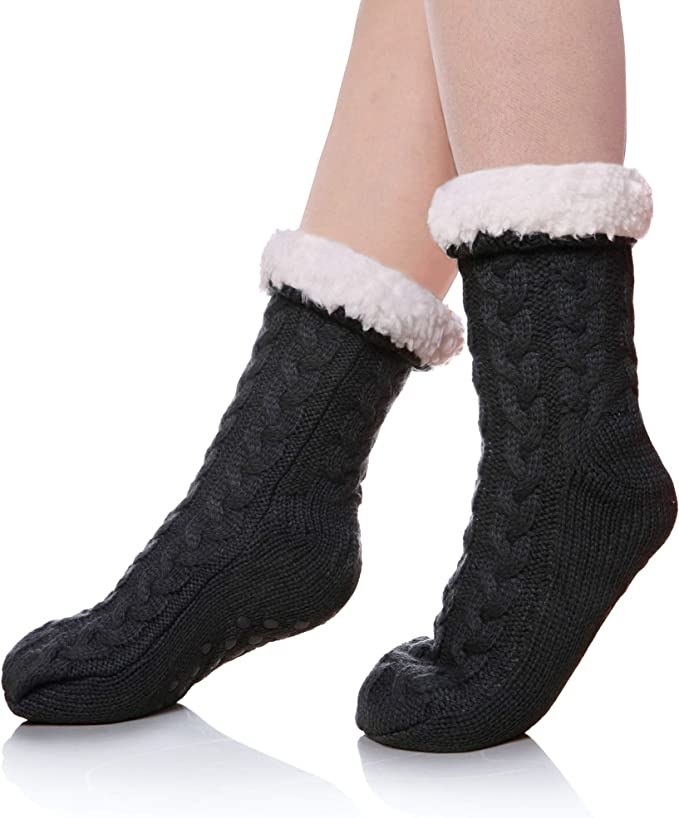 Promising review: "I wear these socks around the house all winter. During the recent really frigid weather I wore a pair every day. I like that they are safer to wear around the house than regular socks because they have the grippers that prevent slipping. This is especially important on steps and hardwood floors. The lining is substantial and very cozy." —Margiep

Get it from Amazon for $6.79 (available in a variety of colors).
10.
Thick and warm boot socks with an elastic cuff that keeps your leg from feeling compressed so you can wear them comfortably all day long! 
Promising review: "Everything I've ever wanted and more for a boot sock! These socks are extremely soft, comfy, and THICK!!! I've been trying to find a good boot sock which is thick and doesn't overheat my feet for a LONG time, and these socks definitely take the cake! Not only are they comfy and not itchy, they keep my feet warm and are the PERFECT thickness for some of my bigger boots. If you haven't already, BUY THESE!!!" —Carinne A.

Get a set of five from Amazon for $15.99+ (available in a variety of styles and color combos).

11.
A pair of super thick wool socks that'll instantly warm your chilly toes! Plus, they're incredibly durable and made to last!
Promising review: "These socks are INCREDIBLE! I originally bought some for my best friend because she lives in Michigan and it was getting super cold, but then I decided to get some for myself too. I am someone who frequently has cold feet (and hands) and buys tons of fuzzy socks to try to combat that. I cannot warm up the rest of my body if my feet are cold, and these socks eliminate my issue. With other fuzzy socks, my feet either don't warm up quickly or they don't retain the heat. These are the opposite: The second I put them on, my feet instantly feel warmer and stay warm. They're super soft and really durable, as I've been wearing mine pretty consistently for months and they still feel the same way that they did when I bought them. Cannot recommend enough!" —KvT

Get a set of three from Amazon for $16.98+ (also available in packs of  five and a variety of colors and styles).
12.
A multipack of fuzzy, warm, and lightweight sleeping socks here to snuggle your feet when they need it most.
Promising review: "These socks are so comfortable and warm. My feet are always cold, but with these socks I don't have that problem. On top of being comfortable and warm they are extremely soft. I have very sensitive feet and these make me feel like I am walking on clouds. This is an item I will purchase again." —Sabrina Sayers

Get a pack of three from Amazon for $9.99+ (available in a variety of color combos, styles, and multipacks).
13.
Some wool hikers made with soft, warm, nonitchy, and moisture absorbent merino wool and a cloud-like cushioning on the bottom so your feet can stay protected whether you're trudging through the great outdoors or simply trekking across the cold wood floor to get to the couch.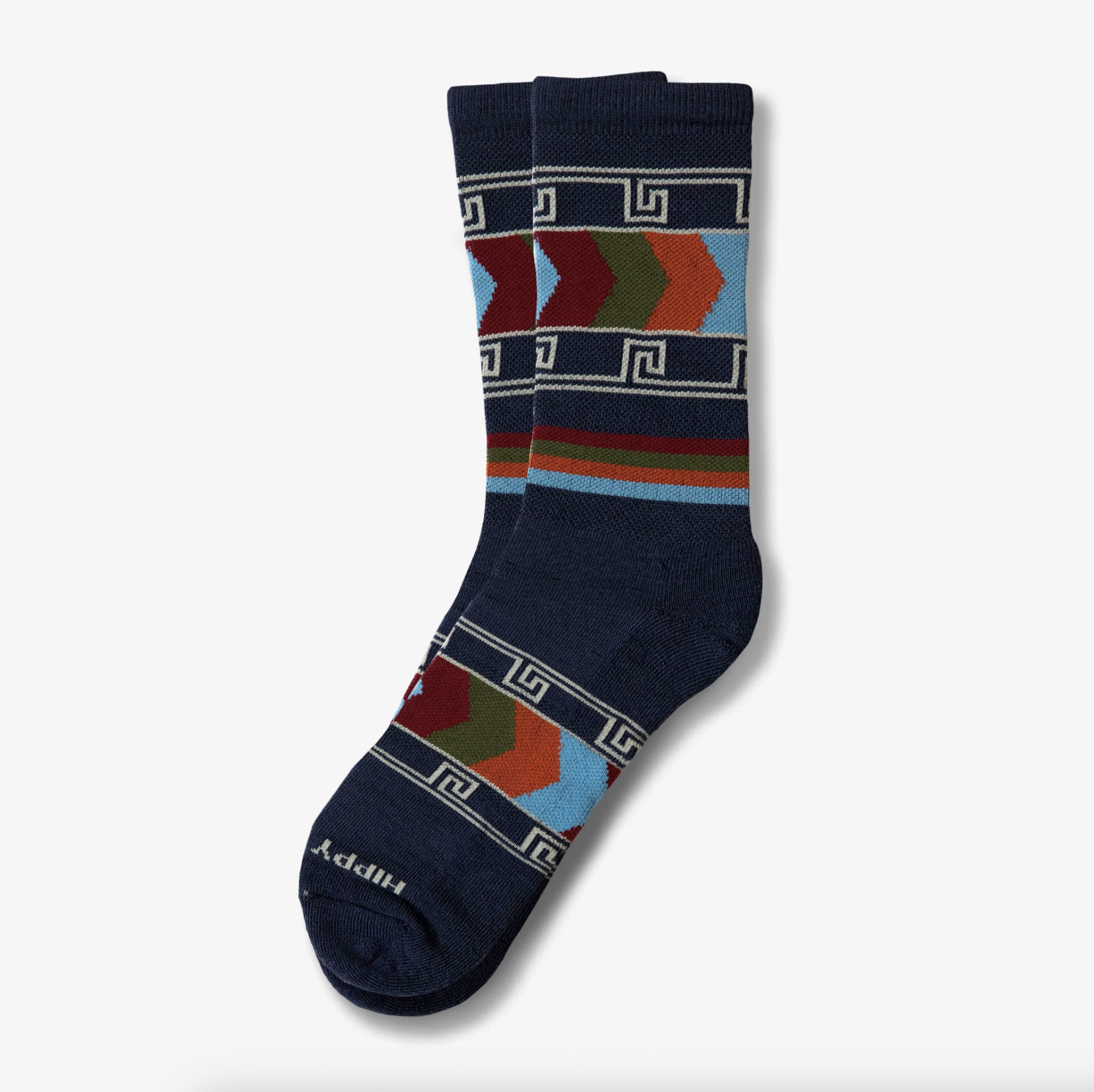 If this design isn't your style, check out Hippy Feet's other wool socks!

Promising review: "I purchased these socks to use when out snowshoeing and they are perfect! They keep my feet cozy and warm and wick away the moisture as I tromp through the snow. I highly recommend these socks!" —Beverly D.
Get them from Hippy Feet for $24.
14.
A pair of cable-knit knee-high socks for when your feet *and* legs could use a soft and cozy line of defense between your skin and the freezing temps around you.
Promising review: "These socks are soft and seem well made. They are a little longer than expected, but can be folded over twice at the top as needed. If you are tall, these are great. Shorter women like me will need to adjust the fold over." —Amazon Customer

Get it from Amazon for $15.98 (available in 13 colors).