1.
An easy-to-use zipper repair kit here to help you fix the zipper on your favorite light jacket now that it's making its way back into your repertoire.
The kit comes with 11 replacement sliders, which are commonly used with clothing and accessories, as well as four bottom stops and six top stops.
Promising review: "With the many choices of sliders/pulls included in the kit, I was able to match a new slider to my jacket and fix the problem myself in about 30 seconds! Much better than tossing away an otherwise perfectly good jacket." —JR
Get it from Amazon for $13.95.
2.
A *loooooooooooong* vacuum hose attachment capable of reaching those hard-to-get-at spaces behind the stove, fridge, couch, and laundry machines that you know are getting grosser and grosser the longer you avoid them. It's also great for cleaning out your dryer vent so it doesn't get clogged with lint — which makes for longer drying times, higher utility bills, and even dangerous fires. Skip all that hassle by simply attaching this hose to your vacuum and letting it do all the hard work!
This hose adapter fits on most vacuum cleaners (except for some Dysons), and some reviewers have even found socks they thought were gone forever after this thing pulled them out of their lint traps!
Promising review: "This thing is seriously amazing. I figured out how to use it very quickly and it worked like a charm. I had a sock stuck way down in my vent and would've had no idea! I still can't believe how much lint and dust came out of my dryer. My husband is already talking about other uses for this unique tool, like getting into tight spaces in our cars." —J. Johnson
Get a set of two from Amazon for $9.95+ (available in five colors).
3.
A durable, three-pocket folding car trunk organizer designed to help you rein in whatever mayhem has been going on in the trunk for way too long.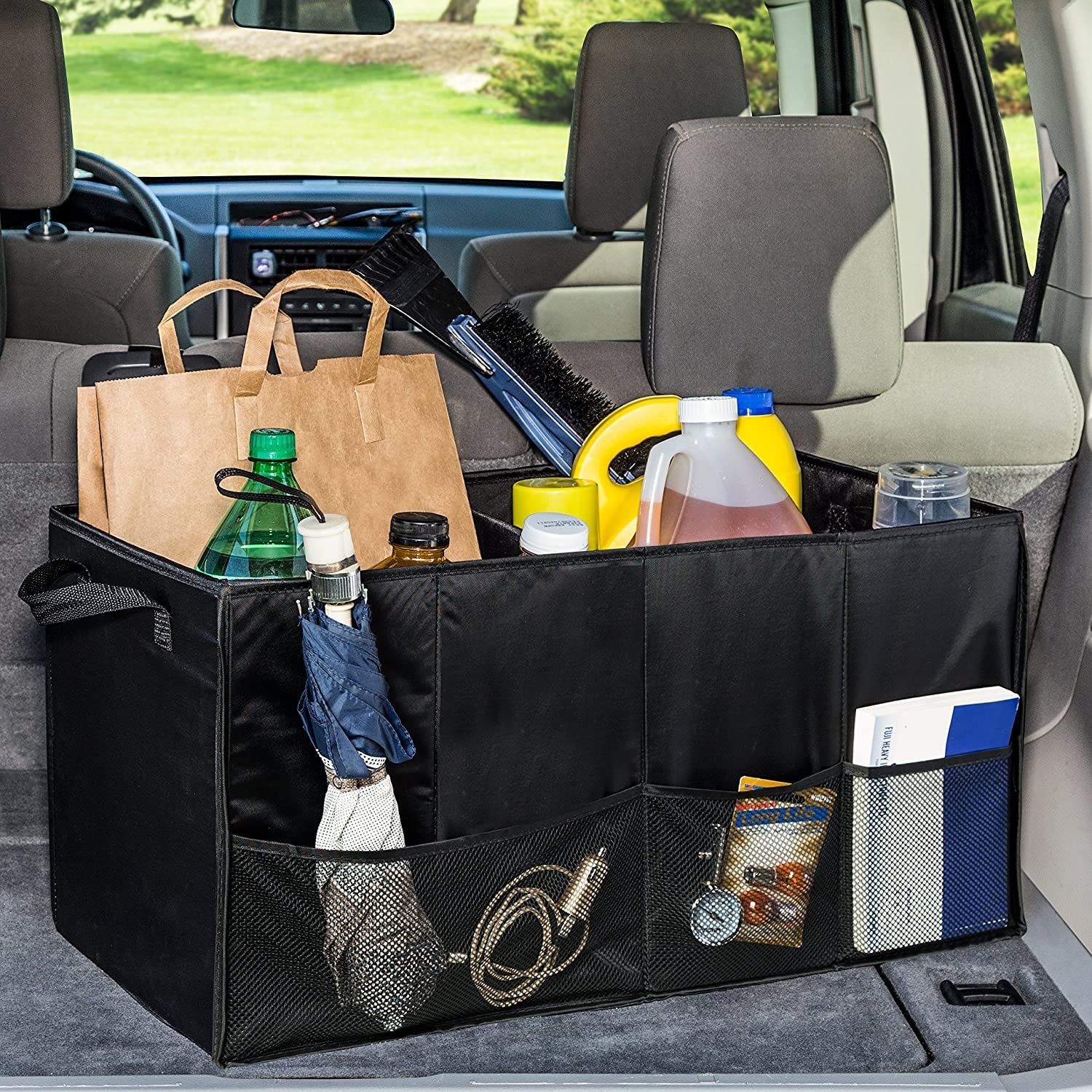 Promising review: "It was just what I needed for my messy and unorganized truck! I wanted something not too bulky, but just the right size to help me reorganize my trunk. This product did that for me. I was also concerned that it'll move when I drove but luckily there is Velcro on the bottom that secures it in place while you drive, and sure enough it did just that! This product does not take up a lot of space and gives you the right amount of measure to place other things like groceries and a suitcase. I am completely satisfied and content with this product! I wish I had it all along!" —Sheneese
Get it from Amazon for $14.13.
4.
A jar The Pink Stuff, which has reached cult-favorite status for being great at easily removing stains, rust, discoloration, and other stubborn marks from metal, ceramic tiles, saucepans, barbecues, and much more without leaving behind any scratches!
Check it out on TikTok to learn more!
Promising review: "Found this product on TikTok. I don't think I've ever seen value like I do this product! Literally use it on EVERYTHING!! Kids and teens have dirt, grime, and grease on their walls? ...This will make it look like a new paint job. Baseboards need some love? A pea-size amount of this makes them look brand new. Need a shoe cleaner? PERFECT for sneakers. I could name a million more uses, but I can ASSURE you this is worth every penny. What's more? You need such LITTLE of this product, it will last a VERY long time. Thank you, TikTok!!!" —Rachel in CLT

Get it from Amazon for $9.99.
5.
Some cabinet paint so you can stop complaining about how they don't go with anything else in your otherwise flawlessly styled kitchen.
The kit comes with two cans cabinet paint, a roller arm, two roller covers, and an angled paint brush; it requires no stripping, priming, or top coat or sealer, and there's no need to remove your cabinet doors.
Promising review: "Amazing! Amazing! Amazing. Did take more than one coat though. My cabinets were bare wood and I still needed a couple of coats. (Five to be exact, but that was just me being extra.) My kitchen is medium-sized, not too big, and it only took up one can. But I still went over a couple more times just to get a nice coating. I also let it sit for some days and saw the wood was sucking up the paint in some areas so I went over it again. The project ideally does take one day like the promotion video says, but one day as in 24 hours. 
This took my kitchen from looking like a cheap rental apartment kitchen to a high-quality kitchen with just this paint and new knobs. The paint is perfect for cabinets — it's not too thick, so you still see the wood grains. It comes with EVERYTHING you need. I didn't have to buy a thing. The project is super easy, paint dries fast, and I did it at first by removing the cabinets but it wasn't necessary at all. Just make sure you don't leave any dripping because it would make your cabinets look cheap. I would recommend EVERYONE to purchase this and give your cabinets a chance before making a big investment in new cabinets. Wood is wood and it can be refinished." —Brandon Moronta
Get it from Amazon for $69.95 (also available in gray, mint, black, and white).
6.
A set of drawer organizers for anyone whose sock, underwear, and other drawers are packed to the gills and rapidly devolving into chaos.
They also collapse to store flat when not in use. You get four bins: a six-cell (for scarves, hankies, and ties), an eight-cell (for underwear), a seven-cell (for bras), and a 24-cell (for socks).
Promising review: "I LOVE LOVE LOVE these organizers!! I almost did not purchase them due to the reviews saying that larger than a C-cup would not fit into the bra organizer. At just $15 for four organizers I took my chances and ordered two sets of four. I figured, worst case scenario I would have to cut the dividers out of the bra organizers. I wear a 32DD and the bras fit beautifully in the organizers. I am so glad I took the chance and did not listen to the reviews. I would have missed out on the best cheapest organizers I have ever found. I ordered another set for tank tops and other extras I did not think of before. I will also order my boyfriend the brown ones for his drawers. Great product for a great price!" —Elizabeth L. Blackwell
Get the set of four from Amazon for $15.97 (available in seven colors).
7.
A powerful grill scrubbin' stone because BBQ season is right around the corner!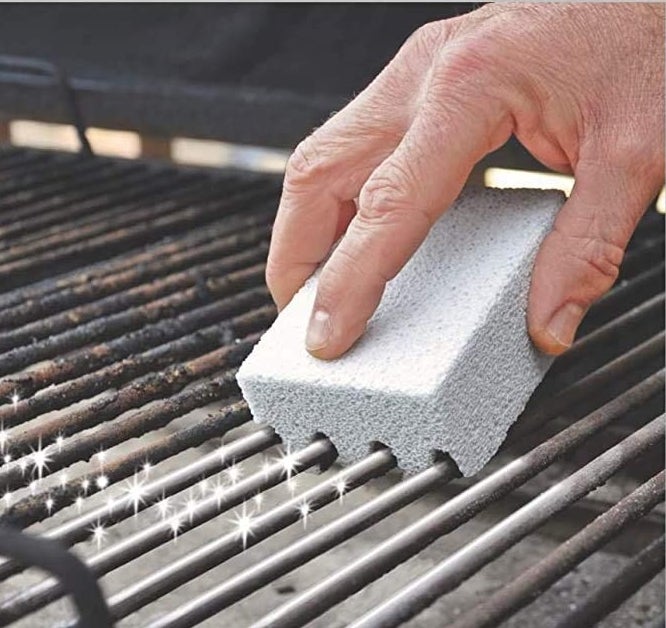 Promising review: "Completely restored my 3-year-old grill grates. Used to clean them with a box of Brillo pads and a headache but this product did the job so efficiently. Will definitely be keeping on hand for as-needed cleaning. Would recommend cleaning in a deep sink so you can rinse stone residue off as you go. Cannot use this at the grill without rinsing as the stone gets smaller as you go. Worth the price!" —hbinoc
Get it from Amazon for $6.99.
8.
A printable declutter system perfect for anyone who tends to get overwhelmed trying to figure out where to get started when tackling a messy room. This handy guide breaks things down room by room and step by step to help you stay calm and focused on each individual task instead of letting the big picture paralyze you with anxiety.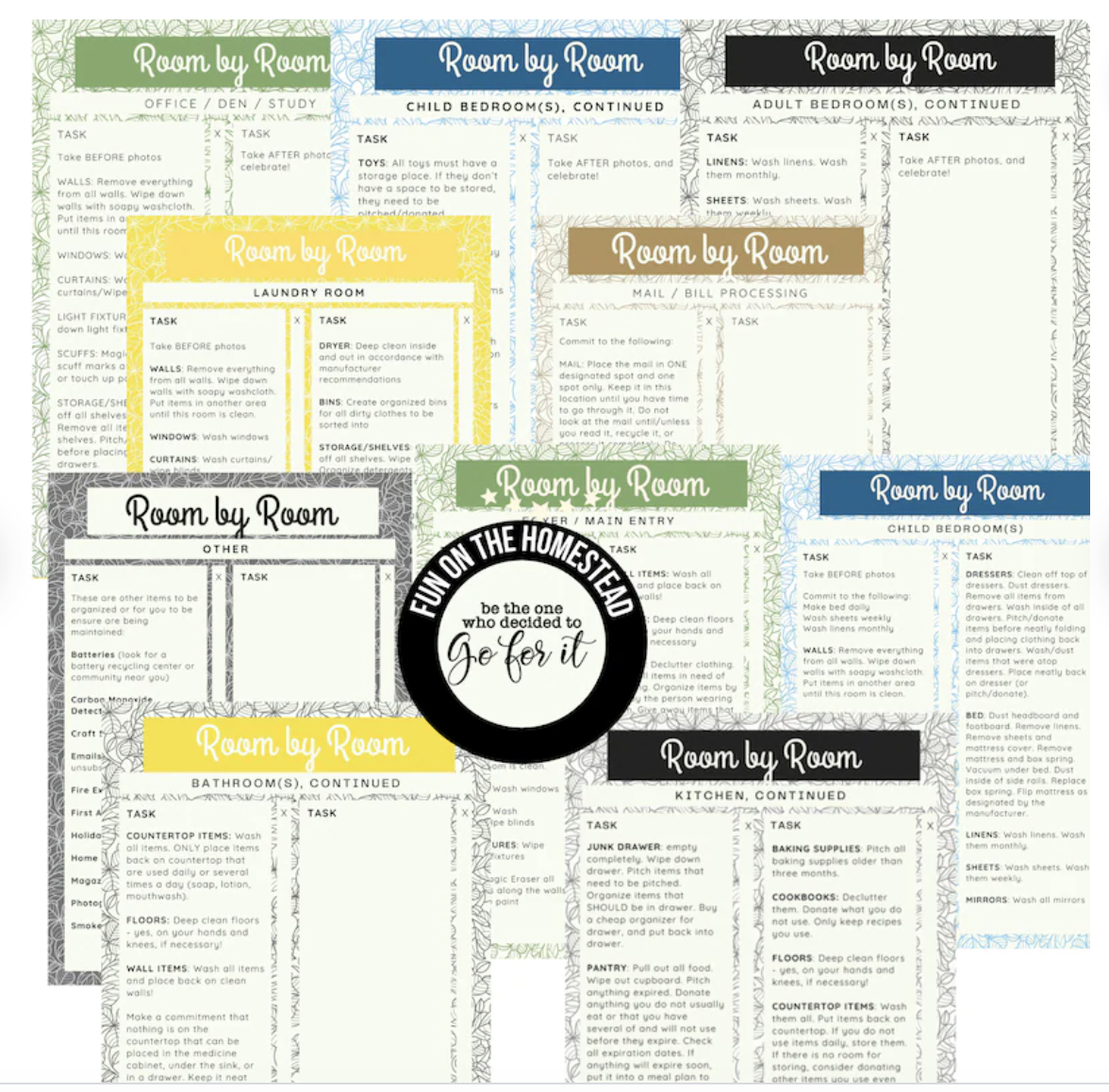 Fun On The Homestead/Etsy
Fun On The Homestead is a Michigan-based Etsy shop established in 2019 that specializes in printables for decluttering, health, pets, and organization.
Promising review: "LOOOOOOVVVEEE these. Decluttering my house was getting too overwhelming. I downloaded these to help me stay focused, and so far they are working great!" —Rachel Rush
Get it from Fun On The Homestead on Etsy for $1.99.
9.
A gutter scoop brilliantly designed to make quick and easy work of clearing the dead leaves, mud, and other debris out of your gutters thanks to its powerful chisel teeth and mesh drainage screen.
Promising review: "Not sure why it took me so long to find this item. After years of scraping out packed silt in the bottom of my gutters, I saw this and ordered it. I was a little unsure if I could use it on my smaller than standard size four-inch gutters, but if anything the smaller size lets this thing fit even tighter and scoop out more efficiently. (I do have to lift it over the gutter junctions but that's fine.)" —W. Steward
Get it from Amazon for $9.49.
10.
A strangely fun-to-use universal cleaning putty that'll get to those nearly impossible-to-reach nooks and crannies in your keyboard, car vents, printer, and other appliances where dust and crumbs are steadily building up.

See it in use on TikTok!
Promising review: "This product does exactly what it says it does. I saw this product from TikTok. I was surprised at how easily it picks up dust and small debris, especially from inside of vents and cup holders. The only complaint is the very artificial smell when you use it. It doesn't last, just when it's out of the container!" —Loren

Get it from Amazon for $6.88.
11.
An amazing drill brush kit to make your surfaces look brand-new — without any scrubbing on your part! Just attach the brush head to your drill, turn it on, and watch all of that grime disappear so fast and easily, you'll think it's magic.
Need a drill? Here's one.
Promising review: "Bought these on a whim and was skeptical if they would really help, but man am I glad I did! They made cleaning our glass shower door and fiberglass shower a breeze! Don't really want to admit how long it had been between cleanings, but the shower shined like it never had before (even with using tough elbow grease and a standard bristle brush). No issues with the brushes leaving marks, but definitely want to err on the side of caution on how long you stay in a spot. Used the large flat circular brush for the door and walls, and the round toilet bowl type brush worked great in the corners and on fixtures." —Molly
Get a set of three brush heads from Amazon for $14.95+ (available in soft, medium, stiff, and ultra-stiff bristles).
12.
A silverware sorter somehow capable of holding up to 24 pieces of cutlery while taking up barely any space at all so you can actually fit all your tools in one drawer and get your kitchen under control.
Promising review: "I have a tiny kitchen with only three drawers, so space is at a premium. My silverware organizer took up almost all of one drawer, so this organizer is a godsend. You can fit quite a few spoons etc. in each slot. My beater attachments fit perfectly into the top two hollows. I will say I have to flip my forks over face down in order to be able to shut and open my drawer, but then the drawer itself is kind of shallow. You NEED this if you have a small kitchen with few drawers!" —mialro
Get it from Amazon for $9.59.
13.
A grout paint pen — it works like a regular marker to make it beyond easy to cover up the years and years dirt and grime that are keeping your bathroom from ever looking truly clean.
Promising review: "This stuff is amazing! After over 10 years of the grout not being cleaned, and a botched repair job, the bathroom floor in this house looked horrendous. Two pens covered the entire bathroom floor, with plenty leftover in the second pen, even with applying two to three layers (which you will definitely need as the paint is a bit thin and also absorbs into the grout). Super easy to apply, works exactly like a regular paint marker. Be sure to press the pen tip on a separate (thick) cloth to activate it before actually using on the grout so you don't end up with a huge mess on the tile when the paint floods out at first. If you see the first side of the tip is getting frayed, just pull it out and turn it around to the other side." —regalle
Get it from Amazon for $8.99+ (available with a narrow and wide tip).