Map: Which Countries Hosted Suspicious Tennis Matches Last Year?
The sports-betting watchdog ESSA flagged 73 suspicious tennis matches in 2015 — more than all other sports combined. Eight of the matches took place in Turkey, the highest count for any country.
A major betting watchdog announced this week that it had flagged 73 suspicious tennis matches in 2015 — more than for all other sports combined.
"The start of 2016 has seen a worldwide focus on alleged match fixing in tennis," wrote Mike O'Kane, chairman of chairman of the watchdog group ESSA, in its report on suspicious sports gambling. He was alluding to a BuzzFeed News/BBC investigation published in January.
In a first for ESSA, the new report lists the countries in which the suspicious matches were played. Here they are: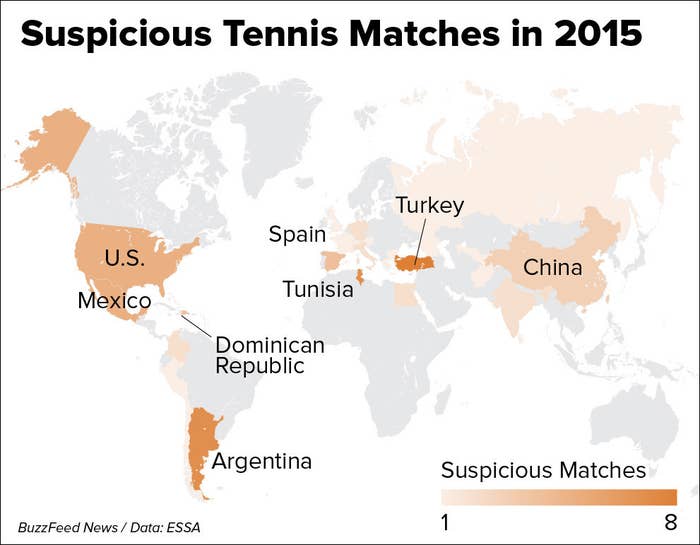 Turkey hosted more suspicious tennis matches — eight, according to the report — than any other country. It was closely followed by Argentina and Tunisia with seven each. Other countries with a high number of alerts included the United States (5), Mexico (5), the Dominican Republic (4), and Spain (4).
In response to the BuzzFeed News/BBC investigation, the sport's governing bodies denied that tennis had widespread problem with match-fixing. But the latest report shows that world tennis authorities were alerted of suspicious patterns on at least 24 matches in the final three months of 2015 alone. Despite the high number of suspicious matches, the report says that "the vast majority of tennis events are fair."
ESSA issues suspicious betting alerts to regulated bookmakers across Europe when irregular activity is spotted on a match. If several bookmakers confirm that they are encountering suspicious betting patterns, the watchdog sends a formal warning to the sport's governing bodies. ESSA sent warnings to world tennis authorities about 73 matches in 2015.