Cheesy Pretzel Ring Dip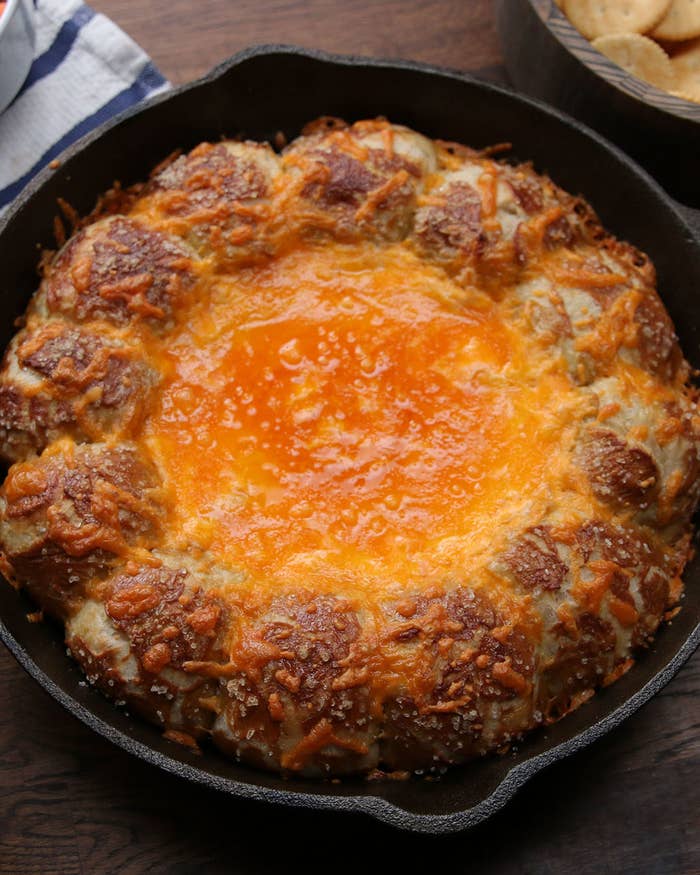 INGREDIENTS
32 ounces pizza dough
5 cups water
¼ cup baking soda
1 egg
salt, to taste
8 ounces cream cheese
2 cups cheddar cheese, shredded
½ cup sour cream
¼ teaspoon cayenne pepper
2 teaspoon garlic powder
PREPARATION
1. Preheat the oven to 425°F/220°C.
2. Cut pizza dough into 12 portions. Roll into balls.
3. Boil water and add baking soda. (Make sure your pot is narrow enough that the water level covers the dough balls and make sure there's enough room left in the pot that it won't boil over when the baking soda is added.)
4. Place dough balls in the pot, boiling for 20-30 seconds in batches.
5. Line a 12" skillet with the dough balls, making a ring along the outside edge.
6. Brush dough balls with egg wash and sprinkle with coarse salt.
7. Par-bake the dough for 15 minutes. While the dough is baking, combine the cream cheese, 1½ cups of cheddar, sour cream, cayenne pepper, and garlic powder until smooth.
8. Fill the center of the dip ring with the cheese dip. Top the dip and the dough balls with the last ½ cup of cheddar.
9. Bake for an additional 10-15 minutes (or until the pretzel balls have browned and the dip has fully melted).
10. Allow to cool before serving.
11. Enjoy!