Healthy Mediterranean Salad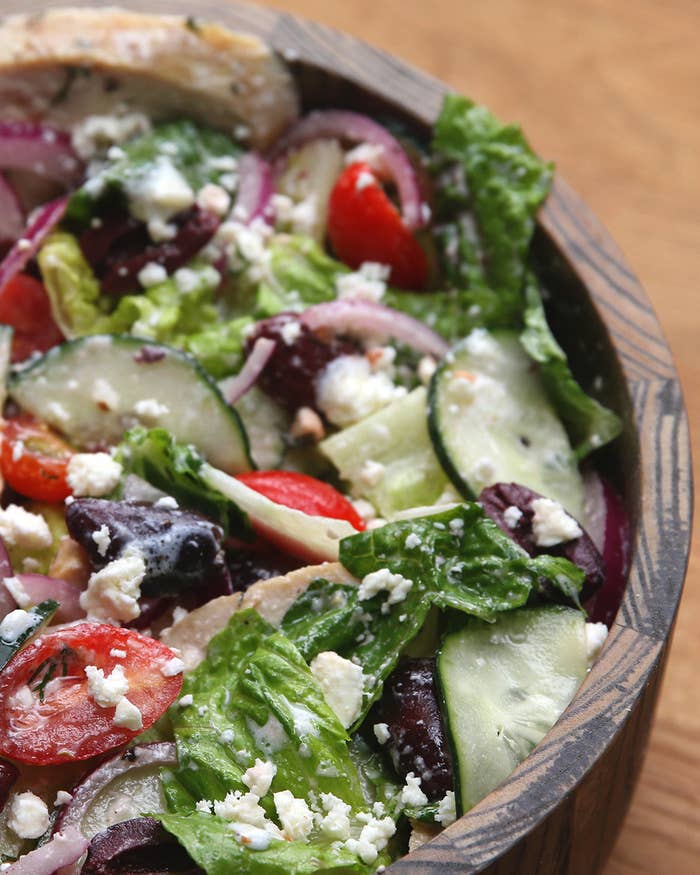 INGREDIENTS
1 chicken breast
1 tablespoon olive oil
1 tablespoon lemon juice
2 cloves garlic, minced
1 tablespoon fresh dill
salt and pepper, to taste
Dressing
1/3 cup greek yogurt
2 tablespoons olive oil
1 tablespoon red wine vinegar
1 tablespoon lemon juice
1 tablespoon water
1 clove garlic, minced
1 tablespoon fresh dill
salt and pepper, to taste
Toppings
1 head romaine lettuce, chopped
1/2 cup cucumber, sliced and halved
1/2 cup olives, halved
1/2 cup red onion, thinly sliced
1/2 cup cherry or grape tomatoes, halved
1/2 cup feta, crumbled
PREPARATION
1. Preheat oven to 400°F/200°C. Place chicken breast on a baking sheet lined with aluminum foil or parchment paper. Top with olive oil, lemon juice, garlic, dill, and salt and pepper to season.
2. Bake for 35-40 minutes until internal temperature reaches 165°F/75°C and the juices run clear.
3. Slice thinly or cube chicken, cutting to your preference for topping the salad.
4. Add all dressing ingredients in a small bowl or cup and whisk until with a fork until combined.
5. Assemble your salad, starting with a base of romaine lettuce. Then top with chicken, cucumber, olives, red onion, tomatoes, feta, and the dressing. Toss to evenly incorporate ingredients
6. Enjoy!
Want BuzzFeed Tasty right in your inbox? Sign up for our newsletter!