Easy Slow Cooker Steak Fajitas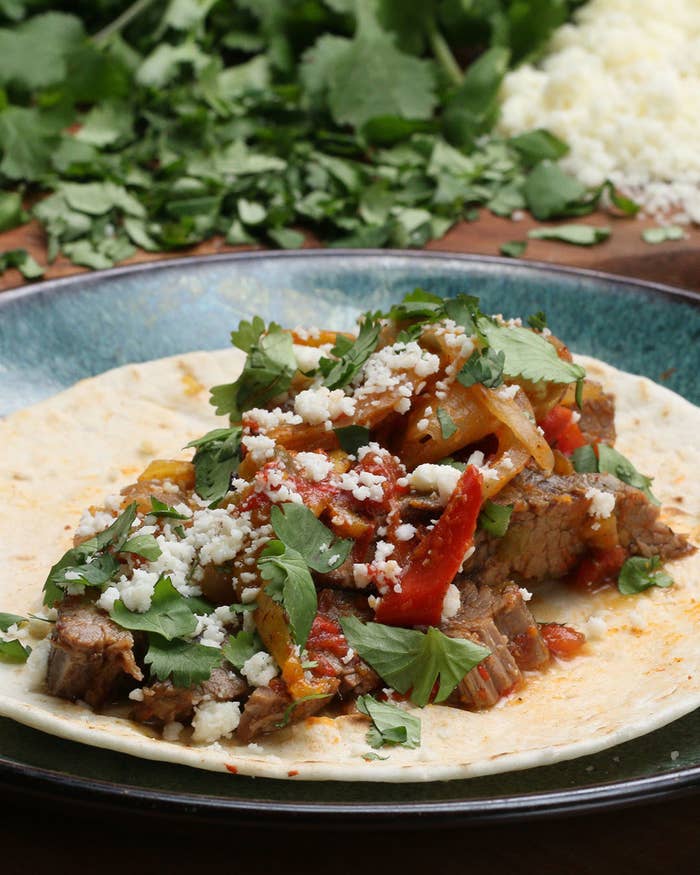 INGREDIENTS
Servings: 4-5
1 yellow onion, sliced
1 red pepper, sliced
1 yellow pepper, sliced
1 green pepper, sliced
1½ pound flank steak
2 tablespoon taco seasoning*
4 cloves garlic, minced
1 lime, juiced
1 10-ounce can diced tomatoes with green chiles, drained
Flour or corn tortillas
Cilantro, for garnish (optional)
Cotija, for garnish (optional)
*To make your own taco seasoning at home:
1 tablespoon chili powder
½ teaspoon garlic powder
½ teaspoon onion powder
¼ teaspoon cayenne pepper
⅓ teaspoon oregano
½ teaspoon paprika
1½ teaspoon ground cumin
1 teaspoon salt
1 teaspoon black pepper
1 teaspoon cornstarch
PREPARATION
1. Place onions, peppers, and whole flank steak in the slow cooker. Top with taco seasoning, garlic, lime, and diced tomatoes.
2. Cover and cook on high for 4 hours or on low for 8 hours.
3. Remove steak from the slow cooker.
4. Optional: Broil steak for 4-5 minutes until crisp for added texture.
5. Slice steak across the grain into thin strips. Add back into the slow cooker and combine with other ingredients.
6. Plate with tortillas of your choice and garnish with cilantro and cotija (optional).
7. Enjoy!