UKIP's Steven Woolfe Quits The Party And Says It Is In Total Chaos
Steven Woolfe had been the favourite to take over from Nigel Farage as UKIP leader – then he missed the deadline for nominations and became involved in an altercation with a fellow MEP. He has now quit the party.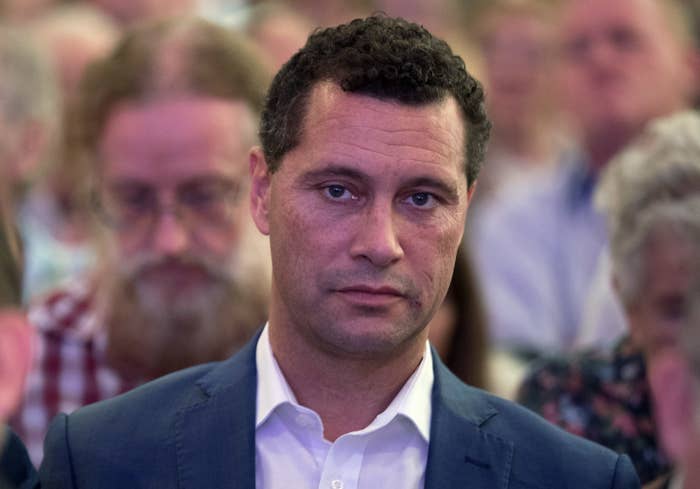 Steven Woolfe has unexpectedly announced he will not stand to become leader of UKIP and will instead quit the political party with immediate effect, while confirming police are involved in a dispute over his altercation with a fellow UKIP politician.

The MEP, who had been the clear favourite to replace Nigel Farage when the veteran UKIP leader stood down following the EU referendum, issued a statement saying the party is now "ungovernable".
"It is with deep sorrow and regret that I am aborting my leadership campaign and announcing my resignation from UKIP with immediate effect," Woolfe said on Monday night.

"I believe that a strong UKIP would hold this government's feet to the fire and make sure it delivers a clean Brexit. However, I have come to the conclusion that UKIP is ungovernable without Nigel Farage leading it and the referendum cause to unite it."
He also criticised the party's professional organisation, which rejected his application to stand in this summer's leadership contest because it was submitted 17 minutes late: "The way I was treated by members of my own party during the summer's leadership campaign and the events that have led up to today have all contributed to me coming to this conclusion. The party is riddled with infighting, proxy wars between rival camps and is run by an NEC that is not fit for purpose."

That contest was eventually won by Diane James – but she stepped down earlier this month after just 18 days in the job, prompting another UKIP leadership election and further speculation that Woolfe would once again be the favoured leadership candidate.
However, internal critics turned on Woolfe following media reports suggesting that he had discussed defecting to the Tories in the run-up to the Conservative party conference.
During a meeting with fellow UKIP politicians he was involved in an altercation with fellow MEP Mike Hookem. This resulted in Woolfe collapsing inside the European parliament building in Strasbourg and being hospitalised with severe injuries.
While party officials had attempted to smooth over the dispute and launched an internal investigation, Woolfe said he stuck by his story that Hookem had punched him.
He also confirmed that the police were involved in the incident: "I will reiterate my position that I received a blow from Mr Hookem that knocked me back into the meeting room and caused my subsequent injuries. Contrary to reports, I have made a police complaint."
In an interview with BBC News, Woolfe elaborated on the accusations he was making against Hookem: "He rushed at me. A blow to my face forced me back through the door.
"I couldn't see whether it's a fist, whether it was an open hand, whatever it was. The point was it was a blow that impacted me in the face, as the medical reports will show. I was pushed back in to the room and hit my back head against the back of one of the walls that was there, and that impact to my head is what the doctors are saying caused the subsequent illness to me."

Hookem has consistently and strongly denied that he punched Woolfe.
Woolfe will immediately quit the party and sit as an independent until the end of his term as an MEP, expected to be when the UK quits the European Union in 2019.
Shortly before Woolfe's resignation UKIP confirmed that it will have a new leader in place by 28 November, with nominations closing at the end of the month.
Likely candidates include former councillor Suzanne Evans and Breitbart UK editor Raheem Kassam, with more expected to declare.

One of those is UKIP's Scotland MEP, David Coburn, who told BuzzFeed News there is now "a good chance" he's going to stand for the party leadership, depending on who else declares.
"First I want to see what other people have to offer," he said. "This is bigger than one man or one woman – people say they want to stand but have no idea of the problems involved, and dare I say the effect it has on your private life.
"I've had experience of this in Scotland where I've been leading the party. I've had to deal with the press corps so I know the difficulties and it's just scaling up a bit. At least I have experience which is more than some of them, but I'll only do that if I have support from colleagues. I know what I want to do, but it might not be to everyone's tastes."