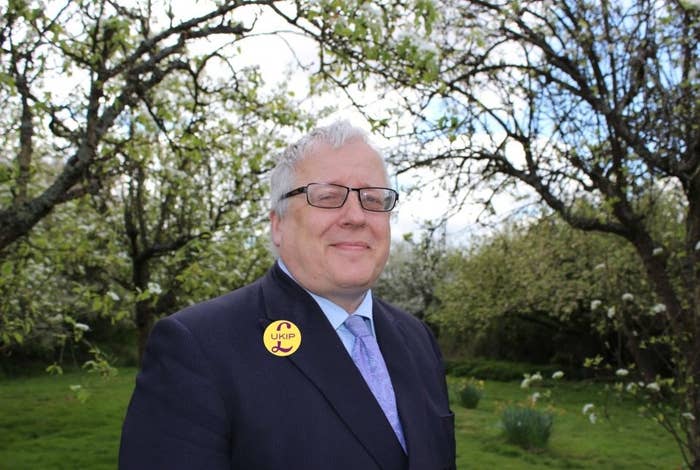 A UKIP candidate has pledged to invest more than £1 billion in the asteroid mining industry if he wins a seat, as he believes that Brexit provides a major opportunity for Britain to lead the world in sending nanoprobes to outer space to mine platinum.

Aidan Powlesland, who is standing for parliament in the rural seat of South Suffolk, told BuzzFeed News he wants to set aside £100 million for "an interstellar colony ship design" and £30 million for an "interstellar nano-probe fleet design" designed to attract the attention of Russian investor Yuri Milner, and will provide a £1 billion prize to any private company that can mine the asteroid belt by 2026.
Asked whether asteroid mining was a priority for most UKIP voters – compared to issues such as immigration controls – Powlesland replied: "I suppose the absence of the centrality of a proposition within a general dialogue doesn't necessarily mean that the dialogue is heading in the correct direction."

The candidate for South Suffolk, where the Conservatives currently hold a substantial majority, said he was motivated to campaign on the policy after Luxembourg attempted to take control of the global asteroid mining industry with an announcement late last year.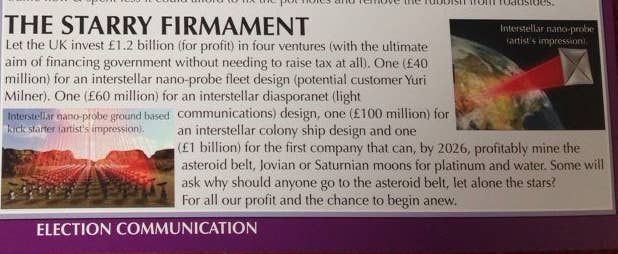 "I could add that one of my main preoccupations in putting forward any sort of political platform is to resist the claims of Big Government," he said. "It is important that this proposal is not to set up a British NASA. This an investment. I'm not proposing we finance a programme to mine asteroids. I'm proposing a competition where the prize is on offer to buy shares in the best interests of the commonwealth."
Powlesland's election leaflet also includes a pledge to cut the welfare cap from £20,000 per household to £10,500, abolishing all residential planning legislation to encourage housebuilding, repealing employment laws that entrench "political correctness" so companies can "hire and fire at will", and stopping road construction – because we will soon all be travelling by flying cars.
Other flagship policies include buying "ten flying aircraft carriers" for the armed forces – apparently reviving the large-scale zeppelin programmes of the 1930s – and investing in electromagnetic-pulse submarines. He would deploy 15,000 British troops close to the Russia's border, although in a symbolic gesture of friendship he would also make it easier for Russian tourists to travel to the UK.

Powlesland said UKIP officials were broadly in favour of the asteroid mining policy: "I have spoken to one of the regional officers of the party about my belief that there is mileage in that sort of policy. The response I got was broadly supportive... One thing UKIP can offer voters is a more diversified and creative discussion."

He is unaware if UKIP leader Paul Nuttall also backs asteroid mining but said his backing could soon be irrelevant: "I think it's highly likely that Paul Nuttall will be resigning his position after the general election."
Powlesland's leaflets describe him as a former computer games pioneer who became the owner of a cleaning business but "lost everything" between 2009 and 2011. He now works as an inventor of "online games about military history" while also investing in property.

However, he is also less than optimistic about his own chances of being elected to parliament to push his pro-asteroid-mining agenda: "I rather like the phrase 'realism is no obstacle to victory'. If I were to answer your question in the way I want to, I would say this is a long campaign I am involved in.
"If you were to ask if the voters of South Suffolk were to return me to parliament, my answer would be no."