A message has gone viral claiming that there is a high likelihood of a terrorist attack on London's underground network on Monday morning, and that all London police officers have been called in to a special 4am shift.
This is a typical example of the message doing the rounds: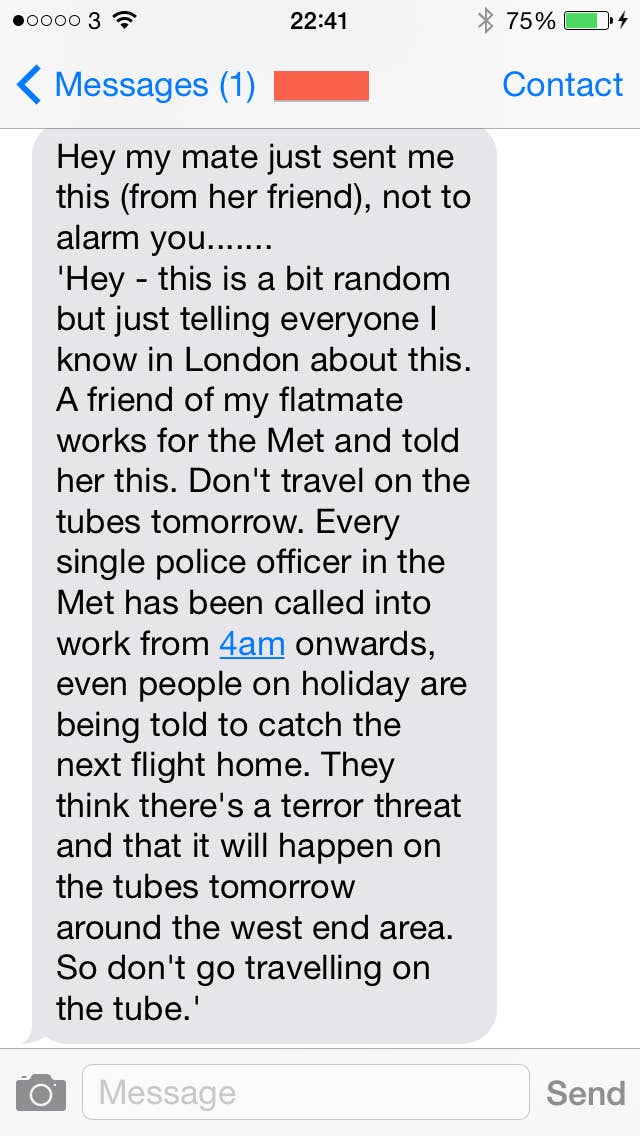 The warning message seems to be mainly spreading via text messages and WhatsApp, rather than via Twitter and Facebook.
But a Metropolitan police spokesman told BuzzFeed that the text message is "completely untrue", and that no extra officers are coming in early.
The Met, which is responsible for policing the capital, says it has a policy of not normally commenting on hoaxes for fear of encouraging more. But police felt this particular message had reached such a wide audience they had to issue a public denial.
The London boss of the British Transport police, who look after the tube network, has hit out at such "rumours".
The viral message seems to have been prompted by the UK government's decision on Friday to raise the official terror threat level to "severe".
That decision, which was based on intelligence on the activities of militants in Iraq and Syria, means that the government believes a terrorist attack on British soil is "highly likely".
But home secretary Theresa May made it very clear that there is no evidence of any specific threat or clues as to where and when an attack may take place.
Still, a lot of people are now very worried and will be avoiding the tube on Monday, in part due to the volume of messages that are being sent.
And the heightened terrorist threat level does play into the hands of people creating such apparently fake warnings.