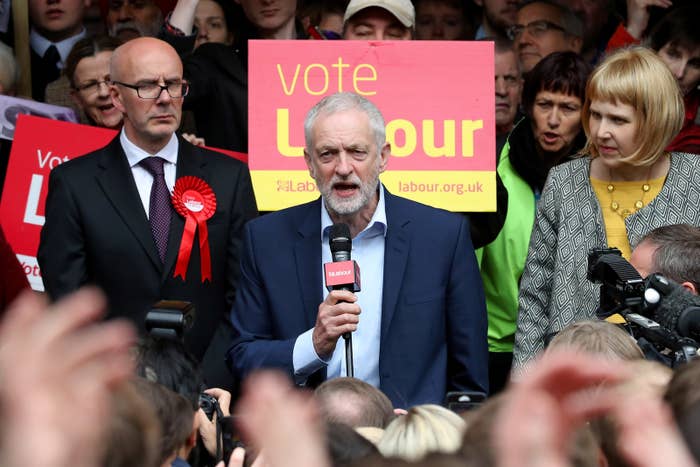 Jeremy Corbyn is enjoying his first general election as Labour leader, and he wants to make something very clear: He intends to remain in the job, even if he isn't victorious in next month's vote.

"I was elected leader of this party and I'll stay leader of this party," Corbyn told BuzzFeed News, taking a few minutes out from campaigning in the Warwickshire town of Leamington Spa.
No matter what happens on 8 June, he said, he would be "carrying on". And he insisted that the constant criticism and poor poll ratings were not getting to him. "Monsieur Zen is fine," he said.
On Monday, the Labour leader was, for a man the polls predict will face electoral disaster in a month's time, incredibly upbeat. Perhaps even more so than Ed Miliband during the 2015 general election, he seemed to be truly enjoying the experience of standing for election, addressing rallies, and learning bits of local history.

A suggestion by BuzzFeed News to conduct our interview in a park shelter – having already had to drive away from a nearby rally to escape dozens of people wanting selfies – begins with a short discussion about the vintage of a brass plaque marking a 1969 donation towards park funds.

"I love it, I've spent my life travelling the length and breadth of this country supporting people and I'm doing it all again," Corbyn said, referring to the election as a continuation of the last two Labour leadership campaigns. "This is the third summer running out on the road!"

After Corbyn's formal duties were finished for the day, he spent 10 minutes talking to people in the park, wishing a schoolgirl good luck with her exams and debating the relative benefits of various methods of long distance railway construction with a member of the public. His media handlers struggled to get him moving as he talked with people and took an interest in a retired guide dog now used for breeding purposes.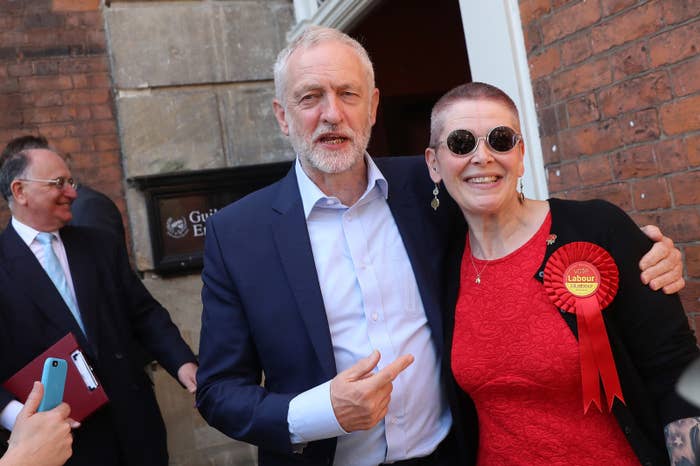 That the Labour leader was even in Leamington Spa five weeks before polling day could seem bizarre to anyone paying attention to the electoral map. In a contest where the opinion polls agree Labour is way behind and fighting a rearguard action to retain seats it holds, this is relatively deep in Conservative-held territory. The constituency of Warwick and Leamington was held by Labour under Tony Blair and Gordon Brown for years but now has a sizeable Tory majority.
In short, it's the sort of seat a political party would target if they were intent on forming the next government, rather than running a defensive campaign to prevent a Conservative onslaught. Miliband's former pollster even suggested Corbyn was being sent to such constituencies in order to keep him "busy away from places Labour wants to hold".
Corbyn dismissed this. "I'm serious about winning the election. I'm serious about going out there, I've been in Worcester and Leamington, I've been in Warrington, I've been in Croydon, I'm going all over the country on this because ours is an election to win. We're fighting a campaign to win."
The party's manifesto is due to be released next week and Corbyn is reluctant to give away too many details. But he said it would deal with the three issues of "injustice, inequality, and opportunities". This means policies on housing, schools, apprenticeships, and pensions.
The lifelong Eurosceptic will pledge support for the Brexit process but pledge to negotiate a different type of deal with the EU to Theresa May.
Corbyn also appeared unconvinced by the new centrist French president-elect, Emmanuel Macron, despite writing to him about Brexit. Asked if Labour could learn from Macron's victory, Corbyn sketched out a different economic vision: "I think this is a time when we need to look the inequality in economic structures in society, and so I'm proposing an economic agenda which benefits the vast majority of people and does challenge inequality."

He also wants action on loneliness, especially among the elderly, in an attempt to create "that sense of cohesion in our society".
He said he was particularly worried about the fate of young people who missed out on life chances due to "a combination of poverty, bad housing, and underfunded schools".
Corbyn told BuzzFeed News he felt he didn't get treated fairly by the media: "I'm not going to spend my whole life complaining about it. I know what I believe in, I know what I do. I never respond to personal abuse of me, because I'd rather get my policies across. By not responding it forces the other side to engage with the policy debate."
As a result, he said, he urges supporters to try reading nontraditional sources of information.

"I think it's good that people go to all the alternative sites and check out what they want," he said. "I've read The Canary quite a bit, I've read yours, I do read a lot of them."
How the media covers politics is increasingly becoming a core part of the 2017 general election narrative, with a focus on whether or not Theresa May is opening her events to the public, why Labour are not inviting some newspapers on the road, and the impact of a new group of alt-left pro-Corbyn media outlets.
"There is a slight danger with social media in that people end up being an echo chamber of themselves and self-select what they want to read because it's something they largely agree with," Corbyn said. "Of course it's good to read about things you're interested in or by someone you particularly like but it's also important to expose yourself to the arguments of others. So I urge people to read widely."

Curiously, he seemed deeply affected by a current plotline on EastEnders – "I watch it on catch-up" – featuring the character Bex Fowler, who is being bullied over the internet. The Labour leader appeared genuinely concerned by what it says about modern society.
"The problems of personal relations on social media is that the levels of bullying can become horrendous," he said. "She's [Bex] being bullied at school by her mates and she's turning around in a good way and challenging them. The story is developing in a very, very interesting way.
"Well done to the BBC and EastEnders for dealing with the issue, because a soap opera can be a very powerful way of getting your message across on the effects on an individual and how another girl having her drinks spiked at a party and her friends – instead of helping her and supporting her – are taking pictures of her collapsing on the floor."
Some things have changed for Corbyn since the vote was called: As a potential future prime minister during an election period, he is now accompanied by plain clothes protection officers who drive him around in a convoy of Range Rovers. There's still time for selfies, but there's now a substantial number of staff who track him everywhere, nervously trying to keep to the proposed timetable with limited success.
He insisted he always found time to read about things other than politics during campaigns and was currently working through a 1908 dystopian novel called The Iron Heel by Jack London, which the Merriam-Webster Encyclopedia of Literature describes as a warning about fascist plutocrats who, "fearing the popularity of socialism", collude to "eliminate democracy and, with their secret police and military, terrorise the citizenry".
He also laughed at being told that the Conservatives had just sent out a press release branding him and shadow chancellor John McDonnell as the "Marx brothers".
"Marx is a standard text in most university economics courses and I urge anyone who's serious about economics to read Marx but also to read Adam Smith, David Ricardo," he said. "Read other people! Read Varoufakis and what he went through in Greece! Read Joseph Stiglitz! Read around the subject – don't always look for an echo chamber of yourself. How else do you learn how the world is?"
He has no major concerns about Russian interference in the election. "We're all under threat from hackers all the time... Let's not get paranoid about it". Nor is he troubled by personal attacks. "The only time it gets really nasty is when there's abuse of my family or loved ones."
Regardless, it's hard to claim all is going to plan or that the election was called at a moment when Corbyn had neither strong personal popularity ratings or total control over his own party.
At an earlier campaign stop in Worcester – seen as the archetypal marginal seat a party of government must win – the cheery local candidate Joy Squires posed for pictures with Corbyn as he led a strong campaign rally which attracted hundreds of people outside the city's Queen Anne-era Guidhall.
Squires, slightly sheepishly, admitted she voted for Owen Smith in last year's Labour leadership election and wouldn't deny that the Labour leader is mentioned regularly in a negative manner on the doorstep. "I think that there are concerns that the Labour party has to be able to present itself as a party of government – but I am doing that on the doorstep every day."
How does the Labour leader cope with the substantial number of lifelong Labour voters who say they still like the party but won't vote for Jeremy Corbyn?
"It doesn't get to me at all," he said. "What I would say is that is about the party as a whole, the policies we're putting forward as a whole, and the individual messenger is the person who's doing their best to put those policies forward. I was elected leader of this party, I'm proud to do it, and I'll carry on doing it."
Instead, Corbyn's spending his time on the campaign trail imagining the people he believes he could help if he became prime minister: "I think of lots of people I know. I think of the homeless, those looking for a house, those in work where their skills are not properly recognised, I think of people trying to run a small business being ripped off by big business. I think of all those issues and try to encapsulate them into a coherent strategy."
And he has a message to the substantial anti-Corbyn Labour faction who still strongly oppose his project. "Listen guys," he said, "this is our chance to go and win."