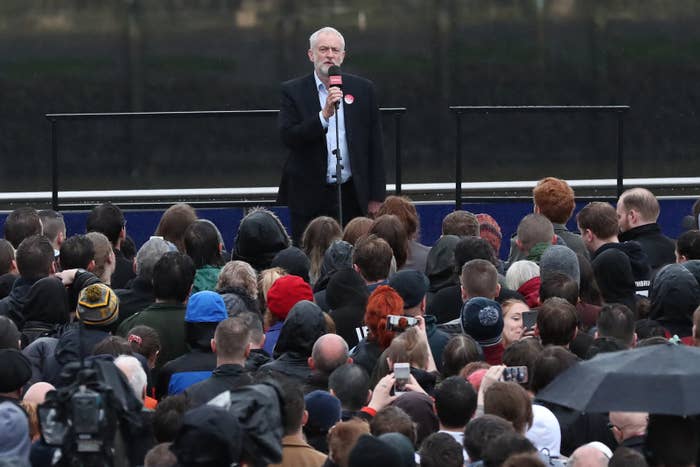 The plan for Labour centrists, as much as there ever was one, went something like this: Jeremy Corbyn, faced with a snap general election called by a triumphant prime minister buoyed by stunning poll ratings, would inevitably lead Labour to a historically bad defeat by virtue of his leadership flaws.
During the election campaign he would be pilloried, abused, and crushed by the Conservative juggernaut. The British public, guided by a handful of aggressively right-wing newspapers, would overwhelmingly reject a man with abysmal personal ratings.
In this centrist Labour narrative even pro-Corbyn party members would come to their senses in the aftermath of a crushing election defeat. They would realise that no matter how much they personally liked the leader's policies, there was no way he could lead the party to victory. And at some point in the future, a leadership election would follow in which a Sensible Moderate Labour Candidate would be chosen, who would be acceptable to the wider electorate.
Things have not exactly worked out that way.
Instead, the anti-Corbyn faction has had to realign its message and prepare for what they expect to be a different sort of defeat. At the same time the briefing has turned from the idea that he would be an electoral disaster to the idea that Labour could have gone even further and perhaps even won a majority with a different leader.
Crucially, the pro-Corbyn wing of the Labour party are setting a different measure of success to the anti-Corbyn centrists. Their definitions of what would be considered a good result – and their reasons for any loss – are very different.
"He has run a half-decent campaign, that's true, and he's not made an idiot of himself, but Theresa May has completely crumbled," said one anti-Corbyn Labour candidate, who was an MP in the last parliament. "We could have won this election if we had a half-decent leader, as she's imploded. I was ready for a split [to form a new party] at the start of this campaign. He's got to resign but I don't think he will."
Rather than being comprehensively rejected by the electorate, Corbyn's ratings have shot up as he fought a strong campaign and made the most of broadcasters giving him extra airtime for policies. YouGov polling suggests his personal favourability ratings enjoyed a startling turnaround, rising from an abysmal -42% on 20 April to -2% by the start of June.
He's capitalised on Conservative missteps, especially around the bodged manifesto launch and the "dementia tax". He's still toxic to voters in some parts of the country – and even the most optimistic polls suggest Labour will, in a best-case scenario, just about stand still in terms of seats – but Corbyn has packed out rallies in many constituencies and fought his way back into the election, lifted by a surging youth vote.
Most importantly, at least as far as internal Labour politics go, the membership of over 500,000 people currently appears to be more firmly behind Corbyn than ever – which poses a problem for Labour politicians who remain convinced he's incapable of leading the party to victory and still needs to be removed.
Centrist Labour candidates standing for re-election and aides from the anti-Corbyn wing have told BuzzFeed News they still expect the party to suffer a substantial defeat that will see it lose many seats in the north of England – especially along the M62 corridor – and the Midlands.

They reluctantly admit Corbyn has had a good campaign but maintain their core belief – the same conviction that caused 172 Labour MPs to sign a motion of a no confidence in Corbyn last summer and resulted in Owen Smith's failed leadership challenge – that he must be removed if the party is ever to win a parliamentary majority again.
The problem for them is that Corbyn's strong election performance has made this much harder.
One Labour candidate admitted the leader's rising personal ratings meant the anti-Corbyn faction is weaker than before the election, making it even more difficult for him to be forcibly removed post-defeat as members have rallied around the incumbent.

"It will be harder if he's seen to have had a good campaign," the candidate said.
Another anti-Corbyn Labour candidate admitted that – against their expectations – the leader is causing the party to surge in inner-city seats but said they still expect Labour to be badly defeated in suburban English constituencies, which is cause enough to continue the battle to replace him someone who is supposedly more electable.
The candidate, who also served as an MP in the last parliament, said the real post-election struggle will be over how Labour members perceive an election defeat: either a strong performance by Corbyn against the odds, or a failure to prevent five more years of Conservative government.
"It's a question of whether the bubble bursts or not," said the candidate. "Is there a script you can hear that says 'things have gone really well but Theresa is back in Number 10'? Moods change very rapidly. It's entirely possible members could remain on their Corbyn fix but I doubt it because it because of the actuality of the result, which is a Tory government.

"It all depends on the result and depends on whether people want to be a protest party or be a party of government. Will there be a comprehension of what you'd have to do to win in England? You can win in Wales, London, the cities, but just look at the map. We've got to win in England. Does anyone care?"
The briefing from the leaders' office downwards, filtering through the new pro-Corbyn sites, is the same: If losses are minimised then the leader will have done an incredibly tough job in difficult circumstances, while faced with a rebellious party and opposition from leading newspapers.

Matt Zarb-Cousin, Corbyn's former spokesperson, said the test will be whether Labour's national vote share is close to the 30% won by Ed Miliband at the last contest, and suggested Corbyn's leadership is part of an ongoing project to realign the party following defeats in the 2010 and 2015 elections.
"I don't think we'd have a manifesto as popular as this one, that people are talking about so much, had we not had Jeremy as leader," he told BuzzFeed News. "After just two years the party's moving the right direction. If he gets a higher share of the vote than Ed Miliband then he would be more entitled to stay on. It'd be wrong to go back to how the party was before."
Anti-Corbyn Labour activists said they would be spending the days after an electoral defeat attempting to force Corbyn to take full responsibility – which could be made easier if he avoids an immediate leadership challenge.
"Jeremy will have to explain why what happened happened," said one anti-Corbyn Labour adviser.
Several said they did not expect an immediate challenge, suggesting the focus will instead be on the party's annual conference – where there will be a battle over rule changes that could make it much easier to ensure a left-wing candidate is always able to make it on to the leadership ballot. Current leadership rules and the absence of MPs from the Corbynite left in the parliamentary Labour party mean that, unless Corbyn stands again, it would be hard for a candidate from the left to secure enough nominations.
Other anti-Corbyn Labour aides said there is nothing in place for a leadership challenge immediately after the general election.
"If there was a contest getting ready for 8 June then everything would be in place," said one adviser. "There isn't."
Instead, they said MPs are too busy focusing on saving their own seats, despite the likes of Yvette Cooper and Chuka Umunna tipped to be manoeuvring for a potential leadership bids. Speculation that deputy leader Tom Watson could encourage Corbyn to resign as leader, before becoming interim party leader for an extended period of time, was denied by Watson's team.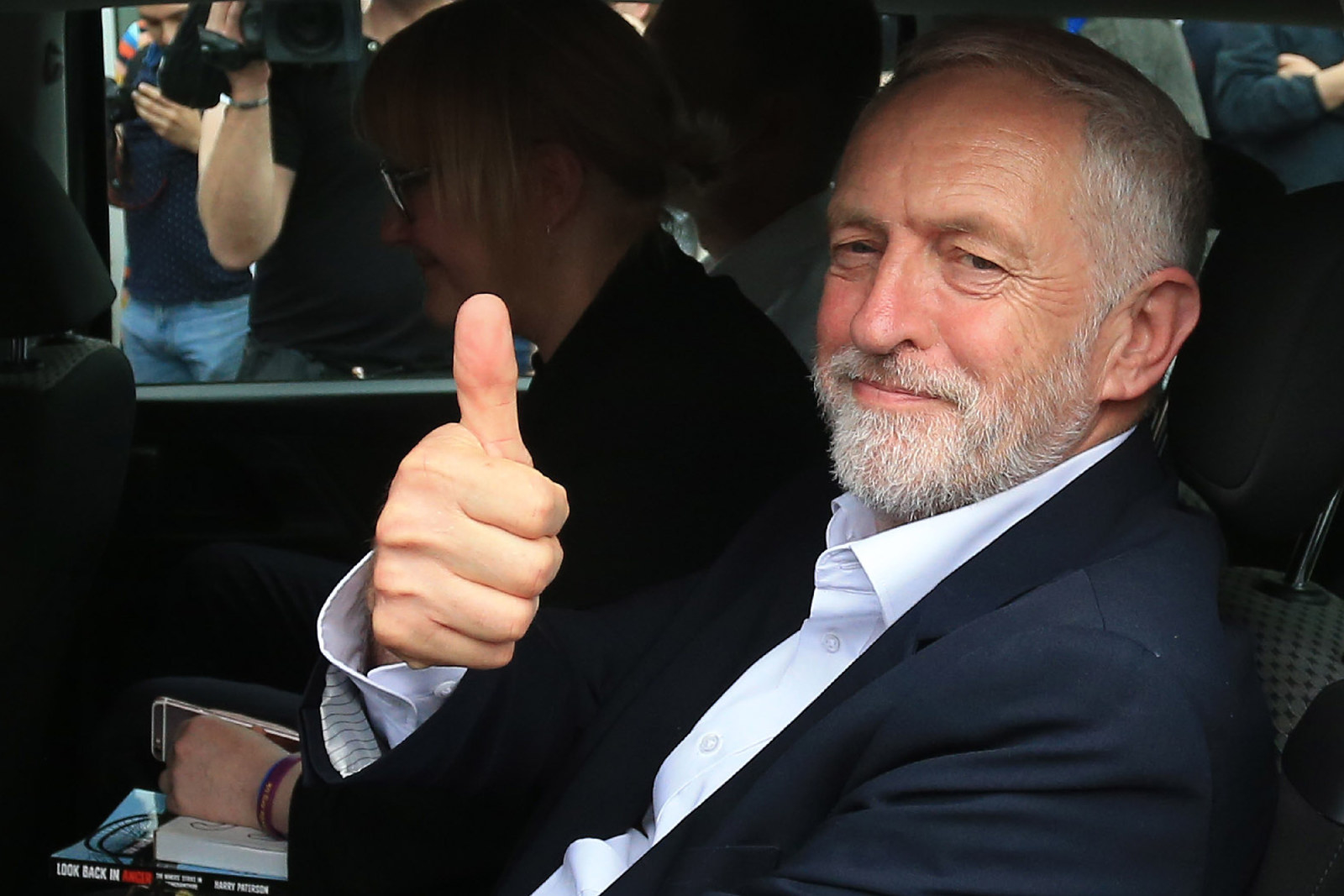 Several of the anti-Corbyn aides also said that it would be a mistake to launch a leadership challenge during the summer months, as that has previously enabled Corbyn to tour the country and speak to large outdoor rallies of members without having to worry about being present in parliament or responding to the day-to-day political news agenda.

"It's absolutely the case that it would be a colossal mistake for anyone to launch a challenge the day or the week after [the election]," said one senior Labour aide from the anti-Corbyn wing. They said they were "optimistic on the chances of convincing people to hold fire" and force Corbyn to take responsibility for any poor results.
"The membership will not be in a state to absorb a defeat or learn the lessons," the aide added. "They will blame the PLP [the party's MPs] or the media and they will be in shock and mourning. Launching a challenge would backfire dramatically."
But another adviser warned "Labour people are emotional" and if a candidate decided to launch an immediate challenge to Corbyn's leadership then it's possible that others would be forced to follow.
Any potential challenger would have to deal with a challenge from the left-wing pro-Corbyn online media, which is widely read by party members.
"The majority of previously anti-Corbyn MPs have had a wake-up call and their idea of what's electable is not necessarily what the public thought," said Steve Walker, editor of the Skwawkbox blog.
"If they were to try something they certainly wouldn't find any favour from the Skwawkbox or other comparable left-wing blogs or publications. The idea that they're going to try and replace someone who's come from a minus position to a position where the Tories are sweating, frankly they need their head looking at."
Echoing the message from Corbyn's office, Walker was complimentary of the leader's performance, blaming the actions of Labour MPs and the media for harming the party's election chances: "If you tie one hand behind a back and one leg to that and then ask them to run against Usain Bolt and if they even finish in the same frame at the finish line, then that's a success. I am expecting better than that, but even less than that would be a substantial performance."
For his part Corbyn has repeatedly said he intends to stay on, telling BuzzFeed News last month – before his personal ratings improved dramatically – that he plans to remain as party leader even in the event of an election defeat.
What's clear is that despite the strong election campaign and the poll surge, and despite the influx of new members, after two years there are large swathes of the Labour party who are committed to removing Corbyn from office in the search for electoral success.
As one despairing anti-Corbyn Labour candidate, who is expecting to be returned to parliament in the election, said when asked whether he thought the leader would be removed post-election: "I just don't know what the membership wants these days: Do they want to win or not?"