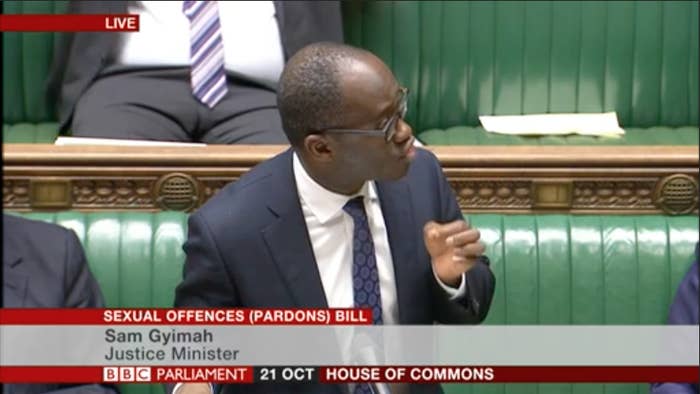 MPs shouted "shame" on Friday as a government minister used parliamentary procedure to block a proposed law that would automatically clear the name of thousands of gay and bisexual men who were convicted of sexual offences that are no longer illegal.

Homosexuality was only decriminalised in England and Wales in 1967, leaving thousands of men with convictions for offences that would no longer be illegal.

On Thursday the government announced it would back a Liberal Democrat proposal allowing men who were prosecuted for being gay to apply for a pardon, while automatically clearing the names of historic figures.

But on Friday ministers worked hard to block a rival proposal from the SNP's John Nicholson that would have gone further and automatically given a pardon to all living men without having to apply for special permission.
Justice minister Sam Gyimah spoke for 20 minutes to ensure that the debate on the so-called Turing bill, named after the World War II codebreaker Alan Turing, used up all of its allocated time in the Commons without being put to a parliamentary vote.

Gyimah argued that Nicholson's bill did not have "appropriate safeguards" to stop pardons accidentally being handed to people who had underage or nonconsensual sex.
"Individuals can apply to the home secretary to have their historic convictions for gay sex offences deleted," he said. "The checks are to ascertain whether the offences were consensual, whether the person was 16 or over, and did not involve activity which is not currently an offence.

"In the case of those individuals still living, it will provide that all individuals who are successful of obtaining a disregard to be granted a pardon. So they will get both a disregard to expunge their record and a pardon."
Multiple MPs stood up to support the bill, including Tory MP Nigel Adams, who said a blanket pardon would be a way of accepting "that the convictions were immoral". He also used the opportunity to apologise "to friends, family members and constituents who identify as gay, lesbian, or bisexual" for his decision to vote against same-sex marriage in 2013.
The bill is scheduled to return for further debate but is unlikely to progress further without government backing.

Nicholson said he accepted the government was making an effort with its proposal to allow men to apply for a pardon but warned many "will not open themselves up to the shame and humiliation of applying", adding: "There has to be a blanket pardon for them to get comfort."

Ultimately, he said, pardoning historic figures was no substitute for a blanket apology for those who are still alive: "I have to ask the house, should we not prioritise the living over the dead?"