Some Tory MPs Are Reportedly Using WhatsApp To Plan For Boris Johnson To Replace Theresa May
One Tory MP told BuzzFeed News the pro-Brexit MPs are using May "like a glove puppet" until they can replace her with Johnson. A member of the WhatsApp group denied the claims, however.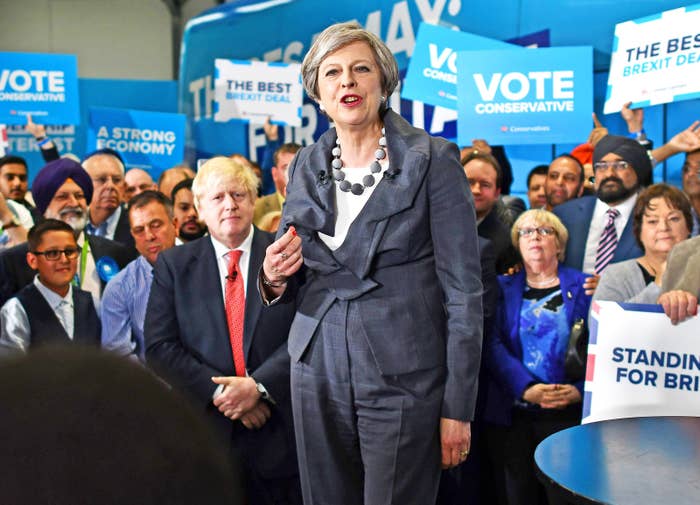 Pro-Brexit Conservative MPs are using a WhatsApp group to coordinate an effort to keep Theresa May in place until Boris Johnson is able to take over as prime minister, a Tory MP who claims to have seen the messages told BuzzFeed News, despite the denials of a key member of the group.

"They're ferociously doing what they can to say that Boris isn't running for leadership and Theresa is staying," the MP said, saying the Conservatives had agreed a common line to shore up May's leadership until the foreign secretary is in a position to take over.
Writing on Twitter last night, Johnson described reports in the Sunday newspapers that he was plotting to take over from May as "tripe".
The WhatsApp messages are being spread on a group run by the European Research Group, an organisation representing leading pro-Brexit Tory MPs and including politicians such as Steve Baker, Suella Fernandes, and Bernard Jenkin.
They use the messaging service to agree on coordinated pro-May lines that are then read out in the media.

ITV News political correspondent Daniel Hewitt tweeted screenshots supposedly taken from a WhatsApp group showing Johnson urging MPs to "calm down" and back the prime minister, including an eight-point guide on how to do so.
However, the MP who BuzzFeed News spoke to said Johnson's team were now effectively in control of May's political future: "They're using her like a glove puppet. He is running, his organisation is ready. He's trying to sustain her long enough in place so he can kill her in place."

Jenkin, one of the members of the group, strongly denied the allegation: "We're certainly WhatsApping to support Theresa. There is no other agenda. Just forget it. Boris has WhatsApped privately his 100% support. There is a tiny number of people trying to destabilise Theresa and they have an anti-Brexit agenda.
"These pro-Remain rebels do not have the numbers. There is every possibility that Theresa May will be fighting the next general election. We suffered a shock but maybe it was deserved."
Jenkin suggested the anti-May briefing was being produced by a small number of Conservative MPs who were getting disproportionate coverage.
"Look at the media, how many individuals are actually out there generating all these headlines – it's Nicky Morgan, Anna Soubry, George Osborne. This is all disproportionate and the media are latching on to these very few voices. They will feel the wrath of the Conservative party if they carry on like this – if there is a meltdown it will be Corbyn [in power]."
He added: "The fantasy that Michael Heseltine is promoting that Brexit is the cancer in the Conservative party. The cancer in the Conservative party was Remain. The Conservative party and the British people are at one – they want to leave the European Union."