These Scottish Nationalists Think There's A Conspiracy To Hide A Secret Oilfield
As the Scottish referendum campaign enters its final weeks, some quarters of the pro-independence camp believe a massive amount of oil has been discovered off Shetland and that the media are keeping it quiet. What's really happening?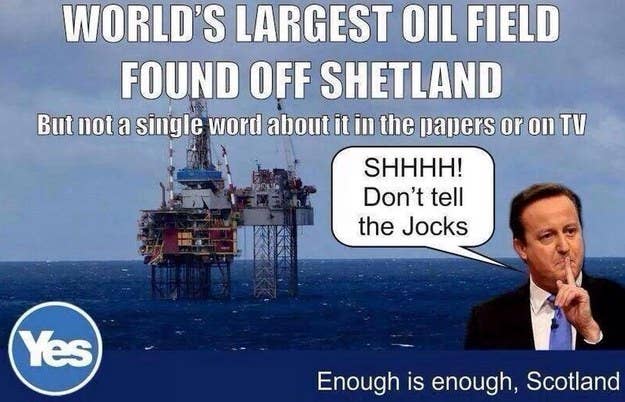 AIRDRIE, SCOTLAND – Stevie is very, very angry. The middle-aged council worker was walking down Airdrie high street when he encountered Labour MP Jim Murphy, who's currently giving a stump speech against Scottish independence.
"What about the oilfield?" shouts Stevie, an ardent Scottish nationalist. "The hidden oilfield!" he repeats, before wandering off.
Stevie, who declines to give BuzzFeed his second name due to his public sector job, is furious that Murphy is ignoring what he believes is the key issue of the independence campaign: the secret discovery of billions of pounds of oil off Shetland that could power an independent Scotland to prosperity.
Along with with tens of thousands of other backers of an independent Scotland, Stevie believes that there is a conspiracy to hush up the existence of an enormous new development in the Clair oilfield near Shetland, off Scotland's north coast, taking in the mainstream media, large energy companies, and even David Cameron.
What's more, belief in the secret oilfield is seeping into the mainstream nationalist debate, and its existence has been backed by senior SNP MPs. With just over a fortnight to go until the referendum vote – and the latest polls have the Yes vote narrowly behind – some nationalists believe it's another example of London doing everything in its power to stop Scots breaking off and enjoying a hydrocarbon-fuelled life as an independent nation. The thinking goes: Reveal the existence of the oilfield and the economic case for a Yes vote is much easier.
Meanwhile, pretty much everyone in the oil industry, Westminster government, and the anti-independence campaign says it's total rubbish.
On a side street in the Lanarkshire town, Stevie explains what's going on: "There's a massive oilfield found coincidentally very close to the time when David Cameron went to Shetland. There is some evidence that workers on the platform there got sent home and asked not to return until 19 September [the day after the referendum] on full pay and not to talk to anyone, especially nationalists.
"I just totally believe it's a cover-up to hide the real wealth of Scotland from the people so they won't vote for independence."
It all comes down to the contents of the enormous Clair oilfield, which has been known about since the 1970s but until recently was too difficult to access. No one disputes that the field exists, that it contains an enormous amount of oil, and that energy firms would like to find ways of extracting it. Instead, the claim is that there's a conspiracy at the highest levels of government to hide the success of an ongoing exploration project, named Clair Ridge, until after the referendum.
But try finding any basis for the report and you become bogged down in claim, counter-claim, and the complicated relationship between the oil industry and Scottish nationalism. With less than a month to go until Scotland votes for independence, what's going on? And where have these claims come from?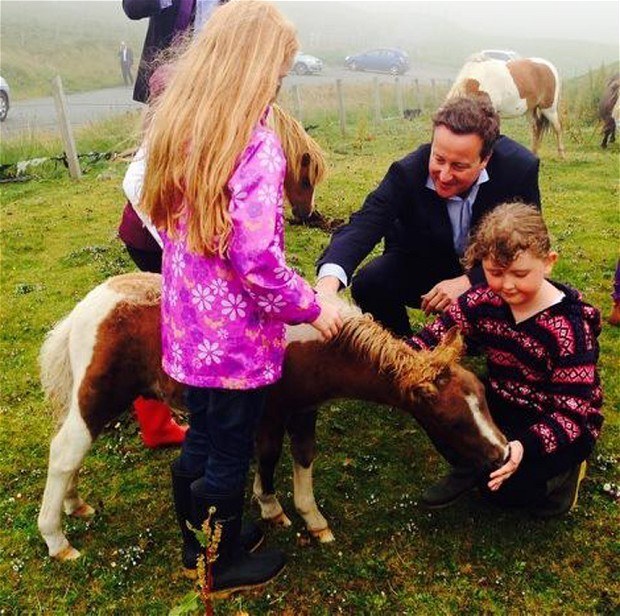 The secret oilfield rumours began in earnest when David Cameron made a swift visit to Shetland at the end of July, flying up from London with no advance warning and accompanied by only a handful of journalists.
The fleeting visit, a rare intervention in the referendum for a prime minister who admits his very presence in the country helps the pro-independence campaign, involved a small policy announcement about a household energy deal. He found time for a quick wander, a handful of interviews, and a tweeted picture of him caressing a small Shetland pony.
But according to some pro-independence supporters there was much, much more to the visit. Cameron had been alerted to the massive new oil find and had come up to check it out in person. The rumours began with a news piece posted the following week on the niche pro-independence website Yes International.
The site stated that Cameron's visit was "shrouded in secrecy", adding that "several anonymous sources" said contractors working on the project for oil firm BP had been sent home just days earlier after finding astonishing levels of oil as part of the next stage of the Clair Ridge exploration.
What's more, according to Yes International's sources, the same oil contractors had been told "they would not be recalled until after the referendum".
Reports of a hushed-up oil find, workers stood down, and a supposedly secret visit by Cameron quickly became a potent mix for nationalists. The economic case for an independent Scotland relies heavily on revenue from oilfields, and the SNP has consistently accused Westminster of understating the amount of oil in the North Sea. Given that, the logic goes, it wouldn't be impossible for the government to attempt to hide an entire oilfield.
The pro-independence campaign's ever-active online supporters, nicknamed "cybernats", sprang into action, and the story spread fast. Each time the story appeared on a pro-independence blog it added to the feedback loop, convincing thousands of people that it was not just a report but a bona fide confirmed fact.
And as each of these unverified blogposts went viral on Facebook, tens of thousands of people started believing the story. Any attempt to disprove the reports by the mainstream media would be discounted. After all, they would say that, wouldn't they?
Soon messages which appear to be personal accounts of workers being sent home from the secret oil discovery began to go spread, with tens of thousands of shares. Many are surprisingly similar in tone and content to the original news stories that sparked the story.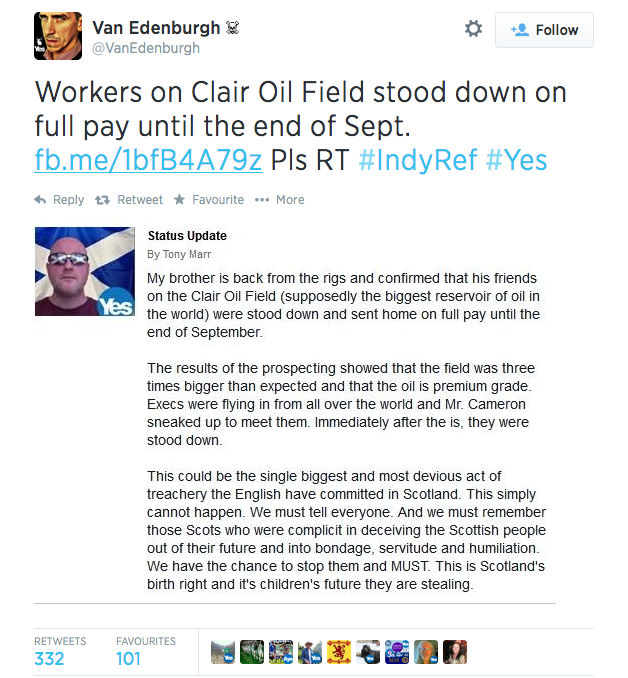 The day after Yes Scotland published its exclusive on workers being secretly sent home from the newly-discovered rig, a spoof press release was posted on the industry website Oil and Gas People that gave a boost to the claim's credibility. In it, the jobs website, run by pro-independence supporter Kevin Forbes, alleged that news of a massive discovery in the Clair Ridge oil field is under embargo until the day after the independence referendum.
The note, copied from Facebook and drawing heavily on the original Yes Scotland story, swiftly began to be forwarded around the internet as proof that insiders within the business were backing the claims.
Chris Zee, who works for Oil and Gas People, admits the post which did much to fan the belief in the hushed-up oilfield was a "rather ambiguous one", but insists that evidence from workers in Shetland suggests something unusual is going on in the Clair Ridge field, with the likes of BP investing heavily in the region.
"Quite a lot of men got demanned and on full pay and had to sign non-disclosure agreements," says Zee. "If what we're looking at all links together, the exploration was done in 2013, they'll spend a year raising investment and everyone's going to start drilling in 2015."
He's also convinced that traditional journalistic outlets are downplaying the news: "There does seem to be a lot more that your mainstream media like the BBC just seem to be skipping over. The BBC is particularly good at publishing stories that then vanish off their website within hours."
The rumour has not come out of nowhere; the SNP has been claiming that Westminster understates the value of the North Sea's oil reserves since the 1970s.
"I have no evidence that there is any ongoing attempt to cover up discovered oil," deputy first minister Nicola Sturgeon tells BuzzFeed, "but Westminster governments have, almost since North Sea oil was discovered, attempted to downplay it to the people of Scotland. You've got former government ministers like Dennis Healey on record as saying there were conscious attempts to downplay the value of oil, so it doesn't take too much of a leap of imagination to assume the UK government is still doing that."
Meanwhile, Joan McAlpine, a SNP politician close to first minister Alex Salmond, used her column in Scotland's biggest selling newspaper to state the secret oilfield discovery as fact. "David Cameron made a secret visit to Shetland to see this important field," she wrote, adding that the visit was "hushed up along with the latest results of test drilling".
(A Downing Street source who was with the prime minister on the trip says the story is "bollocks", and that "the closest we got to an oil well was a trip around the harbour".)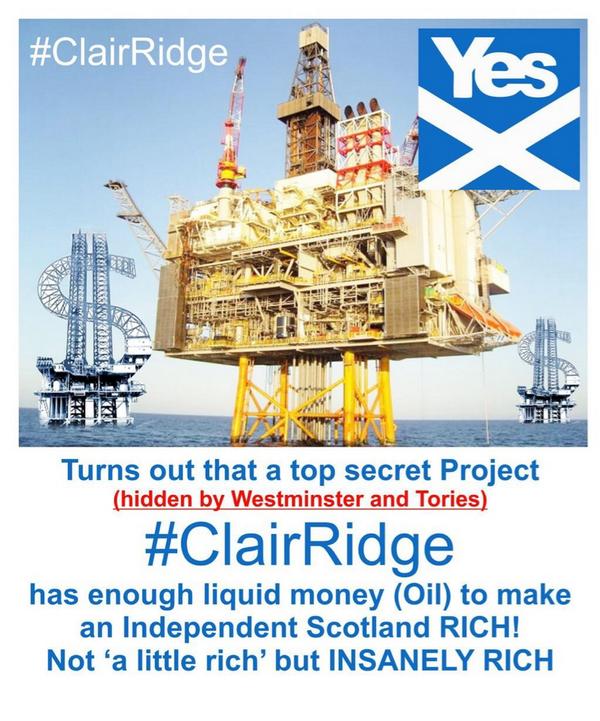 Equally, none of the major oil companies will give any credence to the idea that a massive oil find is being hushed up.
"We've said there's oil in the Clair oilfield since the 1970s, and we're doing what we said we were going to do in 2011," explains a spokesperson for BP's Aberdeen operation, who seems politely exasperated with the notion of a secret oilfield.
"These rumours started on a Facebook page and there's no credibility in them," they add, before suggesting that the prime minister could easily meet with BP executives in London rather than flying to 600 miles to Shetland in order to personally inspect a oil exploration operation.
Scottish secretary Alistair Carmichael has been even more forthright. "If there was any truth in this suggestion that there has been a massive oil discovery and that it was being kept secret, then surely the last thing the prime minister would do would be visiting where you could only draw attention to it," he told Shetland News.
Back at Jim Murphy's campaign to keep Scotland as part of the UK, we've moved from Airdrie to the neighbouring town of Bathgate. And the secret oil that's seeped into the independence debate won't go away, with true believers everywhere.
Once again, a woman heckles Murphy about the billions of pounds worth of oil being kept secret in Clair Ridge until after the referendum. And once again, the Labour MP dismisses the claim.
Her response is swift. "I don't believe that numpty," she says, before striding off. The conspiracy to hide the Clair Ridge oil is bred from a deep distrust of the Westminster government and optimism about the economic future of an independent Scotland. It's just that, right now, there's no evidence that it has any basis in reality.