RT, the television news channel backed by the Russian state, has responded to suggestions it is complicit in a state disinformation campaign aimed at disrupting Western nations by embracing the claims with a series of adverts.

The promotional posters – which have appeared on the London underground in recent days – refer to accusations from the channel's critics that it is part of a wider Russian information campaign involving hacking and propaganda, welcoming them as a sign of the channel's outsider status.
One advert suggests people watch RT, formerly known as Russia Today, in order to "find out who we are planning to hack next". One quotes former US secretary of state John Kerry's description of the channel as a "propaganda bullhorn", while another proudly boasts that the CIA describes it as a "propaganda machine".
Another advert appearing on the tube mocks the increasing number of allegations of Russian interference in Western politics: "Missed the train? Lost a vote? Blame it on us!"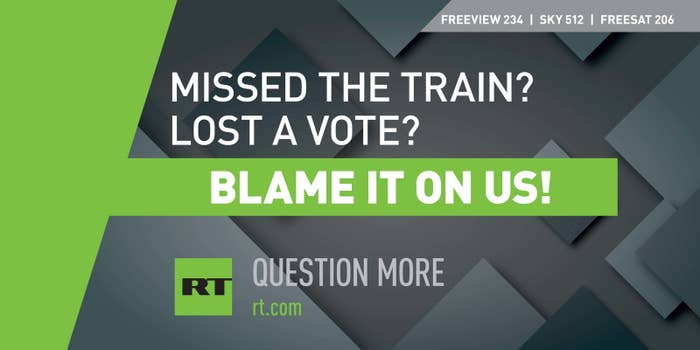 Asked about the thinking behind the adverts, a spokesperson for RT deadpanned: "We wanted to go straight to the hearts and minds of the British people and warn them about the dangers of watching RT and Questioning More. Obviously."
When BuzzFeed News suggested RT was not taking the question entirely seriously, the spokesperson added: "Based on the thousands of articles the UK mainstream media has produced trying to do the same, and apparently failing, I don't see how we could be taking this any more seriously."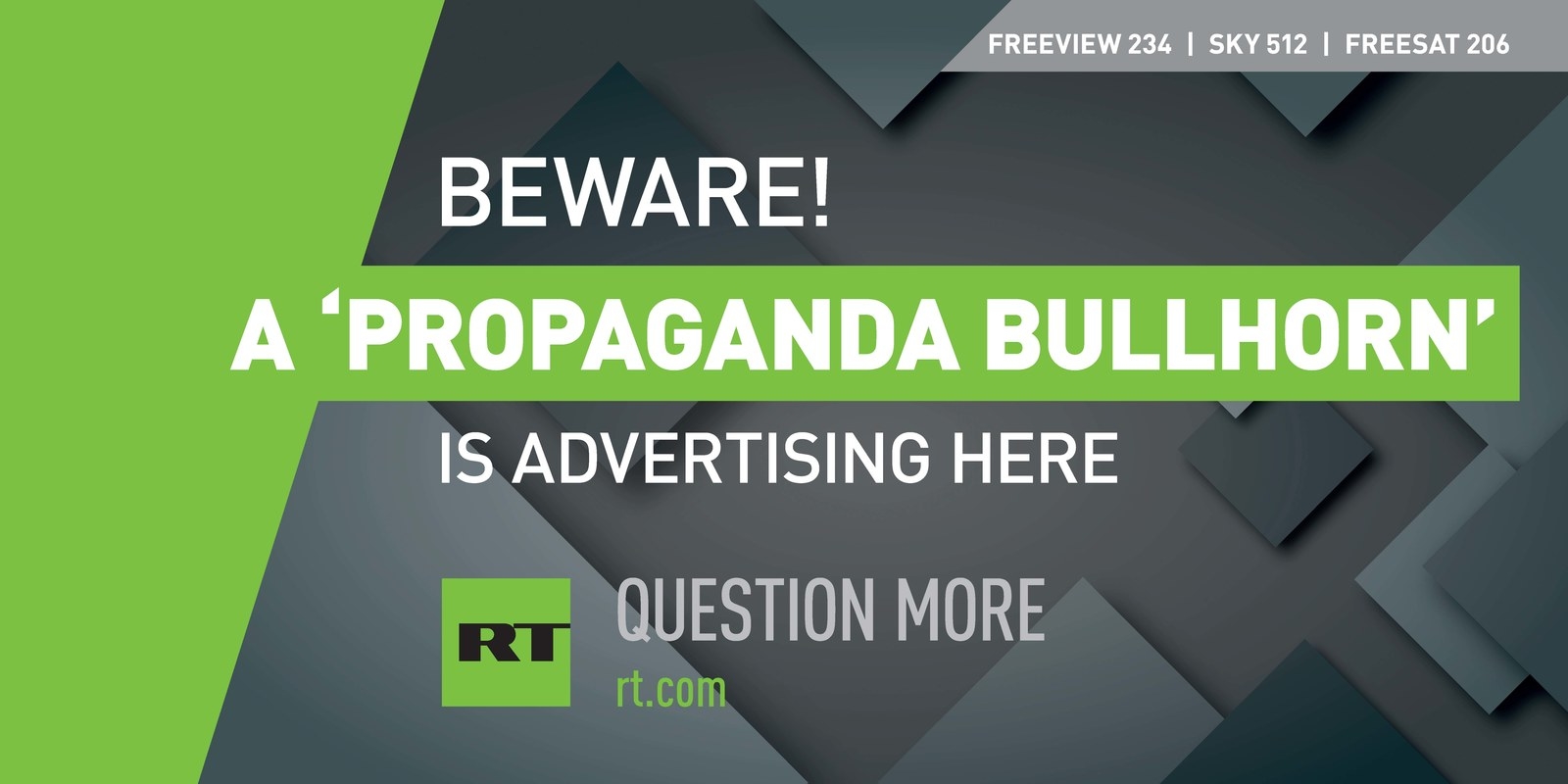 A spokesperson for the mayor of London, Sadiq Khan, who is responsible for Transport for London, referred questions to the tube operator. A TfL spokesperson confirmed the advertising campaign would appear in tube stations for the next two weeks and "complies with our advertising policy".
Similar adverts have also appeared in Washington, DC, mocking Hillary Clinton's defeat in the US presidential contest with the slogan "Stuck in traffic? Lost an election? Blame it on us!"
RT has been repeatedly criticised by UK media regulator Ofcom over its coverage, especially around the conflicts in Ukraine and Syria, in addition to a bias against Western nations and NATO.
In typical RT style it has capitalised on each Ofcom ruling, holding it up as an example of the British state trying to silence dissenting voices.

The channel has gained a reputation for giving airtime to people on the fringes of politics, on both the far left and right of politics. It has provided a regular home for UKIP politicians raising concerns about mass immigration and at one point considered giving a show to Katie Hopkins. Several backbench Conservative MPs have also appeared on RT.
At the same time it has also provided in-depth coverage of anti-austerity protests and given airtime to left-wing voices who were ignored by more mainstream channels. When Labour leader Jeremy Corbyn was a relatively obscure backbencher in 2011 and 2012 – rather than a national figure – he often appeared on the channel, which he recommended as an alternative to more mainstream outlets, especially on foreign affairs.
While most centrist Labour politicians – with some notable exceptions – have tended to avoid appearing on RT, an increasing number of pro-Corbyn shadow cabinet ministers and prominent left-wing voices are happy to appear on its programmes in a bid to reach a different audience.
When this was highlighted by The Times earlier this week, the channel shot back with a story attacking the newspaper for being a "puppet of owner Rupert Murdoch, who stands accused of interfering with British government decisions".