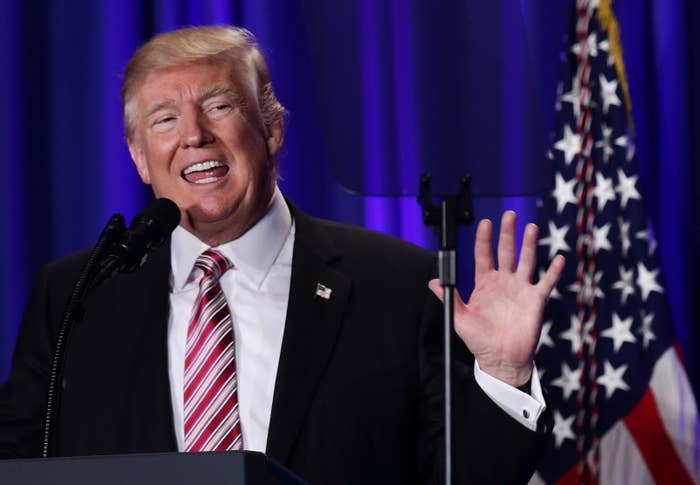 Theresa May is asking Donald Trump for a US–UK trade deal – but it could open up the NHS to competition from American companies.

Republican politicians at the party's retreat in Philadelphia applauded as May made the case for a post-Brexit trade arrangement involving Britain and the US.
But they also made it clear to BuzzFeed News that they are likely to want something in return – and that could include improved access to the UK's healthcare market.

Todd Young, a senator from Indiana, said he was receptive to the idea of a free-trade deal with the UK and said he is "always looking for opportunities to open up foreign markets" to goods and services produced in Indiana – including healthcare.
"The life sciences industry in my own state happens to be quite robust and a driver of job creation so there may be some opportunities there as well," he said.
Asked whether a trade deal represented a good opportunity for such businesses to get involved in UK healthcare, he said: "Yes, indeed.
"We have a longstanding partnership, as was [described] by prime minister May, and we have a real opportunity to catalyse our respective economies."
Fellow Republican senator Jim Risch of Idaho said he wanted a trade deal that resulted in businesses in both countries being able to increase trade: "Great Britain is one of our best ... friends – we want to do business with them."
Asked directly whether he would welcome a deal that would make it easier for US healthcare providers to get involved in the UK healthcare system, he said: "Absolutely."
President Trump will guide the negotiations but a trade deal will ultimately need the approval of Congress.
May has flown to the US in the hope of securing the support of the president for a post-Brexit trade deal between the two countries. However, some of the concerns that plagued the Transatlantic Trade and Investment Partnership (TTIP) trade agreement between the US and the European Union – such as whether it could involve the opening up of the NHS to private companies in the name of free-market competition – appear to be returning.

Before her speech reporters asked the prime minister she would be willing to make it easier for US businesses to deal with the NHS if that was the price of a trade deal with Trump.
"As regards the NHS, we're very clear as a government that we're committed to an NHS that is free at the point of use," she said, failing to rule out such a move but also making it clear that any discussions were yet to begin.
This prompted Labour's Jon Ashworth, the shadow health secretary, to call on the prime minister to confirm that "a rushed trade deal with President Trump will not be a Trojan horse for NHS privatisation".
"The British people did not vote for Theresa May to use our NHS as a bargaining chip with Donald Trump," he said.
But the majority of Republicans on the sidelines of the conference in Philadelphia were delighted by the possibilities. "It could be a real example globally for how countries are going to interact," said Minnesota congressman Jason Lewis, a Brexit fan who said a trade deal would make it easier for US businesses to invest in Britain. "There's so many opportunities to reinvigorate our wonderful alliance going back to 1789."