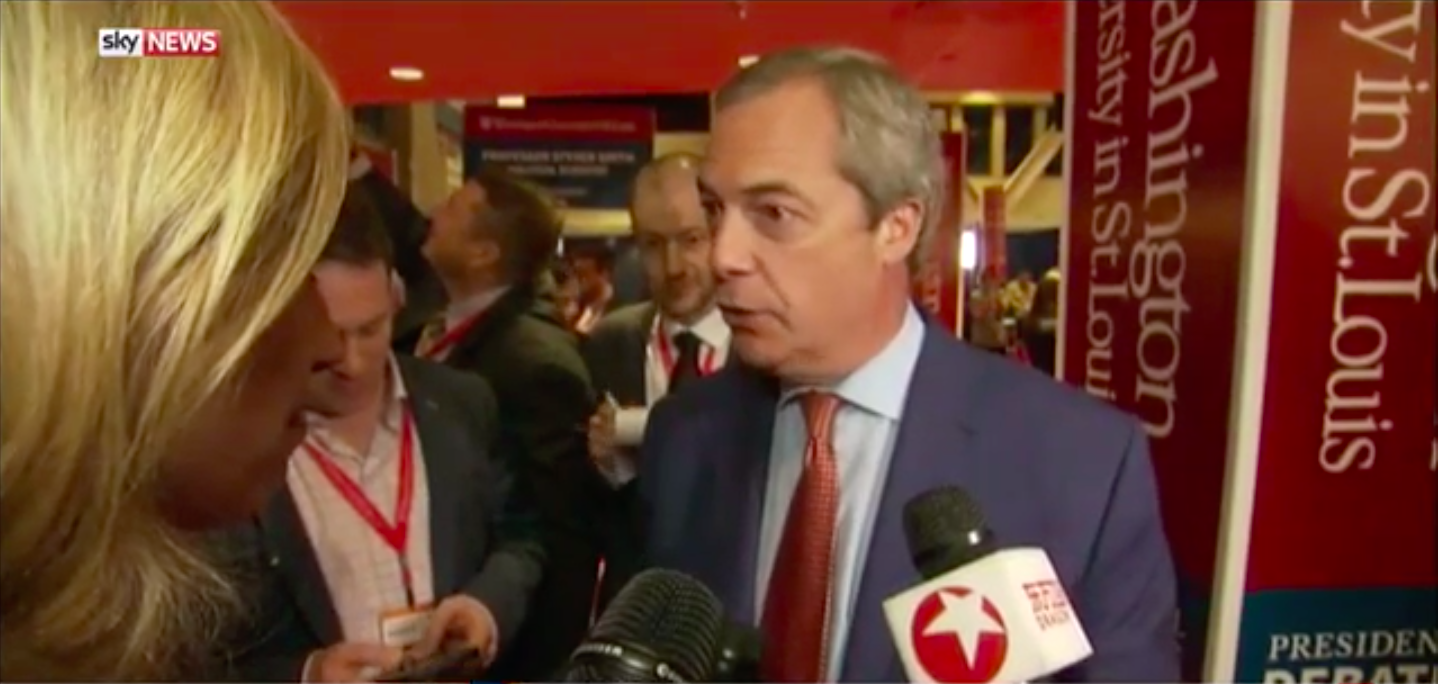 Nigel Farage has strongly defended Donald Trump's performance in the second US presidential debate, saying the Republican candidate saved his campaign by acting as a "silverback gorilla" while taking on Hillary Clinton.

"He looked like a big gorilla, prowling the set," Farage told BuzzFeed News editor-in-chief Ben Smith at the debate. "He is that big alpha male, that's who he is."
"We all have comparisons to animals, or whatever it may be, that's how he seems to me. The leader of the pack. That's what he's like."
The UKIP leader also told Sky News that he had been impressed by Trump's performance and insisted the Republican presidential candidate could still win next month's election, despite an "awkward" segment discussing a video of Trump saying he would grab women "by the pussy".

Before the debate Farage had dismissed the comments, unearthed in a 2005 video, as "alpha male boasting" and the UKIP leader stuck to this line in the post-debate spin room.
"Once we got through that excruciating first 15 minutes, almost a race to the bottom in terms of the way the debate was going, then when we got on to security, dealing with terrorism, business, things like that, suddenly he was winning and winning quite big," said Farage.
"I don't suppose there has ever been a presidential debate that plumbed the depths that this did in the first 15 minutes but it's been a pretty extraordinary series of revelations that have come out against both of the candidates, frankly.
"I must admit I sort-of thought this is quite awkward to watch, it's so bad it's awkward to watch. But once it was out of the way, it was a very good television spectacle."
The UKIP leader has spent increasing amounts of time in the US, appearing alongside Trump at a rally in Mississippi where he dined with the presidential candidate. In turn Trump has attempted to channel the success of Farage's anti-establishment anti-EU campaign, with the presidential candidate suggesting he could soon be called "Mr Brexit".

Farage has also become a semi-regular pundit on US cable TV news stations, and has made an unexpected return for a third stint as UKIP leader following the resignation of his successor Diane James.
He has been regularly accompanied on his US trips by members of the Leave.EU campaign group, including millionaire UKIP donor Arron Banks and his aide Andy Wigmore. The latter posted backstage pictures of Farage at Sunday night's debate preparing to appear on Fox News.
Banks has previously told BuzzFeed News that both he and Farage will be at the third and final presidential debate in Las Vegas, where they will stay in the Trump Hotel.

Although Farage began the year reluctant to fully throw his weight behind Trump, his debate verdict shows the extent of his backing: "It was real backs-to-the-wall stuff. He's come out of this very well. He'll be leaving here a happy man tonight."