Conservative peer and opinion-poll enthusiast Lord Ashcroft has just published the results from his latest round of polling, which includes an analysis of party leaders' constituencies and target seats where the Lib Dems currently have a majority.
1.
UKIP's Nigel Farage could struggle to make it into parliament, according to polling of his target Thanet South seat.
Despite endless publicity, Farage is still behind the Conservatives in constituency-level polling of the Kent constituency.
2.
Ed Miliband faces a challenge from UKIP in his Doncaster North seat.
In his own analysis of the results, Ashcroft suggested that Conversative voters in Doncaster North might want to vote for UKIP to ensure that the Labour leader finds himself without a job next year. He said: "I wonder how many Doncaster Tories would be prepared to lend UKIP their vote, just this once?"
3.
People still don't trust Labour on the economy. Even Miliband's own constituents prefer Cameron and Osborne to Miliband and Balls.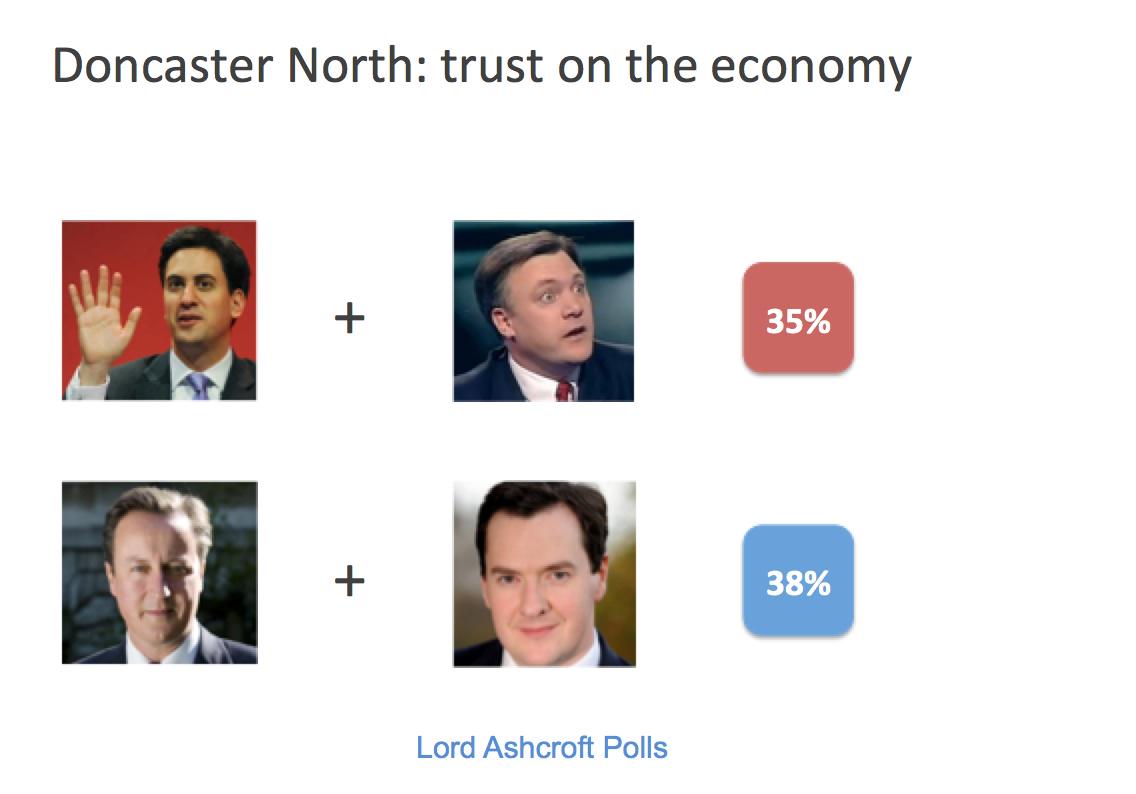 4.
Just 24% of Miliband's constituents think he would make the best prime minister of all the available candidates.

5.
The Lib Dems are on track to hold many of their constituencies from the Tories.
6.
The Lib Dems are fighting a really strong ground campaign in Tory–Lib Dem marginals. This question asked voters if they had recently heard from each party.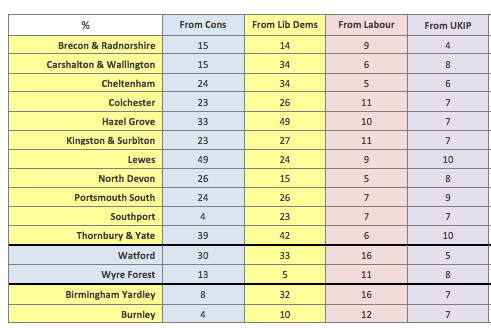 7.
Lib Dem voters in these seats would much prefer David Cameron as prime minister than Ed Miliband.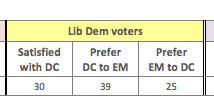 8.
UKIP has little chance of winning any of these Tory-Lib Dem marginal seats.

9.
And the same Lib Dem voters would narrowly prefer another Tory-Lib Dem coalition to a Labour-Lib Dem deal.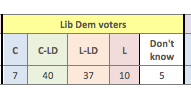 10.
That said, Nick Clegg is only narrowly ahead of Labour in his own Sheffield Hallam constituency...
(Where the top-rated politician is David Cameron.)
11.
...largely thanks to the fact that 49% of voters in Sheffield Hallam have heard from the Lib Dems in recent weeks.