Jeremy Corbyn's Election Leaflets Show How He Has Campaigned On The Same Issues Since 1983
An archive of Jeremy Corbyn's old election leaflets, provided to BuzzFeed News by the University of Bristol, reveals how the Labour leader is fighting the 2017 general election on the same issues he cared about in 1983.
In 1983, Jeremy Corbyn stood for parliament for the very first time.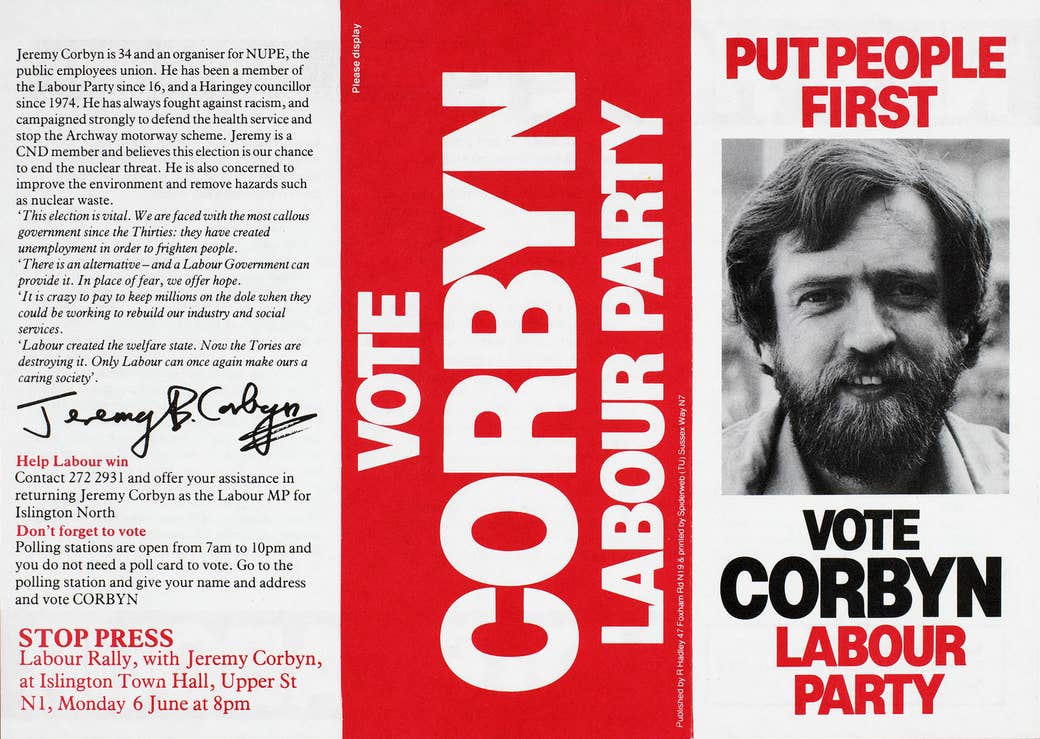 Corbyn was a 34-year-old local councillor and trade union official when he first stood for election to the House of Commons in the safe Labour seat of Islington North.

"This election is vital," he told voters on one of his first leaflets. "We are faced with the most callous government since the Thirties; they have created unemployment to frighten people. There is an alternative – and a Labour Government can provide it. In place of fear, we offer hope."

His policies included reversing spending cuts, increasing benefits, and campaigning for the UK to leave what would become the European Union.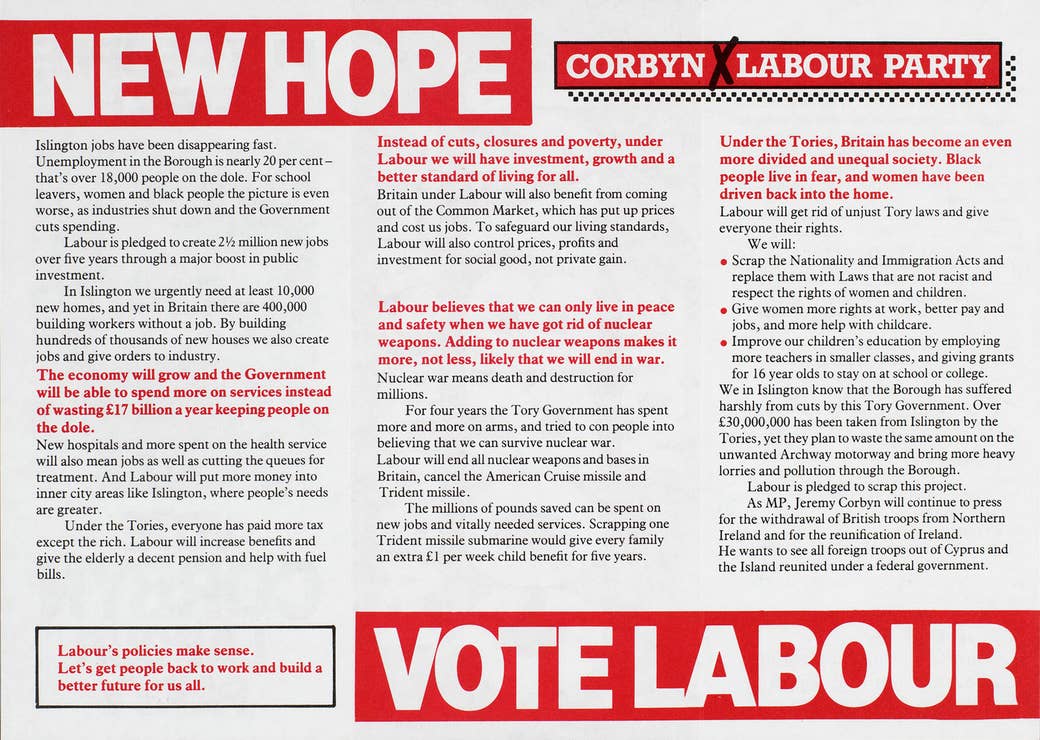 Corbyn pledged to use public investment to get unemployed workers building houses. He also pledged to campaign for stronger rights for women and minorities, employ more teachers, and remove nuclear weapons from Britain – the last of which has been a contentious issue in the formation of the 2017 Labour manifesto.

"As MP, Jeremy Corbyn will continue to press for the withdrawal of British troops from Northern Ireland and for the reunification of Ireland," he told voters.

The lifelong Eurosceptic also pledged to help take Britain out of the European Community – which later become the EU.
"Britain under Labour will also benefit from coming out of the Common Market, which has put up prices and cost us jobs," he said.
Corbyn campaigned strongly against the privatisation of buses – and the construction of inner-city motorways.
"We put people first; not heavy goods vehicles or speeding cars."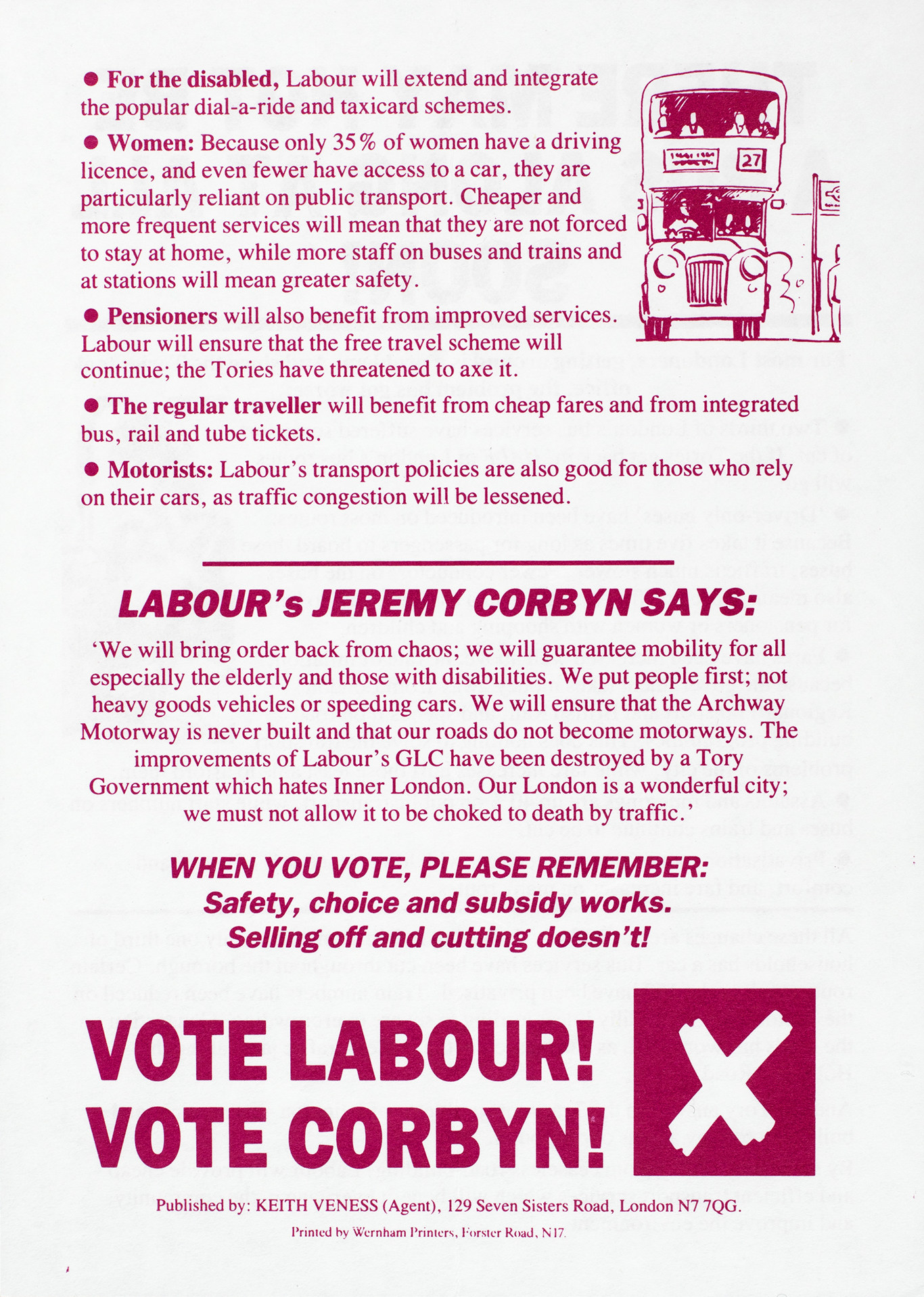 Corbyn beat the Conservative candidate in 1983 with a 5,607-vote majority, although Labour suffered a heavy defeat under Michael Foot on a national level.

In 1987, Corbyn stood for re-election promising cheaper heating, a safer environment, and more red buses.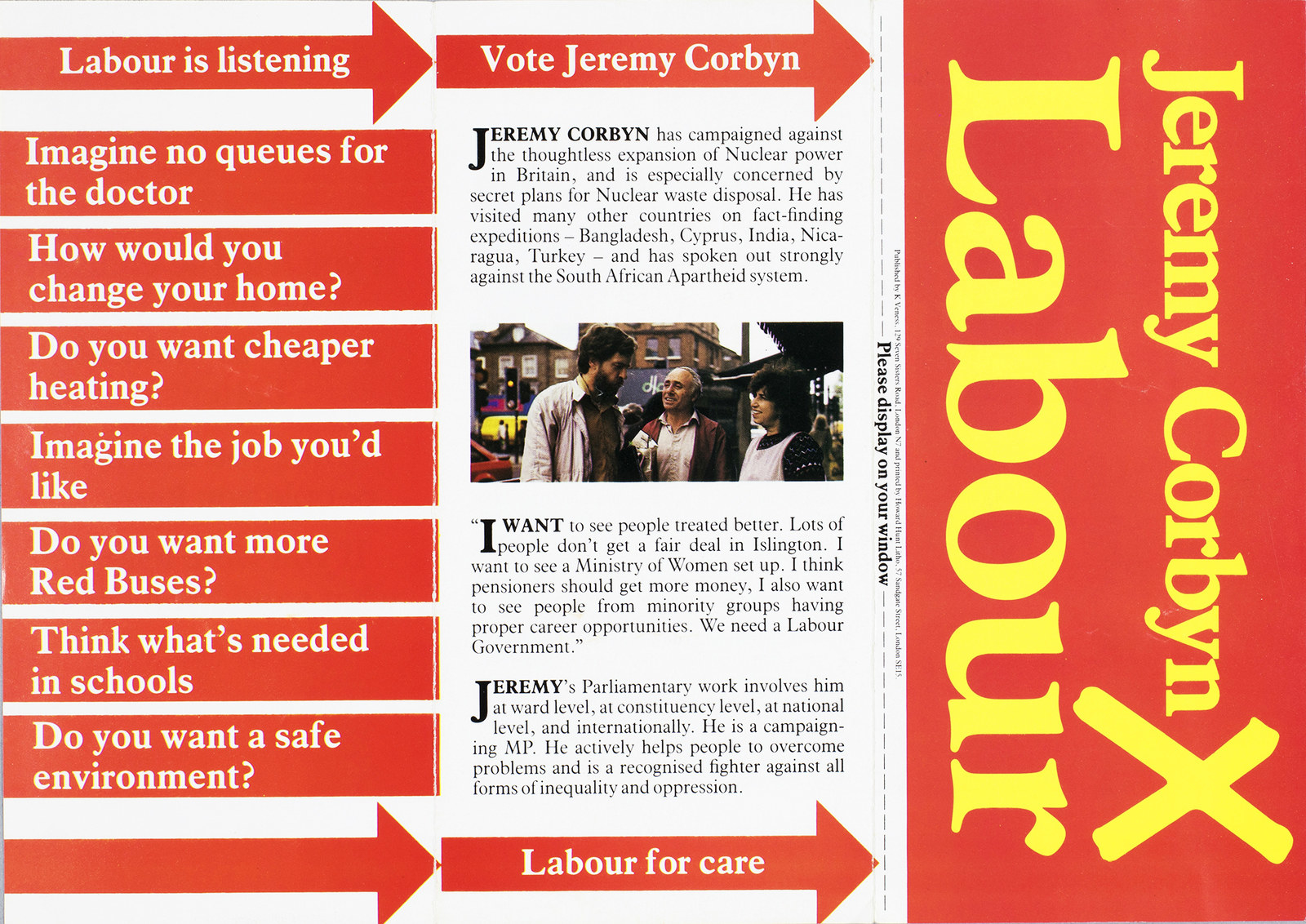 Corbyn wanted to see a "Ministry of Women" founded and said pensioners should receive more money – a belief later reflected in the 2017 Labour manifesto's commitment to a pensions triple lock.
His 1987 campaign focused on funding for the NHS, schools, and council house building.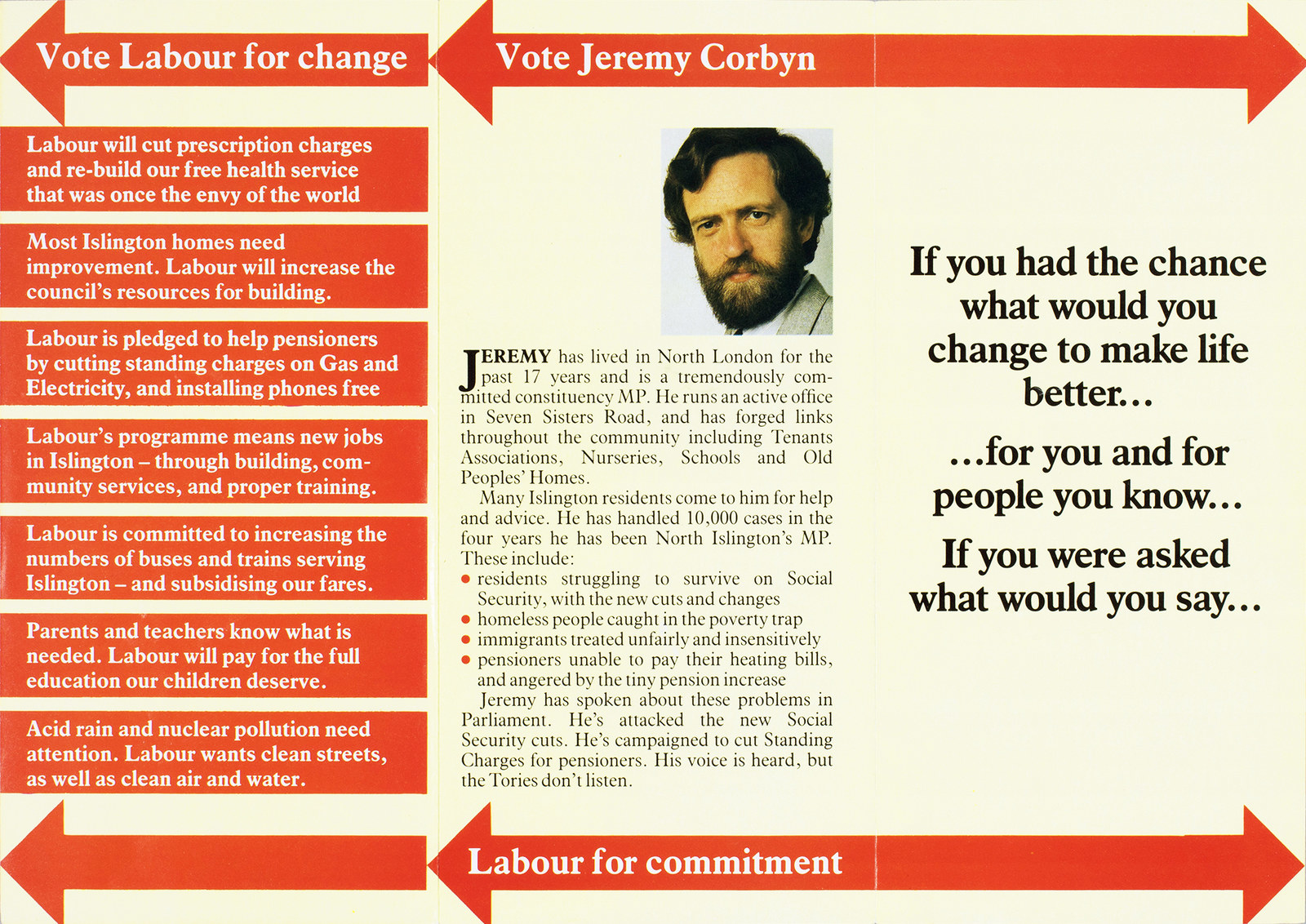 Other leaflets from the 1987 election show Corbyn's emphasis on NHS campaigning.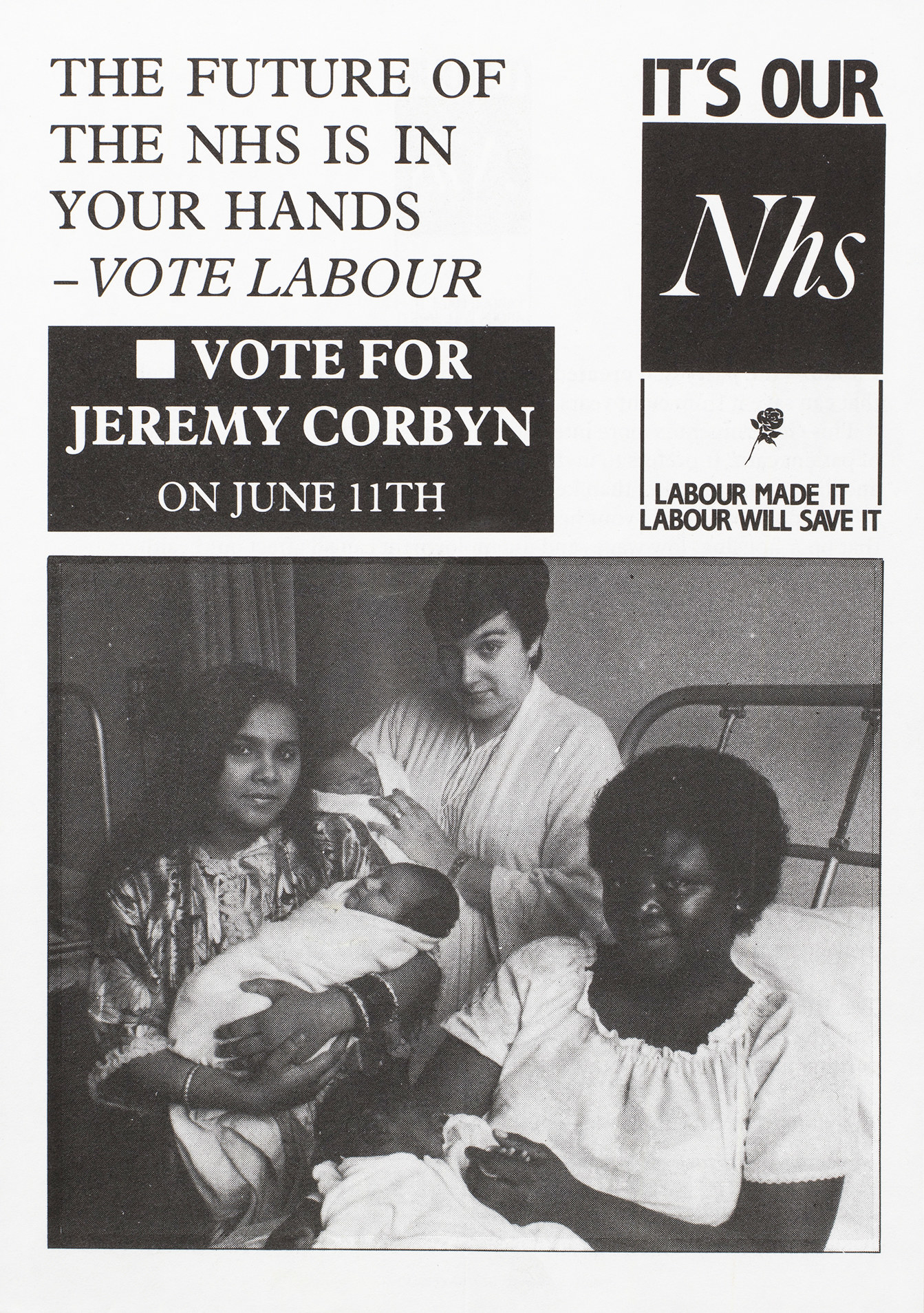 "This Government is more interested in balancing the books than in the quality of patient care," he wrote, attacking Margaret Thatcher's Conservatives.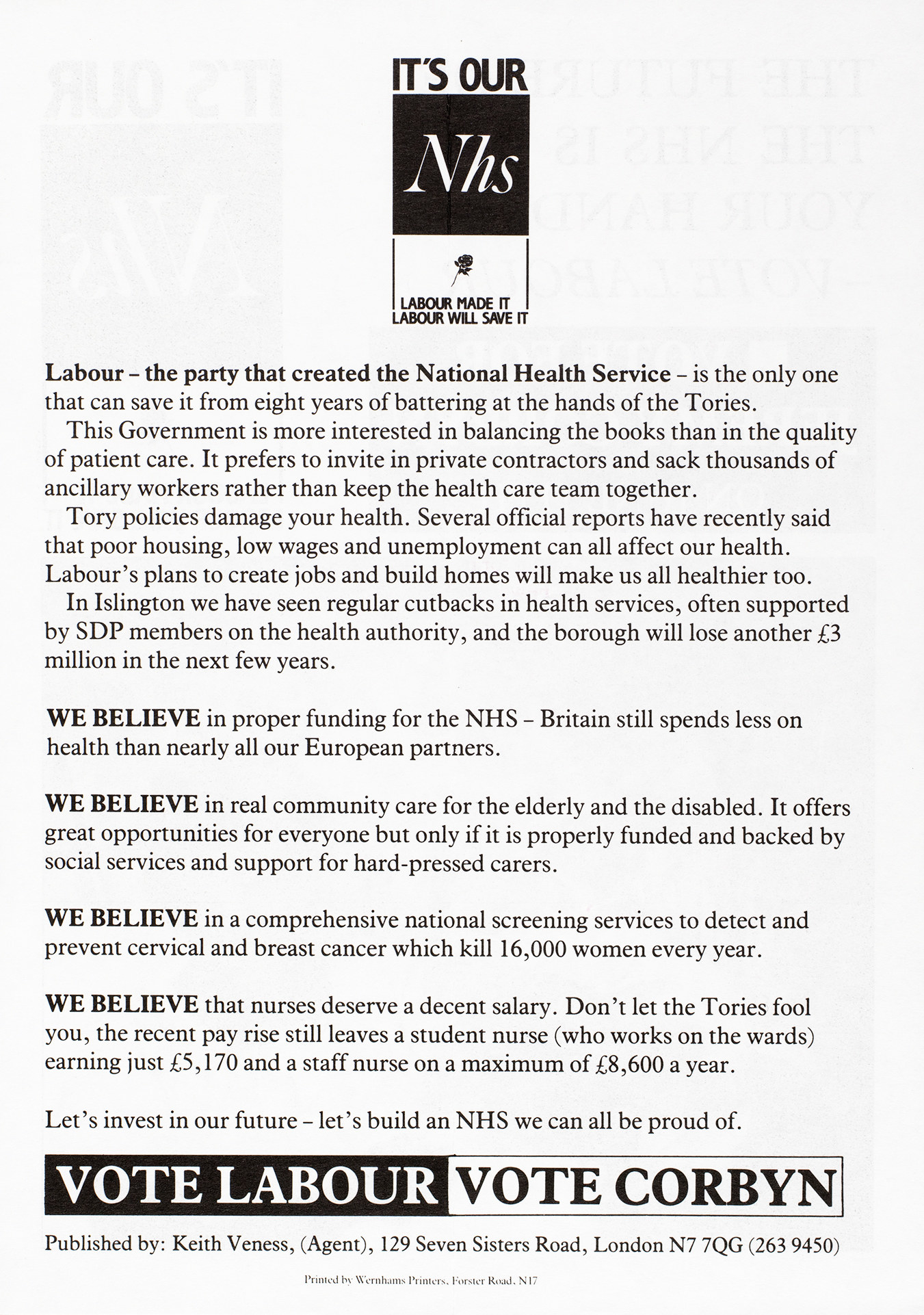 Corbyn was re-elected in 1987 with an increased 9,657-vote majority over the Conservatives. At a national level, Labour suffered another defeat under Neil Kinnock, which it would repeat in 1992.
Despite that setback for the wider party, Corbyn was again re-elected in 1992. Unfortunately, the Bristol University archive holds none of his election leaflets from that year.
In 1997 Corbyn's leaflets focused on Tony Blair's headline promises and called for voters to help put "an end to the years of suffering caused by the Tories".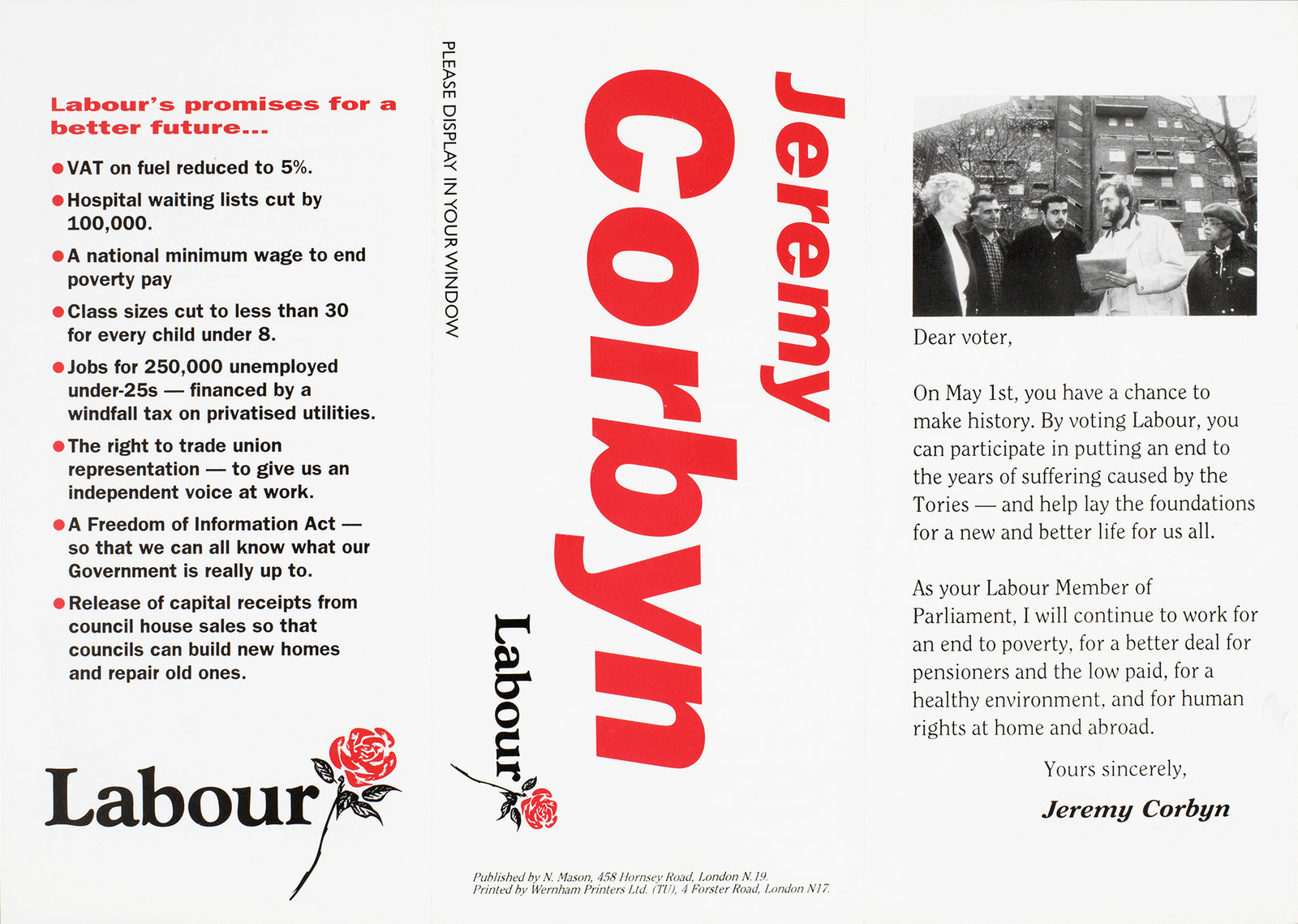 But he eschewed mentions of Blair and New Labour, instead quoting the general secretary of the Unison trade union and former Labour MP Barbara Castle.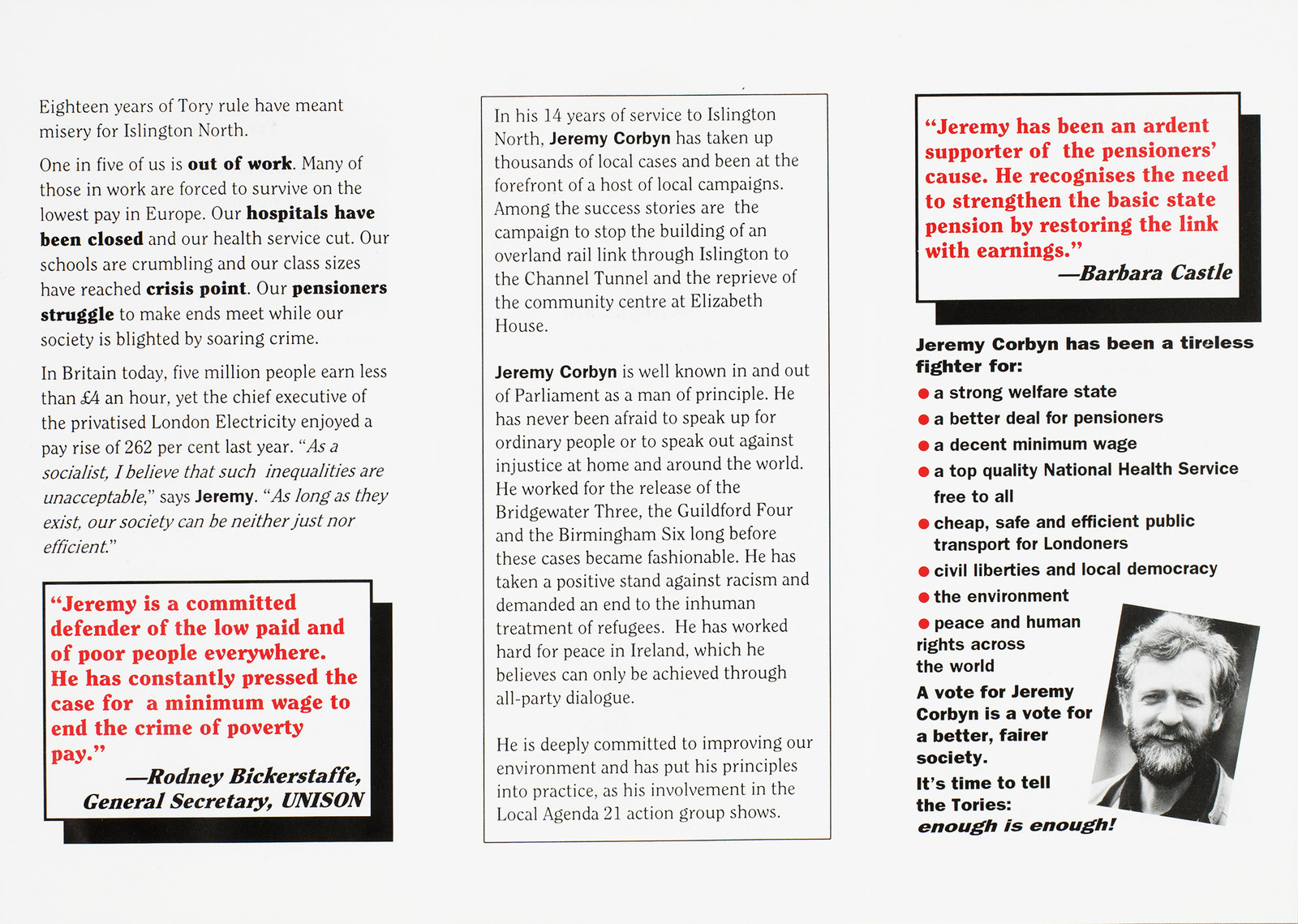 "Jeremy Corbyn is well known in and out of Parliament as a man of principle," this leaflet said.

Corbyn increased his majority to 19,955 in 1997 as party leader Blair won an enormous Labour majority.
In 2001 Corbyn campaigned for more affordable housing, public transport, and improved pensions.
"Labour has a lot more to do," he told voters.
Around this time he also began linking to his personal website, a rarity among technophobic MPs. A version of it located by BuzzFeed News on Archive.org reveals a pleasingly amateurish site where Corbyn pledged to avoid posting "pompous speeches even your nearest and dearest wouldn't want to read".
On this leaflet there's a picture of Jeremy Corbyn trying to an entertain a child with an unidentified toy – but again, no mention of Tony Blair or New Labour.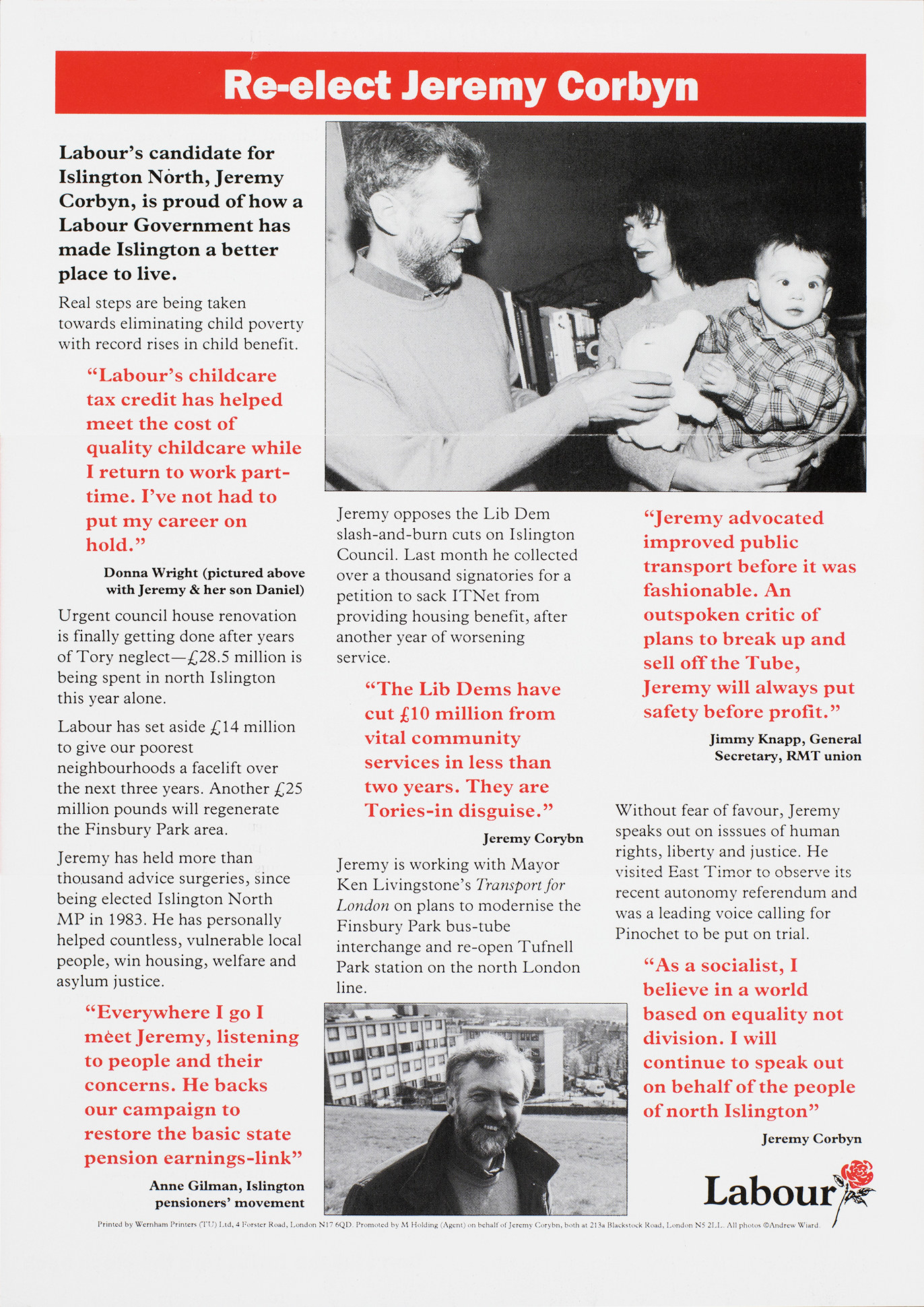 Corbyn was re-elected in 2001 with a reduced 12,958 majority, as Tony Blair's New Labour won another landslide.
In 2005, Corbyn campaigned on an anti-Iraq War platform.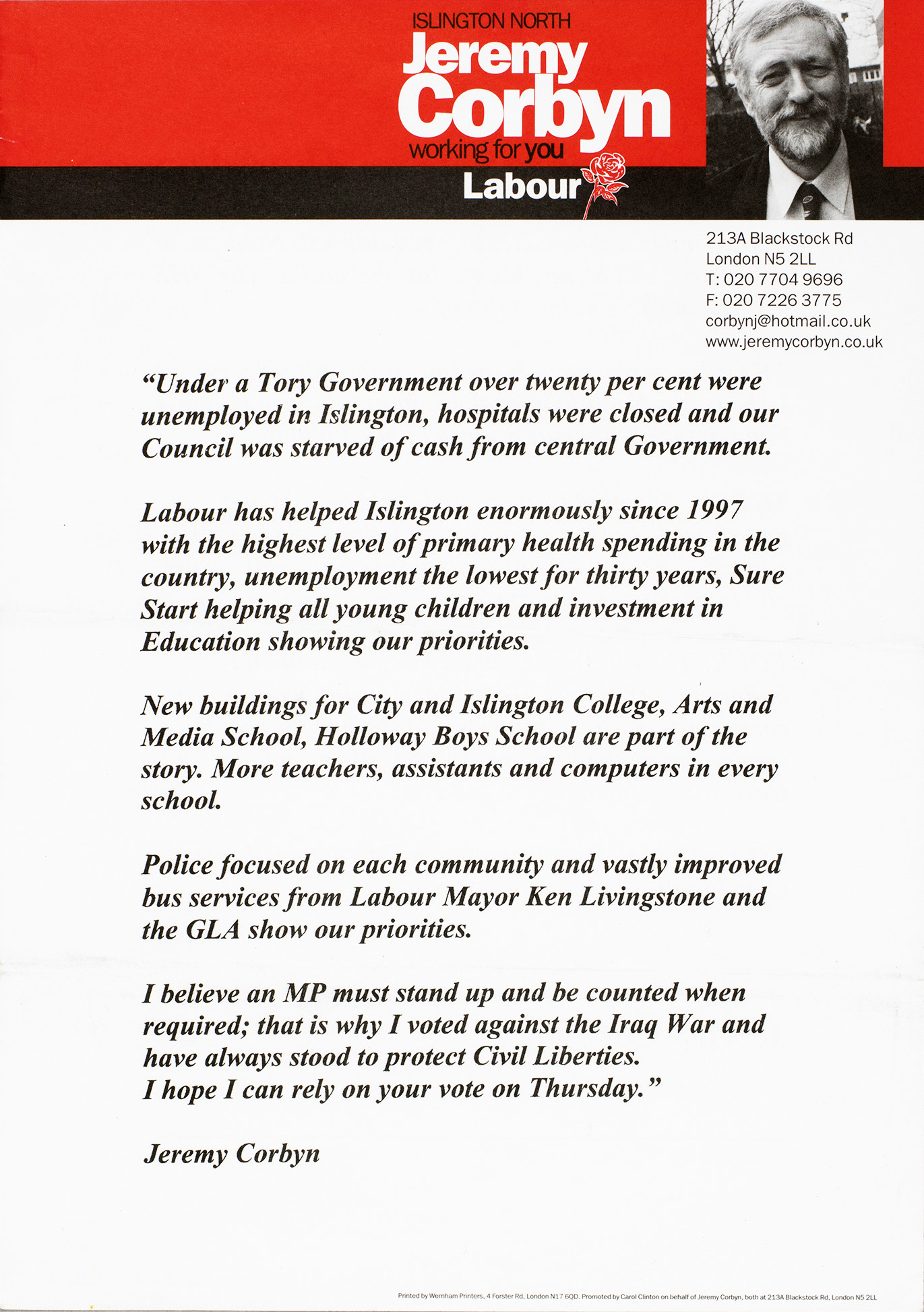 Corbyn's leaflets from 2005, in the middle of the Iraq War, defend the party's record of government but clearly align his policies with those of London mayor Ken Livingstone than Tony Blair. According to research by politics professor Philip Cowley, Corbyn was the most rebellious Labour MP throughout the entire New Labour era.
"I believe an MP must stand up and be counted when required; that is why I voted against the Iraq War and have always stood to protect Civil Liberties," he told constituents.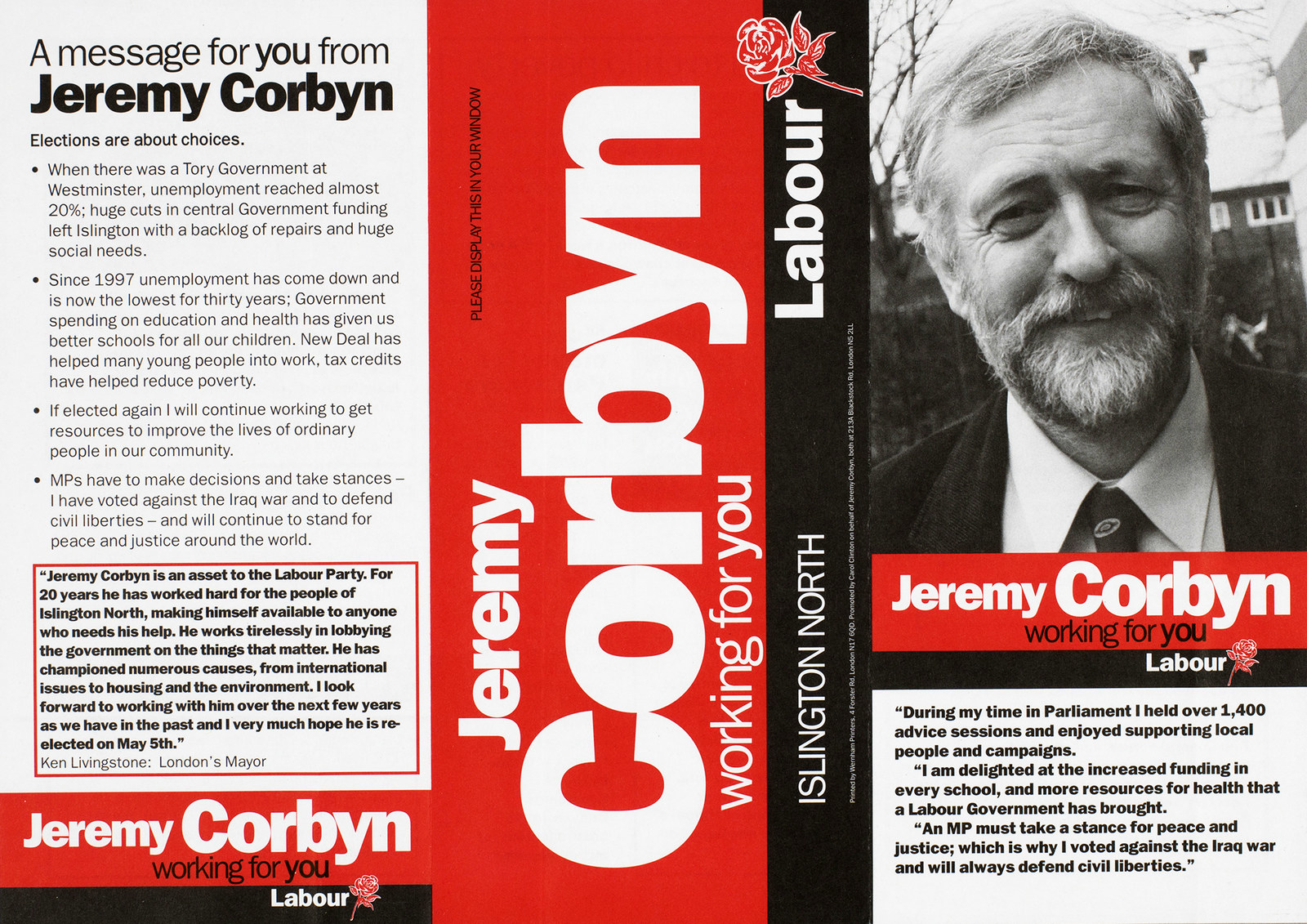 He also invited people to contact him on a Hotmail email address.
Once again he pledged to increase health spending, boost pensions, and end child poverty.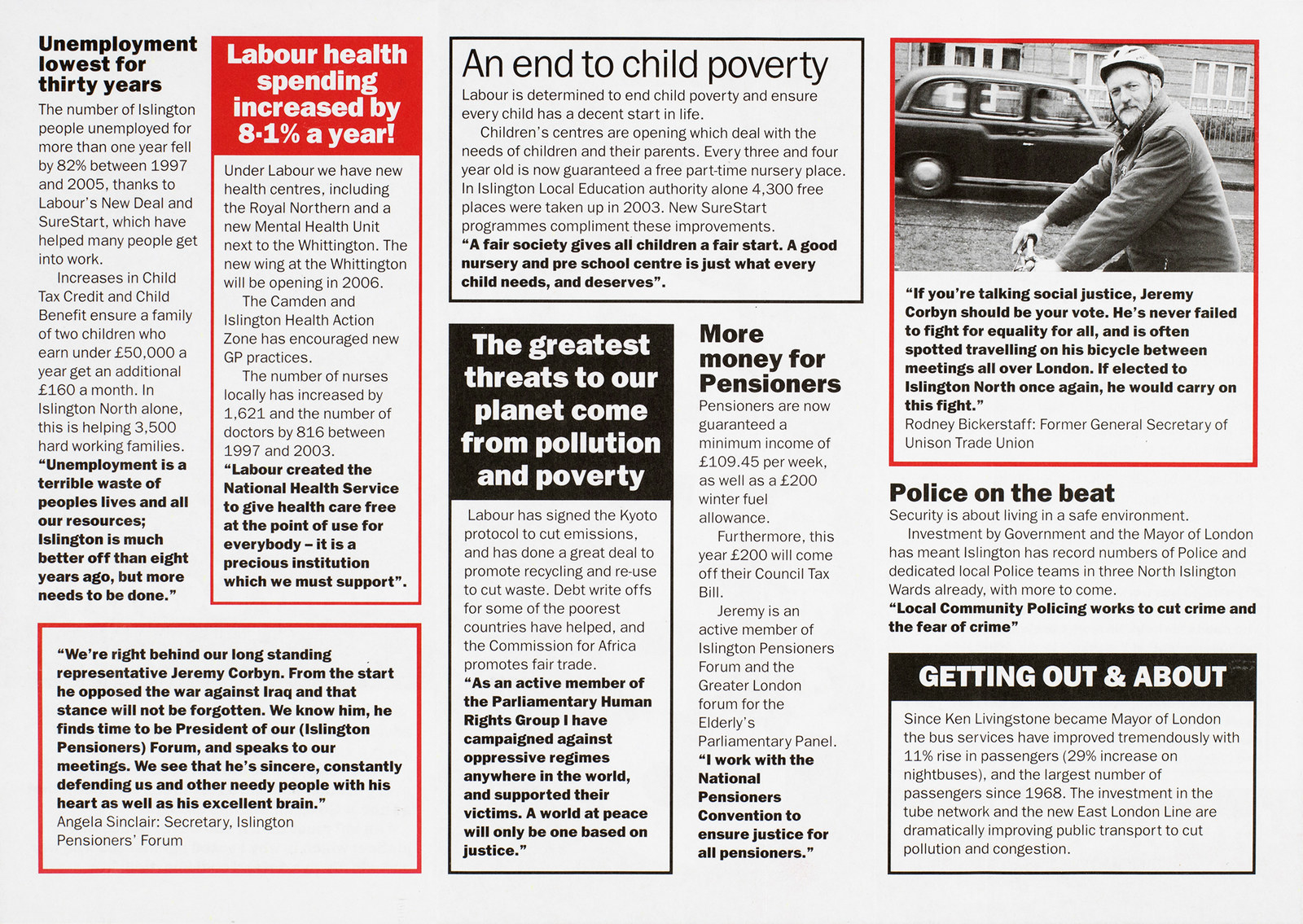 Corbyn was re-elected in 2005 on a reduced majority of 6,716, seeing off a challenge from the anti-Iraq War Liberal Democrats. Tony Blair won a third term on a reduced majority.

In 2010, as Corbyn stood for election to parliament for a seventh time, he made it clear he opposed the wars in Iraq and Afghanistan and the Trident nuclear weapons system.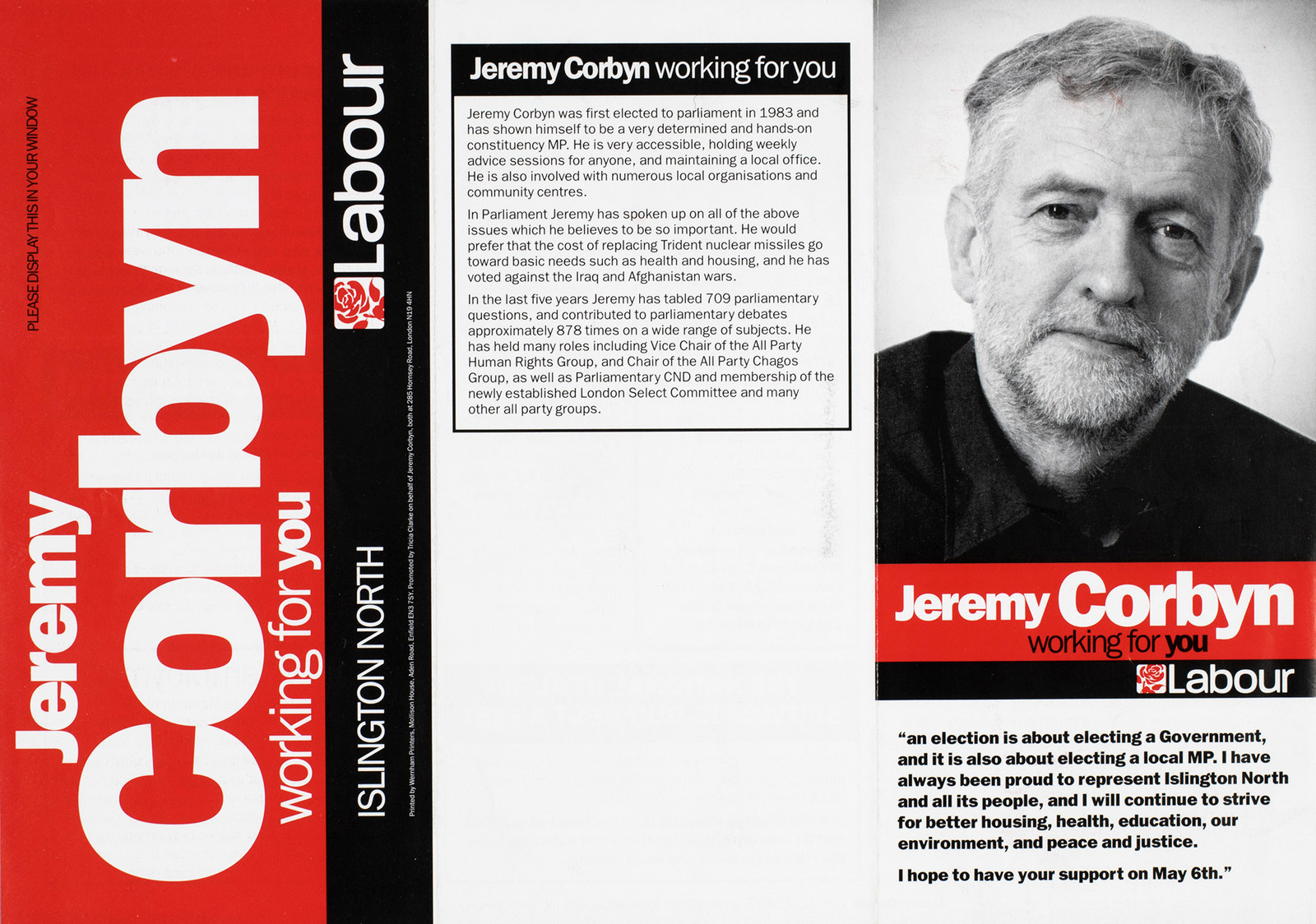 Corbyn's message had barely changed since 1983: more funding for housing, more funding for the NHS, and more funding for schools – this time with added criticism of the banking system.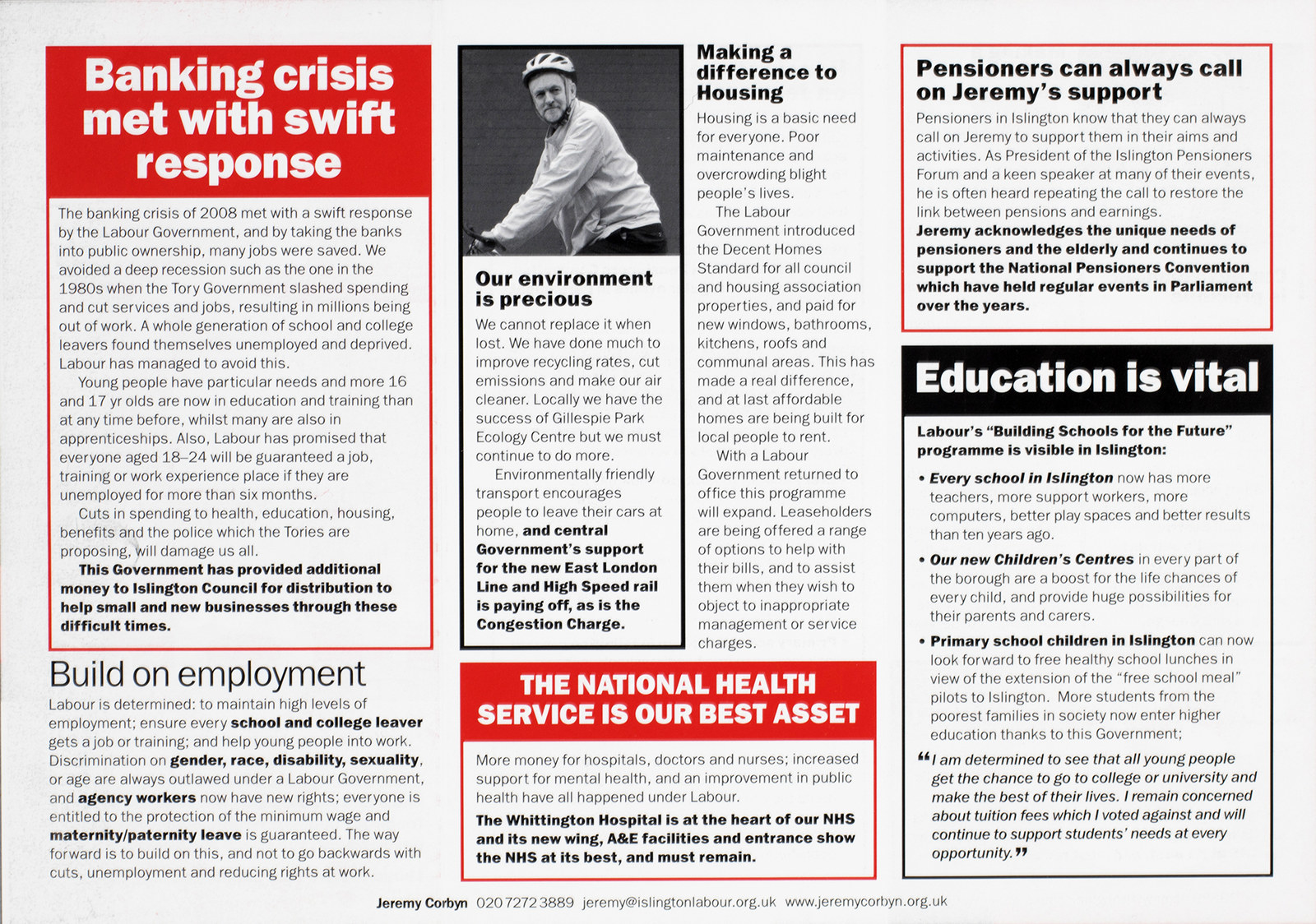 Corbyn won re-election in 2010 with an increased majority of 12,401 votes, although Gordon Brown's Labour was pushed out of office by the Conservative-Lib Dem coalition. Five years later, following a general election narrowly won by the Tories even as Corbyn himself increased his majority again, Corbyn was elected leader of Labour in a shock victory, giving him the chance to fight the 2017 general election on many of the policies he has been pushing since 1983.
These leaflets were obtained by BuzzFeed News from the University of Bristol's election leaflets archive. The university is asking members of the public to send in any election leaflets they receive during this general election to ensure the archive remains as comprehensive as possible.