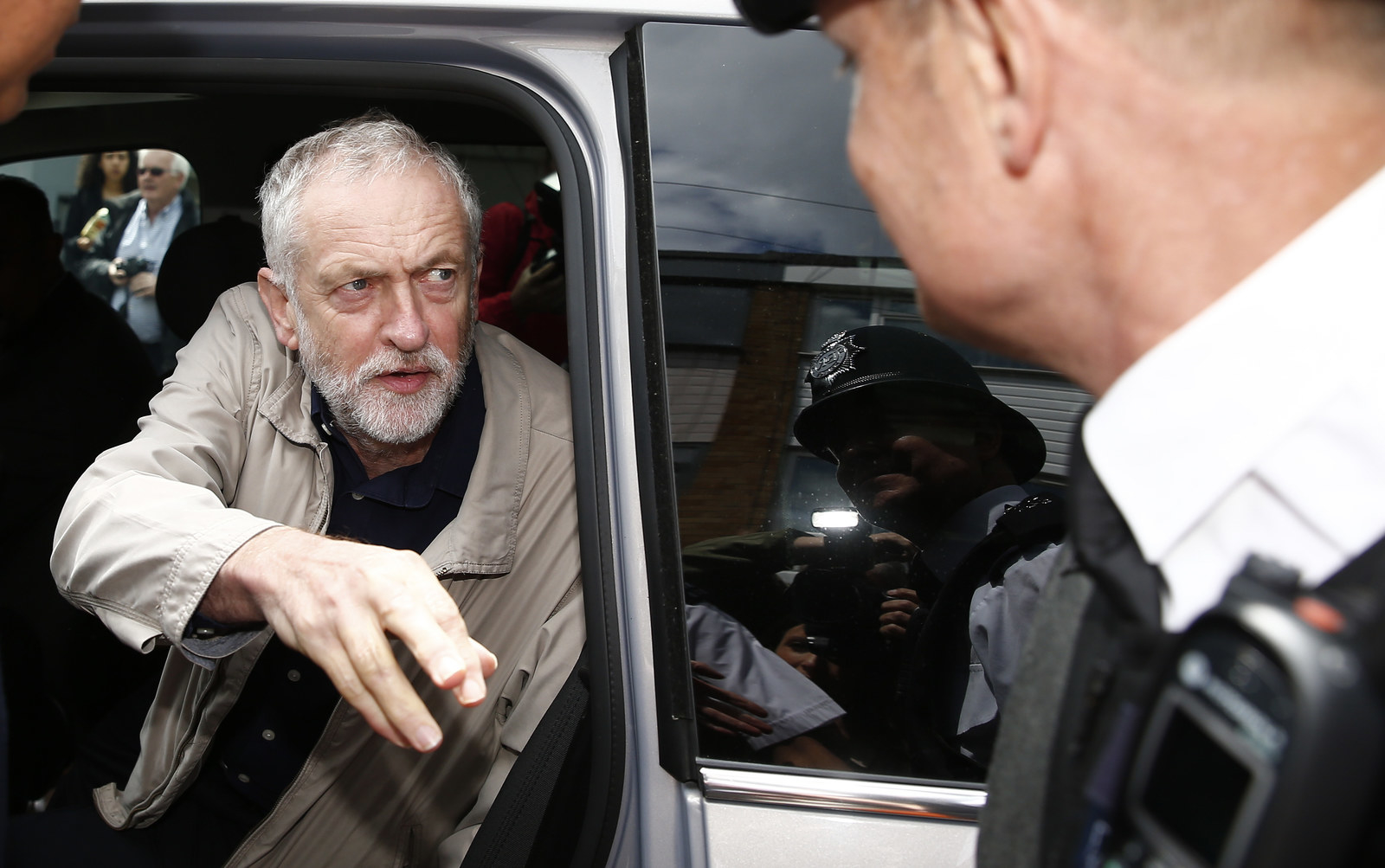 Jeremy Corbyn is struggling to hold on as Labour leader in the face of a full-scale shadow cabinet revolt that has already seen the departure of 12 senior frontbenchers over his handling of the EU referendum campaign.
The co-ordinated coup, which was launched following Corbyn's sacking of shadow foreign secretary Hilary Benn in the early hours of Sunday, was designed to force a change of leadership ahead of a possible early general election sparked by the Brexit vote and the resignation of David Cameron.

One of the frontbenchers who quit warned Corbyn he risked going down in history as "the man who broke the Labour party".
In a significant intervention, Tom Watson, the party's deputy leader, released a statement on Sunday afternoon that conspicuously failed to endorse Corbyn.
Watson – who said he was "deeply disappointed" by Benn's sacking and "equally saddened" that so many shadow cabinet members "felt they had to" resign – said he would meet Corbyn on Monday to "discuss the way forward", adding:
The nation needs an effective opposition, particularly as the current leadership of the country is so lamentable. It's very clear to me that we are heading for an early general election and the Labour party must be ready to form a government.
The statement was interpreted as a sign that Watson, who had spent the initial stages of the coup at Glastonbury festival, is likely to press Corbyn to step down.
Corbyn, who had spent Sunday locked in his Westminster office with allies planning a response to the uprising, released a defiant statement on Sunday night: "I regret there have been resignations today from my shadow cabinet. But I am not going to betray the trust of those who voted for me – of the millions of supporters across the country who need Labour to represent them."
His team insisted there was no way a leader who was elected with enormous support from the party membership less than a year ago was going to step down. They pledged to begin replacing the 11 shadow cabinet ministers with other Labour MPs by Monday morning.

"Jeremy's not going anywhere – he has a huge vote from the membership and a lot of people queuing up to speak out in support of him," said a spokesperson.
They also said they would flood the airwaves with pro-Corbyn MPs, shadow cabinet members, unions, and council leaders to make the case for the current leader.

But anti-Corbyn sources say further shadow cabinet resignations are coming, with more junior shadow ministers and parliamentary private secretaries likely to go over the coming days.
A shadow cabinet meeting due to take place on Monday has been cancelled.
Heidi Alexander, the shadow health secretary, was the first to resign on Sunday following the sacking of Benn.
In her resignation letter, she told Corbyn: "As much as I respect you as a man of principle, I do not believe you have the capacity to shape the answers our country is demanding and I believe that if we are to form the next government, a change of leadership is essential."
Alexander was followed by Gloria De Piero (young people spokesperson), Lilian Greenwood (transport), Lucy Powell (education), Kerry McCarthy (environment), Ian Murray (Scotland), Seema Malhotra (shadow Treasury chief secretary), Vernon Coaker (Northern Ireland), Lord Falconer (justice), and Karl Turner (shadow attorney general).
On Sunday night the shadow leader of the Commons, Chris Bryant, became the 11th to quit, telling Corbyn in his resignation letter: "Your ambivalent attitude in the [EU] campaign was a betrayal of the Labour party and the wider Labour movement, and it has let down a generation of young people who desperately hoped to hear a strong, cogent and inspiriting pro-EU message from Labour."
Bryant also warned Corbyn that if he refused to step aside, he would "go down in history as the man who broke the Labour party".
The most senior woman on Labour's frontbench, shadow business secretary Angela Eagle, has not quit, but a source close to her was quoted as saying she was "heartbroken about the position in which the party finds itself and desperately worried we're failing to connect with communities across the country".
Eagle is a member of the party's National Executive Committee, which would oversee a leadership election if one is required – a position she would have lost if she had resigned.
Corbyn has been backed by other shadow cabinet ministers. His closest ally, shadow chancellor John McDonnell, spent the morning touring television news studios to defend the leadership, insisting he would not stand himself and would run Corbyn's campaign if the rebels forced an election. He was also supported by shadow international development secretary Dianne Abbott and shadow defence secretary Emily Thornberry.
Shadow home secretary Andy Burnham, meanwhile, said he was not willing to take part in any coup.

Labour's deepest crisis since Corbyn was elected last September began at 1am on Sunday when Benn was sacked after he called Corbyn to say he could no longer support his leadership. It is understood Benn's team did not expect him to be disciplined in the early hours of the morning and the sacking led to the start of a late-night game of political manoeuvring, involving statements issued at 3:50am.
By the morning other shadow cabinets decided to go, with resignations being released on a broadly hour-by-hour basis, resulting in a third of the shadow cabinet departing in protest.
One anti-Corbyn Labour MP claimed to BuzzFeed News that the coup was not planned before the referendum, but unexpectedly began in earnest when veteran politicians Dame Margaret Hodge and Ann Coffey filed a motion of no confidence in Corbyn on Friday.
This was due to be raised at the weekly meeting of the Labour parliamentary party on Monday, with a possible vote on Tuesday, prompting initial soundings from Benn and other Labour politicians about whether there was support for a move against Corbyn.
However, Diane Abbott insisted the coup had been "planned for months".
Crucially, Corbyn also received the support of union leaders who criticised such a coup. Writing for The Guardian under the headline "Labour mutineers are betraying our national interest", Len McCluskey, leader of the powerful Unite union, threatened MPs openly backing the revolt with automatic deselection.

It would require the backing of 46 Labour MPs to prompt a leadership challenge, although there are legal disputes over whether Corbyn would automatically appear on the ballot. John McDonnell insisted Corbyn would run again in any leadership contest, while ruling himself out of contention and urging his colleagues to back the current leader.
The Labour civil war comes as the Conservatives begin their own search for a new leader, raising the unprecedented prospect of the UK's two main political parties having parallel leadership contests during a constitutional crisis ignited by the Brexit vote.