Theresa May is under attack for running a seemingly stage-managed general election campaign, where she is being kept well away from members of the public in favour of surrounding herself at campaign events with favourable print news outlets.

Jeremy Corbyn seems to be taking a different approach: meeting members of the public through walkabouts on the street and doing clips for heavily regulated TV news bulletins and local newspapers, while purposely avoiding taking the largely hostile national print media with him.
So far this week Corbyn has campaigned outside an Asda in southwest London, made an appearance in Southampton to talk about plans to increase funding for police officers, and headed to Bedford to campaign on the NHS. The Westminster lobby – which incorporates political reporters from mainstream print and online outlets across the political spectrum – have simply been cut out of three days' worth of appearances, with no invitations to cover any of the events.

Those who have complained include journalists at The Sun – which is strongly pro-Tory and regularly refers to Corbyn as the "far-left Labour leader" in its articles – who are no longer being invited to his events, despite writing for the biggest-selling newspaper in Britain.
BuzzFeed News understands this a concerted strategy, with the intention that print and online journalists will only be given access to the Labour leader on a rota basis. This ensures individual outlets spend more time with Corbyn on each visit while avoiding the risks associated with having the same pack of journalists following the Labour leader every day.
As a result Labour hopes to secure friendlier coverage – based around set-piece interviews and profiles – without having to contend with a cantankerous rolling mob of journalists.

"We are using broadcast with our key messages each day, which tend to be based around our policy offer, and that's the way to reach the most people in the most unfiltered way," said a source close to the Labour leadership, explaining why they haven't been inviting journalists from most national newspapers.
The trade-off is straightforward: Corbyn's team are losing coverage in newspapers read by swing voters such as the Daily Mail – but at the same time denying reporters from such openly hostile outlets the chance to define the news agenda by asking questions that throw the campaign off its desired topic.
"The media tends to hone in on trivialities," said Matt Zarb-Cousin, who worked as Corbyn's press spokesperson until two months ago. "The solution often proposed is better media management, but there's always something that allows the media to go off on a tangent. There are legitimate questions about whether it's in the public interest to find these trivialities to distract from genuine policy scrutiny."
In short, if you invite 20 national print reporters on a campaign trip there's a high likelihood they will collectively spend all day chasing the same negative line and snarking on Twitter about an ill-judged photo opportunity. Why take the risk?
The downside is that there are fewer people there to cover what does happen. With the exception of a single intrepid journalist from the Mirror who made it to a soggy Clapham car park this bank holiday Monday, the coverage of the Labour leader's three visits has been a mix of TV clips for the evening news, soundbites for radio stations, and reports in regional media.
"It seems deeply pointless to invite the Sun, Mail, and Telegraph to events so they can sneer at you, distort what you say, and mislead their readers," said Tom Baldwin, who led Ed Miliband's communications operation during the 2015 general election. "I've some sympathy with it because they're not going to get any positive coverage, any straight coverage in those papers.

"There is a problem with those three papers in particular in that they're not really interested in covering the election. They confused reporting with taking dictation from CCHQ."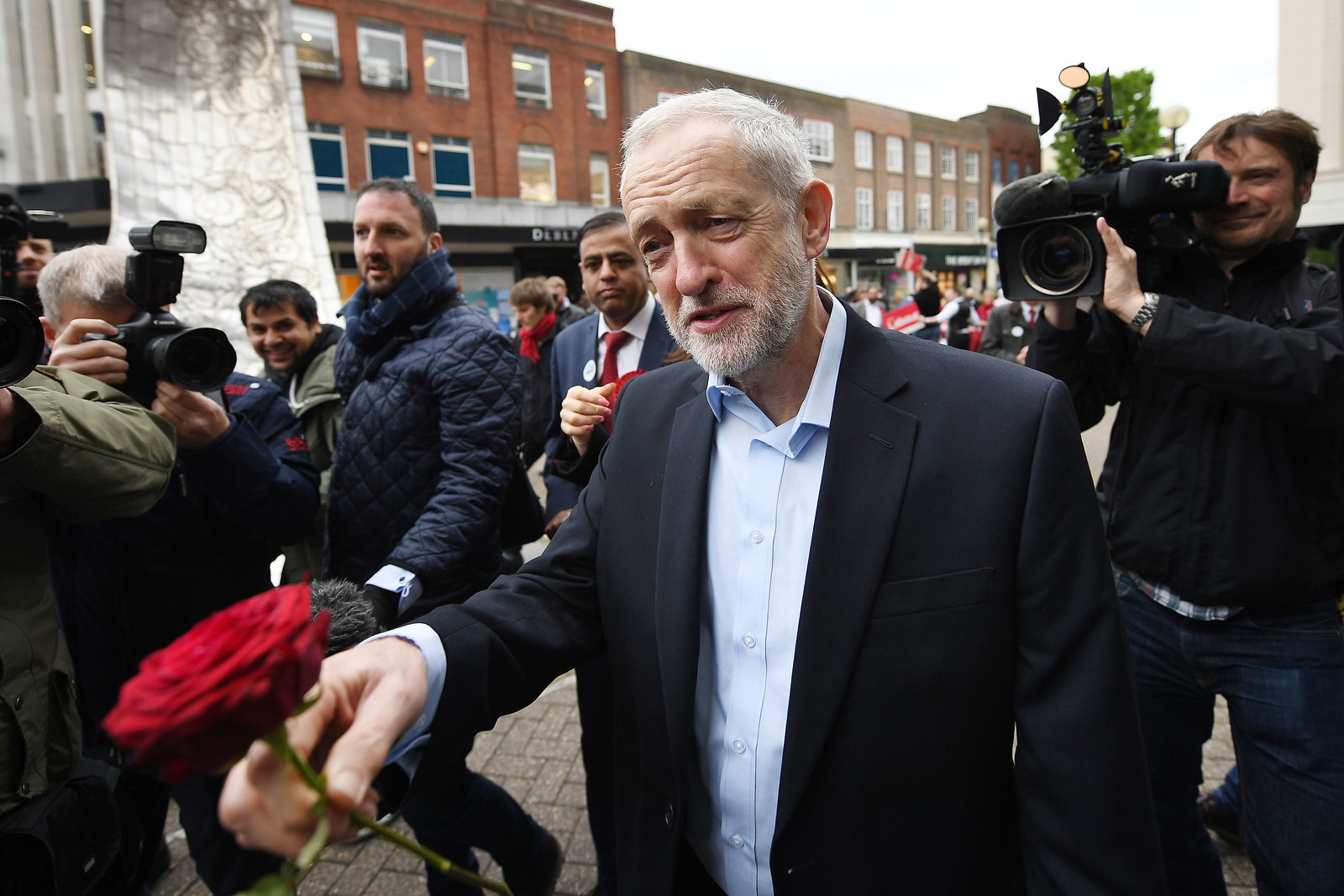 Blocking entire outlets is not without precedent for Labour – at the last general election The Sun was banned from the party's press conferences after a reporter attempted to put an SNP puppet next to Miliband – but Baldwin argues there's an opportunity for the party to make a point.
"Theresa May is fast becoming a robotic device who brooks no debate, no argument, no discussion of the central issue she's called a general election on – which is Brexit," he said. "It seems worthwhile for the Labour party to be up to contrast their openness and be willing to discuss anything, anywhere, with anyone with the [Conservatives'] fearful paranoid control-freakery."
In Bedford on Wednesday morning only local journalists, broadcasters, and photographers were invited as Corbyn walked along the town's high street. A journalist from the Press Association, which provides straightforward news copy to most national newspapers and websites, was also present – although barring a disaster such reporters tend to stick to the defined story of the day rather than go off-piste.

The strategy is in line with what Corbyn's spokesperson proposed in a briefing with reporters after the last Prime Minister's Questions: By making the most of British broadcasters' strict legal requirement to give ample airtime to Corbyn's policies, they can get his message out there in a relatively unfiltered manner. The rules, regulated by Ofcom, force all broadcasters to be broadly balanced with their coverage, meaning the campaign team don't have to worry about the spin often added by newspaper journalists.

As a result the majority of the coverage of the visit to Bedford was provided by a camera crew sent by Sky News, which provided pool footage to other broadcasters, along with a crew from ITV Anglia and a team for the national BBC network. Corbyn took the time to give an interview to the team from the local BBC news programme but otherwise most of the broadcast reporting could be easily shaped by the Labour leader's team.

"In a general election campaign you have much more opportunity to speak directly and to get policy out to the public in a way that is not normally the case," Corbyn's spokesperson said last week. "We're talking about policies that are extremely popular and would be extremely popular across the country. Once those are spelled out and people to get to know them better there will clearly be a response to that."
Wednesday's Bedford trip could be considered a success for Corbyn: The people of town were pictured meeting the Labour leader without a scrum of print journalists, broadcasters showed coverage of him walking down the high street and guaranteed him airtime, and local newspapers wrote up the visit with a focus on local issues.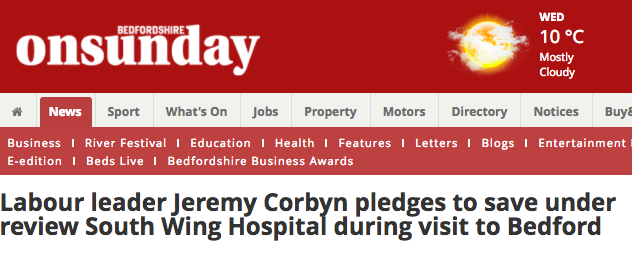 Charlie Beckett, professor of journalism of the London School of Economics, suggests this approach is unlikely to damage the Labour leader.

"There's little to win because we know the story The Sun and the Daily Mail will write," he said, suggesting the best-case scenario is that those papers include slight nuance in their coverage. "If Corbyn's lucky there'll be a line saying 'I don't support the IRA' at the end."

Tuesday's trip is a case in point: Unable to send a reporter, The Sun had to base its coverage of the visit on a set of images of Corbyn being presented with a red rose by a supporter.

However, Beckett suggested there was an opportunity for Corbyn's team to show the contrast with May's media strategy by inviting in their opponents.
"I'm not saying you're going to convert Sun or Mail journalists," he said. "But by shutting them out it feels tactically as though you're not taking advantage of a chance to say 'We're prepared to answer your tough questions – why isn't Theresa?'"