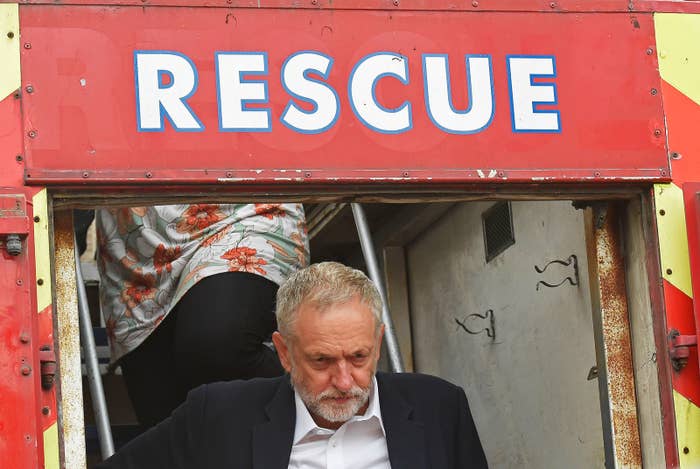 Jeremy Corbyn is urging Labour MPs to mount a formal challenge to his leadership of the Labour party if they want change, following an extraordinary two days during which more than 40 shadow ministers resigned in an attempt to force him from office following the EU referendum.

The Labour leader was repeatedly urged to stand down at a highly charged hour-long meeting of the parliamentary Labour party (PLP) on Monday night, when MP after MP lined up to tell the leader to his face that he should quit. They then decided to hold a vote of no confidence in the leader, to take place on Tuesday.
At the same time outside parliament hundreds of Momentum activists gathered to show their support for the Labour leader, chanting slogans such as "They say coup! We say F U!" The gathering was later addressed by Corbyn, who received a rapturous response, in stark contrast to the mauling he received inside.
Meanwhile Labour's state of utter crisis continued to reach increasingly bizarre levels, as sleep-deprived aides and politicians battled over control of the party during a post-referendum period of national political and economic upheaval.
Outside the parliamentary meeting Chris Bryant, one of the Labour MPs who quit the shadow cabinet on Sunday, continued to suggest to journalists that Corbyn had secretly gone against his party and voted to leave the EU. One Labour source claimed Bryant's story was based either on the account of a man who had talked to the Labour leader in a restaurant or a Facebook status from a former friend.
Even Corbyn's own spokesperson admitted the MPs who spoke at the parliamentary meeting were mainly "opposing or fairly hostile". However, the spokesperson insisted the resignations of the majority of the shadow cabinet were "irrelevant", since Corbyn was not going to quit.
Instead, Corbyn's spokesperson challenged Labour MPs to put up or shut up by calling a full leadership contest. That would involve gathering the signatures of 51 MPs to trigger an election, which the leader's team remain confident of winning given the scale of his landslide victory in September.
"If people don't think Jeremy has the confidence of the Labour party membership then mount an electoral challenge," the spokesperson said. "The electoral rules are very straightforward."
MPs involved in the coup believe the leader would also have to find 51 signatures to appear on a new leadership ballot. However, his team insist they have legal advice stating that Corbyn would automatically go on to the ballot, removing the need for him to find support from MPs who are mainly hostile to him.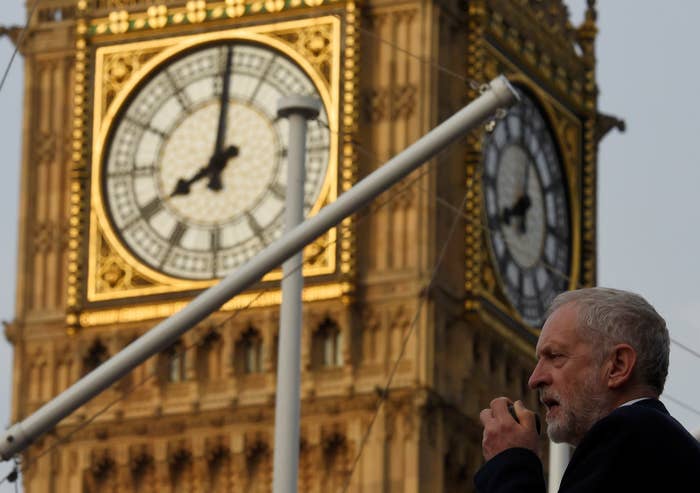 The spokesperson said Corbyn would definitely not give in to a "corridor coup" and suggested the party leader would easily win any election leadership: "If people have confidence they can win a leadership election they should get the signatures and call an election. Jeremy will be a candidate in that election."

The result is the unprecedented situation of a Labour leader point blank refusing to quit despite comprehensively losing the support of the majority of his MPs, many of whom are now on record as saying his leadership is a disaster that is destroying the party.
This weekend's mass exodus of shadow ministers only appears to have stiffened Corbyn's resolve to hold on, buoyed by his support among party activists. On Monday morning, his deputy, Tom Watson, told him he should consider his position, but that advice has clearly been ignored.
The mood in the packed parliamentary meeting of Labour MPs and peers was described as miserable, not helped by the fact that having so many politicians packed into a relatively small room on a summer evening left many sweating profusely.
One Labour MP who was present told BuzzFeed News that Corbyn had "managed to unite the party" for the first time in years by being such a terrible leader. When leaving the wood-panelled meeting room, Lord Mandelson, the former New Labour minister, remained deadpan and simply said it had been "amazing".
During the meeting, veteran MP Margaret Hodge tabled a formal motion of no confidence in the leader and gave a speech in which she told Corbyn he was letting the party become "utterly irrelevant" by allowing it disintegrate into "a second-rate pressure group".
According to a copy of the speech seen afterwards by journalists, she said Corbyn's campaigning during the EU referendum had been "muddled, inappropriate, and unclear", and as a result Labour was facing "electoral oblivion", with internal polling showing the party has already lost the support of 30% of its voters from the last general election.
"Labour voters, Labour supporters, and those who we need to persuade to vote Labour expect tireless, clear, forceful, and effective leadership," Hodge told Corbyn. "Your leadership has not demonstrated those qualities. I would urge you, Jeremy, to show the basic decency I know you have and step down."
Labour MP Ian Austin said he told Corbyn to "search inside yourself and ask if the electorate really think you're a PM in waiting, because I don't think you are".
Alan Johnson, the former minister who led Labour's Remain campaign, was cheered when he told Corbyn he should take responsibility for undermining the campaign to keep Britain in the EU.
At the end, the non-binding motion of no confidence was approved and will be voted on on Tuesday by MPs. Some concluded that Labour could now split into separate pro-Corbyn and anti-Corbyn parties.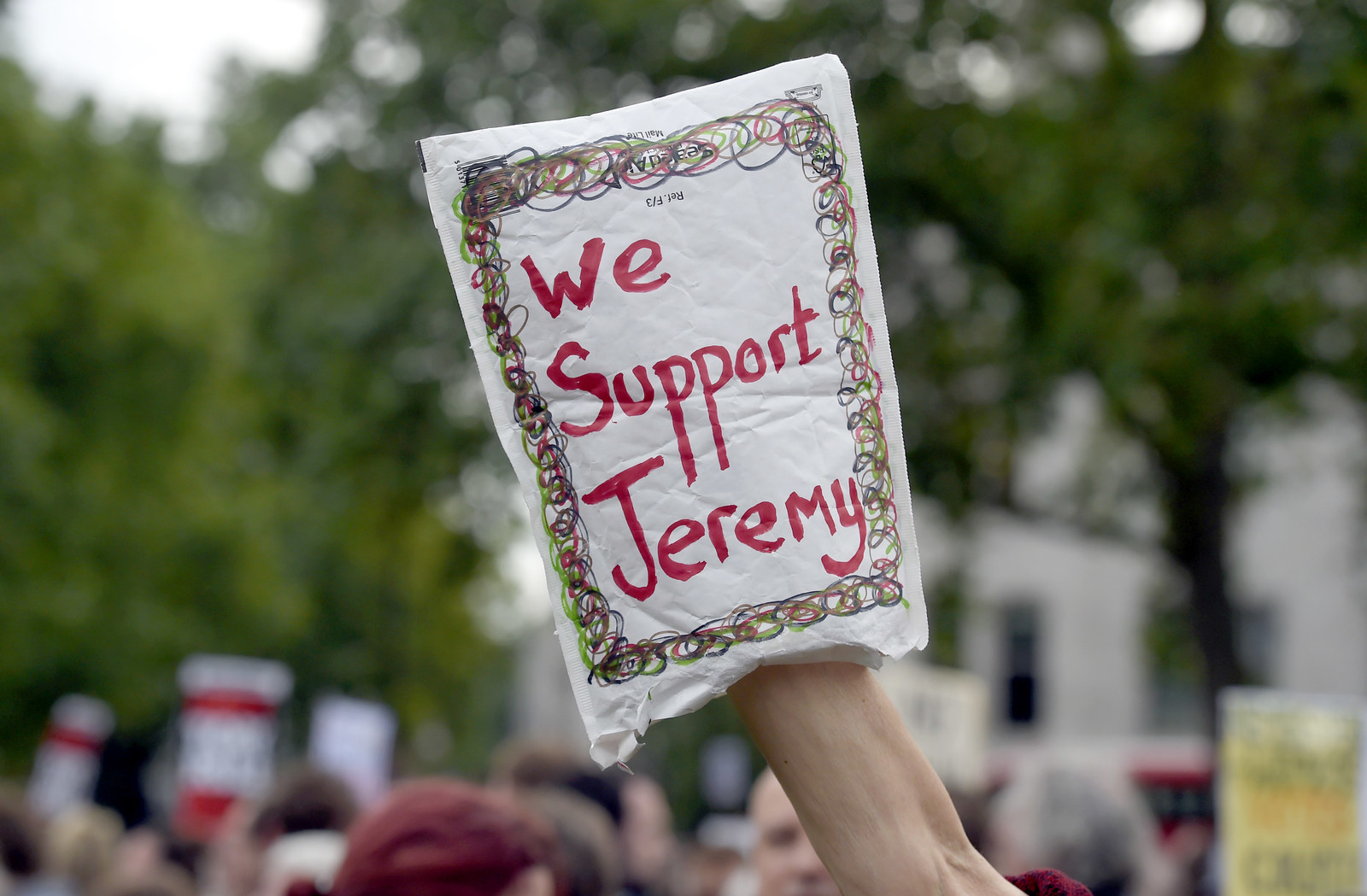 However, the leader was defiant, telling MPs he could win a general election and that he disagreed with their analysis of his situation. He has now replaced almost the entire shadow cabinet with politicians drawn from the small group who are naturally loyal to him. The result is an almost entirely new frontbench team, with many MPs elected for the first time in 2015 holding major positions.

To heighten the tension, around 30 political journalists standing outside the wood-panelled PLP meeting room were treated to the bizarre sight of anti-Corbyn Labour MP John Woodcock engaging in a very personal and loud argument with Corbyn's spokesperson over the future of the party.
"I work hard for my constituency and you stand there and slag us off," Woodcock told the spokesperson, as both sides struggled to avoid a more direct confrontation and journalists surged around.
In response the spokesperson accused Woodcock of constantly briefing against Corbyn to the press, while the Barrow-in-Furness MP replied by accusing the spokesperson giving a "highly distorted account" of events to journalists.
One anti-Corbyn Labour MP later told BuzzFeed News the PLP disputes then spilled over into the parliamentary voting lobbies, where party whip Conor McGinn confronted shadow chancellor John McDonnell about Momentum allegedly organising demonstrations outside Labour MPs' offices.
"McDonnell denied it and went red in the face before running off," claimed the MP.
Meanwhile, Westminster echoed to the pro-Corbyn chants of hundreds of Momentum activists gathered opposite parliament in an attempt to convince Labour MPs to call off the coup by showing party activists were still behind the embattled leader.
The speakers included union bosses and the NUS president, as well as MPs such Dennis Skinner and the recently promoted Diane Abbott and Angela Rayner.
Some speakers urged activists to ensure they were members of the Labour party ahead of a potential leadership election, while Momentum activist Marsha Jane-Thompson issued a straightforward warning: "To those who are trying to unseat Jeremy, we're coming for you, back the fuck off."
Labour MPs who had quit the shadow cabinet were booed by parts of the crowd, as other people shouted "deselect".
Christine Shawcroft, who sits on the party's national executive committee, told the crowd a "day of reckoning" was on its way and that activists could not let anti-Corbyn MPs "get away with their behaviour".
When Corbyn turned up following the meeting of the parliamentary party he did not directly address the coup but urged politics of respect: "When we disagree with each other, with other people, if we hurl abuse at each other's the first two or three times, it's funny. The fourth, you've totally lost the audience. So we pursue the politics of justice, of equality, of peace around the world, but we also pursue the politics of respect of how we treat each other."