Here's How You Fight A By-Election In 2017
In Copeland it's a case of balancing local newspaper coverage with attack leaflets and targeted Facebook adverts.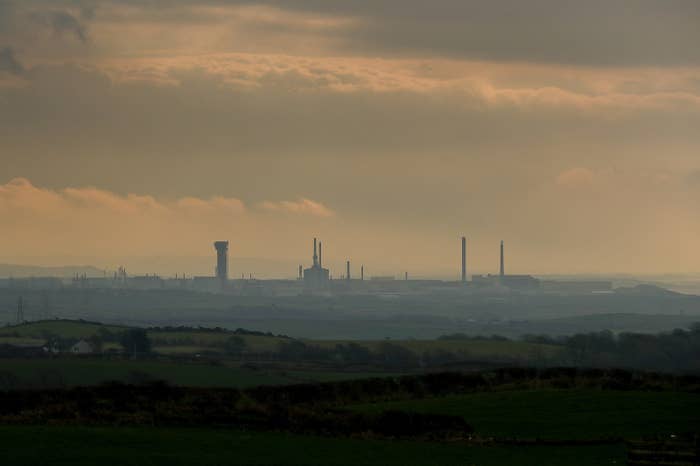 WHITEHAVEN, Cumbria – Theresa May's decision to make a 700-mile round trip from London to spend an hour at a small village school ahead of the Copeland by-election had one key benefit for her party's campaign: It fitted with the print deadline of a small-circulation local newspaper read by parts of the constituency.

"She's gone [on Wednesday] because the Times & Star is a weekly newspaper, so she'll get the splash," a campaigner working for a rival candidate told BuzzFeed News, envious at the Conservatives' media-planning skills. "The two other papers that cover the constituency are dailies. This way she'll get three media hits."
Although Conservative campaigners in the constituency said any media overlap was just a lucky coincidence, this is the level of planning – and paranoia – that goes into a by-election campaign. Especially this by-election campaign, which was caused by the resignation of Labour MP Jamie Reed, and which opens the possibility of the first government gain in a by-election since 1982. As a result, small decisions by local campaign managers that influence a few dozen votes in rural Cumbria could have national repercussions.
"What's a little unique about Copeland is there's still a very wide readership for the local media – they still have a very well-read daily paper and a very well-read weekly paper, so they have an important part to play," said Andrew Gwynne, the Labour MP running the campaign to retain the West Cumbrian seat for Jeremy Corbyn's party. "In whole other parts of the country the local print media has been decimated."

The front page of print newspapers still matters here, in a region where Twitter feels irrelevant. It demonstrates the challenges of running a modern by-election campaign where each campaign is only allowed to spend £100,000, turning it into a game of political chess where you need to provide stories to local journalists and find ways of winning free online coverage, all while spending cash on paid online adverts and space in local newspapers.
And the campaigns need to do this while doing their best to avoid reporters from national outlets, who have a habit of asking awkward questions about issues the campaigns don't want their candidates to talk about.
There's a reason a proposed visit by Theresa May to the streets of Whitehaven was dropped in favour of the easily controlled visit to a rural school, which went fairly well until she grimaced at a small child, became a meme, and declined to give direct answers on the future of a local hospital.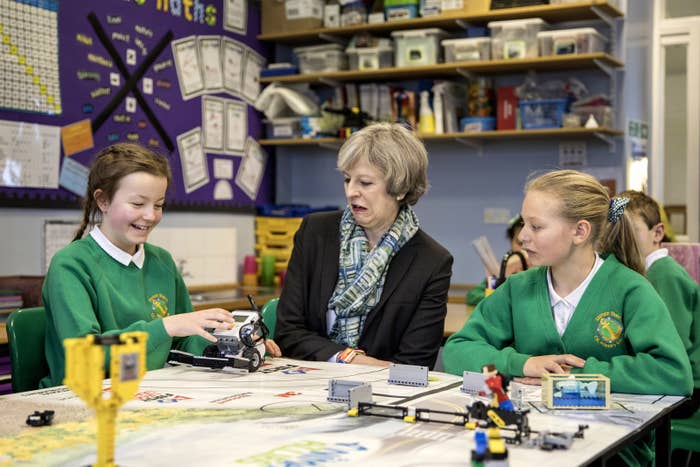 Copeland, a semi-rural constituency with working towns squeezed on to the narrow strip of land between the hills of the Lake District and the grey Irish sea, shouldn't really be a marginal constituency. It's been held by Labour since the 1930s, and the main employer is the heavily unionised nuclear power industry, centred on nearby Sellafield. The area mixes pockets of deprivation with relative affluence, thanks to low housing costs and the relatively high wages paid to nuclear workers, while Whitehaven itself is a historic port notable for having been invaded by the United States in 1778 during the American Revolutionary War.

But Labour's majority had fallen to just 2,564 votes by the 2015 general election, and sources on rival campaigns say canvass returns increasingly point to victory for the Tories. Labour's main problem appears to be voters being reluctant to turn out for a party led by the anti-nuclear Jeremy Corbyn rather than actually defecting to the Tories. Even UKIP's candidate admits she'd prefer a Conservative MP.

"The Tories are absolutely dead certs," said one Liberal Democrat involved in their candidate's campaign. "All three parties have Labour's vote retention lower than it should be. The way it was put to me on the doorstep was: 'If Corbyn won't come out for nuclear, we're not going to come out for Labour.' So they [traditional Labour voters] are just not going to vote."
The Lib Dems also set low expectations for their own party in the seat, where it won just 3.5% of the vote in 2015. A deadpan campaign source said it would be "quite hard" for the party to do worse this time round.
To fight back, Labour is experimenting with its spending in the contest, trying to balance the relatively mass reach of the area's local papers and local TV news broadcast with targeted Facebook adverts that feature a graphic of a draining blood bag to highlight the risk to the local hospital's services – the main weak point in the local Conservative campaign.

"We've got a lot of really sophisticated new tools matching Facebook profiles with the people who actually live in this constituency," said Gwynne, Labour's campaign chief. "It'll be interesting when the dust has settled whether or not the digital side has made a difference."
However, one member of Labour's parliamentary party told BuzzFeed News that while the party was likely to retain Stoke, it could slip to fourth in Copeland – a highly unlikely outcome but a suggestion that reflects the mood in the party.

Despite the negativity around his campaign, Gwynne insists his team are fighting to win, buoyed by one of the region's main papers criticising May's visit. He predicted that the party's candidate, Gillian Troughton, could still sneak in with a majority as low as 500 votes: "We are convinced our vote is there – our challenge is on 23 February making sure they go out and vote."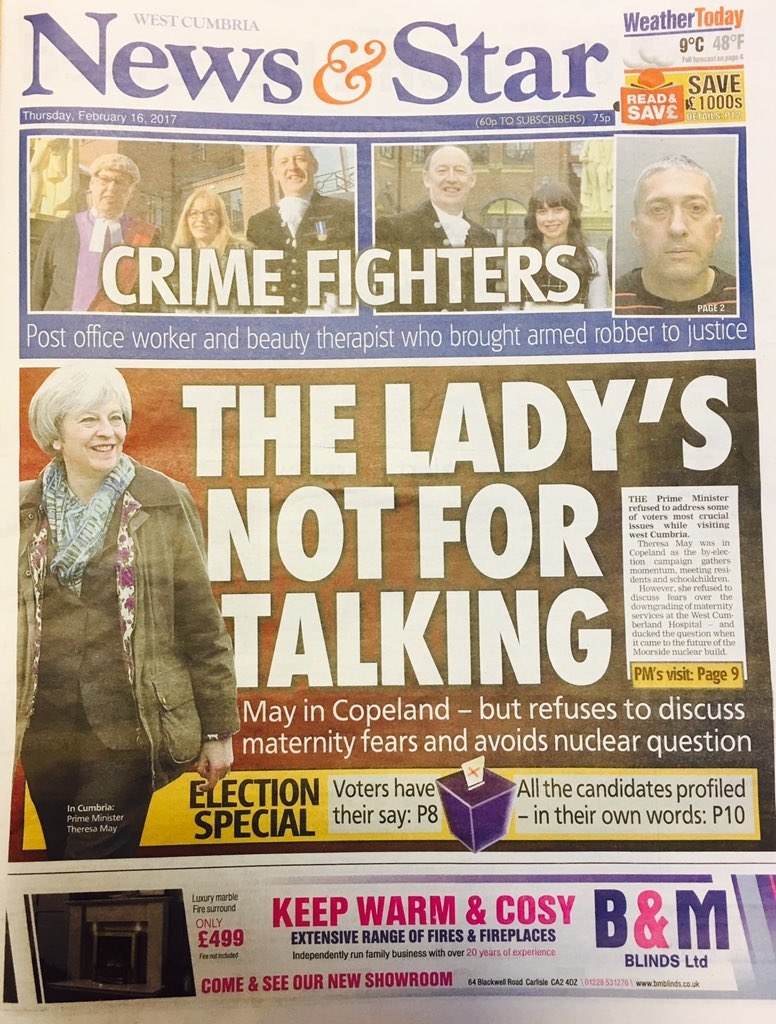 Despite this, the Tories scent blood. Labour has spent money buying wraparound front-page adverts on the local Whitehaven News, although the paper's actual front-page news report instead covered Theresa May's high profile to a local school visit with Conservative candidate Trudy Harrison – free coverage that did not eat into the Tories' election spend.
This is also an area where local TV news retains a substantial viewership, especially ITV Border. Fake news is not a problem here – instead the aim is to exploit the likes of the popular Cumbria Crack site, a local news service with 90,000 followers and 110,000 Facebook followers that's happy to pump out a nonstop stream of local announcements.

Leaflets passed to BuzzFeed News by local residents show how the Conservatives stepped up the attack on Tuesday by bombarding constituents with Valentine's Day messages criticising Corbyn's historic anti-nuclear stance. The party is focusing on working up support in Tory-sympathising outlying villages and suburbs – although concerns reported by the activist site ConservativeHome highlight that behind the scenes, the Tories' organisation is not as good as it could be, potentially due to a shortage of activists.
Despite the area having voted to leave the EU by more than 60%, Brexit is rarely mentioned. Instead the issues mentioned repeatedly by the candidates and the public to BuzzFeed News were the threat to local maternity services and the need for a planned nuclear power station to be built.

UKIP happily admits it's pouring all its resources into attempting to win Stoke-on-Trent Central for party leader Paul Nuttall in another by-election next week, and its Copeland campaign largely consists of a gaggle of middle-aged men standing around a market stall talking to each other in a manner that's relatively high-profile but lacks the targeted campaign efforts practised by the other sides.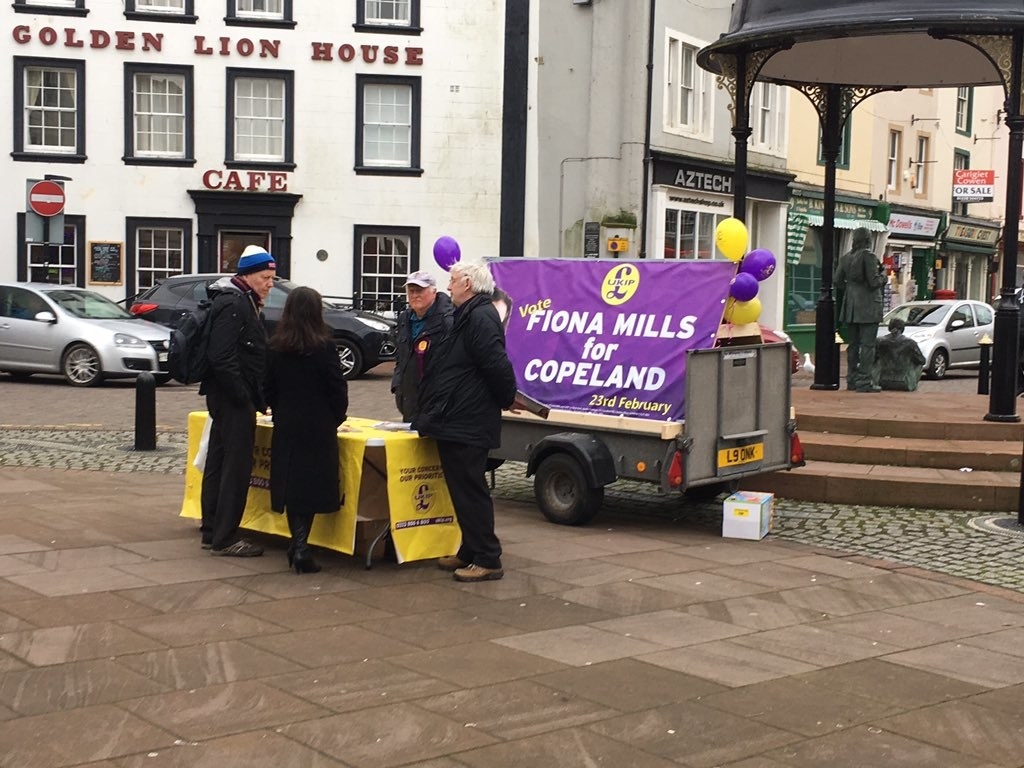 Meanwhile, in Copeland the Greens are standing an overtly anti-nuclear candidate who cheerily stood up at a hustings on Wednesday night and told an audience of nuclear power workers their industry is bad for the environment and should not expand.

Attempting to understand what's really going on in a by-election – especially when parties see fewer and fewer incentives to let the media in and more campaigning is done through targeted specific demographics behind the scenes – is getting harder. But even though the Conservative candidate has been left in the unenviable position of attacking her own party's planned downgrade of the local hospital, it's clear the Tories seem convinced that going nuclear can see them across the line.

Even local Labour supporters are angry at the potential opening.
"If Jeremy wasn't there there'd be no problem," said Labour voter Billy Adair on the main shopping street in Whitehaven's historic centre. He warned that his party leader's views on nuclear power could cost Labour the by-election. "He's alright, but he's yesterday's man. The voters don't like him – the hardcore 10% do, but you're not going to win an election with 10%, are you? Being anti-nuclear around here is not a good idea."
Lifelong Labour voter Dave Mills, who used to work at Sellafield is still holding out hope that the party can win the by-election and believes the perceived damage to the local party's chances caused by an anti-nuclear Labour leader won't be long-term.
"People wouldn't be happy to talk to him about the nuclear industry," he said of Corbyn. "I doubt he'll be leader very long, so I'm not overly fussed about him."
CORRECTION
Copeland could be the first government gain in a by-election since 1982. An earlier version of this post said it could be the first government win since 1982.