Donald Trump Just Retweeted A British Man Calling Him A Fascist
RTs do not always = endorsements.
US president Donald Trump reached a new level of Twitter engagement on Tuesday when he retweeted a message calling him "a fascist" to his 34 million followers.

The critical message was from a British man named Mike Holden who was responding to a story suggesting Trump could pardon a former Arizona sheriff who was found guilty of breaking a court order to stop racially profiling Latinos.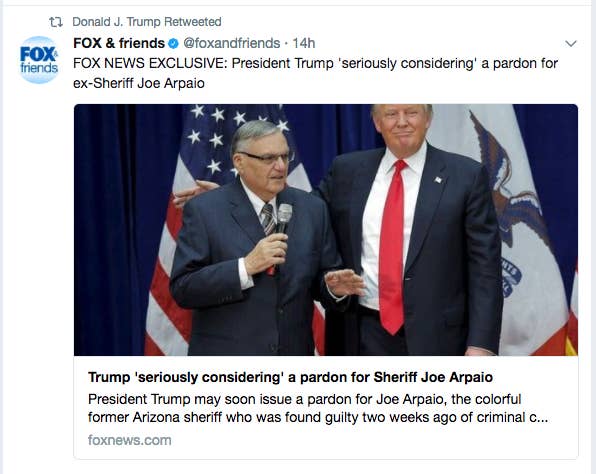 Holden, an enthusiastic tweeter on British political topics, was baffled by the interaction.
Holden told BuzzFeed News it took him a while to notice Trump had retweeted him because his notifications were suddenly swamped with attacks from the US president's supporters.
"It actually passed me by for a while, because I thought they were just Trump bots RTing my stuff & trolling me," he said. "But the more I read the more I realised something had happened, so imagine MY SURPRISE."
Holden, an IT consultant from Burnley in Lancashire, said he has no idea why Trump retweeted his message. Despite being a regular user of Twitter, he had fewer than 1,000 followers on the service when Trump decided to amplify his message.
"I can't understand what he was thinking (but who can?)," he added.
He took this as vindication of his stance.
After approximately 15 minutes the president deleted his retweet, leaving Holden baffled by the experience.
He describes himself as a left-wing "sort-of-Corbynite", referring to the leader of the Labour party. He voted Remain in the referendum on Britain's membership of the EU – while Trump backed Brexit.

"I didn't really think the tweet through (nothing new)," he said. "I was meaning to imply Trump was a fascist, so not unusual that he'd consider pardoning Arpaio."

However, he suggested the exchange did prove that the US president actively reads the replies to his tweets: "My reply went to him and to Fox, who he was RTing, so I assume that's how he saw it – he's not following me!"