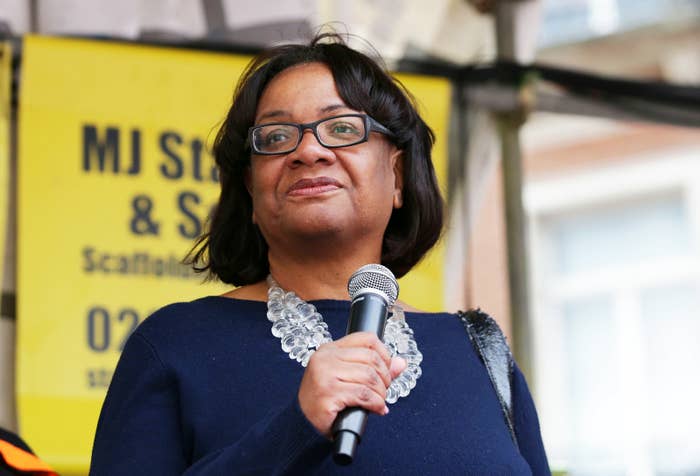 Diane Abbott has described the intense level of racist and sexist abuse she receives over social media – and said it is often prompted by negative coverage of her in the mainstream media.

"There is a relationship between online abuse and mainstream media commentary," Labour's shadow home secretary told a parliamentary debate on abuse of MPs during the general election. "We always see – my office – a spike in abuse after there's been a lot of negative stuff in the media."
Abbott was relentlessly targeted during the general election, with the Conservatives and right-leaning news outlets insisting it was because she was putting in sub-par performances.
"We are not talking about robust debate," she said. "In my case the mindless abuse has been characteristically racist and sexist. I've had death threats, I've had people tweeting that I should be hung if 'they can find a tree big enough to take the fat bitch's weight', there was an EDL-affiliated Twitter account '#BurnDianeAbbott', I've had rape threats, been described as a 'pathetic useless black fat piece of shit', 'ugly fat black bitch', and 'nigger' over and over again."
The shadow home secretary made the comments as MPs struggled with the appropriate way to deal with online and offline abuse during the general election. Theresa May has already announced an investigation into the level of abuse suffered by MPs, candidates, and activists from all parts of politics.
Some MPs even suggested Twitter should ban anonymous accounts, while others called for a cross-party online code of conduct for political activists.
Abbott said members of her staff were shocked by how often they to read the word "nigger" while reading her messages, and said it was not simply connected to the general election: "Any woman who goes into the public space can expect this kind of abuse."
Tory MP Simon Hart, who called the debate, said online abuse was "driving people out of politics altogether".
"It's not about votes and arguments," he said. "It's about this single-minded determination to do away with anyone who holds a contrary view. That's a big difference between 2015 and 2017. It's an unattractive development which will simply reduce the gene pool from which we recruit our representatives."

David Jones MP, a former Wales secretary, said social media caused misery for most politicians and suggested it could be time to ban anonymous accounts – despite having once run one himself.
"Logging on to Twitter nowadays is a lot like wading through sewage, it's a deeply unpleasant experience," he said.
The SNP's Tommy Shepherd said he was willing to discuss a "voluntary code of conduct" for social media users.
Both the Tories and Labour have accused each other of not doing enough to stop abuse. Some Conservative MPs suggested the scale of online abuse was largely a product of left-wing activists and blamed Jeremy Corbyn's leadership of the Labour party.
"I've been called 'Tory scum' for years," said Andrew Percy, MP for Brigg and Goole. "I'm not afraid of abuse, I'm not afraid of insults. What happened this election was different."
The MP said he had been called "Zionist scum" and that his staff were spat at in the streets. "There is an assault on our democracy, there is an assault on one particular political party," he said.
"The dehumanisation of this side of politics is being motivated and encouraged by the language of some of the leaders of that party. ... This is an assault on our democratic values and our processes."
Abbott did not agree, saying: "Let's get this debate straight: It's not about a particular party, it's not about a particular party, it's about the degradation of public discourse online."