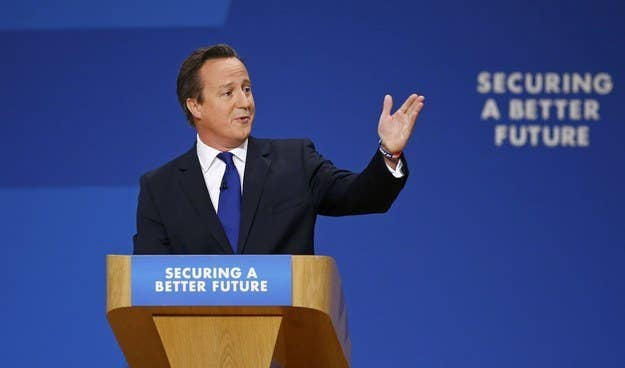 BIRMINGHAM – David Cameron used his speech to the Conservative party conference in Birmingham to announce a pledge to cut income tax for people on the minimum wage and people earning over £40,000 a year. And Tory party members in attendance loved it.
Cameron also insisted he'd protect the NHS budget, scrap the Human Rights Act, and freeze rates of working-age benefits.
Here's what he pledged in his final conference speech before the general election:
1.
People will be able to earn up to £12,500 a year before paying income tax.
The personal allowance – the amount you can earn before paying tax – will be £10,500 a year from next April. In his speech, Cameron pledged to increase it by £2,000 if the Conservatives win the next election.
Here's what he said:
That will take 1 million more of the lowest paid workers out of income tax – and will give a tax cut to 30 million more.

So with us, if you work 30 hours a week on minimum wage, you will pay no income tax at all. Nothing. Zero. Zilch.

Lower taxes for our hardworking people – that's what I call a Britain that everyone is proud to call home.
However, it could take until 2020 for this promise to be implemented. And moves to increase the personal allowance have been criticised for not helping people on very low incomes, who earn less than £10,000 a year.
2.
The amount you have to earn before paying 40p tax will rise from £41,900 to £50,000.
This policy will affect people earning well above the average UK wage. At the moment every pound people earn over £41,900 is taxed at 40%. Cameron thinks this is too harsh, and wants to increase the threshold to £50,000.
Here's what he said:
The 40p tax rate was only supposed to be paid by the most well-off people in our country, but in the past couple of decades, far too many have been dragged into it: teachers, police officers.

So let me tell you this today. I want to take action that's long overdue, and bring back some fairness to tax.

With a Conservative government, we will raise the threshold at which people pay the 40p rate.

It's currently £41,900. In the next parliament we will raise it to £50,000.
Again, it could take until 2020 for this to be implemented. And the two tax cuts will together cost £7 billion a year, which will have to be paid for by reducing spending elsewhere.
Labour shadow chancellor Ed Balls said there is no way of knowing where this money will come from: "Nobody will be fooled by pie-in-the-sky promises of tax cuts in six years' time when David Cameron cannot tell us where the money is coming from."
3.
Spending on the NHS will continue to increase.
The Conservatives are very, very worried by Labour's claims that the NHS is under threat. So Cameron has pledged to maintain or increase NHS spending in real terms throughout the next parliament, despite many MPs in his party calling for its budget to be cut to encourage the health service to make savings.
He also made a personal commitment to the NHS, drawing on his experience with his disabled son, Ivan.
He said:
From Labour last week, we heard the same old rubbish about the Conservatives and the NHS.

Spreading complete and utter lies. I just think: How dare you?

It was the Labour Party who gave us the scandal at Mid Staffs: elderly people begging for water and dying of neglect.

And for me, this is personal.

I am someone who has relied on the NHS, whose family knows more than most how important it is, who knows what it's like to go to hospital night after night with a child in your arms, knowing that when you get there, you have people who will care for that child and love that child like their own.

How dare they suggest I would ever put that at risk for other people's children?

...How dare they frighten those who are relying on the NHS right now?

It might be the only thing that gets a cheer at their party conference but it is frankly pathetic. We in this party can be proud of what we've done.

We came in and protected the NHS budget.

Funding 6,500 more doctors – 3300 more nurses, a Cancer Drugs Fund to save lives, more people hearing those two magic words: "all clear".

And think of the amazing things around the corner. From the country that unravelled DNA, we are now mapping it for each individual: It's called the genome, and I've got a model of one of the first ones on my desk in Downing Street.

Cracking this code could mean curing rare genetic diseases and saving lives.

Our NHS is leading the world on this incredible technology. I understand very personally the difference it could make.

When you have a child who's so ill and the doctors can't work out what he's got or why, you'd give anything to know.

The investment we're making will mean that more parents have those answers – and hopefully the cures that go with them.

And let's be clear: All this is only possible because we have managed our economy responsibly.

That is why I can tell you this: We will do it again.

The next Conservative government will protect the NHS budget and continue to invest more.

Because we know this truth, something Labour will never understand and we will never forget: You can only have a strong NHS if you have a strong economy.
4.
The Human Rights Act will be scrapped.
The Human Rights Act was introduced by Labour in 1998, and the Conservatives hate it. Instead they want to replace it with a new "British bill of rights" that would make it much harder for the European Court of Human Rights to rule on British cases.
Here's what he said:
Of course, it's not just the European Union that needs sorting out – it's the European Court of Human Rights.

When that charter was written, in the aftermath of the Second World War, it set out the basic rights we should respect. But since then, interpretations of that charter have led to a whole lot of things that are frankly wrong.

Rulings to stop us deporting suspected terrorists.

The suggestion that you've got to apply the human rights convention even on the battlefields of Helmand.

And now – they want to give prisoners the vote.

I'm sorry, I just don't agree. ...

We do not require instruction on this from judges in Strasbourg.

So at long last, with a Conservative government after the next election, this country will have a new British Bill of Rights, to be passed in our parliament, rooted in our values.

And as for Labour's Human Rights Act? We will scrap it, once and for all.
Even though the party is well behind in the polls – David Cameron could be kicked out of Downing Street in eight months – ordinary party members seemed incredibly confident of winning the next election.
"That was the best conference speech for anyone in any place in a generation," said East Midlands Conservative Future activist Sam Armstrong, 21. "It's a speech on Britain we can all be proud of from a prime minister we can be proud of.
"We've got to speak to people and knock on more doors than any other party and we will. Ultimately, people want a better future."
Some activists were even more effusive. "I'm speechless and in law of the prime minister," said Megan Rollings, who works for Grant Shapps. "The bit about the NHS nearly moved me to tears."
Guy Roberts, who works for Syed Kamall MEP, said he's never seen a more optimistic conference: "I believe we can and will win."