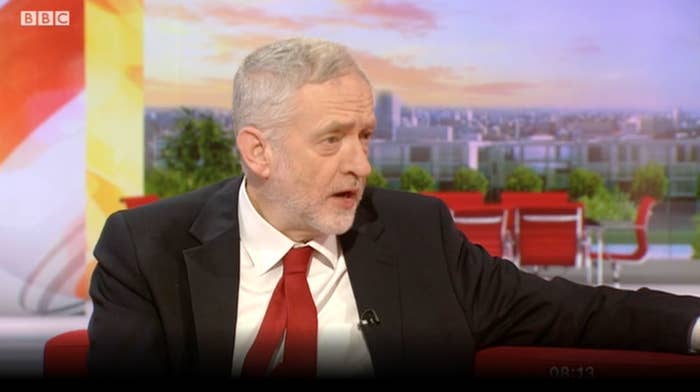 Jeremy Corbyn has defended Labour's stance over the government's Article 50 bill and downplayed the significance of a quarter of his MPs ignoring a three-line whip to vote against the legislation.

The party's deep split over Brexit emerged again on Wednesday night as Clive Lewis, previously seen as one of Corbyn's closest allies, quit the shadow cabinet in order to join 51 of the party's other MPs in voting against legislation authorising Theresa May's government to formally leave the EU.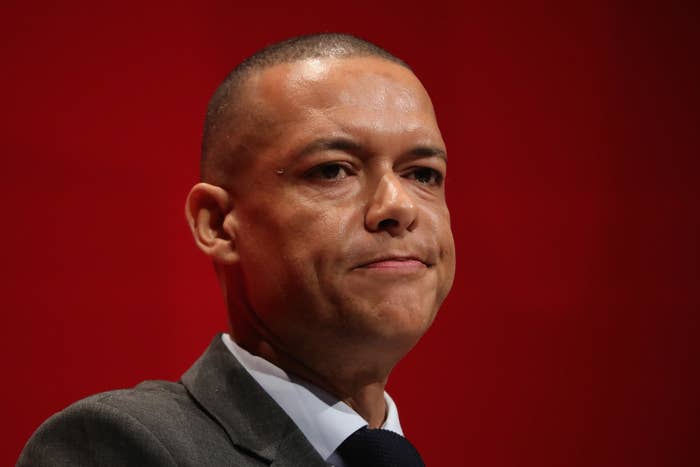 Corbyn had ordered all of his party's MPs to vote for a law authorising the government to invoke Article 50 but almost a quarter of the parliamentary party ignored his three-line whip to vote in favour of the legislation.
The proposal ultimately passed by 494 votes to 122, with the legislation now set to be considered by the House of Lords ahead of May's ultimate target of beginning the formal process of leaving the EU by the end of March.
Speaking to BBC Breakfast on Thursday morning, Corbyn denied that Labour was in turmoil over the vote.
"No, it's not a disaster," he said. "The majority of Labour MPs voted to trigger Article 50, 50-odd voted against it mainly on the basis of their strong message from their own constituents. My argument is it was a national vote, it was a national referendum, and parliament has to respect that. On all the other votes there is unity, on all the other campaigning points there is unity."

Corbyn has faced mockery for tweeting the "real fight starts now" last night, moments after Britain's exit from the EU was all but assured, and without any concessions being secured from the government.

Asked about that criticism, he replied: "We campaigned for a 'yes' vote in the referendum, two-thirds of Labour supporters voted 'yes'. A vast majority of Labour MPs campaigned for a 'yes' vote. That was our position. The referendum result was different, but remember it was the largest participation in any electoral process for as long as I can remember and there was a result. And parliament has to respect that result."
The two options in the referendum were Leave or Remain.
Corbyn continued: "As of the time Theresa May became prime minister, she was proposing to start Article 50 without any parliamentary process. She was forced into doing a parliamentary process – she was forced into it by a combination of legal action and opposition."
Corbyn called for Article 50 to be invoked immediately the morning after the EU referendum, while the government was forced to consult MPs before starting the Brexit process after a legal challenge led by businesswoman Gina Miller.
The Labour leader was also asked about rumours, linked back to a single-sourced tweet, that he was setting a timetable for his departure.
After BBC presenter Charlie Stayt caveated the question with a reluctance to disseminate fake news, Corbyn said: "There's a lot of it [fake news] going about. That's in the 'imadeitupyesterday.com'. Absolute nonsense. Look, I'm really surprised the BBC is reporting fake news, there is no news! I was elected leader of this party, I'm very proud to lead this party."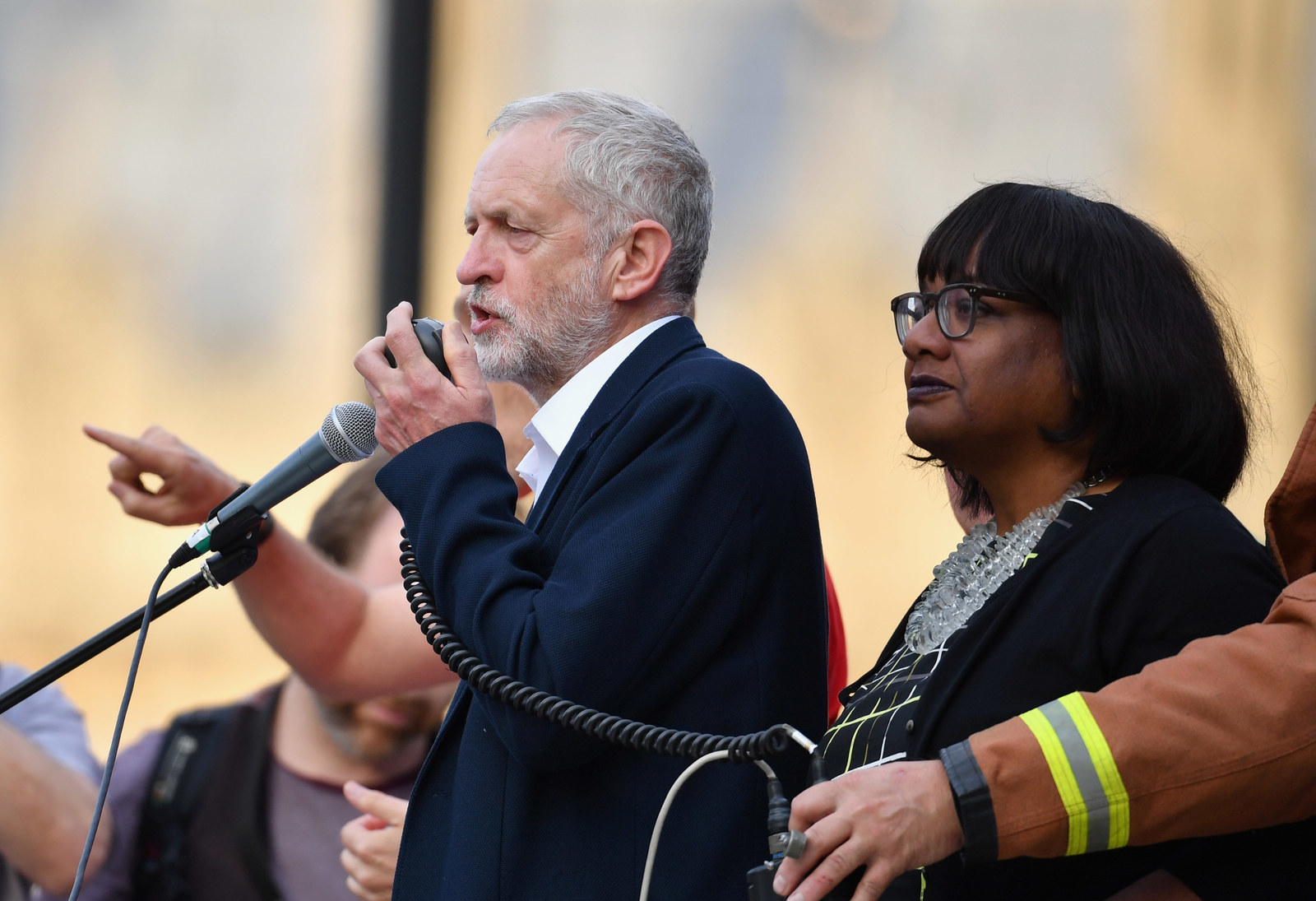 Lewis was the most high-profile of the Labour rebels, resigning his frontbench job and setting himself as a potential anti-Brexit leadership candidate from the left wing of the party.

However, Diane Abbott, who abstained from last week's votes on legislation due to illness, voted with Corbyn to invoke Article 50. She later told BBC2's Newsnight: "I respect the result of the referendum and no one wanted to thwart it in a perverse kind of way, but we need to be clear: This is not Tony Benn Brexit, this is Donald Trump Brexit, and it's got a very ugly side."

Lewis, the MP for Norwich South, said he had to side with the pro-Remain views of his constituents and could not join his leader in voting for legislation empowering the government to leave the EU.

"When I became the MP for Norwich South, I promised my constituents I would be 'Norwich's voice in Westminster, not Westminster's voice in Norwich'. I therefore cannot, in all good conscience, vote for something I believe will ultimately harm the city I have the honour to represent, love and call home," he said on Wednesday night.

"It is therefore with a heavy heart that I have decided to resign from the shadow cabinet. It has been a privilege to work with Jeremy Corbyn and be part of the shadow cabinet. I will continue to support our party and our leader from the back benches to the very best of my ability."
Other Labour MPs were less encouraged by his stance. One, who declined to be quoted on the record, told BuzzFeed News that some of Lewis's colleagues were upset with his position.

"This is all about Clive," they said. "He's all about the 'me' not 'we'. Plenty of people did the decent thing by resigning quickly and quietly. He's spent weeks hawking his conscience for maximum drama and telling people he's preparing for a run at the leadership. Everyone else was busy getting stuck into the issues."
The full list of the 52 Labour MPs who voted against the government's Article 50 legislation, defying Corbyn's orders, is: Heidi Alexander, Rushnara Ali, Graham Allen, Rosen Allin-Khan, Luciana Berger, Ben Bradshaw, Kevin Brennan, Lyn Brown, Chris Bryant, Karen Buck, Dawn Butler, Ruth Cadbury, Ann Clwyd, Ann Coffey, Neil Coyle, Mary Creagh, Stella Creasy, Geraint Davies, Thangnam Debbonaire, Stephen Doughty, Jim Dowd, Maria Eagle, Louise Ellman, Paul Farrelly, Vicky Foxcroft, Mike Gapes, Kate Green, Lilian Greenwood, Helen Hayes, Meg Hillier, Rupa Huq, Peter Kyle, David Lammy, Clive Lewis, Rachael Maskell, Kerry McCarthy, Alison McGovern, Catherine McKinnell, Madeleine Moon, Ian Murray, Chi Onwurah, Stephen Pound, Virenda Sharma, Tulip Siddiq, Andy Slaughter, Jeff Smith, Owen Smith, Jo Stevens, Stephen Timms, Catherine West, Alan Whitehead, and Daniel Ziechner.
Several other Labour shadow cabinet members, including Rachael Maskell and Jo Stevens, quit last week ahead of the earlier rounds of voting on Article 50. They are yet to be replaced.
A source close to the Labour leadership said the line-up of the new shadow cabinet would be announced "over the course of the next few days".
Corbyn, who historically campaigned against the EU, said on Wednesday night he was disappointed by Lewis' departure: "I understand the difficulties MPs representing constituencies which voted Remain have in relation to the European Union Withdrawal Bill. MPs have a duty to represent their constituents as well as their party. However, the Labour Party respects the outcome of the EU referendum, so we have asked all Labour MPs to vote for the Bill at its third reading tonight.
"We have been clear from the start that Labour will not frustrate the triggering of Article 50, which represents the start of the process for leaving the EU. Labour will use every opportunity to hold the government to account and protect jobs, rights and living standards at every stage of the negotiations."
Meanwhile, in Corbyn's BBC Breakfast interview, he said that while it was "right" to meet US president Donald Trump, it should not be in the setting of a state visit to the UK.
"We should be challenging Trump on international law issues and we should also not be rolling the red carpet out," he said.
"It would be right to meet the president of the USA but I think it would be wrong for him to come here."