British MP Says UK Is "Pimping Out The Queen" For Donald Trump
"We're in this position now of surrealism, of an Orwellian world unfolding before us," Paul Flynn said, "where the theme that has been put forward by Trump is that lies are the truth, that good is bad, that war is peace, that fantasy is fact."
MPs from all major political parties queued up on Monday night to criticise Donald Trump's forthcoming state visit to the UK, variously accusing the US president of sexual assault, saying he has a "protozoan" intellect, and suggesting his official trip will involve "pimping out the Queen".
A parliamentary debate in Westminster Hall was called following a petition signed by millions of Britons opposing Trump's state visit to the UK. A less popular rival petition in support of the visit, signed by 300,000 people, was also considered.
"The intellectual power of the president is protozoan," said Labour MP Paul Flynn, who opposes the visit. "We are greatly concerned about the actions that he has taken – extraordinary actions, blundering into frozen conflicts around the planet that needed delicate handling, that needed the microsurgery taken in the past by statesmen."
He then portrayed Trump's leadership as a dystopia, saying: "We're in this position now of surrealism, of an Orwellian world unfolding before us, where the theme that has been put forward by Trump is that lies are the truth, that good is bad, that war is peace, that fantasy is fact."
He went on: "And we see this with the figure of the Trump Big Brother there ever present, seven days a week, 24 hours, preaching from his one source of news, the only source of truth."
Flynn said he admired the US, as there was no other country "that sacrificed the blood of its daughters and sons for democracies" on the same scale, but insisted "there is a great feeling of concern" over its approach under the current President.
As a result, he said, the government was "pimping out the Queen for Trump" and the visit should be called off. "It would appear that the British parliament, the British nation, the British sovereign is approving the acts of Donald J. Trump," he said.
The debate took place as hundreds of protesters gathered outside parliament as part of a wider Stop Trump campaign that has pledged to build opposition to Trump ahead of his visit.

Theresa May's government has insisted the state visit will go ahead regardless as part of a reciprocal arrangement that included the prime minister's visit to the White House last month, meaning the parliamentary debate was largely symbolic and there is no real risk of the visit being cancelled.
However, it adds to expectations that Trump's visit will be marked by substantial opposition from both protesters and politicians from all sides.

Labour MP Paula Sherriff said Trump's use of the phrase "grab 'em by the pussy" described a sexual assault and that therefore he shouldn't be honoured with a visit to the Queen. Meanwhile her colleague David Lammy said there were "many African-Americans in America sitting at home in fear" due to their concerns about Trump's support among white supremacists, meaning he was an inappropriate guest.

State visits are formally issued on behalf of the Queen, although in practice the decision is made by the government in consultation with the palace. Only three previous US presidents – Ronald Reagan, George W. Bush, and Barack Obama – have been given the honour, and all had to wait several years after election before being invited.
There have already been suggestions that some royals are unhappy with the visit, in particular that Prince Charles, as an environmental campaigner, does not want to meet Trump, a climate change sceptic.
However, May's government is keen to build a post-Brexit alliance with Trump's administration ahead of a potential trade deal. In the debate Conservative MP Jacob Rees-Mogg criticised Trump's "ill-considered phraseology" but said Britain had welcomed unpleasant leaders on state visits in the past: "What complaint did the honourable gentleman make when Emperor Hirohito came here, who was responsible for the rape of Nanking?"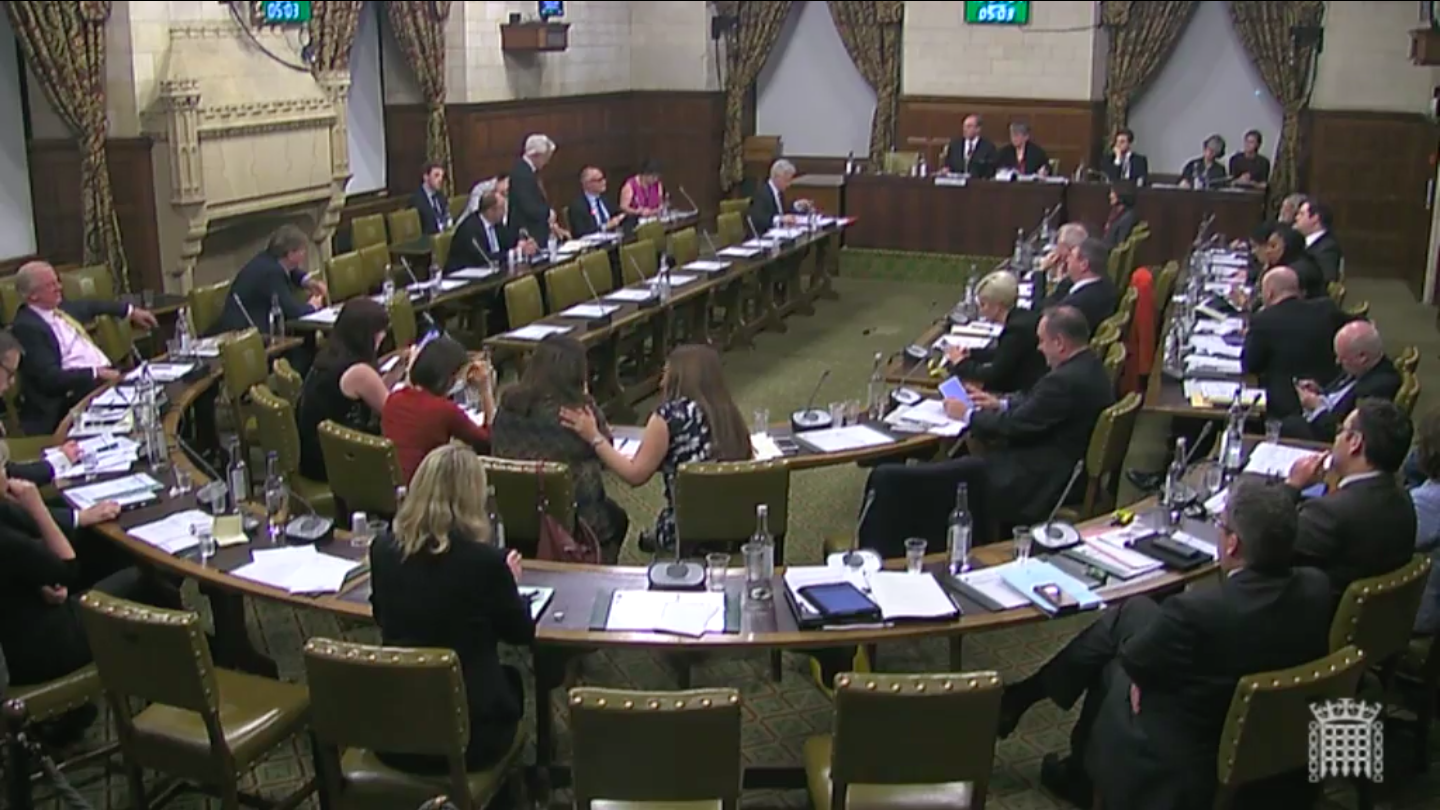 Julian Lewis, the Tory MP who chairs the defence select committee, said he supported a visit from Trump because there was a substantial chance that the UK could influence such an "inexperienced individual" and convince him to shore up support for NATO.

"Do you really think it is more important to berate him, to castigate him, and to retreat into some sort of bunker rather than to do what the prime minister did – perhaps more literally than any of us expected – which is to take him by the hand and try to lead him down the path of righteousness?"
He was backed by fellow Tory MP Nigel Evans, who said: "For those who find it difficult to understand that the American people voted for Donald Trump, get over it, because he's president of the United States. ... I do respect the fact that he stood on a platform that he is now delivering. He is going to go down in history for being roundly condemned for being the only politician to deliver on his promises."

One of the staunchest critics of the visit was former Scottish first minister Alex Salmond, now an SNP MP, who has experience of negotiating with Trump over golf course developments. He said the UK government was being naive, especially given May had previously opposed Trump. "He is not a stupid man," Salmond said. "The belief that he has forgotten what was actually said about him by the prime minister when he was a candidate is nonsensical. ... To actually believe that Donald Trump has forgotten these things is to seriously underrate his intelligence.
"From my experience of negotiating with Donald Trump, never, ever do it from a weak position, because the result will be total disaster."