Anti-EU Campaign Publishes Private Phone Number Of Rival Eurosceptic MP
Leave.EU has posted the private mobile phone numbers of Douglas Carswell and rival anti-EU campaigners in protest at Nigel Farage being excluded from a TV debate.
A leading anti-EU group has published the private mobile phone numbers of an MP and key members of a rival anti-EU campaign in an extreme example of the infighting within the Eurosceptic movement.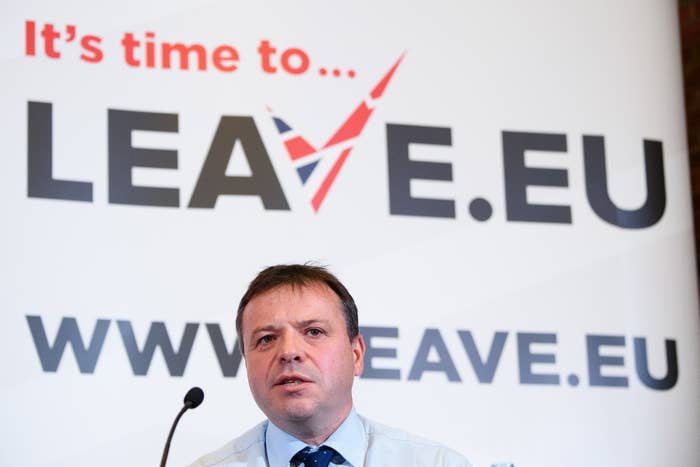 Leave.EU emailed the personal mobile phone numbers of UKIP MP Douglas Carswell and leading Vote Leave officials to its entire mailing list on Monday afternoon, urging supporters to get in touch and demand that Nigel Farage is included in a televised EU referendum debate.

UKIP-endorsed Leave.EU, founded by businessman Arron Banks, narrowly lost out on the bid to become the official anti-EU campaign. Instead, the honour went to Vote Leave, an organisation backed by leading Conservative figures such as Boris Johnson.
Despite this Leave.EU has continued to operate, spending large chunks of its time attacking Vote Leave and attempting to shift the debate on to concerns about immigration.
For its part, Vote Leave has refused to work with Farage, whom it believes he is off-putting for moderate swing voters, in the runup to the 23 June vote and has gone out of its way to complain when the UKIP leader is given television coverage.
But Leave.EU's attacks on Vote Leave reached a new extreme when it published the phone numbers on Monday.
Reminder: These two campaigns are ostensibly on the same side, campaigning for Britain to leave the EU.
The phone numbers, which are genuine, include the leading figures in Vote Leave, the head of the BBC's Westminster coverage, and UKIP's only MP, Douglas Carswell – who, confusingly, is backing Vote Leave.
The email attacked the "backstairs crawlers behind the creaking Vote Leave campaign" for excluding Farage, a "charismatic campaigner", from the event, which is due to be held in front of an enormous audience at Wembley Arena just days before the referendum.

One source told BuzzFeed News that some individuals on the list had already received dozens of calls from irate members of the public, and some of the numbers are for personal rather than professional mobile phones.
When Carswell complained about the coverage and demanded his number be removed, Leave.EU responded by taunting him and publishing a screengrab of his Twitter DM.
A Leave.EU spokesperson was unrepentant when BuzzFeed News asked why the group had published the private mobile numbers: "To lobby the BBC and Vote Leave to not ignore Nigel Farage and Kate Hoey and others in the debates – they have constantly ignored the left and UKIP in the referendum debates so we've asked our supporters to help."