Anti-EU Campaign Groups Are Contradicting Each Other And It's A Mess
On one side is Vote Leave, the official anti-EU campaign group. On the other is the renegade Leave.EU. They can't agree on a single message.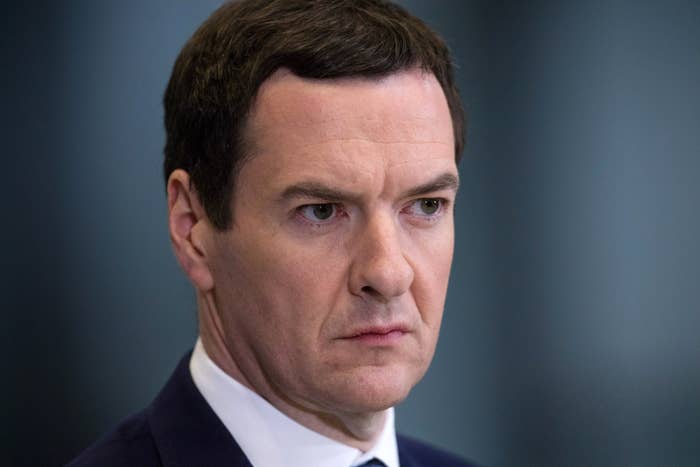 Rival anti-EU campaigns spent Monday afternoon producing different and often contradictory attacks on George Osborne's economic case against Brexit, highlighting the challenge of trying to run a campaign without a single group in complete control of the Eurosceptic message.

Although Osborne's warnings on the economic cost of Brexit dominated the news at the start of the week, the Eurosceptic response was less clear.
Vote Leave, which has been legally designated as the official anti-EU campaign, attempted to rubbish the working behind the government's figures, which suggested Brexit would hit the UK economy to the tune of £4,300 per household by 2030.
But rather than purely disavowing the government's figures, rival group Leave.EU went on to suggest that such a sum was still a "bargain price for freedom", which was quickly seized on by pro-EU campaigners as evidence the campaign is out of touch.
A spokesperson for Vote Leave told BuzzFeed News the campaign did not agree with Leave.EU that the £4,300-per-household cost of Brexit was a price worth paying, saying Vote Leave disputes the entire basis of the Treasury's financial claims.
"The designated campaign has pointed out why his numbers are wrong," the Vote Leave spokesperson said. "Even under the Treasury's own analysis it's not actually a price to pay – the family's share of GDP wouldn't increase to the same extent as their counterfactual. To me that's certainly not a price to pay, but their numbers are spurious and disingenuous."
The end result of this confused messaging is that Stronger In is now planning an advertising campaign based around the "leave campaign" declaring £4,300 per household is a bargain price for Brexit, even though the official anti-EU campaign has distanced itself from the comment.
"We're going to be using it on online graphics and adverts," said a Stronger In campaign source, suggesting Banks's quote would soon be appearing in adverts, videos and other campaign materials. "It's one of the best and most outrageous quotes from EU campaigners that we've got on file."

The problem for rival anti-EU groups is they all have different press operations working separately to produce their own attack lines on the EU, including UKIP's team and the umbrella group Grassroots Out. All represent subtly different factions of the anti-EU movement and each are staffed with teams with varying degrees of experience.

In different circumstances Vote Leave could have realistically expected its anti-Osborne attack line to lead the Eurosceptic response.
The group, which last week won the designation to become the official sanctioned anti-EU campaign during the referendum, chose to rubbish the Treasury figures and suggest they only add up if the UK continues to have relatively high levels of immigration.
This response was a classic head-on political attack line designed to sow the idea that the government is lying to you, George Osborne's figures are wrong, and the Treasury is implicitly accepting high immigration will continue for decades. The approach denies the basic premise of the chancellor's conclusion and tries to suggest the underlying formula is wrong.
Vote Leave, which has the support of Boris Johnson and other leading Eurosceptic Conservatives, had at one point expected to be the main voice speaking out for the anti-EU side, ensuring its campaign line was always the anti-EU take that was heard on news bulletins. As a result its team, which contains a large number of veterans from the successful anti-euro and anti-Alternative Vote campaigns, could have decided on the Eurosceptic campaign message for any given day.
But that plan didn't take into account the action of millionaire UKIP donor Arron Banks and Leave.EU, his rival anti-EU campaign group.
Leave.EU went in the opposite direction to Vote Leave and issued a press release under the headline "freedom has never been so cheap". It suggested Osborne's forecast of a £4,300 per household cost of Brexit represents an "absolute bargain".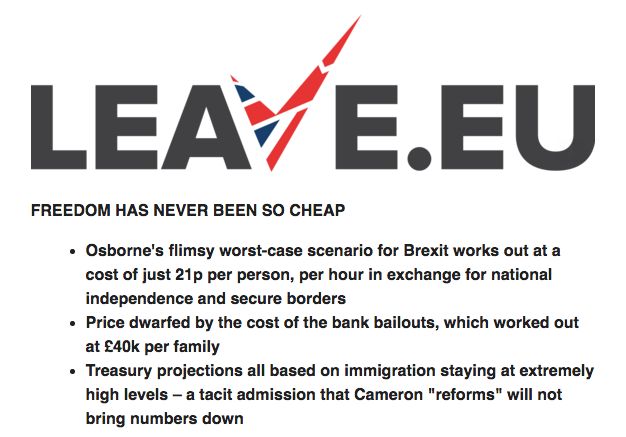 Leave.EU's sister organisation last week came close to securing the designation as official anti-EU campaign group but was narrowly edged out by Vote Leave.
Despite losing that battle, Banks shows no sign of moving on. The well-staffed Leave.EU organisation remains funded and last week told BuzzFeed News it intends to continue running a parallel media campaign, sending its own research and messages to the public. The millionaire has also made it very clear he has little love for the people running Vote Leave.

Leave.EU's response to Osborne's statement was more bombastic and less nuanced than that from Vote Leave. It declared that "in the highly unlikely event of George Osborne's flimsy and extremely long-range predictions about Britain after Brexit turning out to be accurate", then the £4,300-per-household economic hit would be "a bargain basement price for the restoration of national independence and safe, secure borders".

Nigel Farage – formerly Leave.EU's main cheerleader – is now keen to work closely with Vote Leave, but Banks is continuing to issue press releases and campaign updates. What's more, the lengthy and bruising battle between the two rival anti-EU campaigns for official designation status has left the media used to treating quotes from either organisation with a relatively similar degree of priority. With just two months to go, that shows little sign of changing ahead of polling day.