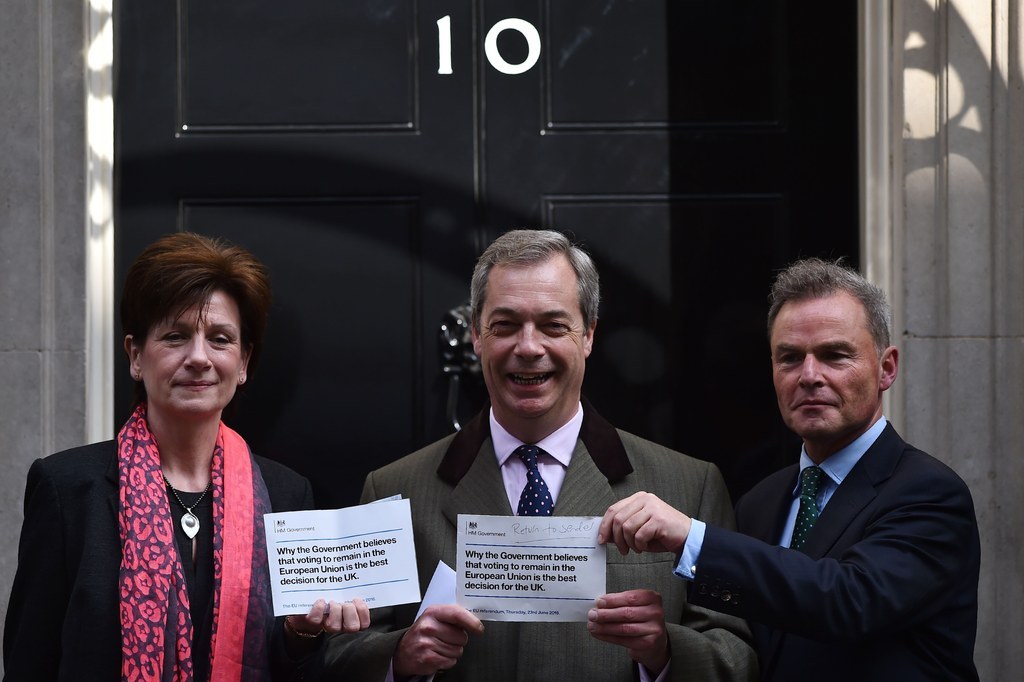 UKIP posters and adverts will appear across Britain during the EU referendum as Nigel Farage committed to spending £4 million on an anti-EU advertising blitz, despite the party's preferred campaign group missing out on the official designation.
The move raised the prospect of a free-for-all as multiple anti-EU groups spend millions of pounds on different – and potentially conflicting – campaign messages in an attempt to convince the UK to vote for Brexit.
Farage suffered a defeat on Thursday when his favoured, immigration-focussed Grassroots Out organisation failed to win the designation as the official anti-EU campaign ahead of June's referendum. That honour instead went to the Vote Leave organisation, which has the backing of Eurosceptic Conservative cabinet ministers and wants to make a more positive case to leave the EU.
Vote Leave is now allowed to spend up to £7 million, receive free leaflet delivery to every home and influence the anti-EU message, raising the prospect that the UKIP leader could be sidelined during the campaign.
However, Farage is is now predicting a near free-for-all as various campaign groups funnel money through his party and organisations associated with Grassroots Out co-founder Arron Banks.
"We can spend 60% of the official designation [spending limit]," the UKIP leader told BuzzFeed News regarding his own party's plans. "Don't forget, that in terms of technical ability we're pretty skinny and we've run this with a pretty small team so we can spend the money on advertising."

A party spokesperson said UKIP has been approaching major donors over the last few weeks and the party is confident of raising the millions in the next few weeks, despite suffering a desperate funding crisis in the aftermath of the 2015 general election.
"There's been a significant push over the last month or so, we're in the midst of raising it. out," they said. "This is the final push. We've never had trouble funding campaigns or elections, we've always been able to hit our limits – it's the day-to-day stuff we have difficulty funding. I've seen a lot of bad fundraising teams of the years and this is a good one."
"It's surprisingly cohesive," the UKIP spokesperson added, seemingly slightly baffled at his party's competence. "This is possibly the least Heath Robinson I've seen the party. It's working well."

(Heath Robinson was an English illustrator best known for his drawings of unnecessarily complicated machines designed to complete the simplest of tasks.)
Party insiders insist that UKIP has largely made peace with the Vote Leave group but say they still expect to spend enormous sums of money on their party's own campaign. One advantage for UKIP running their own campaign is it gives them the ability to retain data on anti-EU supporters for a potential post-referendum rebranding of the party which – combined with the hundreds of thousands of individuals who have already given their contact details to Grassroots Out – could provide the basis for a relaunch of the party.
UKIP insiders also expect abrasive businessman Banks, the main backer of the unsuccessful Grassroots Out movement, to continue to spend enormous sums of money during the referendum campaign.
"I would expect Banks to have as big a role as he does now," said one UKIP source, suggesting he could still spend millions thanks to the various registered campaign groups registered under the Grassroots Out banner. "Nigel and others are doing quite serious referendum planning, and Banks will have quite a big role because they've got a massive spending limit within the rules."

A spokesperson for Banks' Leave.EU organisation, which formed a core part of the Grassroots Out alliance and has a well-established professional campaign team, said they had no plans to shut down despite failing to win designation, suggesting they would keep spending money.
"We're carrying on as normal," said a spokesperson. "We'll obviously be more circumscribed within the spending limits. If there's slack to be picked up from Vote Leave then we're there to take it. But we've not had the word for the higher ups. We're going to do the most we possibly can do within the guidelines."
The UKIP spokesperson insisted that the EU referendum is focussing minds and the notoriously fractious party is enjoying a rare moment of relative unity: "We've spent a long time fighting for this, to spend the last months of the campaign fighting on something else would be bonkers."