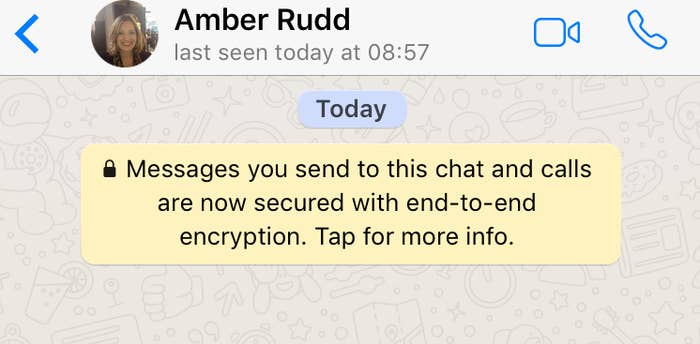 Home secretary Amber Rudd appears to be a WhatsApp user and was active on the service as recently as Monday morning, 24 hours after calling for the level of encryption on the messaging service to be watered down.

Rudd used a television interview on Sunday to accuse WhatsApp of providing a "secret place for terrorists to communicate with each other", and demanded the Facebook-owned business makes it easier for the security services to spy on conversations in the aftermath of the Westminster terrorist attack.
But a mobile phone number used by the home secretary was active on the service at 8.57am on Monday.
The Home Office did not initially confirm whether Rudd is still using the phone number, which BuzzFeed News used to communicate with her last summer, but her picture accompanies the profile and the account appeared to be active.
A spokesperson later said: "The home secretary was clear that there should be no safe space for terrorists to communicate online. To suggest she was talking about the use of communication services more generally misses the point.
"The government supports encryption in cyber security. But it is irresponsible to give terrorists a way to plot online which cannot be intercepted by the police and intelligence agencies who are trying to protect the public from further attacks."
Rudd appears to be one of dozens of ministers and senior politicians identified by BuzzFeed News as using WhatsApp. Many key figures in Downing Street are active on the service, while different factions of Conservative and Labour MPs use it to coordinate their messaging and agree lines to take.

Any decision to water down encryption could make it easier for these messages to be intercepted, not just by Britain's security services but also by foreign intelligence agencies and criminal hackers.
Theresa May's spokesperson backed the home secretary and said the government would put pressure on internet companies at talks on Thursday: "Where there are instances where law enforcement agencies wish to gain access to messages which are important to their investigations, they should be able to."
"What she's saying is that there are circumstances where law enforcement agencies need to be able to access content then they should be able to do so. How that's achieved is a matter for the talks."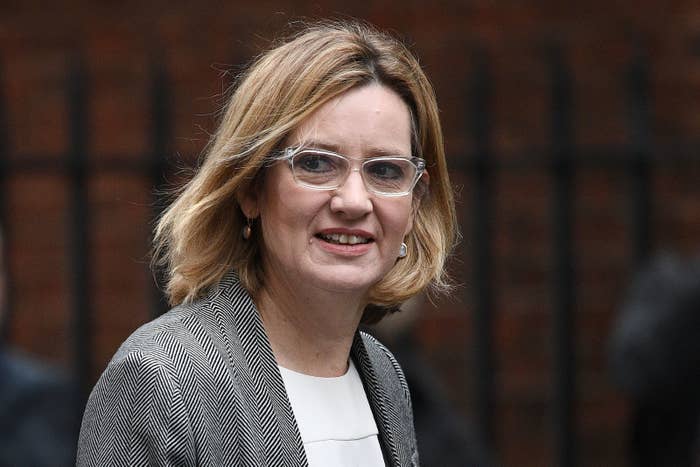 The Daily Mail reported that terror suspect Khalid Masood checked WhatsApp minutes before driving down the pavement of Westminster Bridge and stabbing a police officer to death near the gates of parliament.
Though police have said they believe Masood was acting alone, some newspapers have called for the level of encryption on the service to be watered down.
Rudd echoed these comments during an appearance on Sunday's edition of the BBC's Andrew Marr Show.
"It used to be that people would steam open envelopes or just listen in on phones when they wanted to find out what people were doing, legally, through warrants," she said.
"But on this situation we need to make sure that our intelligence services have the ability to get into situations like encrypted WhatsApp."
WhatsApp, like many other messaging services, uses end-to-end encryption, a security measure that means messages and files are only seen by the sender and the person who receives them. Not even Whatsapp has the power to intercept them.
But police currently have powers to compel people to unlock their phones, which would grant them access to the messages. Intelligence agencies can also access this information by hacking the phones of surveillance targets.
Rudd criticised Tim Cook, the chief of Apple, which does not have any direct relationship with WhatsApp, after he defended the right to privacy of people who use his company's iMessage app – which also uses end-to-end encryption.
"I would ask Tim Cook to think again about other ways of helping us work out how we can get into the situations like WhatsApp on the Apple phone," Rudd said.

She also called on "people who understand the technology" and know "the necessary hashtags" to stop extremist material being uploaded to the internet.