A Labour MP Wants An "Urgent Investigation" Into Vote Leave's £625,000 Donation To A 23-Year-Old
Stephen Kinnock has called on the public standards watchdog to establish whether the official pro-Brexit campaign used a "front organisation" to get round spending limits.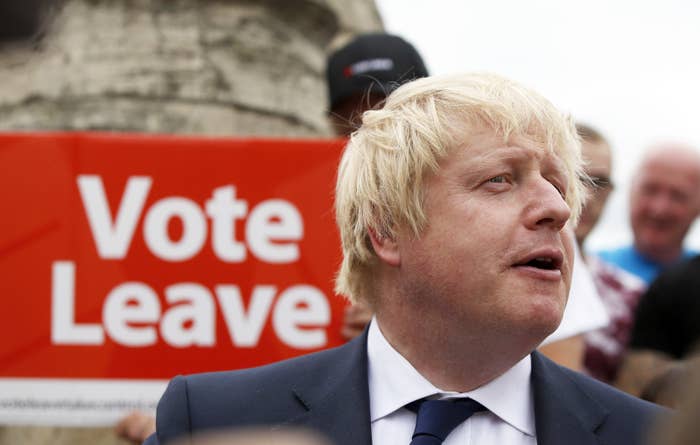 A Labour MP has called for an "urgent investigation" into claims that Vote Leave and its allies used legal loopholes to increase the pro-Brexit campaign's spending power, after the group was cleared of using a 23-year-old man as a "front organisation" to get around strict expenditure rules.
During the final days of last summer's EU referendum campaign, Vote Leave donated £625,000 to student Darren Grimes, ensuring the official pro-Brexit group did not go above its £7 million spending limit.

This donation could potentially have broken laws restricting collusion between campaigns if Vote Leave had directed Grimes on what to do with the money.
However, all sides maintain that Grimes, a regular in the Vote Leave office, was running his own youth-focused campaign called BeLeave and was not given any direction, despite spending almost all the money with the same marketing agency being used by Vote Leave, AggregateIQ.
This explanation was accepted by the Electoral Commission, which was responsible for overseeing the referendum. The regulator said it could not find any evidence "beyond reasonable doubt" that the two campaigns had coordinated their campaigns to the extent where any law was broken.
But Labour MP Stephen Kinnock has now written to the Committee on Standards in Public Life calling for it to investigate the Electoral Commission's decision and the manner in which Vote Leave spent money during the referendum.
The MP, a strong Remain supporter, told BuzzFeed News there was no chance of declaring the referendum result invalid but said there had to be an inquiry into whether the commission had sufficiently investigated the donation.

"What's the point in having a watchdog that has no teeth?" Kinnock asked, having warned that this could now set a precedent for money flowing into future British elections via proxies.
In his letter to Lord Bew, chairman of the standards committee, which monitors standards and conduct of all public office holders, Kinnock said the decision could "set a dangerous precedent in relation to party funding rules".
He continued:
The implication of the Electoral Commission's ruling is that any political party in an election or lead campaign in a referendum which is nearing its expenditure limit can make a donation to another registered campaign which can in turn spend that money on the same activities, using the same messaging and, indeed, the same suppliers, without breaching the upper expenditure limit of the political party or lead campaign.
Kinnock said the social media output of Grimes's BeLeave campaign closely mirrored Vote Leave's material.

The MP also said it was unusual that Vote Leave would donate £625,000 to "an inexperienced members of the pro-Leave community" who would then spend the money with the same digital marketing agency "without any kind of co-ordination".
Full spending data from the EU referendum, which is due to be published on Friday, will reveal how rival campaigns and political parties involved in the election allocated their money, with tens of millions of pounds spent by campaigners on all sides.

Grimes told BuzzFeed News that he ran BeLeave as an independent campaign that met all legal requirements. "BeLeave used AggregateIQ's services to help advertise to supporters online during the referendum. This has all been declared as required by the Electoral Commission."
He now has a new post-referendum job working for the website Brexit Central, where the editor-at-large is former Vote Leave campaign chief Matthew Elliott.
A Vote Leave spokesperson said their campaign had no case to answer: "The money BeLeave received was a donation for campaign purposes. The BeLeave campaign was focused on engaging with young people. We were entitled to give money to BeLeave and in doing so we fully complied with all the regulations and requirements set by the Commission."

An Electoral Commission spokesperson again said it had found no clear evidence of collusion. "Under EU referendum legislation it was acceptable for one campaigner to make a donation to another one," the spokesperson said. "For the 'working together' rules to apply and for there to be an allocation of reportable campaign spending, there had to be a common plan or arrangement between the campaigners.
"The commission has previously considered whether Vote Leave and Mr Grimes worked together in a way that would suggest the rules had been breached; we did not find evidence that showed an offence beyond reasonable doubt. We will continue to review the spending returns of campaigners and if new evidence comes to light, we will consider it in line with our enforcement policy."
Read Stephen Kinnock's letter to the chairman of the Committee on Standards in Public Life: