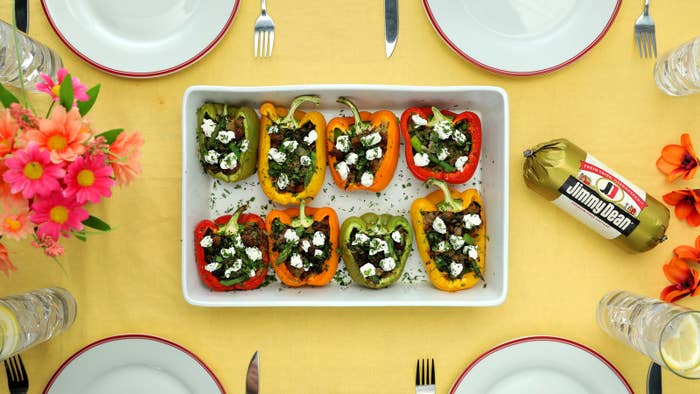 INGREDIENTS:
2 tablespoons vegetable oil, divided
½ onion, chopped
2 cloves garlic thinly sliced
1 package Jimmy Dean® Regular Flavor Pork Sausage Roll
1 bunch swiss chard, stems removed, sliced
½ bunch (about ½ pound) asparagus, cut into ½" pieces
Kosher salt
Freshly ground black pepper
4 bell peppers, cut in half lengthwise, stems and seeds removed
½ cup (4 ounces) goat cheese
½ cup chopped fresh spring herbs (parsley, dill, and/or mint)
PREPARATION:
1. Preheat oven to 375℉.
2. Heat 1 tablespoon vegetable oil in a large skillet over medium heat. Add onions and Garlic. Cook and stir until vegetables are tender.
3. Add sausage to skillet. Cook sausage for 8–10 minutes or until thoroughly cooked, stirring frequently. Place sausage mixture into a large bowl and set aside.
4. Add remaining 1 tablespoon oil, asparagus, and chard to the skillet. Cook and stir for 3–5 minutes or until asparagus is tender and chard is wilted. Season with salt and pepper, if desired.
5. Add vegetables to the bowl. Gently mix all ingredients.
6. Arrange bell peppers cut-side up in a 13x9" baking dish. Fill pepper halves with sausage mixture, pressing down gently.
7. Add ½ cup water to the bottom of the baking dish (being careful not to get any inside the peppers) and cover tightly with foil. Bake for 20 minutes or until peppers are tender and cooked through.
8. Remove foil from baking dish and top each pepper with about 2 tablespoons crumbled goat cheese. Return to oven and cook for 2 minutes or until cheese starts to melt.
9. Garnish the peppers with fresh herbs. Enjoy!