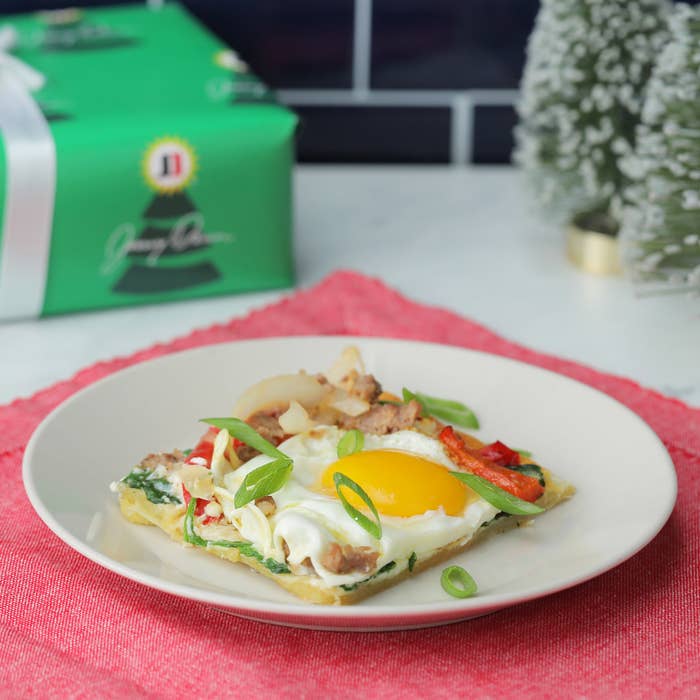 INGREDIENTS:
1 package (17.3 ounces) puff pastry, divided into 2 sheets, thawed
4 eggs
½ package Jimmy Dean Regular Pork Sausage Roll
1 red bell pepper, sliced
½ medium onion, thinly sliced
½ cup baby spinach
⅓ cup goat cheese crumbles
3 green onions, thinly sliced
PREPARATION:
1. Preheat oven to 400ºF.
2. Unfold puff pastry sheets side by side onto a parchment-lined baking sheet. Press the seams of the sheets together. Using a sharp knife, score a 1-inch border around the edge of the pastry sheet. Prick the center of the sheet thoroughly with a fork. Brush edges with beat egg. Bake for 15 minutes.
3. Cook sausage, bell pepper, and onion in a large skillet over medium-high heat, for 8–10 minutes, until cooked through, stirring frequently throughout.
4. Sprinkle spinach leaves over crust. Top with sausage mixture. Carefully crack 1 egg onto each side of the tart. Sprinkle with goat cheese. Bake 10–15 minutes or until eggs are cooked.
5. Sprinkle with green onions and serve.