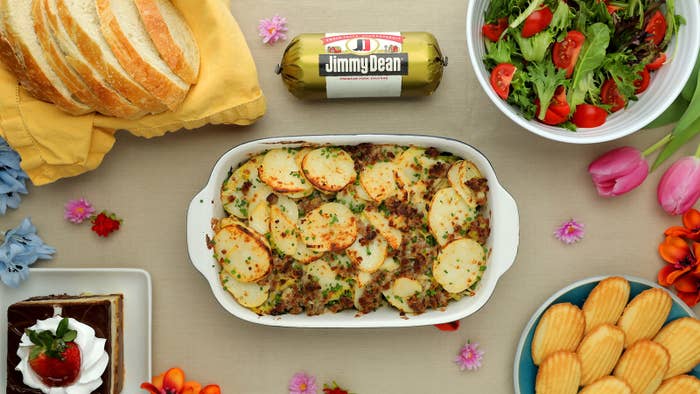 INGREDIENTS:
2 pounds Yukon Gold potatoes cut into ¼" slices
1 cup chicken broth
1 package Jimmy Dean® Regular Flavor Pork Sausage Roll
2 leeks thinly sliced
½ cup milk
¼ cup heavy cream
6 ounces (1–1½ cups) shredded mozzarella cheese
½ teaspoon salt
¼ teaspoon ground black pepper
1½ cups sautéed greens (chard, kale, spinach — optional)
Chopped chives
PREPARATION:
1. Place the sliced potatoes and chicken broth in the Instant Pot. Place the cover on the Instant Pot. Be sure the pressure valve is set to "Sealing." Use the manual setting to set the timer for 1 minute.
2. When the timer goes off, turn pressure valve to "Venting" to release pressure. **Be sure to read all Instant Pot instructions carefully for safety. Be sure Instant Pot is turned off and unplugged before carefully removing the cover.
3. Drain the potatoes and reserve the cooking liquid. Set the Instant Pot to "Sauté" setting and allow pot to pre-heat. Add the Jimmy Dean Sausage to the pot, then cook or about 8–10 minutes or until thoroughly cooked, stirring frequently. Add sliced leeks, then cook for 2–3 minutes or until leeks are tender. Remove sausage mixture from pot and set aside.
4. Pour reserved cooking liquid back into the pot along with milk, heavy cream, shredded cheese, salt, and pepper. Cook sauce, stirring frequently, until cheese is melted and sauce is smooth. Stir sausage mixture into the sauce. Gently fold in potatoes.
5. Layer half of the potatoes into a greased 13x9" baking dish. Top evenly with sautéed greens and remaining potatoes.
6. Preheat oven broiler. Broil potatoes for 3–4 minutes or until potatoes are golden and bubbly.
7. Sprinkle with chives and serve!