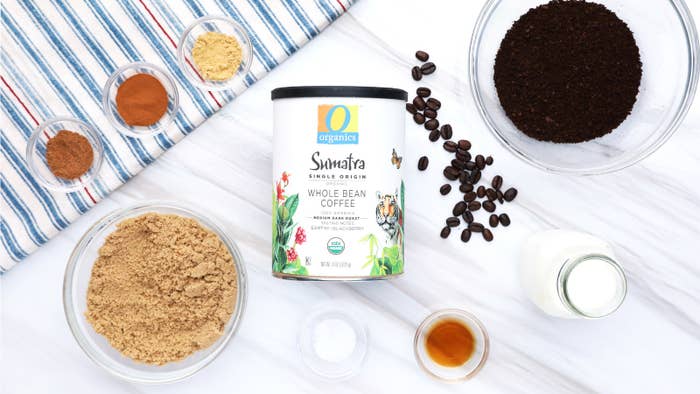 Servings: 6
INGREDIENTS:
Cold Brew
12 ounces O Organics® Sumatra Whole Bean Coffee
6 cups water
Spiced Syrup
1 cup water
1 cup brown sugar
1 teaspoon cinnamon
½ teaspoon ground ginger
½ teaspoon nutmeg
Pinch of salt
1 teaspoon vanilla extract
Latte
1½ tablespoons syrup
1 cup cold brew
½ cup milk
PREPARATION:
1. Cold brew: Pour O Organics® Sumatra Whole Bean Coffee into a grind. Pulse until coarsely ground. Pour water over coffee, stir, and refrigerate overnight.
2. Syrup: In a small pot, pour in the water, brown sugar, cinnamon, ginger, nutmeg, and salt. Heat, whisking occasionally, until mixture begins to bubble. Let simmer on low for 6–7 minutes, until slightly thickened. Stir in vanilla, then remove from heat. Let cool before pouring into a jar. Refrigerate.
3. In the morning, strain cold brew through cheesecloth.
4. Open a 16-ounce jar. Pour in 1½ tablespoons of syrup. Add 1 cup of cold brew and ½ cup milk. Shake well. Add ice.
Cold brew:
1½ ounces ground O Organics® Sumatra Whole Bean Coffee per 1 cup water
Pulse until coarsely ground