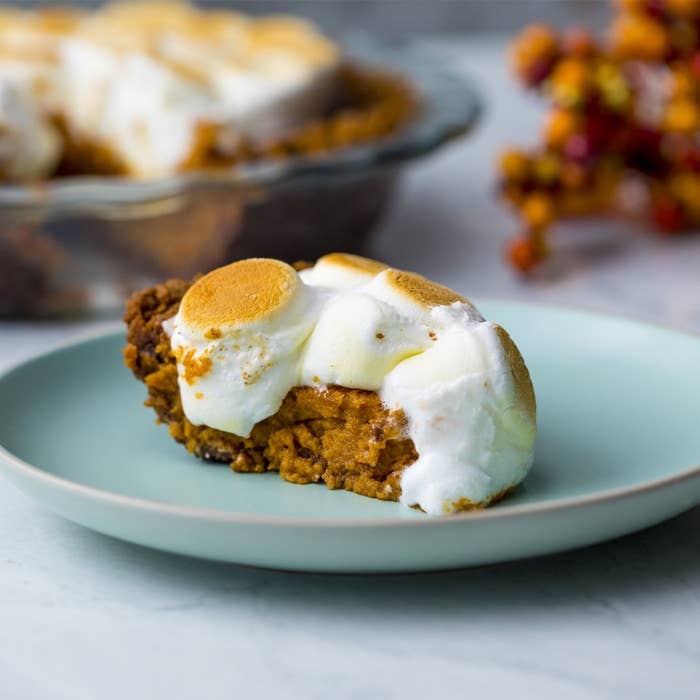 Ingredients:
Crust
12 ounces gingersnaps
10 tablespoons melted butter
Filling & Topping
1 2⁄3 cups sweet potato puree (from approximately 2 sweet potatoes)
1⁄2 cup unsalted butter, softened
3⁄4 cup brown sugar
1⁄2 cup heavy cream
2 eggs
2 tablespoons flour
1 teaspoon vanilla extract
1 teaspoon kosher salt
1 teaspoon ground cinnamon
1⁄2 teaspoon ground nutmeg
1⁄2 teaspoon ground ginger
10 ounces Kraft Jet-Puffed Marshmallows
Preparation:
1. Preheat oven to 350oF (325oF for convection).
2. Crust: Place gingersnaps in a food processor. Process until broken down into crumbs. Transfer to a bowl and stir in melted butter. Dump into a greased pie dish and press into an even crust. Cover with foil and bake for 10 minutes. Remove from oven. (If crust has risen up, gently pat down into a shell using the back of a measuring cup.)
3. Filling: Place all ingredients, except marshmallows, in a large bowl. Beat with a hand mixer until smooth. Spread filling evenly in the crust.
4. Bake covered with foil for 55 minutes or until filling is set. Remove from oven and let cool.
5. Preheat broiler.
6. Arrange marshmallows on top of pie. Broil for 10–20 seconds, with oven door open, until marshmallows are lightly toasted.
7. Slice and serve!